Detroit Lions:

Lovie Smith
December, 27, 2014
Dec 27
8:00
AM ET
ALLEN PARK, Mich. -- The
Detroit Lions
are in an unfamiliar position -- win Sunday at the
Green Bay Packers
and the Lions will win a divisional title for the first time since 1993. So what will it take to do that? And how does the team go on without center
Dominic Raiola
? That and more are covered in this week's Lions Mailbag, filled with your questions. To ask a question for the mailbag, tweet with the hashtag #LionsMailbag, email me at
michael.rothstein@espn.com
or pop on over to Facebook and
ask away there
(and follow me, too). Now, to your questions:
@mikerothstein. #Lionsmailbag Does Stafford have Peyton Manning disease? (i.e., can't win outdoors)

— Daniel Carlson (@DanielCarlson_1) December 25, 2014
@mikerothstein:
Well, Daniel, I think the Lions would thrilled if
Matthew Stafford
developed "
Peyton Manning
disease" if that came with his numbers, playoff wins and, oh yeah, that Lombardi Trophy he hoisted a few years back. I wouldn't say Stafford has that type of issue -- he's won in Chicago the past two years, won in Minnesota this season, etc. He has not had much success against good teams on the road, though. He is 0-15 in his career against teams who finished a season with a winning record on the road. Considering who Detroit might have to play the rest of the way and where those games might be, he'll have to break that streak in order for Detroit to have a playoff run.
@mikerothstein Officially time for Jim Caldwell detractors to eat some crow? (I did not favor the hire, but have come around.) #LionsMailbag

— Joshua Travis (@boomshaka9) December 24, 2014
@mikerothstein:
Yeah, it probably is and that includes myself. I did not think this was a particularly good hire when Detroit made it in January. Looking back, that was an error on my part. Personally, I felt Lovie Smith would have been the best hire for this club and who the Lions should have gone after, but in retrospect Detroit made its best possible hire considering all the circumstances involved. The Lions needed a calming presence in the locker room and Caldwell has provided that. He's a big reason why Detroit is 11-4 and playing for a divisional title Sunday.
@mikerothstein #LionsMailbag DET has allowed 43(!) sacks (9th worst in NFL) this year and now no Dom. How does DET win this game?

— Randy Charboneau (@randycharb) December 24, 2014
@mikerothstein:
The Lions need to force turnovers to win -- particularly at least one interception of
Aaron Rodgers
. That's the first key to a Detroit victory Sunday. If the Lions can't force turnovers and can't score early, they will have a long day. I wouldn't be surprised if Detroit runs a lot of two-back early on to help
Travis Swanson
with any potential interior rush, but the Lions will have to have a good blocking day to win. As I predicted Friday, I don't think Detroit wins this game.
@mikerothstein would players privately admit that they think repeated cheap shots from a teammate is reprehensible? #lionsmailbag

— NightMoves (@NightMoves212) December 24, 2014
@mikerothstein:
So far, no player on the Detroit Lions has said anything negative about Dominic Raiola publicly or privately to me. They've all been pretty supportive of him and that isn't surprising considering he is the longest-tenured Detroit player and is generally well-liked in the locker room. Some players have used the term "unfortunate" to describe Raiola's current situation, but none have said anything more than that.
@mikerothstein will Lions retain Raiola? #LionsMailbag

— Daisuke Suzuki (@daisuke_110) December 21, 2014
@mikerothstein:
That's an interesting question and one that has been discussed in the media room this week. Both Dominic Raiola and
Rob Sims
are free agents after the season. Travis Swanson is probably taking one of those spots and then the Lions could have a decision to make on the other. Which one that ends up being is a big question right now and I'm not sure I know the answer to that. Initially, I would have said the Lions would bring back Raiola for one more year and have Swanson play guard, but I'm not convinced of that anymore. I realize this is a giant non-answer, but I think it's going to be one of the bigger non-
Ndamukong Suh
questions for Detroit from the end of the season until March.
@mikerothstein #LionsMailbag Two things that will win this game...Defensive front and O-line...what's your two.

— larry williams (@latamwill) December 26, 2014
@mikerothstein:
I'll make this easy. The Lions have to force at least two turnovers -- and one must come in the first half. The second one is being tied or in the lead midway through the second quarter. Green Bay has scored 198 points in the first halves of games this season so surviving an early Packers onslaught will be critical.
Ray from Monroe, Michigan asks: Many people are writing the Lions off in the pivotal Week 17 game in Green Bay. "Green Bay will dominate Detroit as it has at Lambeau Field." "Detroit has no shot of winning this game." Things like that. But if I remember correctly, Detroit beat a healthy and near perfect Green Bay team 19-7 back in Week 3. What is different now, and what are the chances of Detroit making it to the NFC Championship game or further?
Rothstein:
The difference is playing on the road. As I mentioned above, Stafford has never beat a team with a winning record at the end of a season on the road. Also, the Packers are a different team now. They were much more focused on being a running team in Week 3 where now, they are passing it more. So those are the differences. As far as Detroit's NFC title game chances, if the Lions win Sunday then I'd say they have a great shot. I've said this on radio, TV and written it -- I believe Detroit can beat any team in the NFL when playing at Ford Field. It's on the road where it'll be tricky. Having to go to Green Bay or Seattle in the playoffs would probably end the Lions' season.
January, 5, 2014
Jan 5
12:00
PM ET
The new year is upon us, but for Detroit, it is the same old familiar feeling.
An under-.500 record to end the season. A coaching search. Questions about the present and the future and the undying hope that next year will be better than the year prior.
These topics are all addressed in this week's Lions Mailbag (on Sunday this week), the first mailbag of the new year. As always, the Mailbag is only as good as the questions you ask. To submit a question, tweet @mikerothstein or with the hashtag #LionsMailbag or email michael.rothstein@espn.com.
Now, on to your questions.
January, 1, 2014
Jan 1
10:30
PM ET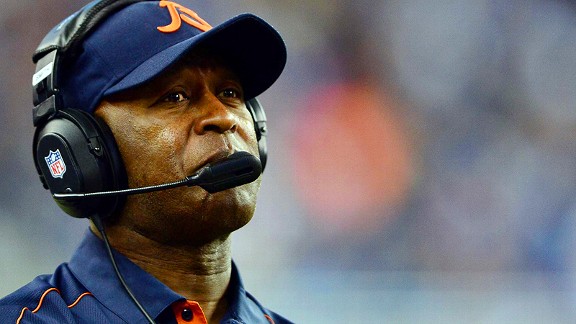 Andrew Weber/US PressiwireLovie Smith met many of the Lions' stated qualifications, but he's now off Detroit's list.
One of the candidates who appeared to most fit what the
Detroit Lions
are looking for in a head coach has accepted a job. Just not in Detroit.
A day after Bill O'Brien decided to go to Houston, former
Chicago Bears
coach Lovie Smith chose to sign with Tampa Bay, and the Lions search, less than 72 hours old, continues on.
Smith seemed like a potentially ideal candidate for Detroit -- at least based on the criteria Lions general manager
Martin Mayhew
laid out Monday. He runs a preferred four-man front, fitting the Lions' current personnel. He has head coaching experience, is considered an even-keeled, disciplined coach and he has won, taking the Bears to Super Bowl XLI.
He also understands the NFC North, which meant understanding the Lions.
Now the focus continues on other candidates -- many of whom Detroit won't be able to talk with until next week. That list almost certainly includes San Diego offensive coordinator Ken Whisenhunt, who once led Arizona to a Super Bowl appearance and has done a good job with
Philip Rivers
this season.
The Lions are also planning on interviewing Baltimore offensive coordinator and former Indianapolis coach Jim Caldwell, according to ESPN Insider Adam Schefter. While Caldwell isn't necessarily an exciting candidate, he does fit a lot of the Lions criteria, including head coaching experience and being able to win as he also guided a team to a Super Bowl.
More candidates are likely to emerge in the next few days, especially as wild-card weekend wraps up and more coordinators and other coaches become available to interview. And there's still a chance the Lions could look at some college head coaches like Vanderbilt's James Franklin, Notre Dame's
Brian Kelly
or try to make a run at David Shaw from Stanford. Shaw, though, appears to be comfortable at Stanford.
The one thing that Wednesday night made clear, though, is that this search might not wrap up all that quickly.
January, 1, 2014
Jan 1
3:00
PM ET
At the start of every year, no matter the beat I've covered, I've always thrown out 10 things for the next calendar year that are likely to be wrong, but are guesses and predictions nonetheless.
If there's something I've learned, it is incredibly tough to predict the future, so understand this is just an exercise mostly in fun and don't take it too seriously (unless I get things right, of course, then I'll look like a genius).
So with that, Happy New Year and here are 10 things that could happen (but probably won't) in 2014.
1. The Lions will have a coach in place in three weeks or less. Yes, this isn't that bold, but Detroit's brain trust seems to be moving quickly with identifying and interviewing candidates. Three of those people have already surfaced and many more probably will in the next few days, especially since a lot of those candidates are likely coaching this weekend. And the coach the Lions eventually hire ends up being ... Lovie Smith. (Remember, this is just a likely-to-be-wrong guess.)
[+] Enlarge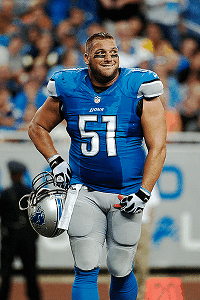 Tim Fuller/USA TODAY SportsThe 35-year-old Dominic Raiola showed this season that he can still play at a high level.
2. The Lions bring back
Brandon Pettigrew
. The value for the tight end is just too high, despite the sometimes unfortunately-timed drops. He has become a comfortable target for quarterback
Matthew Stafford
and also is critical to protecting both Stafford and the run game. Of course, the offensive style of the new head coach and/or offensive coordinator plays into this decision as well, but the rest of the position is either inexperienced or one-dimensional or both.
3.
Dominic Raiola
returns, too. The veteran center had the best season of his career in 2013, indicated a desire to return in 2014 and would prefer to come back to Detroit, where he has spent his entire career. While the Lions will draft a center to eventually replace the 35-year-old, they will have him around for a year or two to mentor that replacement first.
4. In the 2014 NFL draft, the Lions will go wide receiver in the first round and cornerback in the second round, solidifying two needs. It's too early to say who the Lions will pick because declarations of underclassmen have not even come out yet, but if Sammy Watkins is available at No. 10, it would not be surprising to see him end up in Detroit.
5. The Lions are not big players in free agency. With so much money tied up in its core players who are locked up for the next few years -- including last year's big free agent signings of
Reggie Bush
and
Glover Quin
-- Detroit doesn't make nearly as big a splash this season in the free-agent market. The team will bring in a couple of mid-level players who will end up being contributors in the fall, but for the most part, the same roster that was around in 2013 will be with Detroit in 2014. Part of this reason is cap space, which leads to...
6. At least one veteran gets surprisingly cut.
Nate Burleson
has already said he is willing to restructure his deal to stay with the team and open up some cap space. But there's a chance other players won't be as willing to do that. Beyond Burleson,
Louis Delmas
has a $6.5 million cap number on the final year of his deal,
Chris Houston
has a $4.8 million cap number and guard
Leroy Harris
, who barely played this season, carries a $2.062 million cap number.
7.
Ndamukong Suh
does not sign an extension. Suh enters the final year of his deal and, like Matthew Stafford last season and
Calvin Johnson
before him, there is a decision that needs to be made with the defensive tackle. Suh's cap number is a massive $21.412 million in 2014, 17.31 percent of the Lions' total -- more than any other signed Lions player for 2014. Considering how much money the Lions have tied up in Stafford and Johnson, it is tough to see Detroit being able to offer a massive deal to Suh right now, so he might play out the final year of his deal and go from there. What happens here may be dependent on the new coaching staff.
8. Calvin Johnson goes over 1,400 yards again. His knee healthy after an offseason of recuperation, the best receiver in the NFL once again asserts his dominance and leads the league in receiving, going over 1,400 yards for the fourth straight season.
9.
DeAndre Levy
is a Pro Bowler. His name got out there this season and next season, Levy takes the next step to becoming enough of a household name (because that's what a lot of Pro Bowl voting is) to become an actual Pro Bowler and also an NFL All-Pro. The All-Pro designation ends up being the bigger honor.
10. The Lions finish next season 9-7. This might not sound like a lot of excitement, but without knowing who the coach is going to be or anything else at this moment, that feels like a pretty optimistic prediction. But with the talent pieces there for the most part, the Lions just need a coach who can be successful enough to actually get the pieces to all smartly work together.
January, 1, 2014
Jan 1
9:43
AM ET
Good morning, Happy New Year, and ROOOOAARRR!!!!
Less than 24 hours after the Detroit Lions fired Jim Schwartz on Monday, the team has already started to make some moves toward looking for their next coach.
ESPN Insider Adam Schefter reported the team is scheduling an interview with
Baltimore offensive coordinator (and former Indianapolis head coach) Jim Caldwell
and Dave Birkett from the Detroit Free Press
reported that former Chicago coach Lovie Smith is likely to get an interview
and that Seattle assistant Tom Cable is also being "vetted."
That Detroit is talking with Caldwell and Smith is not surprising at all. They both fit almost everything Tom Lewand and Martin Mayhew
laid out as potential criteria
on Monday when they had their news conference announcing the firing of Schwartz.
Smith has head-coaching experience, has shown a level of success by taking the Bears to one Super Bowl and three playoff experiences in his nine seasons with the team. He also has experience running the 4-3 defense, which Mayhew appeared to prefer over the 3-4 defense because of Detroit's current personnel.
Caldwell also has head-coaching experience, making the playoffs two times in his three years running the Colts, including a Super Bowl appearance in 2009. He took over as Baltimore's offensive coordinator in the middle of December of 2012, and helped lead the Ravens to the Super Bowl that year. He fits a lot of the offensive requirements of the job, having worked the majority of his career with Peyton Manning and Joe Flacco.
Cable is the more surprising name on this early list. He has the head coaching experience, running Oakland for three seasons, but he did not have a single season over .500.
One man off the board is Bill O'Brien, who agreed to leave Penn State for the Houston Texans last night.
For a list of other potential candidates who fit what Mayhew and Lewand are looking for,
here's a quick list that will likely be ever-changing
.
And now, a quick New Year's search around the Interwebs looking for Lions news.
December, 30, 2013
12/30/13
8:35
PM ET
ALLEN PARK, Mich. -- The search is officially on for Detroit's next head coach.
ESPN Insider Chris Mortensen is reporting Penn State coach Bill O'Brien might already be coming off the board to Houston, but there are other attractive candidates out there for the Lions.
"I think this is a very attractive opportunity," Lions president Tom Lewand said. "I can verify that by the number of calls we've already gotten since the announcement was made at noon today and it will go through the process. I think going through a thorough process is extremely important.
"But that doesn't necessarily mean it has to be a long process, but it has to be a thorough process and we will go through a process of interviews, of research to make sure that we find the best fit for the
Detroit Lions
."
While Detroit would not identify candidates Monday, here are some names that could pop up in the search based off of the criteria Lewand and GM Martin Mayhew laid out Monday afternoon.

Whisenhunt
Ken Whisenhunt, San Diego offensive coordinator:
It would be surprising if he isn't one of Mayhew's top candidates. The two were teammates in Washington in 1989 and 1990. He is primarily an offensive guy and has worked with both
Ben Roethlisberger
in Pittsburgh and
Philip Rivers
last season. He also has prior head coaching experience, running the
Arizona Cardinals
from 2007 to 2012 -- and taking the Cardinals to Super Bowl XLIII. If a coach can take Arizona to the Super Bowl, he could fit well in trying to take the Lions to the next level.

Smith
Lovie Smith, former Chicago Bears head coach:
Smith has all the characteristics Mayhew would want in a coach. He runs a 4-3 defense, which would fit well with what the Lions already have assembled. He has head coaching experience, having led the Chicago Bears from 2004 to 2012. He knows how to build culture as he has taken a team to the Super Bowl and would be a strong hire for the Lions. However, Insider Adam Schefter is reporting Smith is the favored candidate in Tampa Bay.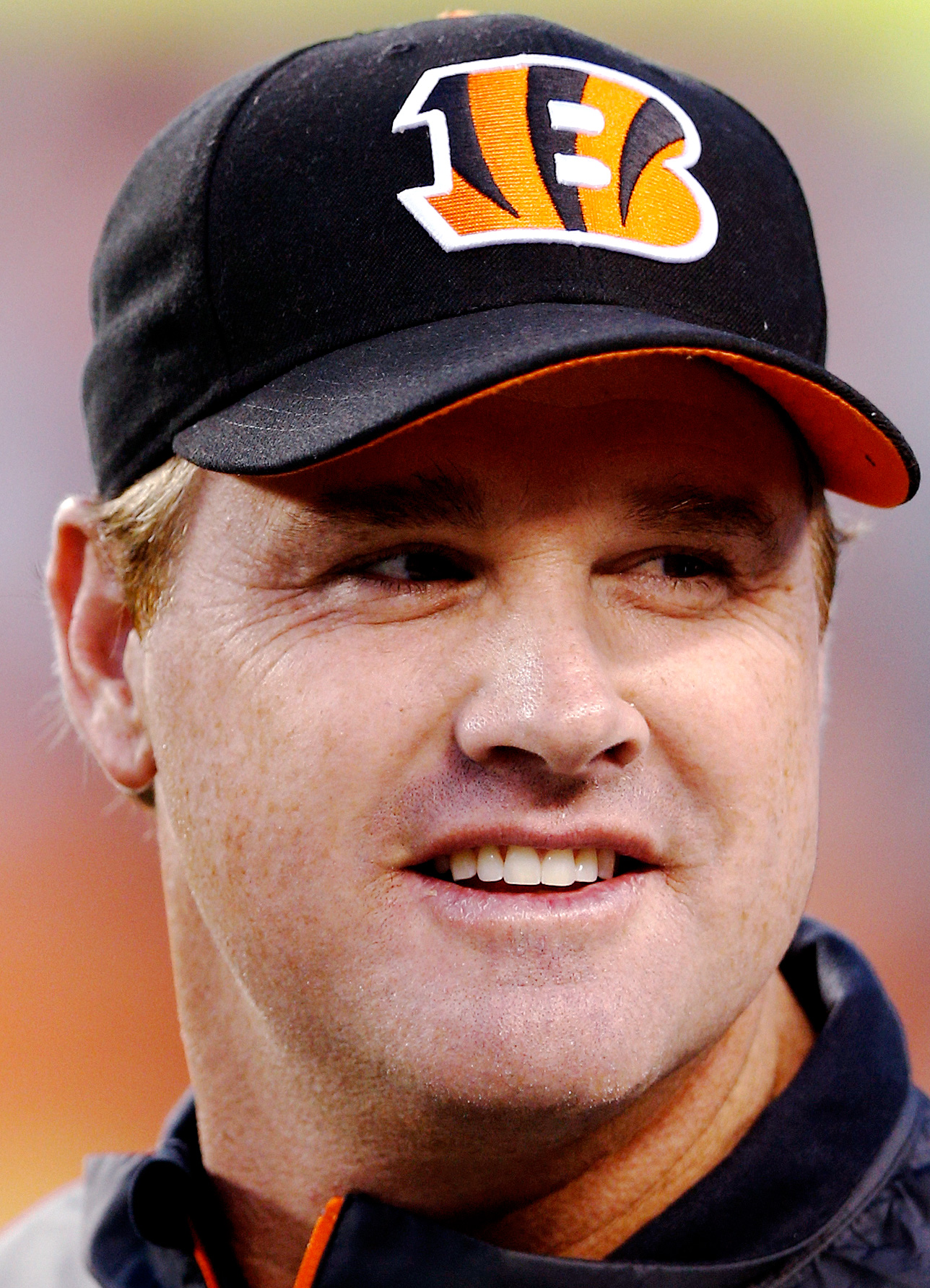 Gruden
Jay Gruden, Cincinnati offensive coordinator:
He helped in the development of
Andy Dalton
over the past three seasons and understands the importance of a strong quarterback-wide receiver combination as he worked with Dalton and
A.J. Green
. He doesn't have NFL or college head coaching experience, but was the head coach of the Orlando Predators of the AFL from 1998 to 2001 and the Florida Tuskers of the UFL in 2011. So he has some experience somewhere leading a team.

Jackson
Hue Jackson, Cincinnati running backs coach:
Jackson has head coaching experience from his 2011 season with Oakland. He's a former quarterback (University of the Pacific) who has been an offensive coordinator for years on the college and professional level.
In Baltimore in 2008 and 2009, he tutored
Joe Flacco
and worked with
Carson Palmer
as the offensive coordinator at USC.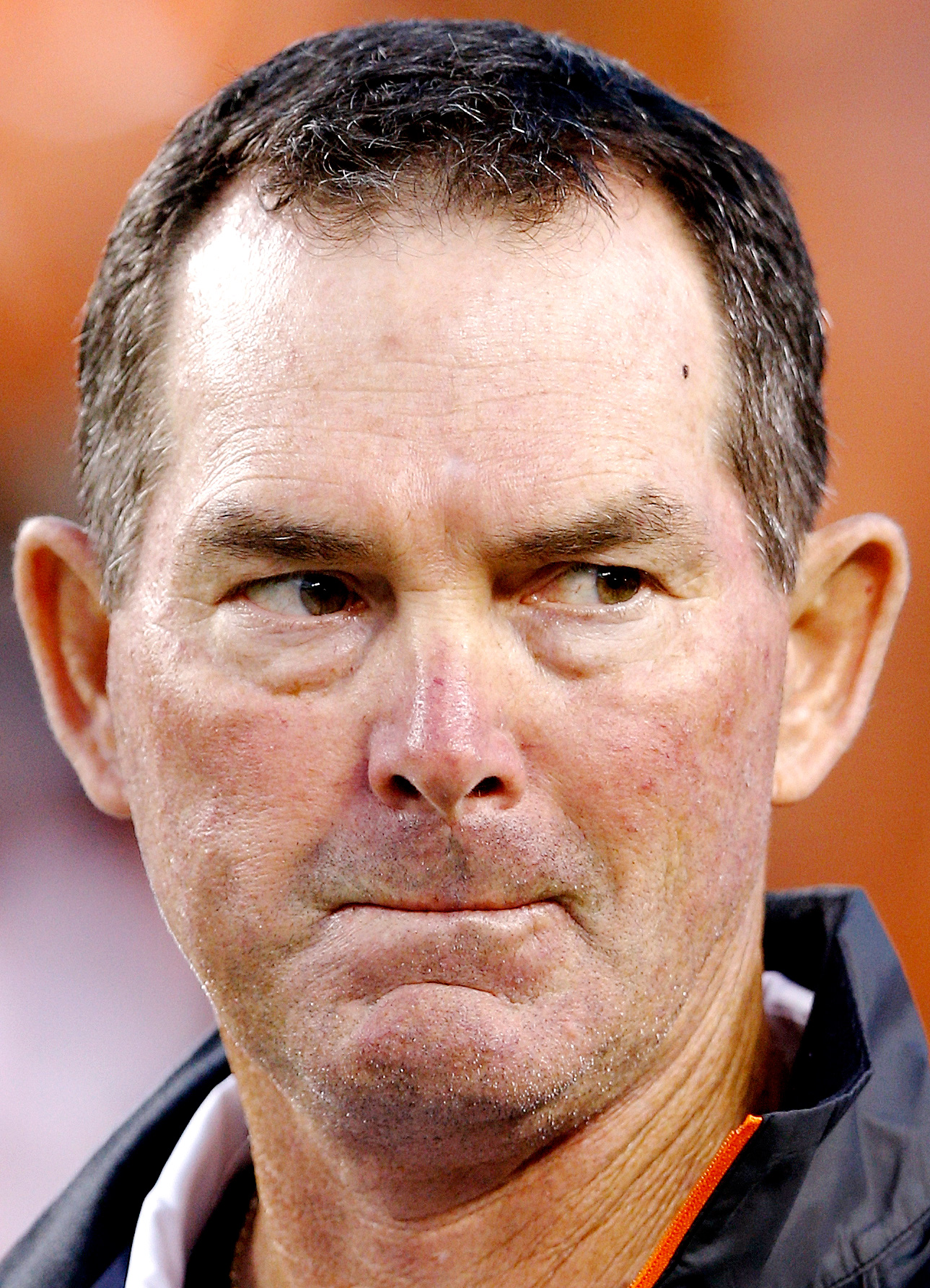 Zimmer
Mike Zimmer, Cincinnati defensive coordinator:
Zimmer has been a defensive coordinator in the NFL since 2000 and has spent a lot of time building playoff defenses, something the Lions have shown they have the pieces to build.
The concern here would be the lack of any head coaching experience or any experience on offense, which is a problem considering the struggles of
Matthew Stafford
. Mayhew indicated experience on a particular side of the ball would not be a huge factor.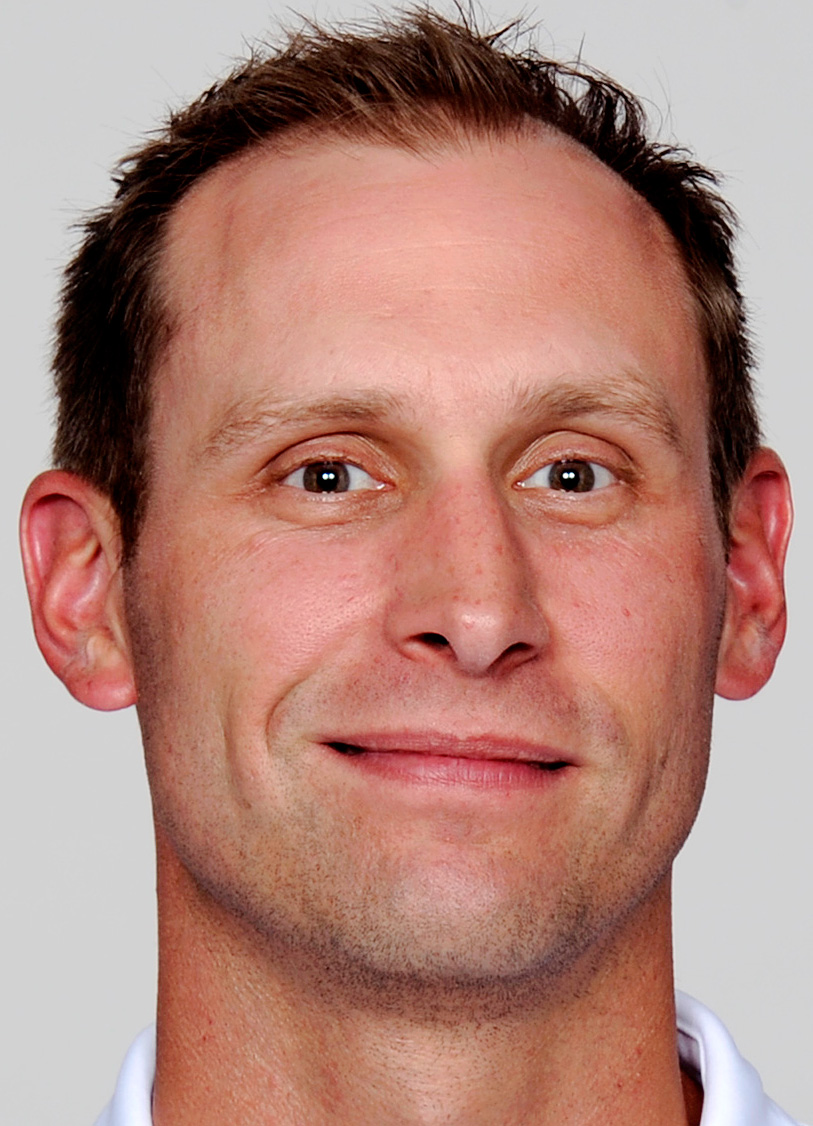 Gase
Adam Gase, Denver offensive coordinator:
The 35-year-old could be a wild-card hire. He doesn't have head coach experience, but worked with
Peyton Manning
both as a quarterbacks coach and as offensive coordinator. He was born in Ypsilanti, Mich., and went to Michigan State.
He scouted with the Lions from 2003 to 2005 and was a coach in various roles from 2005 to 2007.
Kelly
Brian Kelly, Notre Dame head coach:
He didn't have the best year last year, but he flirted with the NFL last season and the Lions are a team that could win immediately. He has an offensive pedigree, head coaching experience at one of the most pressure-packed jobs in college football and has elevated every program where he has coached. He could be a decent definition of a coach that can push a team over the hump.
The concern would be his lack of NFL experience.

Shaw
David Shaw, Stanford head coach:
If there was the thought Shaw would actually leave Stanford, he might be the top coach on this list. He has an offensive pedigree as an offensive coordinator with the Cardinal. He has extensive NFL experience grooming quarterbacks in Oakland and Baltimore before latching on with Jim Harbaugh. He has ties to the Lions as his father, Willie Shaw, was the defensive backs coach for Detroit from 1985 to 1988 and he spent part of his high school career in Michigan. He'd be the perfect candidate except for this -- will he leave Stanford?
Here's what he said about the NFL on Monday:
"I haven't been contacted by anybody. To be honest it's unbelievably flattering. I think it's really cool," Shaw said. "I think honestly it continues to shed light on our program, so I don't mind that it keeps happening. It keeps eyes turning toward Stanford, which I think is really cool. I told our players, to be honest, it's a testament to what they've accomplished, it's a testament to what our seniors have helped build at Stanford, to win consistently, win the right way, produce high-character young men and have a football game that's exciting to watch.
"So I don't mind it. I have no desires to pursue another job. As I said, I have not and don't plan on interviewing with anybody. I think it's really nice that my name gets batted around and that's great, and part of it is because I do have nine years of NFL experience, so it seems like an easy transition for some people.
"But honestly I'm looking forward to playing this game and getting into the offseason and starting to put together another winning season next year."