Detroit Lions:

Major Wright
November, 12, 2013
11/12/13
7:30
PM ET
CHICAGO -- From across the field, Detroit wide receiver
Kris Durham
could read the coverage. Based on the movement of the safety, he saw that single coverage was coming.
[+] Enlarge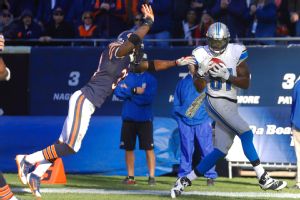 AP Photo/Charles Rex ArbogastWhen it appeared that the only defender on Lions receiver Calvin Johnson would be Charles Tillman, any doubt about where the play was going disappeared.
Before the play happened, before
Matthew Stafford
threw a perfect pass to
Calvin Johnson
in the corner of the end zone Sunday for the game-winning 14-yard touchdown in Detroit's 21-19 win over Chicago, Durham already knew the potential result.
"That's kind of the way we practiced it," Durham said. "There's a read for whatever they gave us.
"When they gave us single coverage, everybody in the stadium probably knows where the ball's going."
It didn't stop Durham from running his route -- he's played with Stafford long enough to know he could make any decision at any time -- but Calvin Johnson? In single coverage?
That's a pretty strong bet for a target.
Detroit lined up in its most popular set, three wide receivers with one tight end and a single running back -- this time with Stafford out of the shotgun. Johnson was solo on the left side of the field.
Durham was far on the right side of the field and
Jeremy Ross
was in the slot.
Stafford said Detroit will run this formation in both running and passing situations as a way to create space all across the field -- both for runs and for passes. It is part of the formational group they run to force opponents to have to make tackles in open spaces and a popular formation for the Lions throughout the season.
This particular time, Chicago dropped down a safety into the box on the Bears' 14-yard line, leaving one safety high.
"I think they probably expected us to run the ball and try to eat away some clock and kick a field goal, that kind of thing," Stafford said. "I was expecting two-deep. They played a lot of that on third-and-long throughout the game. They played some Cover 1.
"Calvin ran a great route and we ended up putting it in there."
When Johnson saw Chicago's defensive alignment, he made his decision about what route he would select and what type of fake he would use to wriggle himself free from the defender.
"Snap, saw safety cheat to the middle of the field so at that point, I knew [Charles] Tillman was going to get one-on-one just from earlier snaps in the game," Johnson said. "So I just wanted to give him something he saw earlier on one of my in-breakers and he took it."
Johnson, almost immediately in his route, faked a cut and even took a step breaking toward the middle of the field before he made his cut back up the outside sideline. Tillman actually appeared to kind of hang with Johnson there, but Johnson had his speed going and a step so he was going to make a play.
Meanwhile, any potential safety help was gone. Besides having only a single-high safety,
Major Wright
appeared frozen for a second in the middle, which meant the cornerbacks on both Johnson and Durham would have to handle the receivers on their own.
Then Stafford threw up the ball -- Stafford did not appear to look at anyone except for Johnson on the play and had more than enough time to make the play -- and as soon as he did, Detroit had an inkling it would be a touchdown. He placed the ball where only Johnson could get it in the corner of the end zone.
Johnson caught the pass in stride and the momentum of the play actually sent him a short way up the tunnel at Soldier Field. And the lesson already known around the league is to single-coverage Johnson at your own peril.
"Calvin versus anybody in the league is probably a mismatch," Ross said. "He's just a huge target and he's a great receiver and has a lot of great athletic ability and can catch the ball really well.
"Any time you've got him one-on-one with somebody, you know you want to take that chance."
September, 30, 2013
9/30/13
6:00
PM ET
DETROIT --
Reggie Bush
's big 37-yard touchdown run in the second quarter of Sunday's 40-32 win over the
Chicago Bears
almost didn't happen.
Bush fumbled the play before and the ball was recovered by Detroit receiver
Calvin Johnson
, extending the Lions drive with 2:52 remaining in the first half.
The Lions went to the line on the next play, calling another handoff to Bush. Quarterback
Matthew Stafford
was in shotgun with Bush a step behind him and to his right. Center
Dominic Raiola
saw something in the Chicago defense that told him to make a call with his veteran left guard,
Rob Sims
.
"I saw a weak dog and I saw a nickel coming off the edge," Raiola said. "We said all week we wanted to hit one right into the mouth of their blitz and that's really what it was.
[+] Enlarge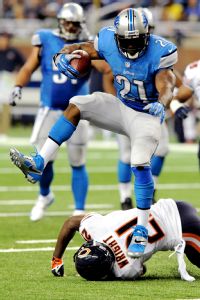 AP Photo/Jose JuarezA lot went into Reggie Bush's 37-yard touchdown, including his hurdling of Major Wright.
"It was a call we practiced all week and we hit it."
Raiola told Sims to engage the defensive end,
Julius Peppers
. In doing so -- and getting a good push on Peppers out to the left, he almost made it appear as if he and left tackle
Riley Reiff
were doubling Peppers on the snap.
They weren't, as Reiff's man, linebacker
James Anderson
, blitzed far on his side. This opened up the first part of a massive hole for Bush, who by the time he reached the line of scrimmage had almost the entire width between the hashmarks to run through and make his initial cut.
In the pre-snap, Bears defensive tackle
Nate Collins
was initially lined up right over Raiola, but on the snap he slid over to engage right guard
Larry Warford
. Warford sealed Collins away from the hole.
This allowed Raiola a clean path to the second level, where he was able to block linebacker
Lance Briggs
.
"We were working on that," Sims said. "We knew they were going to try and slant Julius and we just, Dom made a good call. Dom told me to go out to (Peppers) and I did and we caught them in it.
"That's the thing with them, they are really good at moving and when you can catch them in it, you can make some hay. And Reggie don't need much."
Bush had a wide open lane to run through. He ran almost right at the Raiola-Briggs block before cutting back to the right side and into the second and third levels of the defense.
It appeared as if defensive end
Cornelius Washington
was the man who was supposed to mark up Bush at the snap, but he was on the edge of the defense and looked like he hesitated on the snap out of the backfield and ended up chasing Bush from behind. He had a chance to tackle him, but missed.
Then Bush made another quick cut right and -- this is really what made the run -- jumped over a diving
Major Wright
. Had Wright kept his feet, he would have had a better shot at the Detroit running back.
Once Bush made that move, he had one more assist. Wide receiver
Ryan Broyles
put a good seal block on Chicago cornerback
Tim Jennings
to give Bush a deep crease in the secondary.
Jennings would end up almost catching up to Bush, but those few extra strides helped turn the play into a touchdown.
"A sweet run," Stafford said. "It was a play that honestly we had been working on in practice all week knowing they were going to blitz us, which they always do.
"Instead of getting out of it, just running right into it. Dom made a great call up front, (Brandon) Pettigrew had a great block to seal off the back side and let Reggie do the rest."
Letting Bush do the rest is becoming a common theme for the Lions these days. Detroit's offensive line had done such a good job against Chicago on Sunday, the 37-yard touchdown was merely one of the big runs Bush was able to find.
The touchdown was the longest run of the day for Bush, who had four rushes of 14 yards or more and 139 yards overall.
"Reggie Bush is special," Wright told reporters after the game. "He has speed. He can shake you. He can do everything."