Detroit Lions:

Marc Trestman
November, 26, 2014
11/26/14
12:05
PM ET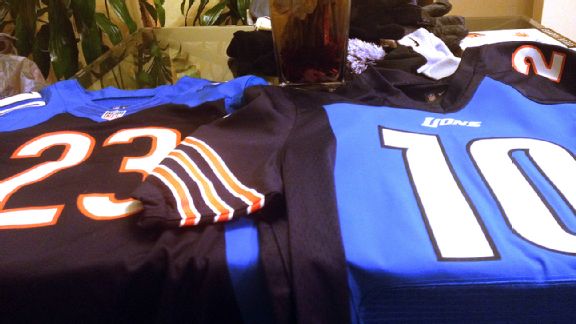 Courtesy of Fuller familyWith their sons playing on opposite sides Thursday, the Fuller's parents got creative with jerseys.
ALLEN PARK, Mich. -- Vincent Fuller went to the tailor Friday night to pick up a special order -- one 20-plus years in the making.
Fuller has four children. They all play football. All played at Virginia Tech. Three of them now in the NFL. Yet this week could be a first for the family and a rarity in the NFL.
On Thursday, Thanksgiving Day, the Fullers hope they'll see two of their four boys on the field at the same time when
Corey Fuller
's
Detroit Lions
face
Kyle Fuller
's
Chicago Bears
. The extra hope is they would match up against each other since Corey is a receiver and Kyle is a cornerback. So Vincent Fuller and his wife, Nina, had two jerseys custom-made.
"We just wanted to represent both our kids," Vincent said from Maryland on Saturday. "Me and my wife are the only ones who have it. We're going to have a Chicago and a Detroit jersey mixed with No. 23 and No. 10 on the same jersey."
Whether or not Kyle and Corey actually line up against one another is in doubt. Kyle hurt his knee Sunday, leaving his status in doubt, although Chicago coach Marc Trestman said he was "hopeful" Kyle would play Thursday.
If it happens, it'll be the culmination of two brothers starting their sibling competitions in the basement of their home playing carpet football and baseball. Of the four Fuller brothers, Corey and Kyle are the closest in age, less than two years apart. The two competed in everything along with their younger brother, Kendall, who plays for Virginia Tech.
In that basement, the two groomed their future competitiveness with rug burns on their knees and tears in their eyes whenever one of them would lose an argument, usually with Kendall serving as de facto referee.
It also honed the start of their trash-talk, which Vincent said started about this game in September when Kyle intercepted two passes against San Francisco. He said Corey texted Kyle and typed he wouldn't do that against the Lions.
[+] Enlarge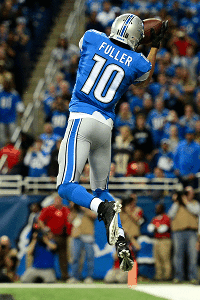 Andrew Weber/USA TODAY SportsThe Lions' Corey Fuller will play against his brother Kyle on Thanksgiving.
"I'm like, 'Man, it's September and you're already going to talk trash already,'" Vincent said. "But that's how they are. It's all in fun. They love each other. They help each other out. They got each others' back.
"But it's all in fun."
The fun would increase Thursday if Corey and Kyle line up opposite one another.
Thinking about the possibility last week, Corey broke out into a big grin and started laughing. He said they never discussed the possibility as kids or in college, either, especially when Corey first went to Kansas to run track before transferring to Virginia Tech to start playing football again.
"If I run out there and see Kyle, my first play, I might laugh," Corey said. "Not laugh at him, just laugh at the fact that this is real. I'm playing my brother in an NFL game.
"But then, from there, it's I got to do what I got to do to help the team, and he's got to do what he has got to do. It'll be like any other game competing. So we'll see."
Not quite like any other game. Corey said he and his brother would absolutely talk trash to each other on the field and might even throw in some extra nudges and shoves for brotherly measure. Just like in their basement.
"It's going to be pretty cool," Kyle said last week. "I'm definitely looking forward to it. It makes it even more fun with it being Thanksgiving because the whole family will be there."
Almost. Kendall will be at the site of the Fuller family's last four Thanksgiving dinners and Nina and Vincent's destination Friday morning -- Blacksburg, Virginia. Otherwise, everyone is expected in suburban Detroit on Wednesday night and Thursday for pregame and postgame Thanksgiving meals.
Vincent said Kyle received permission from the Bears to stay in Detroit on Thursday night to have dinner with the family. Depending on the outcome of the game, that dinner consisting of turkey, ham, sweet potatoes, turnips and Nina's famous sauerkraut dish might be even more interesting.
"I don't know what's going to happen Thursday, but I can imagine what dinner is going to be like," Vincent said. "Especially if they do go up against one another and Corey gets a pass on Kyle or let's say Corey's thrown the ball and Kyle deflects the ball or intercepts the ball.
"I can imagine what's going to go on."
Without a doubt, there will be trash talked. Laughs had among the 15 family members and friends expected to show. Because right now, the Fullers will potentially see two of their own play on Thanksgiving Day and for a family forever focused on football, not much can be better than that.
NFL Nation Chicago Bears reporter Michael C. Wright contributed to this report.
September, 26, 2013
9/26/13
12:00
PM ET
Sunday's game between the
Detroit Lions
and
Chicago Bears
has some major implications for both teams a month into the season.
A Chicago win would give the Bears a two-game lead over the rest of the division. If Detroit wins, it would share the early lead with Chicago and give the Lions a potential edge in important tiebreakers when it comes to division titles and potential wild-card berths.
For Detroit, it is a chance for a rare win against the Bears. Chicago has won nine of its past 10 games against the Lions.
ESPN Bears reporter Michael C. Wright and ESPN Lions reporter Michael Rothstein break down some of the keys to the game.
Rothstein:
Let's start here. Chicago has won nine of the past 10 in this series. Is there any sense of overconfidence in the Chicago locker room, or has the Lions' start really kept that down?
Wright:
Not at all because the Bears know they could be 0-3 as easily as they became 3-0. Remember,
Jay Cutler
led the Bears on back-to-back late comebacks to start the season, and they almost let Sunday's game in Pittsburgh get away from them. So they know how fortunate they are to be the only undefeated team in the division, and they're not taking the fast start for granted because, remember, just last season the Bears started off 7-1 only to lose five of their last eight to miss the playoffs. This game is essentially for first place in the NFC North. What's the feeling in the Lions' locker room with such a high-stakes game coming up and the team coming off a big road win at Washington?
Rothstein:
That it is early in the season. The players have stressed the importance of divisional games in the past, as has their coach, Jim Schwartz. But the truth is, this game would be a huge deal for Detroit if it won. It would give the Lions early control of the division and a two-game winning streak heading into a place they haven't won in a long time -- Green Bay. There is definitely confidence in this group and the feeling that it can make enough plays to win games. That said, this is the first time Detroit will see the Bears under new coach Marc Trestman. How much different do the Bears look?
Wright:
Chicago definitely features more diversity with formations on offense than it did a year ago, but don't expect anything elaborate or mind-boggling in terms of actual play calls. Trestman and the offensive staff have been adept at finding weak spots in opposing defenses and drawing up the plays that will work best given the matchup. The biggest difference you'll see is the improvement in protection, and the fact that Cutler now spreads the ball to other receivers as opposed to relying solely on
Brandon Marshall
. Because of the improved protection, running back
Matt Forte
no longer has to stay in and chip-block, and that frees him up to get out on pass routes. So Forte is another weapon for Cutler, as is
Martellus Bennett
, Marshall and
Alshon Jeffery
. If teams take away Marshall, Cutler now has plenty of options in the passing game. In the past, the Lions' front four has given Chicago problems. How potent is Detroit's defensive line this year with guys like
Ziggy Ansah
,
Nick Fairley
and
Ndamukong Suh
in the mix?
Rothstein:
This group might be the most talented and deepest in the NFL. Suh is having a standout season, even if he isn't putting up big numbers. His pressure of opposing quarterbacks has forced two interceptions in three games. Plus, the attention that opposing offensive lines place on blocking Suh opens things up for Fairley, Ansah and
Willie Young
. Ansah has 2.5 sacks and has a high-level speed burst for a defensive end. All of the linemen complement each other well, and that forms a highly productive unit. The biggest key there is the four linemen can pressure quarterbacks on their own, and that allows defensive coordinator Gunther Cunningham to scheme differently than normal in the back seven. The Bears appear to have done a good job protecting Cutler this year, at least statistically. Now they face one of the toughest defensive lines in the NFL. What's the strategy for holding up there?
Wright:
Chicago showcased its new offense in Week 1 against a formidable
Cincinnati Bengals
defensive line and didn't allow a sack, and the protection held up well Sunday night against a blitzing Pittsburgh front seven. So the Bears feel they're battle-tested in terms of protection, and obviously a major component of the success they've experienced on the offensive line is new additions such as left guard
Matt Slauson
, rookies
Kyle Long
and
Jordan Mills
on the right side and tight end Martellus Bennett. Schematically, the Bears aid the protection with a faster, more rhythmic passing attack with drops designed to get the ball quickly out of Cutler's hands. The Lions lost defensive end
Jason Jones
to a season-ending knee injury, so who's the next man up, and what does he bring to the table?
Rothstein:
It'll likely be a combination of players, but the immediate answers are veterans Young and
Israel Idonije
, along with rookie
Devin Taylor
. Young is having a productive season with 10 tackles, a sack and the ability to pressure the quarterback. Bears fans should be familiar with Idonije, who played in Chicago the past nine seasons. Taylor is the question mark. He's best known for lining up as the defensive end opposite Jadeveon Clowney at South Carolina, but he is extremely athletic and could be a matchup problem if he can get over his inexperience. Shifting to Chicago's defense, working with the assumption
Reggie Bush
plays Sunday, how would you anticipate Chicago defending the Lions?
Wright:
The Bears won't deviate from playing their standard 4-3 over front, where the focus is penetration and gap control. Bush is certainly a dynamic threat on the edges in the passing game, but the Bears probably won't experience much difficulty handling him because they've dramatically improved the athleticism of the linebacking corps with the additions of
James Anderson
and
D.J. Williams
to play alongside
Lance Briggs
. So they won't put in any new wrinkles. If anything, the Bears will probably just focus more this week on defending the screen game, and accomplishing that task will also involve the club's athletic defensive linemen such as
Julius Peppers
. Bush said he could've played against the Redskins. What's the latest on his injury situation, and what does he add to Detroit's offense?
Rothstein:
I would be very surprised if Bush did not play Sunday -- especially now that wide receiver
Nate Burleson
is out for the foreseeable future. The Lions' offense is just so much different with Bush in the lineup -- whether he lines up in the backfield, out wide or in the slot. His ability to accelerate out of screens, dump-off passes and if he gets a small crease in the backfield is a skill few players in the NFL have. That Detroit has him along with the league's best overall wide receiver in
Calvin Johnson
offers a tough matchup to defend when both are healthy. One of Chicago's biggest playmakers is
Devin Hester
. Is he returning to early career form in that area, or was that more of a coverage issue by opponents?
Wright:
Hester isn't thinking as much, and he's a fresher player than in years past because he's no longer playing receiver, which has allowed him to focus solely on duties as a return man. Shortly after Trestman took the head-coaching job, Hester indicated to the coach a desire to focus solely on special teams. From there, Trestman said he "was all in" with the move. Hester no longer spends time during the week in offensive meetings with the receivers. The club has allowed him to concentrate exclusively on contributing as a special-teamer, and that's paid dividends. Detroit's biggest playmaker is Calvin Johnson. Given all the attention teams give him, how important has it been for the Lions to diversify distribution of the ball in the passing game?
Rothstein:
It has been key, although it'll be interesting to see how that changes now that Burleson is out. The obvious option is receiver
Ryan Broyles
, who played for the first time this season against Washington this past weekend. He is almost definitely going to receive more snaps and more targets. The other option could be an increased role for tight ends
Joseph Fauria
and
Tony Scheffler
. They both have receiving skills for tight ends, and at 6-foot-7, Fauria has already turned into an enticing red zone target. Now he may end up on the field in more than just scoring situations.