Detroit Lions:

Martavis Bryant
May, 10, 2014
May 10
10:00
AM ET
Some needs have been taken care of. Others, somewhat startlingly, remain on Detroit's board. This is how the final day of the 2014 NFL draft will begin for the Lions.
With a few answers, a lot of questions and, as of now, four picks remaining. In those four picks -- two of which can't be traded -- the Lions will likely have to find a developmental quarterback and potentially some depth at linebacker and the defensive line. Maybe another wide receiver.
Oh, and if you missed it, the Lions still have addressed zero needs in the secondary, a position of constant flux in Detroit.
Entering Saturday's four rounds, the Lions have picks Nos. 133 and 136 in the fourth round, pick 146 in the fifth round and No. 189 in the sixth round. It wouldn't be shocking, though, to see Detroit trade either a player or a pick either this year or next to acquire at least one more selection.
Either that, or they'll just have to have faith that they can unearth undrafted free-agent contributors like they did with
LaAdrian Waddle
and
Joseph Fauria
last season.
Here, though, are 10 players Detroit may target during the final day of the draft. Not the order of their board, just players that could get a heavy look at some point.
1. Aaron Murray, QB, Georgia:
The Lions will likely take a developmental quarterback and Murray is a potential choice. Of course, if
Tom Savage
or A.J. McCarron are still around when they pick at the end of the fourth round, they could look to one of those players, too.
2. Pierre Desir, CB, Lindenwood:
As mentioned Friday, he has the height Teryl Austin wants at the position. That he is still around on the third day might have more to do with the competition he played in his career than his actual talent level.
3. Bashaud Breeland, CB, Clemson:
Another player on our Friday list, he is a physical corner who likely won't last until Detroit's pick, but should get picked up quick if he is.
4. Brock Vereen, S, Minnesota:
He has versatility in that he could play safety, nickel and corner if need be. He's very good against the run, which means he could allow
Glover Quin
to play deep if he were able to beat out
James Ihedigbo
for the job. Smart player and good instincts.
5. Kelcy Quarles, DT, South Carolina:
He's better against the run than the pass and would be a developmental pick.
6. Aaron Lynch, DE, South Florida:
He would be a major chance pick, but if he worked out -- and if he doesn't get drafted, he should be an immediate priority free agent call because of his talent -- he could be a late-round gem. He is extremely talented and if he can deal with some issues with homesickness, he could be a steal.
7. Yawin Smallwood, LB, Connecticut:
Classic production-type player that could be a late-round find. He's not going to wow you in any area, but he is a fundamentally strong football player who is not afraid of contact and is good against the run.
8. Jaylen Watkins, DB, Florida:
The Lions did extensive research on his half-brother, Sammy, but they could end up with Jaylen. He can play both corner and safety if need be, and like Vereen above, is going to just be an average player who won't be a huge difference-maker but won't hurt you too much, either. If the Lions have some confidence in their secondary, they could take Watkins as a plug-in player at either spot.
9. Martavis Bryant, WR, Clemson:
It would be doubtful he'd still be there at the end of the fourth round, but he is one receiver that could be worth taking at that point. His size/speed combination would be of great value at that point and could turn the Lions' pass-catching operation into a group Matthew Stafford could almost never aim too high on with a ball.
10. Lamin Barrow, LB, LSU:
Instinctual player who can handle the run and play every down. If the the Lions were to ever consider making the move to a 3-4 defense or a true hybrid-capability defense, they need to find at least one more linebacker since they might have a lot of those pieces on the defensive line already. He also has special-teams experience, which is a late-round key for Detroit. Watch this name.
Others to watch (draft or free agents):
Zach Mettenberger
, QB, LSU;
Logan Thomas
, QB, Virginia Tech; McCarron;
Jared Abbrederis
, WR, Wisconsin;
Devin Street
, WR, Pittsburgh;
Jeremy Gallon
, WR, Michigan;
Bennie Fowler
, WR, Michigan State;
Matt Patchan
, OT, Boston College;
Conor Boffeli
, OG, Iowa;
Gabe Ikard
, C, Oklahoma;
Caraun Reid
, DT, Princeton;
Anthony Johnson
, DT, LSU:
Larry Webster
, DE, Bloomsburg;
Michael Sam
, DE, Missouri;
Cassius Marsh
, DE, UCLA;
Max Bullough
, LB, Michigan State;
Denicos Allen
, LB, Michigan State;
Avery Williamson
, LB, Kentucky;
Prince Shembo
, LB, Notre Dame;
Devon Kennard
, LB, USC;
Walt Aikens
, CB, Liberty;
Ty Zimmerman
, S, Kansas State;
Lonnie Ballentine
, S, Memphis;
Nate Freese
, K, Boston College.
May, 2, 2014
May 2
8:10
AM ET
The Lions, lying in wait for the new year....
You may have missed it Thursday night -- if you were in the northeast, it was gorgeous outside -- but ESPN draft analysts Mel Kiper Jr. and Todd McShay live mock drafted the first three rounds of next week's NFL draft.
What transpired was an interesting situation for the Lions. Kiper and McShay were not allowed to make trades, so Detroit was stuck at No. 10 without being able to try and move up to grab either
Sammy Watkins
,
Khalil Mack
or
Jadeveon Clowney
and couldn't trade out of their spot if they weren't enamored with what they saw when they picked.
What ended up happening was Kiper selected LSU wide receiver Odell Beckham Jr. at No. 10 for Detroit -- instead of Alabama safety
Ha Ha Clinton-Dix
, Pittsburgh defensive tackle
Aaron Donald
or either one of the top cornerbacks on the board, Oklahoma State's
Justin Gilbert
or Michigan State's
Darqueze Dennard
.
In the second round, with McShay picking for the Lions, he took Georgia Tech linebacker
Jeremiah Attaochu
at No. 45 and in the third round, at No. 75, Kiper took Liberty cornerback
Walt Aikens
.
Here's that full
three round mock

.
As mentioned last night on Twitter, with what would have been available in all of those slots, I would have drafted much differently. I would have taken Donald at No. 10 without a doubt if I was not able to trade out of the selection.
Using a five-pick rule -- meaning I couldn't take someone within five picks of who the Lions selected -- in the second and third round, I would have then selected Clemson wide receiver
Martavis Bryant
in the second round and Minnesota safety
Brock Vereen
in the third round.
After sleeping on it, another option for the third round could have been taking Rice cornerback
Phillip Gaines
or Iowa tight end
C.J. Fiedorowicz
. Both would fit what the Lions are trying to do.
The point, obviously, is that Detroit can do just about anything when the draft starts Thursday other than take a quarterback or running back in the first round.
And now, on to Lions news from around the Interwebs:
April, 30, 2014
Apr 30
1:00
PM ET
The NFL draft is less than two weeks away, which means soon enough the
Detroit Lions
will have to reveal whether all of their
Sammy Watkins
attention and visits from
Jadeveon Clowney
and
Khalil Mack
had substance or were designed to throw everyone off.
But the draft will be more than just one round for the Lions, who will need to use the three days in May to build depth on a roster that is big on stars but small on those players beyond the big names that can turn the Lions into a playoff team.
Every day up until the first day of the draft, we'll look at a different position grouping and see what Detroit has and what the team could end up looking for during the 2014 draft.
Today continues with wide receivers.
Previous position groups:
Quarterbacks
;
Running backs
Players Lost:
Nate Burleson
(signed with Cleveland);
Micheal Spurlock
(unsigned)
Players Signed:
Golden Tate
(from Seattle);
Naaman Roosevelt
(played with Buffalo in 2010 and 2011)
Players on the roster
:
Calvin Johnson
; Tate;
Ryan Broyles
;
Kris Durham
;
Kevin Ogletree
;
Jeremy Ross
; Roosevelt; Patrick Edwards;
Cody Wilson
;
Corey Fuller
;
Carlin Isles
.
Draft priority:
High
Potential Rounds:
Any round
Players who have visited or the Lions have met with:
Sammy Watkins, Clemson;
Martavis Bryant
, Clemson;
Allen Robinson
, Penn State (local workout);
Bennie Fowler
, Michigan State (local workout);
Erik Lora
, Eastern Illinois;
Marqise Lee
, USC;
Mike Evans
, Texas A&M (went to pro day);
Cody Latimer
, Indiana (per Detroit Free Press);
John Brown
, Pittsburg State (per Detroit Free Press).
Analysis:
Despite their top free-agent signing, Tate, being a wide receiver and having the top pass-catcher in the game in Johnson, bringing in more wide receivers to overhaul a group that led the NFL in drop rate last season has been a priority.
A lot of this has to do with Detroit's overall philosophy this offseason – find as much help as possible for quarterback
Matthew Stafford
to lift him from a very good quarterback to one of the top players in the position in the NFL. The Lions have focused their coaching staff hires on this goal and appear to be doing the same with both free agency, and now, the draft.
The draft is a little bit different for Detroit because even if the front office won't admit it, the franchise understands it might be time to at least contemplate searching for a replacement for Johnson if there is someone with that type of talent there.
The Lions have expended considerable time over the past three months investigating Watkins, believed to be the best receiver in the draft, to see if he could be the player eventually relied upon to be that replacement.
They brought Watkins in for a visit, went to his pro day and met with him privately; a lot of work for a player who has little-to-no chance of being around at Detroit's current No. 10 selection. The team even met with his receiver teammate, Bryant, and his brother, Florida safety
Jaylen Watkins
, in the process.
Of course, one could make the argument that the Lions would be better waiting until the second or third round to take a receiver and grabbing Bryant anyway.
While a lot of the focus has been on Sammy Watkins, this is a very deep, very talented receiver class. If the Lions don't trade up for Watkins, there's a chance Evans could be around at No. 10 and he would be an intriguing pick for the Lions. So would potentially trading down to grab a receiver a little bit later and stockpiling picks.
When it comes to this position, Detroit could end up doing pretty much anything.
Of all reasonable options, I'd take:
My feelings on trading up for Watkins
have been known for a little while – don't do it
. The only prospects, in my opinion, worth moving up for are Clowney and Mack, players who can make an immediate difference on defense. So when it comes to reasonable, there's this.
If Evans is there at No. 10, the Lions would have to consider him heavily. Whether they should make the pick or not is something different, but they'd have to look hard at it. Personally, I'd wait until the second or third round and grab one of these prospects if available (and one likely will be): Latimer, Bryant, Robinson,
Kelvin Benjamin
from Florida State,
Paul Richardson
from Colorado or even a guy like
Donte Moncrief
from Mississippi. At least one of those players, if not more, should be available when the Lions pick on the second day – perhaps even in the third round. Don't be surprised, either, if Detroit ends up taking another receiver a bit later as well because this is a high value position in the 2014 draft.
Possible targets
: Watkins; Evans;
Odell Beckham Jr.
, LSU; Lee; Latimer; Benjamin;
Davante Adams
, Fresno State;
Jordan Matthews
, Vanderbilt; Richardson; Bryant; Robinson;
Brandon Coleman
, Rutgers; Moncrief;
Kevin Norwood
, Alabama;
Mike Davis
, Texas;
Shaq Evans
, UCLA;
Jeff Janis
, Saginaw Valley.
April, 3, 2014
Apr 3
1:00
PM ET
He won't be someone Detroit will take at No. 10, but if the Lions choose to look at defense early in May's NFL draft, the player visiting the team Thursday could be a big option on the second day.
Clemson wide receiver
Martavis Bryant
, who played opposite
Sammy Watkins
with the Tigers, visited the Lions.
Bryant is an intriguing prospect because of his size and his speed. Rated as the No. 12 receiver and No. 76 player overall in the draft by ESPN.com, his 6-foot-3, 211-pound frame is a nice one for an outside complementary receiver.
He is a dynamic vertical threat and has very long arms at 32 5/8 inches and also has 9 1/2-inch hands, large for a wide receiver. His 4.42-second 40-yard dash time was tied for fifth among wide receivers at the combine.
The biggest questions about him are about production, although that could be a tricky one considering he played opposite Watkins, the top receiver in this draft.
Bryant caught 42 passes for 828 yards and seven touchdowns last season and 83.3 percent of his catches resulted in first downs.
He kind of disappeared in the fourth quarters of games, however, as he only had five receptions for 113 yards and a touchdown in the final portion of games, according to ESPN Stats & Information.
All of those catches, though, went for first downs. He had four catches in the red zone last season -- all of them for touchdowns.
He had only one 100-yard game last season -- a 176-yard effort against Georgia Tech in November.
The numbers are somewhat difficult to analyze because of Watkins' insane production, but because of that he also knows how to be a complementary receiver, something he'll have to be comfortable with playing alongside
Calvin Johnson
and
Golden Tate
.
February, 24, 2014
Feb 24
8:00
AM ET
Good Morning and RROOOOAAARRR!!!!!
Over the past week, the
Detroit Lions
set a somewhat large premium on finding wide receivers to join star
Calvin Johnson
and complementary receivers
Ryan Broyles
,
Kris Durham
and
Jeremy Ross
as potential pass-catchers.
And after talking to a ton of receivers over the weekend -- almost every top receiver at the combine said they had meetings with the Lions -- the receivers were finally able to work out Sunday for coaches, scouts and general managers.
Here's a quick look at how receivers did at Lucas Oil Stadium on Sunday (all numbers from NFL.com):
40-yard dash:
Top performer --
Brandin Cooks
(Oregon State) 4.33. Others of note:
Paul Richardson
(Colorado) 4.4;
Martavis Bryant
(Clemson) 4.42;
Odell Beckham
(LSU) 4.43;
Sammy Watkins
(Clemson) 4.43;
Jordan Matthews
(Vanderbilt) 4.46.
Bench Press:
Top performer --
Cody Latimer
(Indiana) 23. Others of note: Matthews 21; Bryant 16; Cooks 16; Watkins 16;
Jeremy Gallon
(Michigan) 15.
Vertical jump:
Top performer --
Tevin Reese
(Baylor) 41.0. Others of note: Bryant 39.0;
Allen Robinson
(Penn State) 39.0; Beckham 38.5;
Marqise Lee
(USC) 38.0; Richardson 38.0;
Mike Evans
(Texas A&M) 37.0.
Broad jump:
Top performers --
Donte Moncrief
(Mississippi) and Reese 11 feet, 0 inches. Others of note: Lee 10-7; Robinson 10-7; Watkins 10-6; Bryant 10-4; Richardson 10-4.
3-cone drill:
Top performer --
Damian Copeland
(Louisville) 6.53. Others of note: Beckham 6.69; Cooks 6.76;
20-yard shuttle:
Top performer -- Cooks 3.81. Others of note: Beckham 3.94; Robinson 4.00; Lee 4.01; Bryant 4.15.
60-yard shuttle:
Top performer -- Cooks 10.72. Others of note: Beckham 10.93; Robinson 11.36;
Shaq Evans
(UCLA) 11.51; Evans 11.58.
And now, some Lions news from around the Interwebs:
February, 17, 2014
Feb 17
12:00
PM ET
If you happened to take an Internet break over the past seven days -- and let's face it, at some point everyone could use a break from information -- you missed a lot when it comes to the world of the
Detroit Lions
.
You also happened to come back at the right time, as prospects, agents, media and representatives from every NFL team will be making their way to Indianapolis this week for the annual scouting combine, where workout legends are made and players are routinely overrated and underrated every year.
So here's a quick look at what you might have forgotten about or glossed over from the week that was and what to expect for the week to come.
Let's start with transactions. The Lions finally managed to push themselves under the cap, but it meant the release of
veteran wide receiver Nate Burleson
and
starting safety Louis Delmas
, both of whom had high cap numbers and one year left on their contracts. The releases of Burleson and Delmas mean a definitive leadership shift in the Detroit locker room for 2014, as the two players were often viewed as the emotional centers of the Lions' offense and defense.
Those releases plus the establishment of center
Dominic Raiola
's
2014 cap number of $1.5 million
likely gives Detroit a little more than $3 million in cap room heading into the new league year on March 11.
[+] Enlarge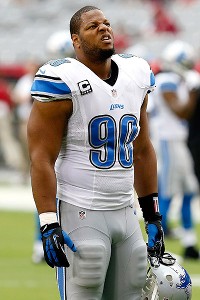 AP Photo/Ross D. FranklinWill the Lions work to extend Ndamukong Suh's contract and reduce his $22.4 million cap figure for 2014?
Chances are, there will be more maneuvering from Detroit between now and then, either in contract restructures, player cap casualty releases or perhaps that long-sought
Ndamukong Suh
long-term extension.
Speaking of that extension, this week could be a big week for it. Everyone is in Indianapolis and discussions about free agents and prospects are sure to take place. The wrinkle with Suh is he
may or may not have hired an agent
after firing Eugene Parker and Roosevelt Barnes, and no one from the potential agency, Roc Nation Sports, has been commenting about who his representation actually is.
Suh has a $22.4 million cap figure for 2014 and how soon the team can remedy that will severely impact how the Lions can improve areas they need to for 2014.
In Indianapolis, Detroit will be focusing on a bunch of different position groups, although the wide receiver corps and secondary will receive the most attention.
The Lions
need to find complements for Calvin Johnson
and now a replacement for Burleson in the slot. In the secondary, Teryl Austin has said his team can never have enough cornerbacks and add that to the release of Delmas, and
improving the secondary is paramount
entering Austin's first season as a NFL defensive coordinator.
So who might the team look at? This receiver class is unbelievably deep, so this could give the team some room to trade down from No. 10 if it wanted to or stay put if there is a receiver they like at that spot. Clemson's
Sammy Watkins
, the top receiver in the draft, isn't expected to be available at No. 10, so the team will have to make a decision whether Texas A&M's
Mike Evans
or USC's
Marqise Lee
, among others, are worth the No. 10 pick. This week will really push forward that evaluation process. But with 14 receivers in ESPN's Top 100 players and 22 in the Top 150, the
Lions will have some options to consider
. A sleeper name to watch -- Watkins' teammate,
Martavis Bryant
. He has the size and speed that, if available in the third round or later, could be a steal.
If not receiver, then secondary is an area the team could address. Alabama's
Ha Ha Clinton-Dix
went from a luxury to potentially a priority at safety and both Oklahoma State's
Justin Gilbert
and Michigan State's
Darqueze Dennard
will get looks. All three of those players could be ideal candidates for Detroit even if it were to trade down a few slots.
Expect Detroit to also look heavily at center -- Oklahoma's
Gabe Ikard
could be a target -- tight end, defensive line and linebacker throughout the draft. A quarterback could also be in play, but that likely wouldn't come until the third day of the draft considering the team's other needs and investment in
Matthew Stafford
.
A week from now, a lot of Detroit's plans over the next handful of months could become much clearer.
January, 22, 2014
Jan 22
3:00
PM ET
Two of the major college all-star games took place last Saturday. The Senior Bowl happens this Saturday with practices all week.
Many of the players selected in May's draft will come from these three games or from underclassmen who decided the time was right to turn professional. Over the next two weeks, pairing with our position outlook series, we'll take a quick preview look at some names to become familiar with over the next four months as the NFL draft process crawls along.
Today continues with wide receivers, one of the biggest positions of need for Detroit heading into this offseason. It is plausible to see two receivers taken by the team in this draft if things line up correctly.
Previous looks:
Quarterbacks
;
Running backs
.
NFLPA game:
Shrine Game:
Senior Bowl prospects:
Others not in major all-star games:
January, 22, 2014
Jan 22
12:30
PM ET
A coach has been hired. A staff is being filled out. The
Detroit Lions
' offseason and planning for the 2014 season is officially here.
To start that process, we will look at each position group over the next two weeks, analyze what worked and what didn't before projecting what could happen between now and training camp in 2014, which is only a mere seven or so months away.
Today the series continues with wide receivers.
Previous positions:
Quarterbacks
;
Running backs
.
2014 free agents:
Kris Durham
(restricted free agent);
Kevin Ogletree
;
Micheal Spurlock
;
Jeremy Ross
(exclusive rights)
Johnson
Burleson
The good:
Calvin Johnson
had another standout season, catching 84 passes for 1,492 yards and 12 touchdowns in 14 games. He finished eight yards shy of being the first receiver in NFL history to post three straight 1,500-yard seasons. He also had the second-highest yards after contact per reception rate in the league, behind Seattle's
Golden Tate
. In nine games,
Nate Burleson
had 39 catches for 461 yards and showed he can still play at age 32. He also caught 73.6 percent of the passes
Matthew Stafford
threw to him -- the second-best mark among qualifying receivers in the NFL. Both Kris Durham and Jeremy Ross emerged in different ways. Durham showed he could be a contributor on the NFL level, catching 38 passes for 490 yards and two touchdowns. Ross only caught five passes, and had three touchdowns -- one receiving and two on special teams. He also became a dynamic returner who could be a long-term option both in the slot and returning punts and kicks.
The bad:
Start with the drops. Lions receivers dropped 21 passes -- second worst in the league ahead of Cleveland, with 24. The receivers also had a 6.0 percent drop rate, second worst in the league. Their reception percentage of 55.2 was seventh worst in the league, although that has to do with Stafford as much as the receivers. Durham's 45.2 reception percentage was third worst among qualifying receivers in the league, better than St. Louis'
Chris Givens
and Cleveland's
Greg Little
. Durham's drop rate of 7.1 percent was tied for sixth worst among qualifying receivers -- but ahead of Denver's
Wes Welker
.
The money (using 2014 cap numbers from Roster Management System):
Johnson is third on the team when it comes to his cap number at $13,058,000 -- 10.49 percent of the team's cap right now. Burleson is entering the final year of his contract at a cap number of $7,531,645, but that is almost assuredly coming down after he said he would be willing to restructure his deal to stay with the Lions.
Ryan Broyles
has a cap number of $1,003,227. Combined, the three players are at $21,592,872 -- or 17.35 percent of the Lions' cap. This does not include projected cap numbers for Ross (likely the three-year minimum) and Durham if they choose to retain them. Detroit will be adding rookie numbers to this as well after the draft.
What Caldwell might favor:
In his three seasons as a head coach in Indianapolis and last season as Baltimore's offensive coordinator, Caldwell did not have a single receiver that contributed on the roster under 6-foot. In those four seasons, he only had one short receiver -- in 2010,
Brandon James
was 5-foot-7 -- and James only played in three games. Just something to keep in mind when Caldwell assembles this roster. Another thing to look at: Caldwell has typically kept four receivers active on his rosters throughout his tenure at Indianapolis and Baltimore. This year's Lions team usually kept between five and six receivers and finished the season with three receivers on the practice squad.
Potential cuts:
Burleson should be sticking around as long as he and the team can come to terms on a restructured deal. He had a good enough season and reliable enough season that he should be back. Broyles could come down to his health. He is rehabbing a ruptured Achilles -- the third straight season his year has ended with an injury.
Draft priority:
High. Very high. Depending who is available at No. 10, it is very possible the Lions use their first pick on a wide receiver. If Clemson's
Sammy Watkins
falls to them, the Lions should sprint to the podium to draft him. Other early options include Texas A&M's
Mike Evans
and USC's
Marqise Lee
. If the Lions go a different direction in the first round, it is possible Florida State's
Kelvin Benjamin
, Penn State's
Allen Robinson
or Vanderbilt's
Jordan Matthews
could be available. Clemson's
Martavis Bryant
, at 6-foot-5, could be an intriguing option as well beyond the first round. Depending on what happens with Burleson, Detroit could also look at a slot receiver at some point and South Carolina's
Bruce Ellington
, Oklahoma's
Jalen Saunders
, UCLA's
Shaq Evans
and Michigan's
Jeremy Gallon
could be intriguing later-round options, although Ellington (5-foot-9) and Gallon (5-foot-8 1/4) don't fit the profile of what Caldwell has looked for in the past in terms of height.
Numbers in this post were culled from ESPN Stats & Information and Roster Management System.