Detroit Lions:

Matt Forte
April, 28, 2014
Apr 28
4:15
PM ET
When players reach the pros, so much of their personal brand and style goes beyond what the player actually does on the field and ties into what they are able to sell themselves as in the entirety of their being.
While that may be more true in the NBA and MLB, where the faces of players aren't obscured by helmets and facemasks, those same principles can carry over to the NFL.
And unsurprisingly, quarterbacks
dominated the top 50 player sales list
for the fiscal year from March 1, 2013, to Feb. 28, 2014.
Green Bay quarterback
Aaron Rodgers
was the highest-rated player in the NFC North on the list, coming in fifth behind
Russell Wilson
,
Peyton Manning
,
Colin Kaepernick
and
Robert Griffin
III.
Minnesota's
Adrian Peterson
was No. 13 and the second-highest-rated running back behind Seattle's
Marshawn Lynch
(No. 7). Right behind Peterson was Green Bay linebacker
Clay Matthews
, at No. 14.
Detroit's
Calvin Johnson
was the only Lions player on the list and the top-selling wide receiver at No. 20, just ahead of
Victor Cruz
of the
New York Giants
at No. 21. Two tight ends -- Dallas'
Jason Witten
and New England's
Rob Gronkowski
-- were ahead of Johnson.
Wide receiver
Brandon Marshall
was the highest-rated Chicago player at No. 31 and his quarterback,
Jay Cutler
, was No. 36. Their running back,
Matt Forte
, was No. 49 on the list.
Green Bay wide receiver
Jordy Nelson
was No. 43, just ahead of Atlanta quarterback
Matt Ryan
.
At least among Lions players, there weren't many surprises of who was not included, although running back
Reggie Bush
, quarterback
Matthew Stafford
and even defensive tackle
Ndamukong Suh
all could have ended up toward the bottom of that list.
April, 4, 2014
Apr 4
12:00
PM ET
In May,
Detroit Lions
general manager
Martin Mayhew
will run the team for his sixth NFL draft. He'll have been involved with the team's personnel decisions, at that point, for 10 seasons.
While Mayhew's first draft as the team's actual general manager took place in 2009, he had been working with the team since the middle of the 2004 season as the Lions' assistant general manager. He did not make final decisions when it came to the draft in those first few years -- Matt Millen was still the general manager then -- but he was certainly part of the group that helped influence what happened with the Lions.
In 2008, Mayhew's final draft as assistant general manager before being promoted, the Lions were 7-9 and apparently headed in the right direction with Rod Marinelli. They didn't know they would be an 0-16 team by the end of that season and both Millen and Marinelli would be gone. They didn't know the entire team would end up being restructured. Over the next two weeks, we'll look at the first-round picks in each year for the Lions, who else would have been available and whether that pick ended up being a good call.
Past years:
2005
; 2006; 2007
Pick:
No. 17
Player selected:
Gosder Cherilus
, OT, Boston College
Player's credentials at time:
Cherilus could play both left and right tackles and was a four-year starter at Boston College and a team captain. He was one of the top tackles in the draft and the Lions were somewhat light at the position. His NFL.com profile leading into the draft questioned his ability at left tackle in its pre-draft profile of him as well as his ability to shift directions. They viewed him as a right tackle instead of a left tackle in the NFL.
Who else was available at time of pick:
Joe Flacco
, QB, Delaware;
Aqib Talib
, CB, Kansas;
Rashard Mendenhall
, RB, Illinois;
Chris Johnson
, RB, East Carolina;
Mike Jenkins
, CB, South Florida;
Brandon Flowers
, CB, Virginia Tech;
Matt Forte
, RB, Tulane;
DeSean Jackson
, WR, California.
Did pick make sense at time:
Not really. The Lions needed offensive line help, but their pass defense was atrocious and Talib was considered one of the top cornerbacks in the country that season. Cherilus was a good prospect but the Lions could have filled a bigger need and done better.
Did it end up being a good pick:
Kind of. Cherilus was a full-time starter by midway through his rookie year and stayed there throughout his time with the Lions, which lasted until the end of the 2012 season. He was with Indianapolis last year. But considering the issues Detroit had defensively and Marinelli's reputation as a defensive-minded coach, the team should have gone elsewhere with the pick.
Who should the Lions have taken:
Talib. The Lions were 31
st
in the NFL in passing yards per game in 2007 (258.19) and allowed opposing quarterbacks to complete 70.1 percent of their passes against Detroit. They also allowed 32 touchdown passes and intercepted only 17 passes. The secondary was in dire need of attention. Of course, there were character issues with Talib entering the draft, so it is somewhat understandable why Detroit would have passed on him at that point, but Mike Jenkins was also available. He might have been a reach at the time, but the Lions needed some sort of defensive help.
What can Detroit learn from this:
Don't always go with offense. This, like in 2005, is an important lesson for Detroit -- something the team has appeared to learn in recent years. They drafted a decent player who was a solid starter for them in Cherilus, but they could have solved a need and possibly prevented the 2008 debacle that followed if they had focused on a defensive player in the first round of the 2008 draft.
November, 11, 2013
11/11/13
4:50
PM ET
CHICAGO --
Willie Young
thought he had Chicago stopped, having pressured and then plowing into Bears backup quarterback
Josh McCown
just after the ball was thrown and the
Detroit Lions
looked like they had held on to win Sunday against the Bears.
Except when McCown's pass to
Dante Rosario
went sailing out of the end zone, Young was flagged for roughing the passer on what appeared to be a helmet-to-helmet hit. Young wasn't happy on the field. He wasn't happy in the locker room after the game, saying players needed to call a meeting about certain calls made this season.
Young's personal foul, though, set up two things. First, it gave Chicago one last chance to tie. Second, it gave defensive tackle
Nick Fairley
, who had one of his better games of the season Sunday, a chance to make the game-clinching play.
Chicago lined up with three wide receivers and McCown in the shotgun with
Matt Forte
to the right of him. Fairley was lined up in his typical spot next to
Ndamukong Suh
, between center
Roberto Garza
and left guard
Matt Slauson
.
[+] Enlarge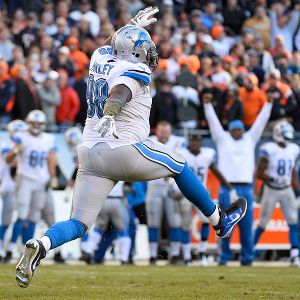 Mike DiNovo/USA TODAY SportsNick Fairley celebrates his goal-line stop Sunday that clinched the Detroit Lions' win.
And considering the Bears had thrown on the last play and had limited success running Sunday, most people could have assumed Chicago was going to pass. Everyone except the Detroit defensive line.
"Just looking at the offensive linemen, I had a hunch they were going to probably run," Suh said. "Just from the way they looked and that they were lined up. They didn't even come to my side but I know if Nick wasn't going to make the play, which he obviously did, I was going to help him clean it up."
With Suh, defensive tackle
C.J. Mosley
and even Fairley potentially anticipating a run, Detroit coach Jim Schwartz explained Monday it actually wasn't much of a surprise at all considering the Bears' tendencies.
And that on the prior two-point conversion play wiped out by the Young penalty, McCown might have actually been looking for Forte to catch a ball first. As McCown rolled to his right, he looked in the direction of Forte, who was blanketed by linebacker
Rocky McIntosh
.
So reading potentially two straight plays to Forte was actually a smart call.
"They were a yard away and both of their two-point plays they tried to get the ball to arguably their best player," Schwartz said. "They got a lot of good players on offense but Forte, the first play was a sprint-out and Rocky McIntosh did a fantastic job of getting him covered up. That's one of the reasons that play was incomplete. Even though we had a penalty on the play, that had nothing to do with Rocky or the execution of the scheme.
"But there's a lot of plays that the Bears get down to the red zone and they run the ball in. They ran one in the week before against Green Bay from 6-inch line and stuff like that. Anytime you're a defensive lineman, your first job is to stop the inside run. They attacked our perimeter for most of the game and for the most part we did a good job defending that, something that we were a little bit weak on in the first game we played them."
Once McCown snapped the ball, Fairley broke right past Garza as Slauson moved to the second level to engage linebacker
DeAndre Levy
. Fairley was already past Garza by the time McCown handed the ball to Forte and was 2 yards from him moving at full speed.
No matter the direction, Forte had little chance.
With Garza trying to grab Fairley from the back after he blew by him, the Lions defensive tackle essentially swallowed Forte with a tackle, enveloping him as Forte took his third step to his left trying to stretch the field.
"Just read my keys, had a big A-gap and I just figured it would probably be a run or play-action pass," Fairley said. "So I just got off the ball real good and it just so happened I made a play."
Garza actually tried to wrap Fairley from the back but actually ended up falling over Forte once he was tackled. That's how dominant Fairley was on that particular play.
Fairley threw Forte down and then kept going down the field after that, high-stepping down the field in celebration.
"Just made the game-changing play," Fairley said. "From the defense and the D-line in our room, that's what we always harped on as a D-line, 'let's go make a game-changing play. Somebody step up and make a play.'
"That was me [Sunday]."
November, 10, 2013
11/10/13
8:15
PM ET
CHICAGO --
Calvin Johnson
stood at the podium, his
Detroit Lions
having beaten the
Chicago Bears
in Chicago for the first time since his rookie season, and even then, there was a little disbelief.
[+] Enlarge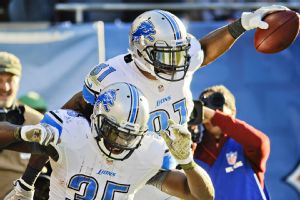 Matt Marton/USA TODAY SportsThe Lions won for the first time in Chicago since Calvin Johnson's rookie season as they keep overcoming losing ways of the past.
He had actually beaten the Lions in Chicago before? He had not thought that had happened, saying earlier in the week he had never won in Soldier Field. The misunderstanding is understandable considering that in Johnson's career the Lions had one good season before this one, surrounded by a bunch of mediocrity.
"Oh man, we won here my rookie year?" Johnson asked. "OK, that's how long it's been. Been awhile."
"Been awhile" is a way to describe this Detroit season. Been awhile since this, since that, since the Lions have beaten Chicago on the road (2007) and been in first place all alone this late in the season (1999). In beating Chicago 21-19, the Lions added to a list of things they have done for the first time in a while.
It's been the type of season that could wipe out those years of losing. In other years, the Lions likely would have let the Bears convert a tying two-point conversion and then go on to win in overtime. But on Sunday,
Nick Fairley
made a stop on the second conversion attempt following a
Willie Young
roughing-the-passer penalty.
These are the new Lions. Make a stop when the team needs it? Sure. Come from behind to win a game? No problem. Hold on to a lead? Most of the time, they can handle it.
All of that has led to this: In the toughest, tightest division in the NFL, the Detroit Lions are the ones in first place and the Detroit Lions are the ones who have complete control over whether they make the playoffs.
Sunday's win gives Detroit a tiebreaker advantage over Chicago and a one-game lead on Green Bay, a team that still has to go to Detroit on Thanksgiving, perhaps without its starting quarterback,
Aaron Rodgers
.
Not a bad spot to be in at all.
"We control our own destiny now," wide receiver
Kris Durham
said. "That's big. First time in I don't know how long we've won here. Big win, and it kind of just keeps the momentum going for the rest of the games."
It is momentum that could have disappeared so many times during this season. It could have gone away after Detroit lost on a last-second field goal to Cincinnati in Week 7. Or it could have gone away with 62 seconds left in Week 8 against Dallas, with the Lions trailing. Instead, Detroit drove downfield and scored a winning touchdown with 12 seconds left.
And it could have gone away again Sunday, with the Bears driving with their just-inserted backup quarterback,
Josh McCown
, driving with two minutes left and scoring a touchdown, missing the two-point conversion but getting another chance because of Young's penalty.
"Oh man, I was nervous," right guard
Larry Warford
said. "It's the feeling you hate, but it's what makes the game exciting. I was pretty nervous.
"You've got that penalty toward the end, that roughing the passer and they scored the touchdown and it's like, 'Oh my God, what do we have to do to put these guys away?' They just wouldn't go away for a little bit."
It led to one final chance for Chicago, that one last play to try to tie the game to steal all that momentum from Detroit, to have the Bears essentially do to Detroit what the Lions had done to Dallas two Sundays ago.
Then Chicago ran the ball and Bears running back
Matt Forte
ran right into a waiting Fairley, who flattened Forte and then kept running another 20 or so yards down the field, high-stepping the whole way.
Detroit still had its celebration. Had its momentum. Still had its confidence. And, for the first time all season, had complete control of the division all to itself.
Now, though, there is different pressure for Detroit, a group of players who are not accustomed to being in this spot even this late -- and to be fair, there are still seven weeks remaining in the season and the NFC North race is nowhere near over.
Detroit needs to learn to play in a role it is unaccustomed to -- the one of being the favorite to win its division. Beating Chicago did that.
"You've got to make it count," quarterback
Matthew Stafford
said. "It's a good win, no question about it. Guys are happy in there, but at the same time, we're not satisfied."
They can't be. The Lions are in good position. They are trending toward becoming one of the better teams in the NFC and one that could make a playoff run.
Whether the Lions accomplish that, for the first time in a while, is up to them.
"That's the most important thing," defensive tackle
Ndamukong Suh
said. "We don't want to have to rely on anyone else to help us get to the next level of getting to the playoffs."
Right now, it is all up to Detroit. A new position, but not a bad one to be in at all.
November, 10, 2013
11/10/13
4:09
PM ET
CHICAGO -- A few thoughts on the
Detroit Lions
'
21-19 victory
against the
Chicago Bears
.

What it means:
The Lions, a team that has spent most of the past 30 or so years wandering in mediocrity or worse, are in first place in the NFC North. By themselves, barring a miracle comeback by Green Bay. In the second half of the season. For the first time in a long time.
And by beating the Bears in Chicago for the first time since 2007, the Lions now hold the tiebreaker over the Bears for any playoff implications and put themselves in even better position for a playoff berth should they end up not winning the division.
Detroit made it interesting, though, taking a lead late in the fourth quarter and then needing a two-point conversion stop at the end of the game to hold on. But a win is a win is a win, and the Lions are in first place in the division.
Stock Watch:
Rising -- The play of defensive back
Don Carey
. Thrown into the game after Chicago picked on rookie
Darius Slay
early in the game -- the Bears went at him on two straight third-down conversions -- the Lions went to Carey and he played well, reading underneath routes and making two tackles. Detroit's run defense is also rising. The Lions did a good job containing
Matt Forte
, holding him to 33 yards on 17 carries. And once again, Detroit's playoff chances are rising. The Lions, with the victory and the Green Bay loss, are alone atop the NFC North. And
Nick Fairley
is on the rise. The large defensive tackle broke through the line, swallowed Forte on a two-point conversion and won the game for the Lions.
Return of the process:
After a
Matthew Stafford
interception, Chicago had a first-and-goal to go. A holding call nullified a touchdown and set up a third down, when
Jay Cutler
hit
Alshon Jeffery
for what looked like a 14-yard touchdown catch. But in the same stadium where the
Calvin Johnson
complete the process rule cost Detroit a game in 2010, the Lions got one back in 2013. In the opposite end zone of the Johnson non-catch, Jeffery bobbled the ball after he hit the ground, costing the Bears a touchdown.
What's next:
Detroit stays on the road next week, heading to Pittsburgh to take on the Steelers.
September, 26, 2013
9/26/13
12:00
PM ET
Sunday's game between the
Detroit Lions
and
Chicago Bears
has some major implications for both teams a month into the season.
A Chicago win would give the Bears a two-game lead over the rest of the division. If Detroit wins, it would share the early lead with Chicago and give the Lions a potential edge in important tiebreakers when it comes to division titles and potential wild-card berths.
For Detroit, it is a chance for a rare win against the Bears. Chicago has won nine of its past 10 games against the Lions.
ESPN Bears reporter Michael C. Wright and ESPN Lions reporter Michael Rothstein break down some of the keys to the game.
Rothstein:
Let's start here. Chicago has won nine of the past 10 in this series. Is there any sense of overconfidence in the Chicago locker room, or has the Lions' start really kept that down?
Wright:
Not at all because the Bears know they could be 0-3 as easily as they became 3-0. Remember,
Jay Cutler
led the Bears on back-to-back late comebacks to start the season, and they almost let Sunday's game in Pittsburgh get away from them. So they know how fortunate they are to be the only undefeated team in the division, and they're not taking the fast start for granted because, remember, just last season the Bears started off 7-1 only to lose five of their last eight to miss the playoffs. This game is essentially for first place in the NFC North. What's the feeling in the Lions' locker room with such a high-stakes game coming up and the team coming off a big road win at Washington?
Rothstein:
That it is early in the season. The players have stressed the importance of divisional games in the past, as has their coach, Jim Schwartz. But the truth is, this game would be a huge deal for Detroit if it won. It would give the Lions early control of the division and a two-game winning streak heading into a place they haven't won in a long time -- Green Bay. There is definitely confidence in this group and the feeling that it can make enough plays to win games. That said, this is the first time Detroit will see the Bears under new coach Marc Trestman. How much different do the Bears look?
Wright:
Chicago definitely features more diversity with formations on offense than it did a year ago, but don't expect anything elaborate or mind-boggling in terms of actual play calls. Trestman and the offensive staff have been adept at finding weak spots in opposing defenses and drawing up the plays that will work best given the matchup. The biggest difference you'll see is the improvement in protection, and the fact that Cutler now spreads the ball to other receivers as opposed to relying solely on
Brandon Marshall
. Because of the improved protection, running back
Matt Forte
no longer has to stay in and chip-block, and that frees him up to get out on pass routes. So Forte is another weapon for Cutler, as is
Martellus Bennett
, Marshall and
Alshon Jeffery
. If teams take away Marshall, Cutler now has plenty of options in the passing game. In the past, the Lions' front four has given Chicago problems. How potent is Detroit's defensive line this year with guys like
Ziggy Ansah
,
Nick Fairley
and
Ndamukong Suh
in the mix?
Rothstein:
This group might be the most talented and deepest in the NFL. Suh is having a standout season, even if he isn't putting up big numbers. His pressure of opposing quarterbacks has forced two interceptions in three games. Plus, the attention that opposing offensive lines place on blocking Suh opens things up for Fairley, Ansah and
Willie Young
. Ansah has 2.5 sacks and has a high-level speed burst for a defensive end. All of the linemen complement each other well, and that forms a highly productive unit. The biggest key there is the four linemen can pressure quarterbacks on their own, and that allows defensive coordinator Gunther Cunningham to scheme differently than normal in the back seven. The Bears appear to have done a good job protecting Cutler this year, at least statistically. Now they face one of the toughest defensive lines in the NFL. What's the strategy for holding up there?
Wright:
Chicago showcased its new offense in Week 1 against a formidable
Cincinnati Bengals
defensive line and didn't allow a sack, and the protection held up well Sunday night against a blitzing Pittsburgh front seven. So the Bears feel they're battle-tested in terms of protection, and obviously a major component of the success they've experienced on the offensive line is new additions such as left guard
Matt Slauson
, rookies
Kyle Long
and
Jordan Mills
on the right side and tight end Martellus Bennett. Schematically, the Bears aid the protection with a faster, more rhythmic passing attack with drops designed to get the ball quickly out of Cutler's hands. The Lions lost defensive end
Jason Jones
to a season-ending knee injury, so who's the next man up, and what does he bring to the table?
Rothstein:
It'll likely be a combination of players, but the immediate answers are veterans Young and
Israel Idonije
, along with rookie
Devin Taylor
. Young is having a productive season with 10 tackles, a sack and the ability to pressure the quarterback. Bears fans should be familiar with Idonije, who played in Chicago the past nine seasons. Taylor is the question mark. He's best known for lining up as the defensive end opposite Jadeveon Clowney at South Carolina, but he is extremely athletic and could be a matchup problem if he can get over his inexperience. Shifting to Chicago's defense, working with the assumption
Reggie Bush
plays Sunday, how would you anticipate Chicago defending the Lions?
Wright:
The Bears won't deviate from playing their standard 4-3 over front, where the focus is penetration and gap control. Bush is certainly a dynamic threat on the edges in the passing game, but the Bears probably won't experience much difficulty handling him because they've dramatically improved the athleticism of the linebacking corps with the additions of
James Anderson
and
D.J. Williams
to play alongside
Lance Briggs
. So they won't put in any new wrinkles. If anything, the Bears will probably just focus more this week on defending the screen game, and accomplishing that task will also involve the club's athletic defensive linemen such as
Julius Peppers
. Bush said he could've played against the Redskins. What's the latest on his injury situation, and what does he add to Detroit's offense?
Rothstein:
I would be very surprised if Bush did not play Sunday -- especially now that wide receiver
Nate Burleson
is out for the foreseeable future. The Lions' offense is just so much different with Bush in the lineup -- whether he lines up in the backfield, out wide or in the slot. His ability to accelerate out of screens, dump-off passes and if he gets a small crease in the backfield is a skill few players in the NFL have. That Detroit has him along with the league's best overall wide receiver in
Calvin Johnson
offers a tough matchup to defend when both are healthy. One of Chicago's biggest playmakers is
Devin Hester
. Is he returning to early career form in that area, or was that more of a coverage issue by opponents?
Wright:
Hester isn't thinking as much, and he's a fresher player than in years past because he's no longer playing receiver, which has allowed him to focus solely on duties as a return man. Shortly after Trestman took the head-coaching job, Hester indicated to the coach a desire to focus solely on special teams. From there, Trestman said he "was all in" with the move. Hester no longer spends time during the week in offensive meetings with the receivers. The club has allowed him to concentrate exclusively on contributing as a special-teamer, and that's paid dividends. Detroit's biggest playmaker is Calvin Johnson. Given all the attention teams give him, how important has it been for the Lions to diversify distribution of the ball in the passing game?
Rothstein:
It has been key, although it'll be interesting to see how that changes now that Burleson is out. The obvious option is receiver
Ryan Broyles
, who played for the first time this season against Washington this past weekend. He is almost definitely going to receive more snaps and more targets. The other option could be an increased role for tight ends
Joseph Fauria
and
Tony Scheffler
. They both have receiving skills for tight ends, and at 6-foot-7, Fauria has already turned into an enticing red zone target. Now he may end up on the field in more than just scoring situations.