Detroit Lions:

Mike Munchak
January, 8, 2014
Jan 8
2:45
PM ET
ESPN Insider Ed Werder has learned San Diego offensive coordinator Ken Whisenhunt will likely interview with the
Detroit Lions
on Thursday evening in San Diego.
Whisenhunt has been thought of as the lead candidate for the Lions job since the team fired Jim Schwartz on Dec. 30 after five seasons with the club.
The team is allowed to interview him this week, but is not allowed to hire him if they chose to until after the Chargers were eliminated from the playoffs.
Whisenhunt fits the exact profile for what the Lions are looking for in a head coach. He is a former head coach who has experience running an offense and developing and refining quarterbacks.
He helped to develop
Ben Roethlisberger
in Pittsburgh, then retooled the careers of both
Kurt Warner
in Arizona and
Philip Rivers
in San Diego. His biggest issue came when he did not have an elite quarterback to work with, which happened his final three seasons in Arizona and led to his dismissal.
Whisenhunt will be the fourth candidate expected to interview for the Lions job. Jim Caldwell interviewed last Friday, Gary Kubiak interviewed on Tuesday.
Mike Munchak has his intervie
w moved to Wednesday and Jay Gruden is still potentially going to interview.
January, 7, 2014
Jan 7
6:55
PM ET
Former
Houston Texans
coach Gary Kubiak formally interviewed with the
Detroit Lions
on Tuesday, according to multiple media reports.
Kubiak, who was fired as the Texans head coach in December after almost eight seasons with the franchise, is the second candidate to officially interview with the club. He joins Baltimore offensive coordinator Jim Caldwell,
who interviewed Friday
.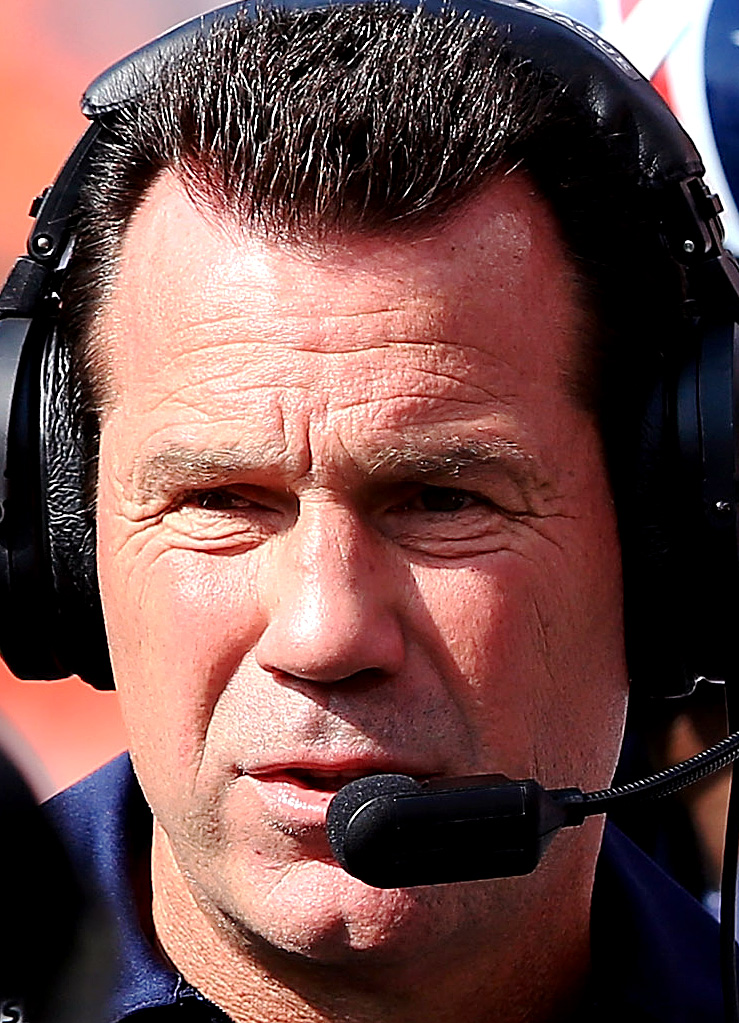 Kubiak
ESPN Insider Ed Werder reported earlier Tuesday that the Lions will interview former Tennessee coach Mike Munchak
this Friday
. The Lions have also have reportedly asked for permission to
talk with Cincinnati offensive coordinator Jay Gruden
and San Diego offensive coordinator Ken Whisenhunt.
ESPN Insider Adam Schefter reported Sunday that the job is
Whisenhunt's to lose
.
All of these candidates fit a similar profile for the Lions. They have been head coaches at some level -- all except Gruden in the NFL -- and all come from an offensive background. Other than Munchak, all have worked extensively with quarterbacks at some point in their careers.
As for Kubiak, he coached Houston from 2006 until Week 14 of this season, when he was fired by the Texans. He compiled a 61-64 record over that span, including two AFC South titles and two playoff appearances.
He also developed quarterback
Matt Schaub
, who made the Pro Bowl in 2009 and 2012 and had three seasons of more than 4,000 yards passing. Schaub completed more than 61 percent of his passes in each of his seasons with Kubiak.
Kubiak's team plummeted this season to a 2-11 record before he was fired. He collapsed at halftime of a Nov. 3 game against Indianapolis while having a "transient ischemic attack," or mini-stroke, on the field.
Prior to his head coaching stint with Houston, Kubiak was the offensive coordinator for the
Denver Broncos
from 1995 to 2005, working with
John Elway
,
Brian Griese
and
Jake Plummer
, under former Broncos head coach Mike Shanahan.
He also worked for San Francisco as its quarterbacks coach in 1994 with
Steve Young
.
Kubiak is an intriguing candidate in some ways. His offenses with Houston were in the top half of the NFL -- often in the Top 10 -- in all but his first and last seasons with the Texans. When he was with the Broncos, his offense was also routinely in the top half of the league.
He also turned Griese into a Pro Bowler in 2000 and Plummer into a Pro Bowler in 2005.
A message left with Kubiak seeking comment about his interview was not immediately returned. Kubiak's interview was first reported by Fox 2 in Detroit.
January, 7, 2014
Jan 7
9:25
AM ET
If the
Detroit Lions
have made one thing clear during their coaching search, it is this: prior experience matters.
With Tuesday's news from ESPN Insider Ed Werder that former Tennessee coach Mike Munchak will
interview with the Lions on Friday
, it is becoming more and more apparent that being a head coach before is likely criteria No. 1 when it comes to selecting a new on-field leader for the franchise.
Consider the candidates the Lions already have spoken with or requested to speak with:
Jim Caldwell
,
Ken Whisenhunt
,
Jay Gruden
and now Munchak. All have, at some level, been a head coach before.
Now, the levels of success as head coaches are a bit different -- Caldwell and Whisenhunt went to Super Bowls, Gruden won Arena titles and Munchak never made the playoffs in Tennessee -- but they have success leading a franchise.
They also all have some sort of offensive pedigree. Caldwell, Whisenhunt and Gruden are all considered coaches who can develop or refine quarterbacks. Munchak does not have that background.
He is an offensive line specialist, having played guard for the Houston Oilers from 1982 to 1993 before going into coaching with the Oilers, first as a quality control coach and then with the Oilers-turned-
Tennessee Titans
as an offensive line coach from 1997 to 2010.
Then, when Jeff Fisher departed Tennessee after the 2010 season, the Titans promoted Munchak to the head-coaching position. He went 22-26 over three seasons with the club and was fired last week for refusing to make staff changes.
Now, as Werder reports, he'll bring his offensive coordinator in Tennessee, Dowell Loggains,
with him to the meeting with the Lions
. Loggains was a quarterback at Arkansas and has spent his entire coaching career with the Titans, first as a quality control coach, then the quarterbacks coach from 2010 to 2012 before being promoted to offensive coordinator with five games left in the 2012 season.
Some concerns about Munchak would be that he -- or Loggains, for that matter -- has not shown the ability to truly develop a quarterback. Also, for an offensive coach, he never had an offense ranked higher than 17th in total offense in his three seasons.
The quarterback Tennessee did draft to develop,
Jake Locker
, played as a backup to veteran
Matt Hasselbeck
in 2011, beat out Hasselbeck for the job in 2012 but ended up being injured during that season. Then he suffered two injuries in the 2013 season, so it is unknown how much Locker could have developed under Munchak and Loggains' tutelage.
Locker showed some statistical improvement each season, but was never healthy enough to show true development.
Another likely random coincidence is where the Lions looked the last time around when they hired a head coach: Tennessee. Former coach Jim Schwartz, who was fired last week after five seasons, was hired by the Lions after being the Titans defensive coordinator under Fisher.
Werder reports Whisenhunt, who will interview this week, continues to the be the front-runner for the position, but Munchak appears to be another option Detroit is at least considering.
What is telling is who Detroit hasn't reportedly asked to speak with as of now: Cincinnati defensive coordinator Mike Zimmer and San Francisco offensive coordinator Greg Roman. Neither one has head-coaching experience despite being considered top-end coordinators.