Detroit Lions:

Mike Williams
April, 9, 2014
Apr 9
2:00
PM ET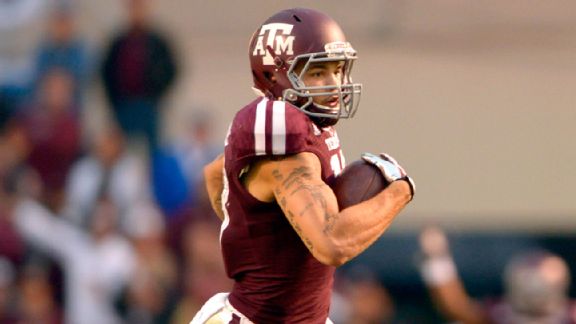 Thomas Campbell/USA TODAY SportsIf Mike Evans is available when the Detroit Lions pick at No. 10, Mel Kiper Jr. would select the Texas A&M wide receiver.
Since the end of the 2013 season, when the
Detroit Lions
once again found themselves in the familiar position of being in the top 10 of an NFL draft, many questions have been asked about what the team will do with the pick.
Could they trade it and try to move up to nab receiver
Sammy Watkins
? Could they try to trade back to acquire a position of need – perhaps a cornerback – and also to stockpile picks? If they stay at No. 10, what could happen?
Would they draft a wide receiver? Reach for a corner? Take the best defensive player available or best player available (other than a quarterback) period?
With Detroit not in the market for a starting quarterback this season, the Lions have many, many options available to them a month from now when the NFL draft starts at Radio City Music Hall.
And with so many potential scenarios playing out, I gave one to ESPN draft analyst Mel Kiper Jr. last week. Four names, four different positions, one slot – assuming Detroit stays at No. 10 – available. What does he think the Lions would do if wide receiver
Mike Evans
, safety
Ha Ha Clinton-Dix
, linebacker
Anthony Barr
and cornerback
Justin Gilbert
were all available at No. 10?
This came on the heels of his
Grade A draft last week

, when he selected defense for the Lions in the first three rounds. He did that, in part, because he doesn't seem to believe Evans will be available for Detroit at No. 10.
So what does he think Detroit would do if those aforementioned four players were all sitting there for the Lions?
"If Evans, Barr, Clinton-Dix and Gilbert are there, it's a no-brainer for me," Kiper Jr. said. "It's Mike Evans because he's the highest-rated player, by a pretty good margin now. I always say, if you're picking at 10, you have to get a guy who is six, seven or eight. He's number five on the board right now. Five, six on my board, right on the heels of Sammy Watkins as the second-best receiver in this draft and some may even have Evans ahead of Watkins. He's a big-time talent. He's a physical freak.
"People say, well, he reminds some of us of
Mike Williams
, well, yeah, you could make that argument but he's much more consistent catching the ball and is more explosive. But there's always going to be that comparison. So I would say Evans."
The Lions, of course, drafted Mike Williams in 2005 -- the first draft Martin Mayhew was the assistant general manager for. That selection
did not work out too well for the Lions
, who were hoping to pair Mike Williams with Roy Williams for a dynamic receiver pairing.
Unlike 2005, receiver isn't as big of a need position since the team signed
Golden Tate
to be the team's No. 2 receiver this offseason.
Kiper went on, though, and explained what he thinks the Lions might do if Evans is unavailable at No. 10 – and considering Tampa Bay traded the other receiving Mike Williams (Syracuse-and-still-in-the-NFL variety) to Buffalo – the Bucs are now in desperate need for a receiver and pick ahead of Detroit.
"Clinton-Dix is still the major need. He's a hot guy right now and is clearly, I think, the consensus best safety," Kiper said. "So if you want to stretch it a bit and fill a need, I'm not saying they are stretching because their rating may have Clinton-Dix in the top 10, but I would say just on need alone in a division with
Aaron Rodgers
and [Jay] Cutler and you know Minnesota is going to address the cornerback spot, I would say they may stretch it a bit for Clinton-Dix if Evans was gone at that point."
This would be a fairly logical selection for Detroit even though the team signed
James Ihedigbo
to a two-year deal this offseason to play next to
Glover Quin
. Ihedigbo will be 31 years old by the end of the season, and if the team can pick someone up to be a third safety this year and a starter by 2015, that scenario would put them in a good position in the defensive backfield for the first time in a long time.
April, 1, 2014
Apr 1
12:00
PM ET
In May,
Detroit Lions
general manager Martin Mayhew will run the team for his sixth NFL draft. He'll have been involved with the team's personnel decisions, at that point, for 10 seasons.
While Mayhew's first draft as the team's actual general manager took place in 2009, he had been working with the team since the middle of the 2004 season as the Lions' assistant general manager. He did not make final decisions when it came to the draft in those first few years -- Matt Millen was still the general manager then -- he was certainly part of the group that helped influence what happened with the Lions.
For that reason, we start our first round review with the year 2005, the first draft Mayhew would have been intimately involved in with the Lions. Over the next two weeks, we'll look at the first round picks in each year for the Lions, who else would have been available and whether or not that pick ended up being a good call.
The pick:
10th
The player selected:
Mike Williams
, WR, USC
The player's credentials at the time:
Williams was a star at USC. At 6-foot-5, 230 pounds, he had 176 catches for 2,579 yards and 30 touchdowns in two seasons with the Trojans. He tried to declare for the NFL draft after his sophomore season and hired an agent after a lawsuit by Maurice Clarett seemed to abolish the rule where draft-eligible players had to be out of high school for three seasons. When the initial ruling was overturned, Williams tried to be reinstated to USC for his junior season and the NCAA denied that petition.
Still, Williams was one of the top players in his class and one of the top wide receivers in the country. Yet Millen apparently didn't want to draft Williams in 2005, as his son
said during the NFL Network's "A Football Life" special on Millen
.
Who else was available at the pick:
DeMarcus Ware
, LB, Troy;
Shawne Merriman
, LB, Maryland;
Aaron Rodgers
, QB, California;
Heath Miller
, TE, Virginia.
Did the pick make sense at the time:
If the Lions wanted to construct a dynamic offense, yes. Williams was a freakish athlete with immense skills and could have caused major headaches for opposing secondaries -- think what Chicago has now with
Brandon Marshall
and
Alshon Jeffery
. But as Millen's son said in "A Football Life," his father also liked Ware, who was a pass-rusher with his own set of freakish skills.
Did it end up being a good pick:
No. Not even close. Williams had 127 catches for 1,526 yards and five touchdowns in his five seasons in the NFL, less numbers than he put up in his two seasons at USC. He had more than 500 yards receiving in a season only once -- 2010 in Seattle -- and that was the only year where he caught more than one touchdown pass. For a top 10 pick, Williams did not pan out at all for Detroit or anyone else who signed him.
Who should the Lions have taken:
While hindsight would have said Rodgers would have been the obvious player to take, the team was still committed to
Joey Harrington
after drafting him with the No. 3 pick in 2002. He had also come off his best statistical season, throwing for 19 touchdowns and 12 interceptions -- the only time in his career where he would throw for more scores than picks. But Harrington appeared to be slowly improving.
Millen would have been correct in taking Ware, who has made 576 tackles and had 117 sacks since being drafted by Dallas with the No. 11 pick in 2005 -- one slot after the Lions passed on him. Ware made seven Pro Bowls, was named first-team All-Pro four times and was the NFC Defensive Player of the Year in 2008.
What can Detroit learn from this:
This draft could actually provide a smart blueprint for Detroit in regard to May's draft. The Lions are flirting with taking a wide receiver -- perhaps Texas A&M's
Mike Evans
-- to pair with
Calvin Johnson
and
Golden Tate
in hopes of creating a dynamic offense. But the Detroit defense is full of positions in need of upgrades, and if there is a player who can make an impact on defense -- like linebacker
Anthony Barr
from UCLA, defensive tackle
Aaron Donald
from Pitt or cornerback
Justin Gilbert
from Oklahoma State -- available at No. 10, upgrading the defense should be the priority over adding to the offense that early. If the Lions had taken Ware, the team's entire last decade might have changed.