Detroit Lions:

Mike Zimmer
October, 12, 2014
Oct 12
8:05
PM ET
MINNEAPOLIS – Quarterbacks are taught to always keep their eyes downfield. Feel the pressure, but elude it and make the play.
Then these same quarterbacks run into the
Detroit Lions
defense, and something changes.
[+] Enlarge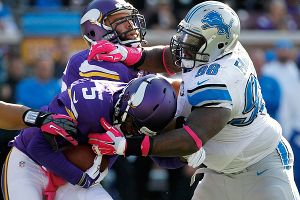 AP Photo/Ann HeisenfeltNick Fairley and his cohorts on the Lions' defensive line made life tough for rookie quarterback Teddy Bridgewater.
"Recently, we have seen quarterbacks not even looking downfield," linebacker
DeAndre Levy
said. "They are kind of taking their eyes off the receivers and looking at the rush. Whenever you can get in a quarterback's head like that, it helps everybody."
That type of pressure ended with eight sacks Sunday in a
17-3
victory over Minnesota – the most by a Lions team since Nov. 23, 1997 against Indianapolis. It led to 12 quarterback hits and a Minnesota offensive line that couldn't protect its rookie quarterback and led Vikings coach Mike Zimmer to lament, "We physically got beat."
It's a pressure that allows Detroit's linebackers and secondary to break on routes and to defend passes, such as the six they defended and three they intercepted Sunday, including two by
Tahir Whitehead
.
It's a pressure that helps the Lions deal with a day when two offensive stars –
Calvin Johnson
and
Reggie Bush
– were out and they missed two more field goals. No matter -- the Lions are 4-2 because of a defensive line that, when it plays well, can dominate.
"No one can stop us if we do our technique and assignments correct," defensive tackle
Nick Fairley
said. "No one can score on us, no one can run the ball, no one can pass the ball. It's up to us.
"We make teams, basically as a defense, we try to make it go on our terms."
Those terms have stifled almost every opponent this season. No team has gained more than 350 yards on the Lions. Three teams have been held to less than 225 yards, including the Vikings, who gained 212 yards Sunday.
This starts with the defensive front. The pressure they provide flusters opposing quarterbacks and takes the pressure off the secondary – an issue that plagued the Lions last season.
"It helps us tremendously because we know if we cover early on in a down and just a little later, you know we're going to get a coverage sack," Whitehead said. "If we don't get a coverage sack, we're going to apply pressure and the ball is going to flow and maybe you get a pick."
Consider what Bridgewater said Sunday, that "everything happens so fast for me." He's a rookie, so part of that is expected. When you're facing the Lions, everything lately appears at warp speed.
Aaron Rodgers
, widely considered one of the best quarterbacks in the league, entered Sunday with his season-low in completion percentage (59.3) and QBR (47.7) against Detroit. So did
Eli Manning
.
Detroit's defensive line won those two games. In them, they felt close to being able to do what they accomplished Sunday: Control another team. It's a performance Lions coach Jim Caldwell called "smothering."
"It's important for them to be really strong at what they do," Caldwell said. "Our defensive line creates so many problems because of the fact that they don't allow you to run the ball consistently against us and then also they can put pressure on the passer."
That was what Lions general manager Martin Mayhew envisioned when he drafted three of the four defensive line starters in the first round in 2010 (
Ndamukong Suh
), 2011 (Fairley) and 2013 (
Ezekiel Ansah
).
"Every game should be like this for this D-line we have now, you know what I'm saying," Fairley said. "From the guys that are setting the edges and the guys in the middle, we have a D-line that can get after quarterback and any O-line."
In almost every game this season, they have.
January, 6, 2014
Jan 6
10:30
AM ET
At noon Monday, the
Detroit Lions
' coaching search will officially hit its second week, with some candidates already off the board and others available to talk for the first time.
"We will go through the process," Lions team president Tom Lewand said when he and Martin Mayhew announced they had fired Jim Schwartz last Monday. "I think going through a thorough process is extremely important.
"That doesn't necessarily mean that has to be a long process, but it has to be a thorough process."
Baltimore offensive coordinator Jim Caldwell already interviewed and is the only known candidate to formally do so. John Wooten, the chairman of the Fritz Pollard Alliance Foundation, told ESPN.com last week that Caldwell was told the Lions would get back to him in a few days after his Friday interview.
Now starting its second week, much of the focus will begin with San Diego offensive coordinator Ken Whisenhunt, who is a candidate for some of the five current NFL openings.
While requests to talk with coaches have yet to go out or be made official, here are some of the candidates the Lions might target:
Ken Whisenhunt, San Diego offensive coordinator:
It would be beyond stunning if Whisenhunt did not interview with the Lions this week. ESPN Insider Adam Schefter reported Sunday it is essentially his job to lose, which makes sense considering he fits all of the qualities Detroit is looking for in its next coach. The downside for Whisenhunt is the Lions cannot hire him for at least another week, as they can't make an official move -- if they choose to do so -- until San Diego is out of the playoffs. But they can at least chat with him this week if they would prefer.
Jay Gruden, Cincinnati offensive coordinator:
Schefter mentioned him as someone Detroit would likely want to talk with as well, as he has played a major role in developing quarterback
Andy Dalton
(and you can argue whether that is good or bad after his performance Sunday, but he has been a very good regular-season quarterback). He has also been a head coach before in the AFL and UFL and was successful there. Another thing to watch with Gruden is his ties to agent Bob LaMonte, who also lists Detroit senior personnel executive Brian Xanders among his clients.
Greg Roman, San Francisco offensive coordinator:
Like Whisenhunt, if the Lions want to talk to Roman, they can talk, but not hire since San Francisco is still in the playoffs. His name has not come up as much as Whisenhunt and Gruden, but he has been a head coaching candidate before and he has developed a dynamic offense with the 49ers. It is unknown how much Roman really helped develop
Colin Kaepernick
, though, as he has a bevy of coaches with quarterback experience in San Francisco, including Jim Harbaugh, quarterbacks coach Geep Chryst and offensive assistant Ronald Curry. He has coached
David Carr
,
Andrew Luck
and Kaepernick, though.
Mike Zimmer, Cincinnati defensive coordinator
: He isn't an offensive coach and he does not have head coaching experience, but Zimmer led one of the top-ranked defenses in the NFL and has been a defensive coordinator since 2000. He's also been close in the past, interviewing for the Cleveland job last season. In Mayhew's news conference to discuss firing Schwartz, he mentioned that an offensive coach wasn't a dealbreaker for the Lions, but that whomever the team hired would have to bring in someone to work with
Matthew Stafford
. If Zimmer gets an interview, that would have to be a strong part of his presentation to truly be considered.
Other names that might get a look:
Cincinnati assistant and former Raiders head coach Hue Jackson; Arizona defensive coordinator Todd Bowles.
January, 6, 2014
Jan 6
8:00
AM ET
Good morning and ROOOAAAARRR (AND BRRRRRRRRRR)!!!
The wait continues.
San Diego's win over Cincinnati in the wild card playoffs on Sunday afternoon means if the
Detroit Lions
want to eventually hire Ken Whisenhunt as the team's next coach, there will be a bit of a wait.
It is expected the Lions will formally request to interview Whisenhunt this week, but per NFL rules, Detroit will be unable to hire him until San Diego's season concludes. The Chargers head to Denver on Sunday afternoon for the divisional round of the playoffs.
So if Detroit's search extends past this week, it could mean that Whisenhunt is indeed the Lions' top target, as
colleague Adam Schefter reported Sunday
.
This week should also bring some other interviews for Detroit, potentially with Cincinnati offensive coordinator Jay Gruden, Cincinnati defensive coordinator Mike Zimmer and San Francisco offensive coordinator Greg Roman, who would be in the same situation as Whisenhunt.
Only one public candidate has surfaced thus far, Baltimore offensive coordinator Jim Caldwell, who interviewed with the team, the ownership and quarterback
Matthew Stafford
on Friday.
And now, a look across the snowy Interwebs in search of Lions news:
January, 4, 2014
Jan 4
12:00
PM ET
The
Detroit Lions
had been hoping to play this weekend in their second playoff appearance in three seasons.
Instead, the team is hunting for another head coach.
While the Lions interviewed Jim Caldwell on Friday, there are many other potential candidates that are where the Lions would like to be -- involved in the playoffs.
Here's a quick primer of some of those candidates to watch for as you're taking in the wild-card games this weekend. After this weekend, more candidates will open up for Detroit to talk with. If teams keep winning, that could alter the Lions' plans a little bit -- or force them to have patience.
Kansas City vs. Indianapolis (Saturday, 4:35 p.m.):
No real candidates have surfaced in this game that the Lions would be interested in.
New Orleans vs. Philadelphia (Saturday, 8:10 p.m.):
As of now, none of the Lions' top candidates are coaching in this game, either.
San Diego vs. Cincinnati (Sunday, 1:05 p.m.):
This is the big one for the Lions. Chargers offensive coordinator Ken Whisenhunt is a top candidate for the job and believed to be one of the front-runners as soon as the Lions can talk with him. Both of Cincinnati's coordinators -- offensive coordinator Jay Gruden and defensive coordinator Mike Zimmer -- are also thought to be on the Lions' list of candidates. Cincinnati assistant Hue Jackson, the former Oakland coach, could be another possibility here.
San Francisco vs. Green Bay (Sunday, 4:40 p.m.):
San Francisco offensive coordinator Greg Roman could eventually emerge as a candidate either in Detroit or for another job in the football sphere. Green Bay assistant head coach Winston Moss is a name that hasn't really been mentioned, but Fritz Pollard Alliance chairman John Wooten said he is a candidate that has been "overlooked a little bit there" as a potential candidate for a head-coaching job.
January, 2, 2014
Jan 2
8:00
AM ET
Good morning and ROOOOAARRR!!!!
This weekend will be a big one for the Detroit Lions and the team isn't even playing. Why, you ask?
The reason is simple. A lot of potential head-coaching candidates -- men the Lions are likely waiting to chat with next week -- are all coaching this weekend. So here's a quick primer on whom to pay attention to:
Cincinnati:
Almost all of the coaches, really, but specifically offensive coordinator Jay Gruden, defensive coordinator Mike Zimmer and assistant coach Hue Jackson.
San Diego:
Possibly the favorite in this entire search -- offensive coordinator Ken Whisenhunt.
San Francisco:
Greg Roman's name has been thrown around often the past few years, but the 49ers' offensive coordinator could finally get a look as a head coach.
It'll be interesting to see after this weekend which of these coaches really start to get some more attention.
And now, searching the Interwebs for news about the Lions.
Lovie Smith, hired by Tampa Bay on Wednesday night,
would have been a good fit in Detroit
. It also made one of my (likely to be wrong)
predictions for 2014 already incorrect
. And 10 moments
that stood out
from 2013.
Dave Birkett of the Detroit Free Press writes that Lions players
believe Jim Schwartz will be a head coach again somewhere
.
Doug Farrar of Sports Illustrated names
four Lions to his All-Pro team
, including two offensive linemen.
MLive's Justin Rogers takes a look at
Cincinnati defensive coordinator Mike Zimmer
.
December, 30, 2013
12/30/13
8:35
PM ET
ALLEN PARK, Mich. -- The search is officially on for Detroit's next head coach.
ESPN Insider Chris Mortensen is reporting Penn State coach Bill O'Brien might already be coming off the board to Houston, but there are other attractive candidates out there for the Lions.
"I think this is a very attractive opportunity," Lions president Tom Lewand said. "I can verify that by the number of calls we've already gotten since the announcement was made at noon today and it will go through the process. I think going through a thorough process is extremely important.
"But that doesn't necessarily mean it has to be a long process, but it has to be a thorough process and we will go through a process of interviews, of research to make sure that we find the best fit for the
Detroit Lions
."
While Detroit would not identify candidates Monday, here are some names that could pop up in the search based off of the criteria Lewand and GM Martin Mayhew laid out Monday afternoon.

Whisenhunt
Ken Whisenhunt, San Diego offensive coordinator:
It would be surprising if he isn't one of Mayhew's top candidates. The two were teammates in Washington in 1989 and 1990. He is primarily an offensive guy and has worked with both
Ben Roethlisberger
in Pittsburgh and
Philip Rivers
last season. He also has prior head coaching experience, running the
Arizona Cardinals
from 2007 to 2012 -- and taking the Cardinals to Super Bowl XLIII. If a coach can take Arizona to the Super Bowl, he could fit well in trying to take the Lions to the next level.

Smith
Lovie Smith, former Chicago Bears head coach:
Smith has all the characteristics Mayhew would want in a coach. He runs a 4-3 defense, which would fit well with what the Lions already have assembled. He has head coaching experience, having led the Chicago Bears from 2004 to 2012. He knows how to build culture as he has taken a team to the Super Bowl and would be a strong hire for the Lions. However, Insider Adam Schefter is reporting Smith is the favored candidate in Tampa Bay.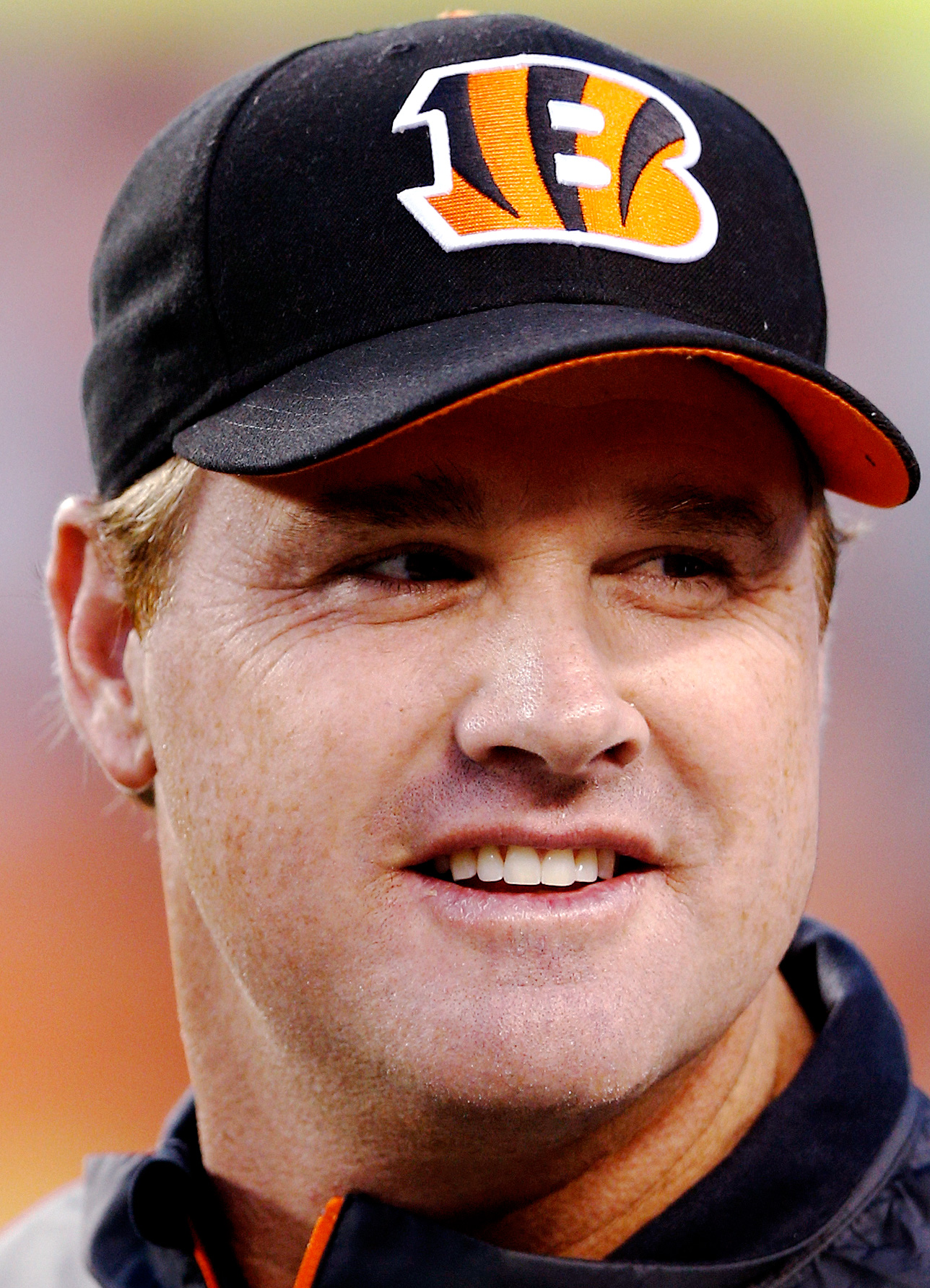 Gruden
Jay Gruden, Cincinnati offensive coordinator:
He helped in the development of
Andy Dalton
over the past three seasons and understands the importance of a strong quarterback-wide receiver combination as he worked with Dalton and
A.J. Green
. He doesn't have NFL or college head coaching experience, but was the head coach of the Orlando Predators of the AFL from 1998 to 2001 and the Florida Tuskers of the UFL in 2011. So he has some experience somewhere leading a team.

Jackson
Hue Jackson, Cincinnati running backs coach:
Jackson has head coaching experience from his 2011 season with Oakland. He's a former quarterback (University of the Pacific) who has been an offensive coordinator for years on the college and professional level.
In Baltimore in 2008 and 2009, he tutored
Joe Flacco
and worked with
Carson Palmer
as the offensive coordinator at USC.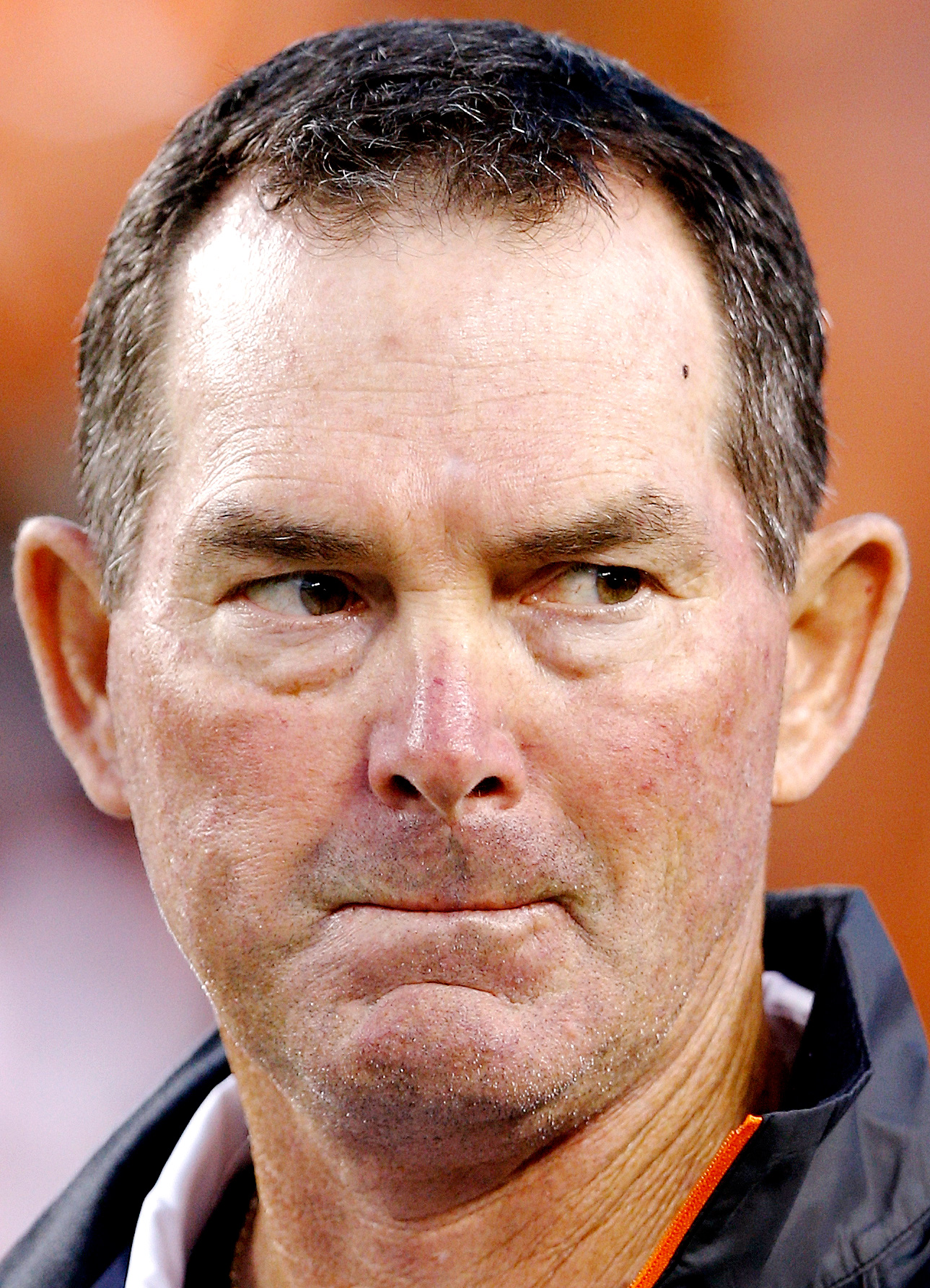 Zimmer
Mike Zimmer, Cincinnati defensive coordinator:
Zimmer has been a defensive coordinator in the NFL since 2000 and has spent a lot of time building playoff defenses, something the Lions have shown they have the pieces to build.
The concern here would be the lack of any head coaching experience or any experience on offense, which is a problem considering the struggles of
Matthew Stafford
. Mayhew indicated experience on a particular side of the ball would not be a huge factor.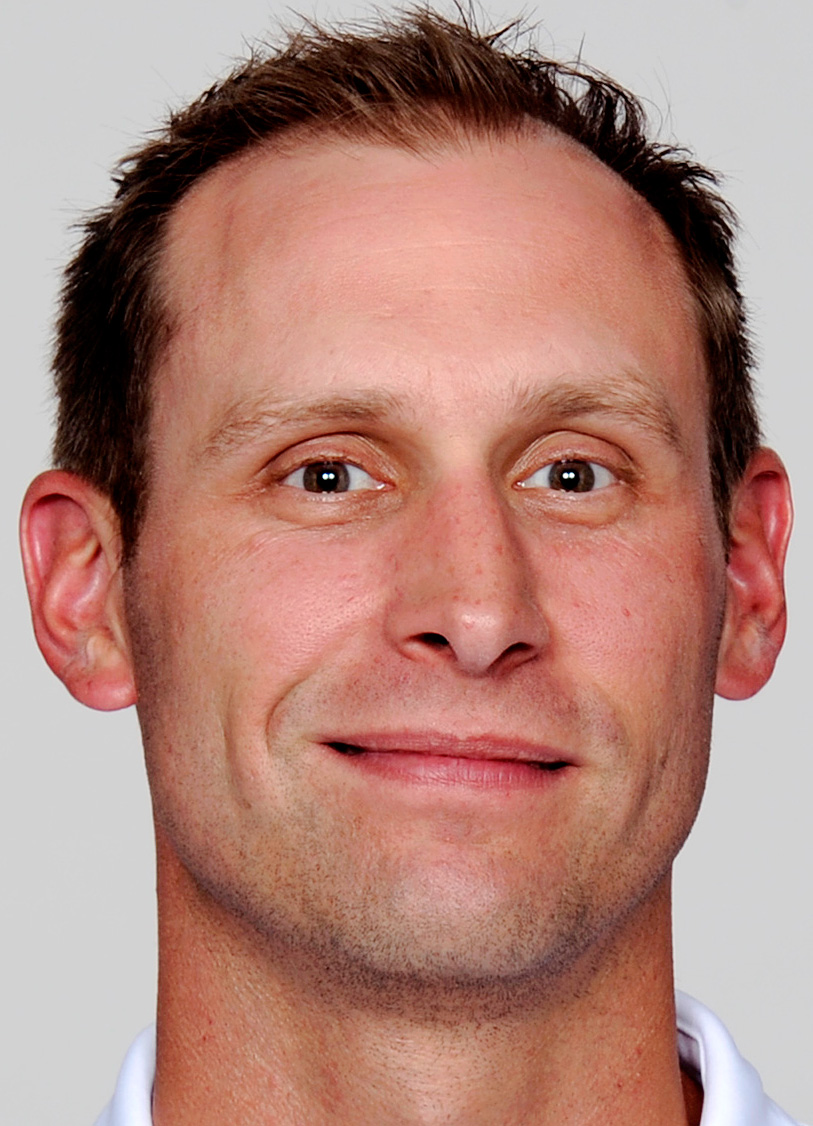 Gase
Adam Gase, Denver offensive coordinator:
The 35-year-old could be a wild-card hire. He doesn't have head coach experience, but worked with
Peyton Manning
both as a quarterbacks coach and as offensive coordinator. He was born in Ypsilanti, Mich., and went to Michigan State.
He scouted with the Lions from 2003 to 2005 and was a coach in various roles from 2005 to 2007.
Kelly
Brian Kelly, Notre Dame head coach:
He didn't have the best year last year, but he flirted with the NFL last season and the Lions are a team that could win immediately. He has an offensive pedigree, head coaching experience at one of the most pressure-packed jobs in college football and has elevated every program where he has coached. He could be a decent definition of a coach that can push a team over the hump.
The concern would be his lack of NFL experience.

Shaw
David Shaw, Stanford head coach:
If there was the thought Shaw would actually leave Stanford, he might be the top coach on this list. He has an offensive pedigree as an offensive coordinator with the Cardinal. He has extensive NFL experience grooming quarterbacks in Oakland and Baltimore before latching on with Jim Harbaugh. He has ties to the Lions as his father, Willie Shaw, was the defensive backs coach for Detroit from 1985 to 1988 and he spent part of his high school career in Michigan. He'd be the perfect candidate except for this -- will he leave Stanford?
Here's what he said about the NFL on Monday:
"I haven't been contacted by anybody. To be honest it's unbelievably flattering. I think it's really cool," Shaw said. "I think honestly it continues to shed light on our program, so I don't mind that it keeps happening. It keeps eyes turning toward Stanford, which I think is really cool. I told our players, to be honest, it's a testament to what they've accomplished, it's a testament to what our seniors have helped build at Stanford, to win consistently, win the right way, produce high-character young men and have a football game that's exciting to watch.
"So I don't mind it. I have no desires to pursue another job. As I said, I have not and don't plan on interviewing with anybody. I think it's really nice that my name gets batted around and that's great, and part of it is because I do have nine years of NFL experience, so it seems like an easy transition for some people.
"But honestly I'm looking forward to playing this game and getting into the offseason and starting to put together another winning season next year."
December, 27, 2013
12/27/13
10:30
AM ET
The final game of the regular season is upon us and, surprisingly for the
Detroit Lions
, it means nothing in the scheme of the playoffs. Who would have thought that even two weeks ago?
Instead, Detroit is playing for fun and for pride on Sunday against Minnesota in the last game in the Metrodome, so most of this final mailbag of the regular season deals with looking toward the future for the Lions.
We'll keep the mailbags going here in the offseason, although likely spread out a little bit more. Remember, mailbags are only as good as the questions you ask, so tweet them to the hashtag #LionsMailbag or
@mikerothstein
or email me at michael.rothstein@espn.com.
Now on to your questions for the final time this regular season.