Detroit Lions:

Minnesota Vikings
April, 24, 2014
Apr 24
10:01
AM ET
By
ESPN.com staff
| ESPN.com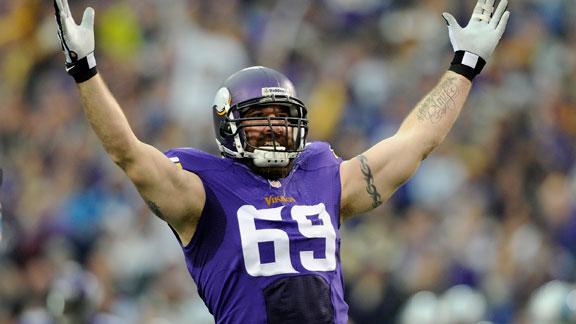 Are the
Detroit Lions
thinking of moving up in the draft? If not, why did they host
Jadeveon Clowney
on a recent visit? But what about the possibility of moving up to take
Sammy Watkins
to pair him up with
Calvin Johnson
as a dynamic receiving tandem?
That's one of the questions our NFC North reporters -- Rob Demovsky with the
Green Bay Packers
, Ben Goessling on the
Minnesota Vikings
, Michael C. Wright on the
Chicago Bears
and Kevin Seifert filling in on the Lions -- will tackle in this installment of 4 Downs.
With all of the offseason movement in the NFC North, which move will have the biggest impact? Will
Julius Peppers
have a bigger impact with the Packers or will
Jared Allen
make a bigger splash with the Bears?
Will the Bears' defense, buoyed by offseason acquisitions, enjoy the kind of resurgence in 2014 that their offense did in 2013?
Now that
Adrian Peterson
has reached 29 years old, will his production decrease, or will Norv Turner's offense invigorate him?
Find out what our reporters are thinking.

Fact or fiction: The best draft move the Lions could make is moving up for Sammy Watkins.
Rob Demovsky
: Fact. There's something to be said for making your strength even stronger. Clearly, with
Calvin Johnson
, the Lions' passing game is their strength -- they were third in the league in passing yards per game last season -- so why not make it even more difficult to stop? The addition of Watkins would give
Matthew Stafford
another big-play option.
Ben Goessling
: Fiction. As exciting as it would be to see Watkins in the same offense as Calvin Johnson, the Lions likely would need to move up from No. 10 to No. 4 or 5 to get Watkins. That would be the kind of expensive trade that could mean Martin Mayhew doesn't have enough picks to improve the team's defense. The Lions could use an upgrade to their secondary and at linebacker, and they'd likely find some good options there with the 10th overall pick. The Lions need another complement to Johnson, but defense is too big of a priority to make a costly trade up to get Watkins.
Kevin Seifert
: Fiction. Adding Watkins to a group that includes Calvin Johnson and
Golden Tate
would be one of the top power moves in recent memory. And, yes, the best way to build a team is to draft the best players and fill in positional gaps via free agency. But mortgaging the next two drafts seems like a steep price for a wide receiver on a team that has already committed the NFL's third-most salary-cap space ($20.3 million) at the position. The Lions' best move would to be clearheaded and take the best player remaining at No. 10.
Michael C. Wright
: Fiction. By now, the Lions should've already learned their lesson about investing too heavily in receivers. Besides that, Detroit needs help on defense if it wants to win now. The club has several defensive tackles set to become free agents after the 2014 season, it needs a safety and a cornerback, and it could stand to use some help at linebacker, too. The Lions already have several weapons on offense in Matthew Stafford, Calvin Johnson and
Reggie Bush
, in addition to free-agent acquisition Golden Tate. They can't neglect a defense that seems to always lack depth once injuries hit. This is also one of the deepest drafts in recent years for receivers, meaning the Lions could address defense first, then come back and add another target for Stafford in a later round. That would be the best course of action for Detroit. But the Lions haven't always done what's best (even though things seem to be improving with Martin Mayhew on board).
@mikecwright False. Megatron&Tate are a good one two punch & corner and safety are bigger needs.WR is deep; the opportunity cost is too high

- Ragan (@DupesSA) April 21, 2014
---

Fact or fiction: Julius Peppers will make a greater impact on the Packers' defense than Jared Allen will make on the Bears' D.
Demovsky
: Fact. The Packers didn't have a single defensive lineman record as many sacks as Peppers did for the Bears last year, when he had seven. Even if he's only able to replicate that, it'll be an upgrade for the Packers' defense, which badly needs another pass-rusher to complement
Clay Matthews
, who faces near-constant double teams.
Goessling
: Fiction. It's hard to know what the Packers will get from Peppers. The Bears are essentially asking Allen to do what he's always done, and as consistent as Allen's been, you know what you're getting. He'll probably produce 10-plus sacks and stay on the field, though he looked a step slower last season. With Peppers, though, the Packers' decision to put him opposite Clay Matthews is a big gamble -- on Peppers' ability to pick up a new position, to move around in the Packers' defense and to remain productive at age 34. It could work out splendidly, but as consistent as Allen is, I'm not ready to bet that Peppers will make a larger impact.
Seifert
: Fiction. Call me boring, but I don't foresee one having a dramatically different impact than the other. Both will provide something their teams didn't have last season. The Packers will get a player athletic and versatile enough to spur defensive coordinator Dom Capers' creativity and legitimately draw attention away from linebacker Clay Matthews. Allen offers a classic outside pass rush that Peppers failed to provide the Bears last season.
Wright
: Fiction. The Bears played it very diplomatically publicly while ushering Peppers out of the door, but even if his base salary for 2014 wasn't so astronomical, the club still didn't want him back. That's because some within the organization felt Peppers gave the Bears just five to six solid snaps per game in 2013. That sentiment falls right in line with Peppers' longstanding reputation as a player who doesn't go all-out consistently. So even if Allen's impact with the Bears in 2014 is minimal, I'd venture to guess it would be more than what the Packers will get from Peppers. That's not to say Peppers has lost it. He hasn't. He can still play at a high level when motivated. And he'll definitely be motivated in Green Bay. At the same time, Allen has never been accused of taking plays off, and over several years has earned a reputation as a high-motor player. That's exactly what the Bears need. Besides that, Peppers will be playing in a scheme totally different than anything he's ever done in the NFL, while Allen moves to a scheme similar to what he did in Minnesota. Everything considered, Allen has the best chance to be the more impactful player.
@RobDemovsky true, because the bears will play Allen on every down and wear him out. Making him less effective.

- kay oh (@shredmon) April 21, 2014
---

Fact or fiction: Chicago will achieve a turnaround on defense similar to what the team experienced on offense in 2013.
Demovsky
: Fiction. Unless your definition of turnaround is a slight improvement, don't expect this defense to jump into the top 10 after ranking 30th last season. The Bears have added some nice pieces, especially on the defensive line with Jared Allen and
Lamarr Houston
, but this defense was downright bad in 2013. A major turnaround could take several years.
Goessling
: Fiction. I like what the Bears did to their defensive line, adding Lamarr Houston,
Willie Young
and Jared Allen, but their safeties are still suspect, their young linebackers are still learning and they're going to count on players like
Charles Tillman
,
D.J. Williams
,
Lance Briggs
(if he's healthy) and Allen, who will all be at least 32 when camp starts. The Bears will be better on defense, but I'm not ready to say unequivocally that they'll turn things around after having the league's worst rushing defense in 2013.
Seifert
: Fiction: Some important team-building remains, most notably through the draft. But I'm not convinced the Bears have done enough yet to expect such a dramatic turnaround. (Remember, the Bears' offense ranked second in scoring in 2013 after finishing No. 16 in 2012.) Free agency has promised a different lineup, but will it be better? As many as six projected starters will be at least 30 years old. That's not a profile for massive turnaround.
Wright
: Fiction. The Bears will definitely turn things around, but I don't see the improvement being near as dramatic as what the club did in 2013 on offense. And that's OK. If the Bears can reach mediocrity on defense in 2014, that would be a huge win because the club now has a potent offense that can flat out stack points on the board. The Bears set single-season franchise records for net yardage (6,109), net passing yards (4,281), completion percentage (64.4), passing touchdowns (32), passer rating (96.9) and first downs (344) in addition to finishing eighth in total offense (381.8 yards per game), second in scoring (27.8-point average) and fifth in passing yardage (267.6). I don't see the Bears rewriting the franchise record books on defense next season, which would be incredibly difficult anyway given all the great defenses fielded in the past by this franchise.
@mikecwright False.There will be turnaround but nothing that great.Secondary still needs work and the chemistry might not be there for team

- Matt Varney (@HeadCoachVarney) April 21, 2014
---

Fact or fiction: At age 29, Adrian Peterson will be invigorated by a new offensive scheme and buck the trend of running backs declining in their late 20s.
Demovsky
: Fact. If we've learned anything about Peterson, it's that we should never doubt him. Not after what he did following his ACL tear. That said, 2,000 yards might not be realistic. If his 1,266 yards from last season was a disappointment, then so be it, but there aren't many teams in the league who wouldn't be happy with that right now.
Goessling
: Fiction. Peterson will still be productive in Norv Turner's offense and could relish the opportunity to get the ball as a pass-catching threat for one of the first times in his career. But running backs at his age -- and with that much wear and tear -- don't tend to stay at that level forever, and Peterson's three surgeries in the past three offseasons are concerning. If he does what
LaDainian Tomlinson
did for Turner at age 29 (1,110 yards rushing and 426 receiving), is that bucking the trend? Maybe, but that would still only be Peterson's sixth-best season in terms of total yards. So I'll say fiction. Even though I expect Peterson to have a solid, productive season, I don't think we're looking at some fountain of youth in Turner's offense.
Seifert
: Fact. I'll say this: Peterson doesn't need to be invigorated as much as he needs a transition path for continued elite production. After all, he rushed for 1,266 yards in 14 games last season. But he has undergone significant surgery in each of the past three winters, and offensive coordinator Norv Turner wants to involve him more in the passing game. More receptions and fewer carries sounds like a good plan for preservation.
Wright
: Fact. But I'm not even so sure it will be as much about a new offensive scheme. Peterson just isn't human. Just kidding; sort of. Peterson is coming off his worst season since 2009 in terms of yards per attempt (4.5). But think about that for a second. Most running backs would be downright giddy averaging 4.5 yards per carry. I know Peterson has taken a pounding over the years and he's coming off yet another surgery. But doesn't that always seem to be the case for Peterson, dating all the way back to college? At Oklahoma, Peterson dislocated a shoulder in 2004, suffered a right high-ankle sprain in 2005 and a broken clavicle in 2006, which led to scrutiny going into the 2007 draft about his durability and longevity. Seven seasons and 10,115 yards later, Peterson's still here, giving defenses fits. Minnesota needs to get Peterson some help (like a quarterback) for sure. But I honestly think Peterson is such an extraordinary physical specimen, hard worker and determined player, he'll buck the trend for a while the way
Fred Taylor
did it. Taylor rushed for 1,202 yards in 2007, completing that season just weeks before his 32nd birthday. The year prior, Taylor rushed for 1,146 yards.
@GoesslingESPN false. Wear and tear catching up....he'll still be a good RB, but his glory days are behind him.

- Vikings Fan Page (@Kevin_VFP) April 21, 2014
March, 10, 2014
Mar 10
10:00
AM ET
A few deals have been signed around the NFC North in the days leading up to free agency, but plenty of valuable players are about to hit the open market.
Here is a ranking of top NFC North free agents, with information provided by ESPN.com reporters Rob Demovsky (
Green Bay Packers
), Ben Goessling (
Minnesota Vikings
), Michael Rothstein (
Detroit Lions
) and Michael C. Wright (
Chicago Bears
).
We will update this periodically throughout the next several weeks.
1.Sam Shields, Packers CB:
Emerged as the Packers' top cover cornerback last season while playing for the restricted free-agent tender of $2.023 million and was re-signed to a four-year, $39 million contract just a few hours into the open negotiating period Saturday. His 2014 total pay of $15 million makes him the NFL's second-highest-paid cornerback for next season.
2. Brandon Pettigrew, Lions TE:
The No. 20 pick in the 2009 draft out of Oklahoma State, Pettigrew spent the past five seasons as one of Detroit's primary tight ends, specifically known for the ability to both block and run routes effectively.
3. Jermichael Finley, Packers TE:
Had surgery to fuse the C3 and C4 vertebra in his neck but expects to be cleared by his doctor. Gambled two years ago in free agency, signing just a two-year, $14 million deal in the hope that he would blossom into a star and command an even bigger contract the next time around.
4. Charles Tillman, Bears CB:
The NFL's Walter Payton Man of the Year, Tillman started eight games last season before finishing on the injured reserve with a torn triceps. The Bears hope to bring back Tillman but might not be able to come up with a suitable offer.
5. B.J. Raji, Packers DT:
Reportedly turned down an $8 million per year offer from the Packers last season, which might have been a sign that he preferred to play in a system that gave defensive linemen more freedom. After a disappointing season, his value has gone down, and as of last week, he was close to signing a one-year deal to return.
Cassel
6. Matt Cassel, Vikings QB:
Opted out of his 2014 contract after the Super Bowl but signed a new two-year deal with the Vikings on Friday, just before teams could start contacting his agent. He will likely head into training camp with the inside track on the starting job.
7. Willie Young, Lions DL:
Former seventh-round pick received his first extensive playing time in 2013, becoming a full-time starter after
Jason Jones
was injured for the season in Week 3. Young turned into one of the more disruptive players up front, making 47 tackles, recovering two fumbles and recording three sacks.
8. James Jones, Packers WR:
Ranked second on the Packers last season in receptions (59) and yards (817), the latter of which was a career high despite missing nearly three full games because of a knee injury. Three years ago, coming off the NFL lockout, Jones did not draw strong interest on the free-agent market and re-signed with the Packers for three years and $9.6 million.
9. Jared Allen, Vikings DE:
After three All-Pro selections in six years, Allen's time in Minnesota is likely over. He could come back as a situational pass-rusher on a reduced salary, but after making $14 million last season, Allen might head elsewhere for a bigger role and bigger paycheck.
McCown
10. Josh McCown, Bears QB:
He proved he is capable of filling in for
Jay Cutler
in a pinch and is instrumental behind the scenes for nearly every skill player on the offense. It's not a slam dunk he will be back, and talks with the Bears haven't been especially productive.
11. Henry Melton, Bears DL:
Melton's representatives fully expect him to test the market in free agency because the Bears haven't shown a ton of interest. Coming off a torn ACL, Melton probably won't command top dollar in the first wave of free agency.
12. Devin Hester, Bears KR:
Became strictly a return specialist for the Bears last season and is still one of the league's best at his position. Probably expects a payday similar to what he's gotten in the past.
13. Rashean Mathis, Lions CB:
Mathis signed with Detroit during the 2013 preseason and became one of the team's starting cornerbacks by the third week of the season. He played in 15 games, making 47 tackles and often drawing the opponent's top wide receiver.
14. Everson Griffen, Vikings DE:
The 26-year-old cashed in on Sunday by signing a five-year, $42.5 million deal that included $20 million guaranteed to return to Minnesota. He should flourish in new coach Mike Zimmer's defensive scheme.
15. Louis Delmas, Lions S:
The 26-year-old was released by Detroit with one year remaining on his contract in February, in part because of a cap number of $6.5 million in 2014. Has played in 65 games for Detroit over five seasons, with 328 tackles, six interceptions and two forced fumbles. He also had five sacks and four fumble recoveries.
September, 4, 2013
9/04/13
1:10
PM ET
ALLEN PARK, Mich. --
Minnesota Vikings
coach Leslie Frazier spoke with the Detroit media Wednesday morning. A quick, bullet-point, wrap-up of what Frazier touched on.
September, 4, 2013
9/04/13
12:33
PM ET
ALLEN PARK, Mich. -- The 2,000-yard marker for running backs and wide receivers is a lofty one, often discussed but rarely, if ever, reached.
Yet last season
Minnesota Vikings
running back
Adrian Peterson
hit the mark with 2,097 yards rushing, and
Detroit Lions
receiver
Calvin Johnson
came close with 1,964 yards receiving.
Peterson
Johnson
Now, Vikings coach Leslie Frazier thinks both players could hit the mark this season.
"It's a realistic number," Frazier said Wednesday during a conference call with Detroit reporters. "There's so many factors that go into a guy achieving those kinds of goals and numbers that he and Adrian achieved a year ago.
"There's a lot of factors involved, but they are talented enough and more than capable of getting it done."
There's another similarity here, too. Neither Peterson nor Johnson played much this preseason, both playing one game.
"In Adrian's case and looking at our team and the way we're set up and how we're built, I just didn't see the advantage of putting him at risk in the preseason," Frazier said. "I know he needs some work and there are some things we have to get done from a timing standpoint.
"I have to weigh bringing our offense together versus putting him at risk, and I erred on the side of the way he was working in practice."
On Sunday, both are expected to play major roles for their teams. And as the season starts, Frazier has learned not to doubt anything Peterson can do.
"In Adrian's case I've learned, and I think all of us who have followed him, you don't ever put anything out of his reach," Frazier said. "Two-thousand yards, when it comes to Adrian Peterson, it's realistic. But I don't think in Adrian's case that's the ultimate goal.
"The ultimate goal is to bring a world championship to Minnesota."