Detroit Lions:

Peyton Manning
September, 5, 2014
Sep 5
5:30
PM ET
ALLEN PARK, Mich. -- In some ways, the freedom has always been there for
Matthew Stafford
. He is an NFL quarterback and as such, will always have some flexibility to change what he sees.
Now, though, he might have more freedom than ever to make adjustments on the fly before a snap in the new
Detroit Lions
offense.
"In this offense, they put a lot on the quarterback, which is great," Stafford said. "You like to have a lot of control at the line of scrimmage and things of that nature. But it's a challenge, no question.
[+] Enlarge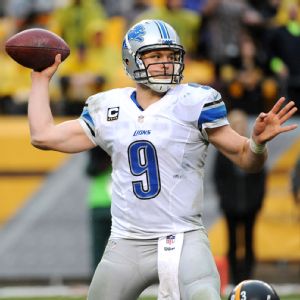 George Gojkovich/Getty ImagesMatthew Stafford completed 21 of 30 passes this preseason for two touchdowns and one interception.
"Coming in the first year in an offense and try and operate at a high level. But the guys have done a great job picking up this system. Mental errors are going down and down and down. Trying to make sure we're in the right spots, running the right routes and executing at a high level."
Most important among those cutting down on mental errors has to be Stafford this season, especially if the Lions are going to give him more responsibility than before. Besides limiting mistakes after the play begins, he must now make sure he doesn't check Detroit into a poor play based on a read he makes.
So far, though, it sounds like he has been pretty good at avoiding that.
In a small sample size, Stafford completed 21 of 30 passes this preseason for two touchdowns and one interception. The interception was on a forced pass to
Calvin Johnson
during the third preseason game in a situation where it appeared the Lions were doing as much as possible to have Johnson pick up some work in his only limited appearance during the preseason.
Other than that, Stafford made smart reads most of the time and threw the ball into the proper spots. He also got a handle on what he was doing pre-snap with the new offense.
"It's great to see coach allows him to sometimes put him in position to make a call, to call a play and then put us in the best position he feels he can put us in," Johnson said. "That's pretty awesome to see, because that's some stuff that you see
Peyton Manning
do all the time at the line, check out of something into a totally different play that wasn't in the play call that coach may have called in.
"That's pretty cool to see and gives the whole team confidence."
Handing Stafford more control of the offense makes sense considering who is influencing the offense. Jim Caldwell and quarterbacks coach Jim Bob Cooter both worked extensively with Manning, who calls a lot of plays at the line. Lombardi, the offensive coordinator, worked with
Drew Brees
in New Orleans and Brees is one of the game's best and most cerebral quarterbacks.
So both entrusting and expecting Stafford to handle this comes from their past as much as what they think of his skills in the present.
"He had some (freedom), certainly last year they even expanded the things he did pre-snap," Lombardi said. "So maybe a little bit different emphasis of the things that he is in control of.
"But he is very comfortable, I think, with making decisions at the line of scrimmage. He's done that in the past and he continues to have some of that flexibility."
How much? The Lions will answer that starting Monday night.
July, 10, 2014
Jul 10
12:00
PM ET
The main key for success for the
Detroit Lions
this season is remarkably simple and has been the main focus of the franchise since it fired coach Jim Schwartz following the 2013 season.
Stafford
From hiring new head coach Jim Caldwell, offensive coordinator Joe Lombardi and quarterbacks coach Jim Bob Cooter to signing
Golden Tate
, re-signing
Brandon Pettigrew
and drafting
Eric Ebron
, that focus has been giving quarterback
Matthew Stafford
everything he could possibly need to succeed.
Stafford has to use those tools to turn into the elite quarterback the team has been hoping for since they drafted him first overall in 2009. Statistically, Stafford has been one of the better quarterbacks in the NFL, putting up massive numbers for the Lions during his first five seasons.
Yet for every fourth-quarter comeback he completed and remarkable play he made, he has also made a decision leaving those watching and wondering what he saw or thought on that play. That has been the conundrum of Stafford's career. The Lions believe any issues Stafford has are correctable and these are the guys to do it after working with
Peyton Manning
and
Drew Brees
.
If the Lions turn Stafford into the consistent quarterback that led them to the playoffs in 2011 full-time, then the entire shift in coaching staffs and upgrading the offensive roster will have been worth it. But it all falls to Stafford -- as it often does to quarterbacks around the league.
There's a reason many franchises believe they can go only as far as the quarterback plays. Thus far, Stafford has taken them from a club that didn't win a game in 2008 to one with realistic playoff expectations each season.
Detroit has set itself up for more than that now, though. The Lions have a roster with enough talent to at least make a run at the playoffs, if not succeed in the postseason. If they do, Stafford and his improvement will play a major role in making it that far.
June, 12, 2014
Jun 12
9:00
AM ET
Detroit Lions
quarterback
Matthew Stafford
has posted one winning season, been to the playoffs once and taken a ton of undue criticism about how he wears his hat. In the monetary world, though, hardly anyone is beating him.
Forbes released its yearly list of the world's highest-paid athletes this week and while no one is touching boxer Floyd "Money" Mayweather or soccer star Cristiano Ronaldo in the dollars game, Stafford is
faring well among football players
.
Stafford
The magazine has Stafford as the No.2 highest-paid player in 2014 and No. 18 overall, a few places behind Atlanta quarterback
Matt Ryan
, who is No. 10 overall. The magazine has Ryan at $43.8 million overall and Stafford at $33 million overall.
Among the athletes he is better compensated than?
Kevin Durant
($31.9 million);
Peyton Manning
($27.1 milion); Dale Earnhardt Jr. ($25.9 million) and another name very familiar to Detroit fans -- Tigers infielder
Miguel Cabrera
($24.6 million).
Whether Stafford is worth that kind of money can be debated and has been since he signed his contract extension prior to last season, but Detroit has turned him into one of the richest athletes in the world. Of that, there is no doubt.
In an added wrinkle, the NFL is sending its two most well-compensated players on the Forbes list to London this fall to face each other when Atlanta and Detroit play in England in October.
And one other thing to note -- while no other Lions are on the list this year, that might change in 2015. Depending on what
Ndamukong Suh
's contract is like (and if he re-signs with the Lions), he might end up on the Forbes 100 athlete list in the future as well.
Here is how Forbes
came up with their numbers
.
February, 20, 2014
Feb 20
2:00
PM ET
INDIANAPOLIS -- Jim Caldwell's NFL résumé has success written all over it, from the very top all the way down to very end.
He was assistant coach and quarterback coach with the Indianapolis from 2002-08, winning a Super Bowl with them in 2006. Caldwell took over for Tony Dungy and led the
Indianapolis Colts
to a 14-0 start and another Super Bowl appearance in his first season in 2009.

Caldwell
Caldwell was fired after a 2-14 season -- and the end of
Peyton Manning
's career in Indianapolis -- but rebounded nicely by being the
Baltimore Ravens
' offensive coordinator when they won the Super Bowl in 2012.
But Caldwell admits he wasn't sure he would end up being a head coach in the NFL again.
Those thoughts ended when the
Detroit Lions
(7-9 last season) named him their head coach last month.
So Manning,
Joe Flacco
, and now
Calvin "Megatron" Johnson
.
That's not a bad group of players to coach for Caldwell.
"Fact of the matter is, very rare do you get a second opportunity," Caldwell said. "Not only a second, but this is actually the third (time) for me if you include my stint in college as well. I was hoping, but I was also very, very satisfied working extremely hard at what I was doing in terms of coaching the position or being an offensive coordinator, whatever helped a team win. I'm not able to forecast the future. But I certainly indeed hoped that I did get another opportunity. I'm glad it happened."
Caldwell, who was rather reserved as head coach of the Colts, noted how he's grown as a coach from what he learned with the Colts and during his two seasons with the Ravens.
"One of things about our business is the fact that if you don't feel like you've grown or developed each and every day, you're in the wrong business," he said. "I learned something different each and every day. I had a great 10 years (in Indianapolis). We obviously had a lot of success and certainly learned a lot about what to do in terms of offensive football, learning how to develop was important in terms of how we went about doing things, but also winning consistently has a certain sound to it."
January, 29, 2014
Jan 29
10:00
AM ET
At one point,
Matthew Stafford
seemed like a plausible answer to the NFL Nation survey question of who you would want to lead your team in the Super Bowl with two minutes left.
It didn't have as much to do with Stafford's inexperience in Super Bowl games -- almost every Detroit Lion has that problem -- but what he has been able to do in the past. The question initially came about midseason, right after Stafford had led the Lions to a come-from-behind win over Dallas where he made a fake spike call in the final seconds.

It was a play of moxie and one that showed he could lead a team and depending when certain players were asked, could have been seen as a possible choice for this answer.
Since then, of course, he kind of unraveled. Detroit lost lead after lead in the fourth quarter and the rallying Stafford had done earlier in the 2013 season had been washed away.
But in his five-year career, Stafford has led Detroit on 12 game-winning drives or come-from-behind wins in fourth quarters, including three this season. Of those games, only three of them came in the second half of seasons, though.
So while Stafford was a potential option here at one point -- and some Lions players showed confidence in Stafford for the poll -- by the end of the season he seemed like an unlikely choice.
Instead, the choices that make sense -- New England's
Tom Brady
, New Orleans'
Drew Brees
and Denver's
Peyton Manning
among them -- ended up being the most realistic options.
But Stafford has a chance to get there. He just has two of the guys who helped mold Manning and Brees as his quarterback mentors now. They just have to get him there.
January, 19, 2014
Jan 19
10:00
AM ET
The
Detroit Lions
finally have a new coach, and that means all of you have a ton of questions.
Questions about Jim Caldwell and free agency littered this week's Lions Mailbag.
To ask a question for the Mailbag, tweet the hashtag #LionsMailbag or email michael.rothstein@espn.com. Mailbags will now run on the weekends.
On to your questions.
.
January, 3, 2014
Jan 3
4:30
PM ET
Jim Caldwell has officially interviewed with the
Detroit Lions
.
The Baltimore offensive coordinator -- and former
Indianapolis Colts
and Wake Forest head coach -- was brought to the team's facility on Friday morning for an interview, per the team's official reporter Tim Twentyman and John Wooten, the chairman of the Fritz Pollard Alliance.
"The thing that Caldwell brings to the table is the calmness of him as a person," Wooten told ESPN.com on Friday. "I go back to coach [Tom] Landry and Paul Brown, guys that I worked under or had been around.
"The players certainly exemplify what you see them doing and the way the coaches react. If you have a coach who is hollering and screaming and yelling at the officials, the players are going to do that."
Caldwell, Wooten said, is not that type of man. It would also be a large departure from Detroit's former coach, Jim Schwartz, who was in multiple incidents either yelling at opposing coaches, opposing players and, at the end, even the Detroit Lions fan base.
And the Lions' players were often among the most penalized in the NFL.
Caldwell was not made available to reporters Friday after his interview and the Lions facility was announced as closed for the day. He did, though, speak with the Lions' official reporter.
"This is an unusual situation because of the fact that you don't typically walk into a place that has a talented quarterback," Caldwell told Twentyman. "The experience of working with
Peyton Manning
has helped me a tremendous amount.
"He's a guy with a lot of drive and ability but he's also a guy that has talent but works extremely hard and sets a great standard for the individuals that want to perfect their craft."
Caldwell coached with Indianapolis from 2002 to 2011. He spent six of those years as Manning's quarterbacks coach and was the Colts' head coach for three years. Before that, he spent one year with
Brad Johnson
in Tampa Bay as his quarterbacks coach.
He was the head coach at Wake Forest from 1993 to 2000 and before that was the quarterbacks coach at Penn State from 1986 to 1992, where he worked with
Kerry Collins
.
So, he has some history with quarterbacks and one of the priorities for the Lions is finding someone to work with Detroit quarterback
Matthew Stafford
.
He is the first of multiple candidates expected to interview for the job. Wooten said he was told the Lions would meet with many candidates before bringing in the final three to meet with the Lions ownership.
November, 6, 2013
11/06/13
12:50
PM ET
Calvin Johnson
didn't play last week, but that doesn't mean he didn't make some more gains in the race for the MVP (behind
Peyton Manning
, probably).
Johnson moved from No. 6 to No. 4 in colleague Dan Graziano's MVP watch despite not doing anything at all.
He is one of three non-quarterbacks on the list, and the highest-rated non-quarterback.
To see the entire list, including the latest explanation of Johnson's status, check out the
full story here
.
October, 18, 2013
10/18/13
5:30
PM ET
ALLEN PARK, Mich. --
Corey Hilliard
started the first preseason game of the 2009 season for Indianapolis, his goal in his third season in the league to be one of the players who would be responsible for protecting
Peyton Manning
for the
Indianapolis Colts
.
First play of his first preseason game that year against Minnesota, Manning was sacked. It was Hilliard's fault. Later that drive, he allowed Manning to be pressured. He was called for a holding penalty that was later declined.
All on one drive.
"It was the worst drive of my life, that opening drive," Hilliard said. "That's when I knew, [stuff's] for real, you know what I mean?"
[+] Enlarge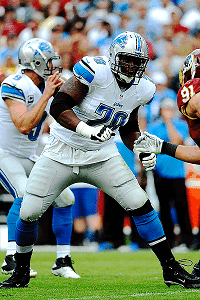 Brad Mills/USA TODAY SportsWith Corey Hilliard in the lineup, Lions QB Matthew Stafford hasn't had to worry about opposing pass-rushers much this season.
He learned even harder the following week, when Indianapolis released him. This story is important now because of what came next, of how that moment helped bring him to now, where he has filled in at right tackle for the man who beat him out for the job this preseason with the
Detroit Lions
,
Jason Fox
.
After his release in Indianapolis, Hilliard landed on Cleveland's practice squad. The Lions signed him late in the 2009 season off the Browns' squad and he's remained in Detroit since.
Hilliard's story returned to relevance for Detroit last Saturday, when he addressed the offense at the team hotel in Cleveland to tell his story.
He did, speaking for around five minutes and explaining to the rest of the offense what it was like to be cut, to having to tell his family, to not knowing if he would play football again after one hellacious drive in a preseason game.
"It gave me chills," wide receiver
Kris Durham
said. "He just got really personal with his story and told us when he realized different things about his life and different things about the game of football and how much it meant to him.
"He gave us a lot of insight into how he thinks and how he is. It was very emotional and very passionate."
The emotions became more real earlier this season. He was in a close battle with Fox, another veteran, to win the starting right tackle job with the Lions. He lost the battle and prepared himself for another season of sitting on the bench, playing mostly special teams.
He figured by losing the job, Fox would play and start all 16 games. Then, in the first week of the season, coincidentally against Minnesota, Fox injured his groin. Hilliard, who wasn't planning on playing, had to take over.
"It was weird, you know. Mixed emotions. It was surreal," Hilliard said. "Just because being in a position battle and then you don't win the battle, your mind is set on, well, I'm not going to play this year. Then Fox got hurt and I felt so bad for him because he had worked so hard and won the job and finally got his shot to play.
"So I had to go into the game and felt bad for him, but had to erase all that and play the game. It was just a lot of [stuff] going on in my mind and then you're out there playing and it wasn't what I expected after losing a job."
Hilliard's been in almost every play since. He started the next two games for Detroit as Fox recovered from his groin injury. Then Fox got healthy and was reinserted into the starting lineup.
Hilliard figured he was headed back to the bench for the rest of the season. That lasted less than a game. Fox injured his knee and Hilliard went through all the same emotions in the opener again. Felt bad for his teammate. Had to focus on actually replacing him.
He's played every snap since. In games he has started, Detroit is 3-1 and has done a good job protecting
Matthew Stafford
. Save Manning, Stafford has been sacked at a smaller percentage (3.6 percent of drop-backs) than any other quarterback in the league.
He's also been helping rookie right guard
Larry Warford
, one of the top first-year guards in the NFL, adjust to professional football. The two have worked on their communication, even though Warford said when Hilliard came into the game against Minnesota when Fox was injured, he didn't realize it for a series or two.
It is a communication they work on in practice, identifying pass protections specifically, so it'll be implemented in games.
"You have to understand the concept of the play to get in that situation," Warford said. "It's not a whole lot of varieties. It's not a whole lot of things that we have to communicate, but when we know the situation and the play, he knows how to set to help me out and I know how to set to help him out."
Hilliard paid attention to those small things more after what happened in Indianapolis, after he was told his services would no longer be needed. As Saturday night proved, when he told the story -- his story -- to his teammates, it ended up working out.
"It takes a lot to be an NFL tackle and he's got it," center
Dominic Raiola
said. "That's pretty impressive, what he's done and his story and whatever. For him, he's playing good right now.
"He's got my respect and my confidence and he's our guy at right tackle."
October, 1, 2013
10/01/13
3:45
PM ET
ALLEN PARK, Mich. --
Denver Broncos
quarterback
Peyton Manning
is putting together one of the all-time great passing seasons through the first month of this year and even his opponents are impressed by it.
Manning
Stafford
Among them is
Detroit Lions
quarterback
Matthew Stafford
.
"It's awesome. I'm happy for him. He's a great player," Stafford said. "One of the best, if not the best, quarterbacks of all time and a guy that growing up I watched and really tried to study his game as much as you can. The guy's a great thinker, a great mind and obviously can put the ball wherever he wants."
Manning has completed 75 percent of his passes this season (117-of-156) for a NFL-best 1,470 yards and 16 touchdowns.
The real eye-popping stat -- he's thrown zero interceptions and has a passer rating of 138.
His numbers could be even better, too, as Manning's pass-catchers have dropped 5.1 percent of his throws. Three of Manning's receivers --
Demaryius Thomas
,
Wes Welker
and
Eric Decker
-- all have 24 or more receptions through four games.
"He's got some weapons there this year that he hasn't had in a while," Stafford said. "And he's making teams pay for it."
Manning leads the league in almost every passing category, but Stafford is actually doing better than him in a couple of areas.
Manning is second to Stafford in sacks per drop-back -- Stafford has been sacked 1.9 percent of the time to Manning's 3.1 percent. Stafford also is getting rid of the ball faster than Manning, throwing the ball 2.75 seconds after the snap to Manning's 2.82 seconds.