Detroit Lions:

Ralph Friedgen
October, 17, 2013
10/17/13
10:00
AM ET
Each week during the season, we'll chat with a different Detroit Lions player or coach for a look at their lives on and off the field in a feature called "Ten(ish) Questions With..."
Previous Ten(ish) Questions:
WR Kevin Ogletree
;
C Dominic Raiola
;
WR Kris Durham
;
DT Justin Bannan
;
TE Brandon Pettigrew
ALLEN PARK, Mich. --
Shaun Hill
has spent the past four years in Detroit, mostly as the backup to starter
Matthew Stafford
, but when he has gotten in the game, he has done well.
In his career, the Parsons, Kan., native has completed 591 of 954 passes for 6,381 yards, 41 touchdowns and 23 interceptions between his time in Minnesota (he didn't play there), San Francisco and the Lions.
Now 33 years old, the Maryland product sat down to discuss his adventures in New Zealand, his senior year of college and, with the help of Stafford, why he wouldn't vacation in New York City that often.
What's your favorite football memory?
[+] Enlarge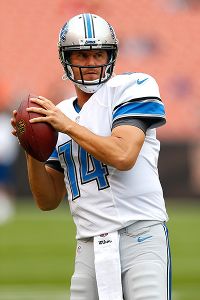 AP Photo/Scott BoehmLions backup QB Shaun Hill isn't ready for a second career in farming.
Shaun Hill:
Oh man. That's so hard to say. Favorite football memory? I don't know, that's impossible to say. That's hard to say. Gosh. I don't know. Give me one section of my football life.
Pros?
SH:
That's the hardest one.
Colleges then?
SH:
Okay, we'll do college then. College was winning the ACC outright and qualifying for the Orange Bowl, that whole experience.
Why that?
SH:
We were picked to finish seventh in the conference that year, preseason, and I remember distinctly having a meeting with a new head coach as he came in that spring and he said to me, and I'm going into my senior year, he says, 'Hey, we're not going to be any good this year anyway so if you just don't completely just beat out these young guys during training camp, I'm going to play one of the young guys throughout the season.' Then we went ahead and won the ACC.
Was that Ralph Friedgen?
SH:
Friedgen, yeah.
Were you like what the heck?
SH:
Yeah, like, 'all right, that's fun.'
You're a veteran in the league now, what do you do away from the NFL?
SH:
During the offseason I go home and, man, I don't know. Just kind of do a lot of fishing. Do a lot of work on my river property and the little farm I have.
You grow anything? Crops?
SH:
No, because I can't take care of them all the time, but I'm ready for that. Just all that stuff for getting ready to do that eventually, yeah.
What are you eventually planning on growing? Wheat? Corn? Tomatoes?
SH:
No, no. More just have my own garden and just have fresh food for my wife and my family. No, I wouldn't be an actual crop farmer.
So that's not your second career?
SH:
No, no. Nuh-uh. I mess around doing that stuff. And my wife and I like to take a vacation every year.