Detroit Lions:

Schwartz firing
December, 31, 2013
12/31/13
8:15
AM ET
Good morning and ROOOOAARRRR!!!!
ALLEN PARK, Mich. -- One of the most telling things about the Jim Schwartz era came from a non-answer during the
news conference announcing his firing
Monday afternoon.
General manager Martin Mayhew was asked a question that had been asked of Schwartz, Scott Linehan and Matthew Stafford at various points over the final month of the 2013 season.
Was Stafford being pushed enough? Held accountable enough?
And Mayhew, in his first public comments since before the regular season started, waved off the question but didn't dismiss it.
"I can't really comment on that," Mayhew said. "All I can say about this staff is that I know they worked their butt off for us to win. They did the best they could as a staff and I appreciate and respect each one of them."
Schwartz, when he was asked about this earlier this season, said every player was challenged by the staff, just not "publicly shamed." Linehan and Stafford both said Stafford was pushed enough.
But Stafford clearly regressed this season. He completed just 54.1 percent of his passes in the second half of the season with 13 touchdowns and 13 interceptions as the Lions went 2-6 after the bye to go from 5-3 to out of the playoffs.
It is very, very possible that one of the criteria for the next Lions head coach will be tasked with either working with Stafford himself or hiring an experienced quarterback mind to do so.
And now a look around the Interwebs in search of Lions news:
December, 30, 2013
12/30/13
10:00
PM ET
ALLEN PARK, Mich. -- There isn't a particular moment, it seems, where Jim Schwartz definitively lost his job with the
Detroit Lions
. At least it doesn't feel like that.
Instead, over the past two months of this season, as the Lions collapsed yet again under his watch with so many of the same mistakes happening in perpetuity, there were multiple moments that seemed to doom Schwartz in Detroit.
There was the interception party that appeared to take over Detroit's offense the second half of the season. There were key penalties -- both phantom and legitimate -- that extended opposing drives in third-down situations.
And there were coaching and management mistakes, be it the fake field goal in Pittsburgh that the Lions never really appeared to recover from, all the way to the poorly-used timeouts in Sunday's season finale against Minnesota.
So it wasn't one thing, besides the obvious wins and losses, that went wrong for Schwartz in Detroit this season. It was a combination of everything.
On a day when change was everywhere around the Detroit Lions facility, where some players were cleaning out their lockers for possibly the last time, there was some retrospect of what went wrong.
What was that one thing they could change that might have saved Schwartz from being fired? The one thing that could have kept the Lions on the path to the playoffs that they seemed to inhabit for the first two months of the season?
"Getting more turnovers," linebacker
Ashlee Palmer
said. "If we had gotten more turnovers like we were earlier in the year, things could have changed, you know?"
That is one area where the Lions could have been better that went somewhat unnoticed. During Detroit's 6-3 start, the Lions forced 14 turnovers. During their 1-6 finish, they forced eight, two of them in the meaningless finale against Minnesota.
But more players, even now, 24 hours removed from the end of their season, were still somewhat baffled as they packed up their belongings into garbage bags to head home or on vacation and into an unknown future with a new coaching staff looming.
"I really can't. It's 6-3 and in a good spot. And for some reason, for whatever it was, we couldn't find ways to get wins down the stretch," safety
Glover Quin
said. "We come, had a big win against Green Bay on Thanksgiving and we couldn't find a way to get two more wins."
They couldn't. The Lions didn't win in December, losing games by throwing the ball away on offense, getting gashed in the snow on defense and watching their playoff hopes expire on not one, but two game-winning field goals two weeks in a row.
And for the past two months or so, the Lions all talked about being one play short, one drive short. One everything short. It was a theme with this season -- with the later part of Schwartz's tenure, really.
It appeared Monday, after Schwartz was fired, that general manager Martin Mayhew and team president Tom Lewand were no longer happy with that mentality. No longer happy with close but nothing to show for it but a bunch of losses.
So one of the things they are going to look for in a new coach is a new belief, a new approach. A new type of character in their next coach.
"It is a mentality," Mayhew said. "It has to be a belief that no matter what's happening, you have an opportunity to win. You can't put yourself in a situation where you get a fatalistic attitude or you get the belief that you can't get over the hump, so to speak.
"I think that's something that will need to be addressed in terms of the coach of our football team."
That will be up to the next coach. Because this coach, no matter what he did, what he said or how much he pushed or didn't push players during the week and in games, these Lions under Schwartz just couldn't finish things off.
And even after Schwartz was gone and had addressed the team for the last time, they still took some of the blame for what went wrong.
"Jim wasn't on the field. We were on the field after Thanksgiving, we were 7-5. We were on the field, not Jim," center
Dominic Raiola
said. "It was the guys on the field that didn't make enough plays.
"We didn't make enough plays on the field and it cost him his job."
December, 30, 2013
12/30/13
8:35
PM ET
ALLEN PARK, Mich. -- The search is officially on for Detroit's next head coach.
ESPN Insider Chris Mortensen is reporting Penn State coach Bill O'Brien might already be coming off the board to Houston, but there are other attractive candidates out there for the Lions.
"I think this is a very attractive opportunity," Lions president Tom Lewand said. "I can verify that by the number of calls we've already gotten since the announcement was made at noon today and it will go through the process. I think going through a thorough process is extremely important.
"But that doesn't necessarily mean it has to be a long process, but it has to be a thorough process and we will go through a process of interviews, of research to make sure that we find the best fit for the
Detroit Lions
."
While Detroit would not identify candidates Monday, here are some names that could pop up in the search based off of the criteria Lewand and GM Martin Mayhew laid out Monday afternoon.

Whisenhunt
Ken Whisenhunt, San Diego offensive coordinator:
It would be surprising if he isn't one of Mayhew's top candidates. The two were teammates in Washington in 1989 and 1990. He is primarily an offensive guy and has worked with both
Ben Roethlisberger
in Pittsburgh and
Philip Rivers
last season. He also has prior head coaching experience, running the
Arizona Cardinals
from 2007 to 2012 -- and taking the Cardinals to Super Bowl XLIII. If a coach can take Arizona to the Super Bowl, he could fit well in trying to take the Lions to the next level.

Smith
Lovie Smith, former Chicago Bears head coach:
Smith has all the characteristics Mayhew would want in a coach. He runs a 4-3 defense, which would fit well with what the Lions already have assembled. He has head coaching experience, having led the Chicago Bears from 2004 to 2012. He knows how to build culture as he has taken a team to the Super Bowl and would be a strong hire for the Lions. However, Insider Adam Schefter is reporting Smith is the favored candidate in Tampa Bay.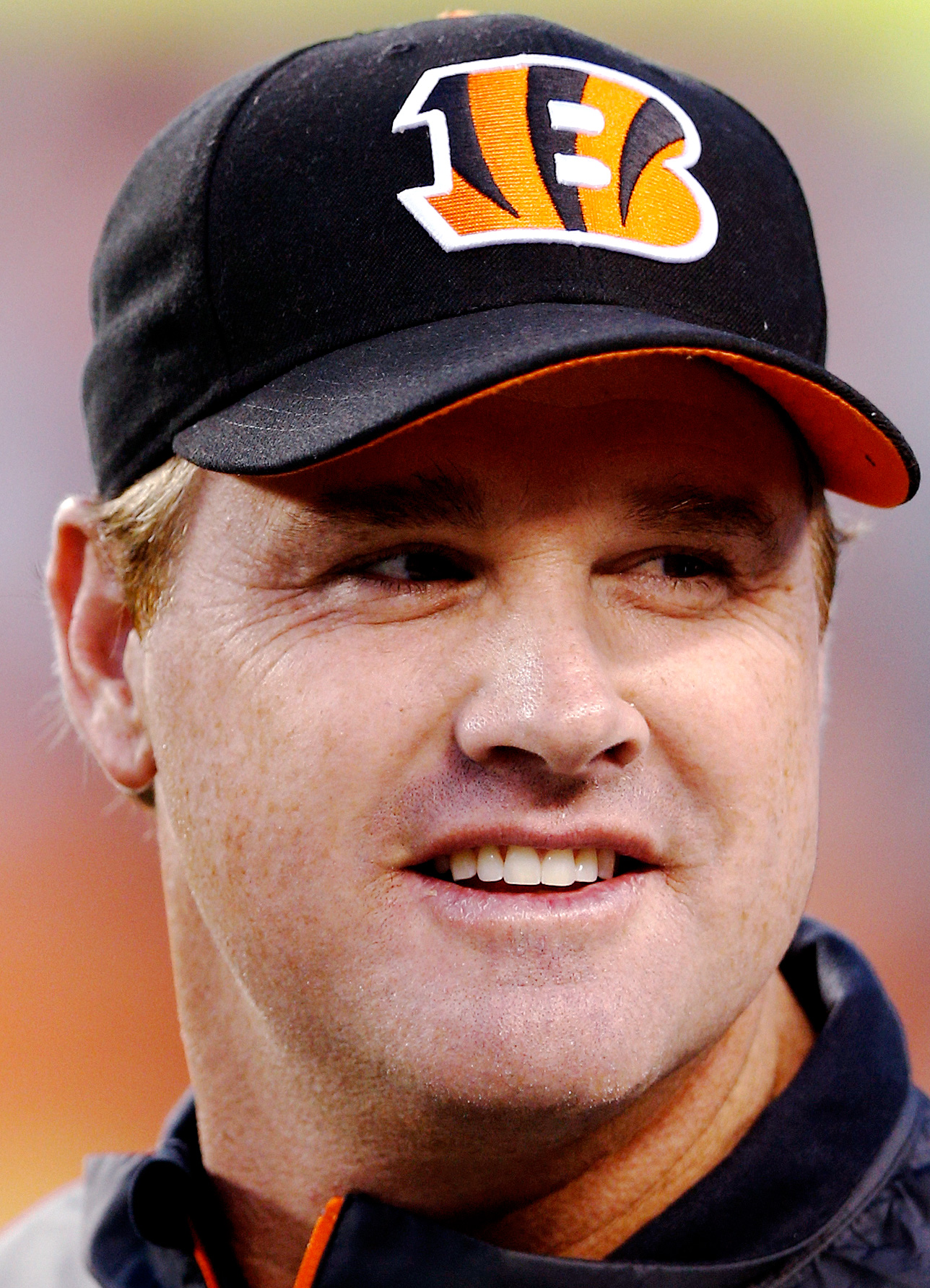 Gruden
Jay Gruden, Cincinnati offensive coordinator:
He helped in the development of
Andy Dalton
over the past three seasons and understands the importance of a strong quarterback-wide receiver combination as he worked with Dalton and
A.J. Green
. He doesn't have NFL or college head coaching experience, but was the head coach of the Orlando Predators of the AFL from 1998 to 2001 and the Florida Tuskers of the UFL in 2011. So he has some experience somewhere leading a team.

Jackson
Hue Jackson, Cincinnati running backs coach:
Jackson has head coaching experience from his 2011 season with Oakland. He's a former quarterback (University of the Pacific) who has been an offensive coordinator for years on the college and professional level.
In Baltimore in 2008 and 2009, he tutored
Joe Flacco
and worked with
Carson Palmer
as the offensive coordinator at USC.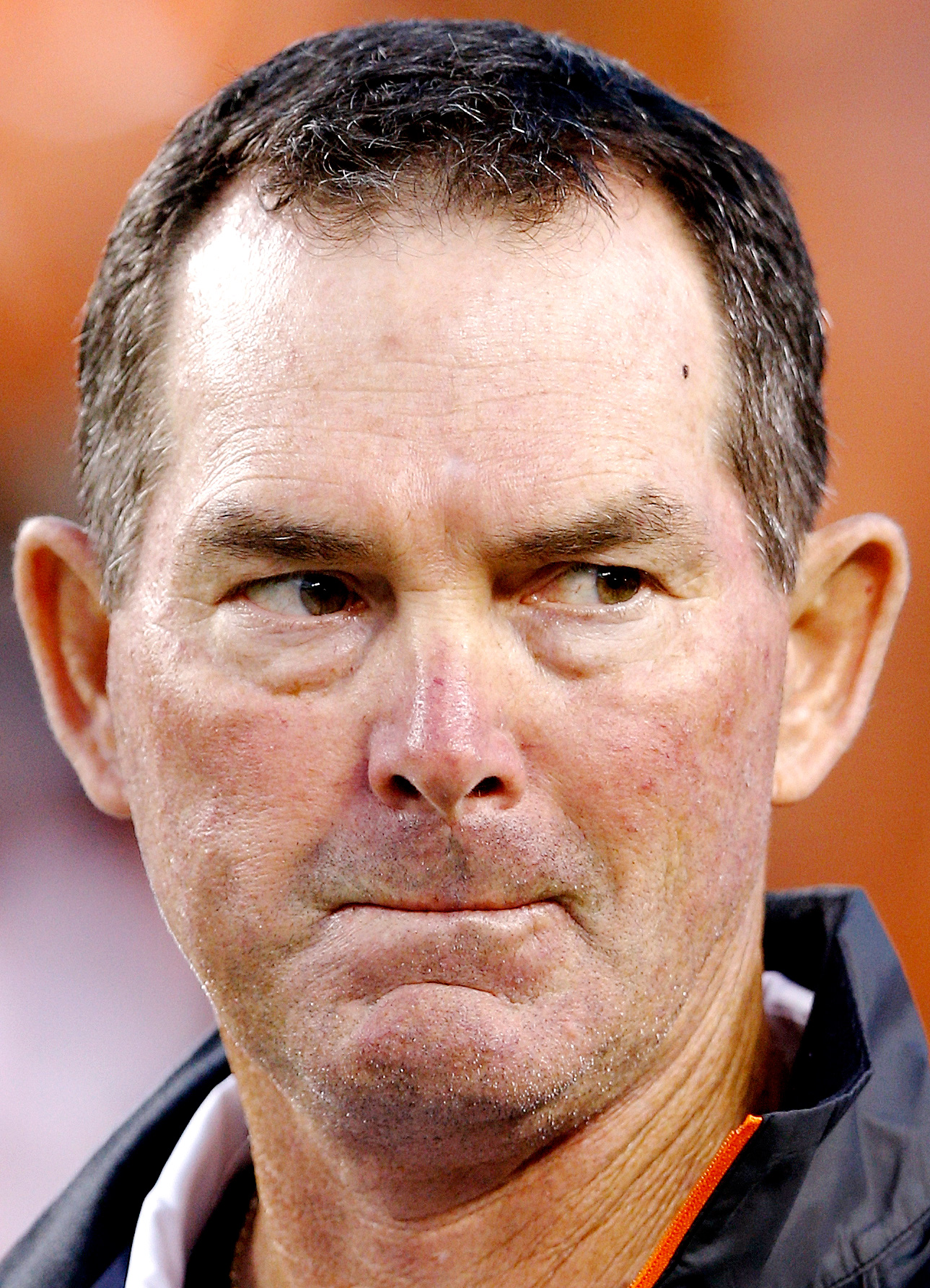 Zimmer
Mike Zimmer, Cincinnati defensive coordinator:
Zimmer has been a defensive coordinator in the NFL since 2000 and has spent a lot of time building playoff defenses, something the Lions have shown they have the pieces to build.
The concern here would be the lack of any head coaching experience or any experience on offense, which is a problem considering the struggles of
Matthew Stafford
. Mayhew indicated experience on a particular side of the ball would not be a huge factor.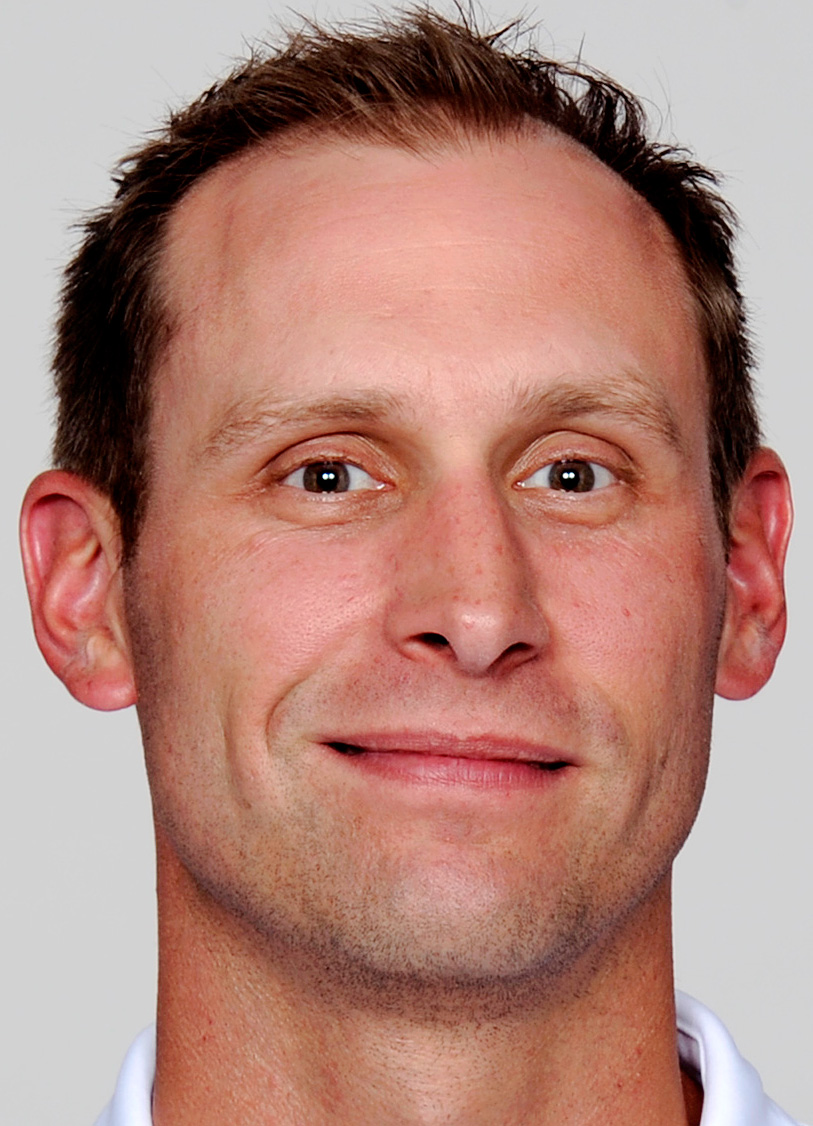 Gase
Adam Gase, Denver offensive coordinator:
The 35-year-old could be a wild-card hire. He doesn't have head coach experience, but worked with
Peyton Manning
both as a quarterbacks coach and as offensive coordinator. He was born in Ypsilanti, Mich., and went to Michigan State.
He scouted with the Lions from 2003 to 2005 and was a coach in various roles from 2005 to 2007.
Kelly
Brian Kelly, Notre Dame head coach:
He didn't have the best year last year, but he flirted with the NFL last season and the Lions are a team that could win immediately. He has an offensive pedigree, head coaching experience at one of the most pressure-packed jobs in college football and has elevated every program where he has coached. He could be a decent definition of a coach that can push a team over the hump.
The concern would be his lack of NFL experience.

Shaw
David Shaw, Stanford head coach:
If there was the thought Shaw would actually leave Stanford, he might be the top coach on this list. He has an offensive pedigree as an offensive coordinator with the Cardinal. He has extensive NFL experience grooming quarterbacks in Oakland and Baltimore before latching on with Jim Harbaugh. He has ties to the Lions as his father, Willie Shaw, was the defensive backs coach for Detroit from 1985 to 1988 and he spent part of his high school career in Michigan. He'd be the perfect candidate except for this -- will he leave Stanford?
Here's what he said about the NFL on Monday:
"I haven't been contacted by anybody. To be honest it's unbelievably flattering. I think it's really cool," Shaw said. "I think honestly it continues to shed light on our program, so I don't mind that it keeps happening. It keeps eyes turning toward Stanford, which I think is really cool. I told our players, to be honest, it's a testament to what they've accomplished, it's a testament to what our seniors have helped build at Stanford, to win consistently, win the right way, produce high-character young men and have a football game that's exciting to watch.
"So I don't mind it. I have no desires to pursue another job. As I said, I have not and don't plan on interviewing with anybody. I think it's really nice that my name gets batted around and that's great, and part of it is because I do have nine years of NFL experience, so it seems like an easy transition for some people.
"But honestly I'm looking forward to playing this game and getting into the offseason and starting to put together another winning season next year."
December, 30, 2013
12/30/13
6:30
PM ET
ALLEN PARK, Mich. -- They sat at a table, microphones in front of them as they explained why Jim Schwartz was no longer working as the
Detroit Lions
head coach.
Like every boss before him firing an employee publicly, general manager Martin Mayhew and team president Tom Lewand discussed why the new regime will be better than the old one.
Never mind the new one hasn't even been selected yet.
But the Lions understand this is different now. They no longer need a builder to replace a coach who went 0-16 in 2008, as Rod Marinelli did before he was fired following that season.
[+] Enlarge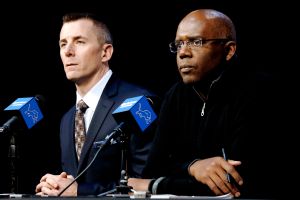 AP Photo/Paul SancyaLions president Tom Lewand, left, and general manager Martin Mayhew said head coaching experience would benefit candidates looking to replace Jim Schwartz.
They need someone who can win. Who has proven that he can win. So the criteria have changed for what Detroit is looking for. No longer can the Lions play the wait-and-build game.
"The expectation," Lewand said. "Is to bring a consistent winning football team to the city of Detroit immediately."
The Lions declined to give a timetable for their process for hiring a coach, other than it has already begun, will be thorough and exhaustive, and will -- the Lions hope -- produce a coach capable of doing something no other coach has been able to do consistently in the modern NFL era: Win with consistency.
Mayhew and Lewand already have a plan laid out, and Lewand said he had already received phone calls from interested parties.
The Lions will handle the process with Lewand and Mayhew running the search and also asking for some advice from the NFL. Then, Lewand said, the ultimate hiring decision is up to the Ford family.
"We have talked about building a profile for the Detroit Lions for 2014 and there is a lot that goes into that. A lot. There is a detailed profile, it is not abstract, there is a written detailed profile of what the head coach of the Detroit Lions in 2014 needs to look like. It has a lot of specifics. It's got football specifics in it, it has specific characteristics in it, and we will manage to that process and that design
Here, though, is an idea of what Lewand and Mayhew are and are not necessarily looking for.
Head coaching experience.
This is not a complete non-starter for candidates as every coach needs his first opportunity some time, but having been a head coach at some level before will clearly help any prospective candidates.
After all, Lewand considers the Lions job to be "one of the most, if not the single most, attractive head coaching opportunity" in the league.
So having run either a college program or professional organization before would be helpful.
"I think that would benefit a candidate, but I can't pigeonhole myself into that," Mayhew said. "I think that would benefit somebody that we were talking to."
A coach who runs a 4-3 scheme or is capable of running it.
Again, running a 3-4 is not a deal crusher to Mayhew, but the Lions have the building pieces in place already to be a strong 4-3 defense with talent and depth at defensive end and defensive tackle.
Plus, the linebacking corps of
DeAndre Levy
,
Stephen Tulloch
and
Ashlee Palmer
returning gives a strong front seven that had one of the top run defenses in the NFL last season.
"It would, but we have not ruled out anybody," Mayhew said. "Certainly a coach that runs a 4-3 would be more attractive based on the scheme. Again, it is bigger than X's and O's. It is bigger than scheme. It is bigger than that."
Fixing some "culture."
That was a big buzz word for Mayhew on Monday afternoon. When he was asked about scheme or prior experience, he kept drifting back to feeling the locker room needed to become one that avoids late-game and late-season swoons.
"We have to take into account a coach's ability to change our culture a little bit," Mayhew said. "It has to be something bigger than just scheme that somebody's bringing to our table."
Find someone -- but not necessarily the head coach -- to help Matthew Stafford.
This was not as big of a criterion as some of the others in the eyes of Mayhew and Lewand, at least not publicly.
And Mayhew indicated that the new head coach will have to have someone to take Stafford and move him to the next level of quarterbacks, but it doesn't have to be the head coach.
"He'll have coaches here that can get him to where he needs to be," Mayhew said. "He's already been a great quarterback in 2011. He had 41 touchdowns and 5,000 yards passing. We have to get him to that point and beyond. That hasn't happened the last two seasons, and part of that is personnel-related I think, but he certainly has the ability to be that guy."
December, 30, 2013
12/30/13
4:23
PM ET
ALLEN PARK, Mich. -- One final time, Jim Schwartz got up in front of his team right around noon on Monday and spoke to the players he would no longer coach.
Not this season. Not ever again as the head coach of the
Detroit Lions
. The players went into the meeting unsure of what was going on, of whether or not Schwartz would remain with Detroit for a sixth season or if this was it after plummeting to 7-9 from 6-3 and falling out of the playoffs.
"Kind of just took the air out of everybody," defensive tackle
C.J. Mosley
said. "Of course we heard and it was lingering in the air, but the realization just kind of hit everybody in shock.
"It's not like we have a bad team. Just, it's tough. It's tough for all of us. He's the reason why a lot of players are here, including me."
Almost the entirety of the Lions locker room was brought in under Schwartz's time as coach as the team had less than a handful of leftover players from the 2008 team that went 0-16 under Rod Marinelli.
And the players, even after Schwartz was fired, continued to hold themselves culpable for what happened to the Lions over the second half of the season, saying it was as much their fault as the coaching staff's.
And as Schwartz said his goodbyes, saying he was proud to coach the Lions, he became emotional.
"He got a little choked up, which is fitting," receiver
Nate Burleson
said. "He's emotionally tied to this organization and he has been very passionate about this team and the guys he brought in and the things we've accomplished.
"So it was tough to deal with, I'm pretty sure, for him."
For the players, too. Burleson said the announcement "kind of caught everybody off guard" and that they were anticipating saying goodbye for the season, not potentially forever.
Even as players walked into the Lions practice facility on Monday morning, they said they still didn't know the fate of their head coach. So when they eventually found out what was happening, the disappointment was obvious.
"It's tough, we put a lot of hard work into this," quarterback
Matthew Stafford
said. "Players, coaches, everybody. For five years, he's been here and done a great job.
"From where we were in 2008 to where we are now is a big difference."
But it wasn't enough of a difference for Schwartz to continue to coach the Lions. And now, as the Lions search for a new coach, the players are left to wonder how it all unraveled for them to reach this point and where things are going to be headed for the future.
"Oh man. It was, it was a very heartfelt message he gave us," safety
Glover Quin
said. "Sad news. Never want to see something like this happen and obviously we didn't do enough to prevent it.
"So, now we just, I don't know, wait around and see what happens."
December, 30, 2013
12/30/13
2:20
PM ET
ALLEN PARK, Mich. -- His old coach had been officially fired for under an hour, but quarterback
Matthew Stafford
said he wouldn't mind having a voice in who his new coach might be.
Stafford
"Yeah, sure," Stafford said. "But I'm not sure that will happen. It's not something I am concerning myself with at this point."
Lions general manager Martin Mayhew said players won't have input or involvement in the coaching search, but he has consulted with them about why things went wrong.
Stafford had been an ardent backer of both his former head coach, Jim Schwartz, and his former offensive coordinator, Scott Linehan. Schwartz was one of the people who showed enough faith in him out of Georgia to select him with the top pick in the 2009 NFL draft.
And both Schwartz and the organization had enough faith in Stafford to give him a three-year extension to his contract in July.
This is the first time in his career he has had to deal with a coaching change. He did not go through a coaching switch during his time with Georgia and had not in five seasons with the Lions.
He hasn't, though, thought about what he would like to see from his next coach.
"It's too early for me to think about that," Stafford said. "I've never been through this before and hopefully don't have to do it again."
He did say both he and the other players felt some responsibility for what happened at the end of the season and Schwartz being fired.
Stafford threw for fewer yards (4,650) and a lesser completion percentage (58.5) this season than he had since the 2010 season, when he dealt with shoulder injuries. His 19 interceptions were the most since his rookie year in 2009.
And when he was asked what could bring things together for a franchise that has had four seasons out of five of under-.500 records under Schwartz and Stafford, he said more players would always help.
"I don't know," Stafford said. "I think obviously we can add more players and add more pieces and we'll have somebody else leading the charge."