March, 13, 2014
Mar 13
1:30
PM ET
ALLEN PARK, Mich. --
James Ihedigbo
left the
Detroit Lions
facility Thursday without a contract, but told reporters he would like to sign with the team soon.
Ihedigbo
"That's the plan in hand," Ihedigbo
told the Detroit News
as he was leaving the building Thursday.
The Detroit Free Press is reporting part of the issue for Ihedigbo is
his representation
.
Ihedigbo, who would come into Detroit as a strong candidate to start at safety opposite
Glover Quin
, had 99 tackles and three interceptions last season. He is the first safety the Lions have targeted for a visit in free agency, although they have expressed interest in former Miami safety
Chris Clemons
and were reportedly interested in
T.J. Ward
, who signed with Denver.
Ihedigbo played the past two seasons in Baltimore under new Lions defensive coordinator Teryl Austin.
The Lions are searching for a replacement for
Louis Delmas
, whom the team released in February. Delmas then signed with Miami earlier this week.
March, 11, 2014
Mar 11
1:00
PM ET
As free agency begins Tuesday and the
Detroit Lions
figure out exactly how to fill their holes, certain players will stand out.
And over the past three days, the Lions have spent time in the beginnings of talks with free agents as they try to maximize about $11 million in salary-cap space.

It might sound like a lot -- and it will be enough to get a couple of deals done -- but the total is in the lower half of the NFL and could keep the Lions from being major movers in the market, at least until a new contract is worked out with defensive tackle
Ndamukong Suh
.
If that happens.
As everyone settles in for the insanity of free agency, here is a look at players the Lions could target on defense.
DEFENSIVE LINE:
Why:
This could be predicated on what happens with defensive end
Willie Young
. If the team is able to bring Young back, the Lions might be done at the position in the near term. If not, they might look for a replacement. At defensive tackle, the team already signed
Corvey Irvin
and has depth.
Two candidates:
Young: Last season was his first consistent extended action, and he was effective. He had 47 tackles and three sacks, but his size and speed make him an attractive free agent for teams. At 28, he is in his prime.
Brett Keisel: He is a 3-4 defensive end who can play defensive tackle in the 4-3. Though 35 years old, he had 29 tackles and four sacks in 12 games last season. He could be a cheap alternative if the team feels there is a need for another veteran on the line.
LINEBACKER:
Why not:
Sure, there could be a deal made with someone for cheap or a hybrid defensive end/linebacker, but with
DeAndre Levy
and
Stephen Tulloch
returning and the team playing more nickel than ever, it could be tough for them to lure a big-name player.
Two options:
LaMarr Woodley: Expected to be released by the Steelers later Tuesday, he has connections to the state and can play both linebacker and defensive end, making him a potentially cheap, versatile piece.
Larry Foote: Like Woodley, this is more about someone who has connections to Michigan. If Foote is planning on being a starter, he isn't going to come to Detroit -- and his price tag would likely be too much anyway.
CORNERBACK:
Why:
Despite the team having money wrapped up in
Chris Houston
and a bunch of younger cornerbacks ready to seek out playing time, the Lions might be wise to invest in another veteran, much like they did with
Rashean Mathis
a season ago.
Four candidates:
Mathis: He showed he can still play after becoming the team's top cornerback last season and was a steadying influence in the Detroit locker room for those younger cornerbacks. He would probably still come cheap.
Corey Graham: He played last season under new Detroit defensive coordinator Teryl Austin and has familiarity with Austin's schemes. At 6 feet, Graham has the height Austin wants, made 68 tackles and intercepted four passes a season ago. He could be a strong fit.
Alterraun Verner: The Lions reportedly reached out to the former Tennessee cornerback, but he is expected to be pursued heavily in free agency. Though the Lions could be a fit, Verner might end up being too expensive.
Charles Tillman: He told reporters during Super Bowl week that he wouldn't rule out playing for the Lions, and he could be an interesting cornerback/safety hybrid. He also has familiarity with the division, having played for Chicago, and has the respect of receiver Calvin Johnson.
SAFETY
Why:
Other than receiver, this might be the biggest need of all for Detroit after the team released starter
Louis Delmas
. Though the Lions could address this spot in the draft, they likely would like to put someone experienced opposite
Glover Quin
.
Some candidates:
October, 14, 2013
10/14/13
5:00
PM ET
They had tried this play -- either variations of it or the exact design -- before this season. A cutting screen to running back
Reggie Bush
either out of the slot or in the backfield.
Against Green Bay a week ago, this play failed. On Sunday against Cleveland, when Bush caught the ball at almost full speed and ran 18 yards for a touchdown, it worked to perfection.
"It's a hit-or-miss play," Bush said. "It's either going to be big or it's not going to work at all. We've been on both sides."
On Sunday, Detroit was on the big end of the play to finish off the first drive of the second half during the Lions' 31-17 win over Cleveland.
[+] Enlarge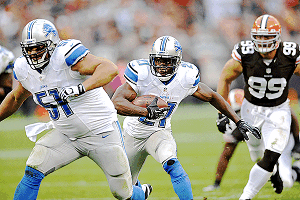 AP Photo/David RichardWith help from center Dominic Raiola, running back Reggie Bush scored a key third-quarter TD for the Lions on Sunday.
Quarterback
Matthew Stafford
approached the line of scrimmage on a second-and-7 on the Cleveland 18-yard line, already having used Bush on a run up the middle and a big 39-yard dash off the left block down the sideline earlier in the drive.
Now with an empty backfield, Stafford had three receivers on the right side of him, another receiver outside on the left and Bush in the slot. The ball was snapped and Bush started to look like he was going to drift off into the flat on the left side, taking advantage of Cleveland linebacker
Craig Robertson
playing about five yards off of him.
At halftime, offensive coordinator Scott Linehan saw the Lions had an advantageous matchup with Robertson on the speedy Bush and tried to leverage that into big plays, especially after not targeting Bush at all in the first half.
"He did a great job in the second half for us, made some big plays," Stafford said. "We got him matched up with [Robertson] and he made him miss quite a few times."
Bush's quick bounce heading left took Robertson out of position almost immediately as he took a few steps toward the left sideline to cover Bush. This gave the three interior Detroit offensive linemen -- left guard
Rob Sims
, center
Dominic Raiola
and right guard
Larry Warford
-- time to get down the field and set up the pocket for the screen.
Bush took off toward the middle of the field.
"Design is the three inside guys getting him vertical and giving Reggie the ball and giving him some space to make plays," Sims said. "That's it."
That's it?
"That simple," Sims said. "Not very complicated at all. It's a very, very, very easy play. It is."
Not quite.
Bush needed to sell Robertson on the fake cut. When he did, by the time Robertson recovered, Bush already had the ball and Sims was there to put a block on Robertson, springing the big gain and making sure the hit-or-miss play turned into a hit.
"I think they ran an all-out blitz or at least brought pressure on that," Bush said. "It's a disadvantage for that guy who is over top of me. For one, he doesn't want to play me press man coverage because of my speed so he has to respect me and he has to be at least five yards off.
"That's really all the cushion that we need to make that play work."
From there, Bush had already beaten most of the defenders and had a two-man escort -- Raiola in front of him and Warford a yard or so to his right -- bringing him down field.
Raiola eventually tried to block safety
T.J. Ward
around the 5-yard line and actually missed the block, allowing Ward to make contact with Bush. By then, though, Bush was running at full speed and was not going to be brought down. Receiver
Ryan Broyles
, who was on the right side, also had a key very late small block to ensure Bush got into the end zone on free safety
Tashaun Gipson
, who made contact with Bush as he crossed the goal line.
"Full speed coming in," Bush said. "Stafford threw a great pass. I had two blockers in front of me so I really didn't have to do much."
If the play looked familiar, it should. It was somewhat similar to Bush's 77-yard screen for a touchdown against Minnesota. Bush and Sims said it was the same play, but there were different wrinkles.
Against the Vikings, Bush came out of the backfield instead of the slot and was also lined up on the right side instead of the left, so it was Warford with the key first block instead of Sims.
Otherwise, it was a very similar play that led to yet another Detroit touchdown this season.