Detroit Lions:

Teddy Bridgewater
December, 13, 2014
12/13/14
1:00
PM ET
ALLEN PARK, Mich. – The
Detroit Lions
have their regular-season home finale against the
Minnesota Vikings
. Here are four things to watch heading into Sunday.
Sims
Raiola
Suh
1. Potential last games:
A lot has been made of the possibility that this could be
Ndamukong Suh
's final home game for the Lions. His contract is up after the season and there has been no indication of which way he'll lean when it comes to who he'll play for in 2015 and beyond. He isn't the only Detroit player who might be playing in his last home game with the Lions. Center
Dominic Raiola
and left guard
Rob Sims
are both in contract years. Spoke with both of them this week about it. Raiola said he hasn't thought about it. Sims said he has and "it has been a [heck] of a ride, if it ends." Sims said he's thought about the possibility intermittently throughout the season, but has said he would like to return. Sims said he hasn't talked about it with Raiola, but there's a chance the two will discuss it Saturday night at the team hotel.
2. Can Matthew Stafford keep it up:
The quarterback is in the midst of the hottest stretch of his career after completing better than 75 percent of his passes in back-to-back games. He also threw for 300 yards in back-to-back games. Consequently, the Lions' offense has looked like the team had hoped it would for most of the season. If Stafford is able to keep up these new ways – 75 percent again might be unrealistic, but 68 to 70 percent is possible – then the Lions might have found enough offensively to make a jump as a team.
3. Defensive line pressure:
The Lions sacked Minnesota quarterback
Teddy Bridgewater
eight times when these teams played in October. While Bridgewater has improved since then, so has the Lions' defensive front. They have been essentially eliminating the run games of the opposition in the second half of the season, forcing them to pass to win. While this might play well against the Vikings, who have a quarterback who can run in Bridgewater, the pressure could force the rookie into mistakes again against Detroit.
4. Finish strong:
This has been an issue for the Lions during the past few seasons and while this team has already shown the propensity to be different than previous iterations. The Lions are in the midst of a playoff race again and a victory Sunday against Minnesota would put Detroit in a really good spot for a potential playoff push. It would also continue the recent trend for the Lions of winning games they are supposed to win. That might sound like an easy thing, but it's a big thing for Detroit.
December, 12, 2014
12/12/14
8:00
AM ET
When
: 4:25 p.m. ET, Sunday
Where:
Ford Field, Detroit
TV:
Fox
The most recent time the
Detroit Lions
and
Minnesota Vikings
played,
Calvin Johnson
was on the bench,
Teddy Bridgewater
had one of the worst games of his rookie season, and the Lions' defense continued to be dominant.
Now Johnson is back, Bridgewater is improved, and the Lions defense has remained one of the best in the NFL. So what happens Sunday in Detroit's regular-season home finale? Lions NFL Nation reporter Michael Rothstein and Vikings NFL Nation reporter Ben Goessling break down what you might see.
Rothstein:
The Lions saw possibly the worst of Bridgewater in Week 6. It seems he has grown since then. Where have the biggest changes come for him in the past two months?
Goessling:
You're right -- that game probably was Bridgewater at his worst, but he's really made a marked improvement since then, especially in the past few weeks. The biggest change I've seen is in his accuracy, particularly downfield. He was really struggling with his deep throws earlier this season -- we saw him overthrowing quite a few of them -- but the coaches worked with him to keep from dropping the ball during his delivery, which was causing him to throw higher-arcing passes that got away from his receivers. He's getting more confident in his progressions, and he's getting better at avoiding pressure -- in short, he just looks a lot less like a rookie. It's helped that
Charles Johnson
has emerged as a go-to option for him, whereas
Cordarrelle Patterson
has fallen short, but Bridgewater deserves plenty of credit for his progress.
The Lions, though, will get a shot at him when the Vikings' offensive line is in a state of disrepair. They've cranked the pressure back up in the past couple weeks after Arizona and New England kept them from getting to the quarterback. Is there anything the Vikings can take from the Cardinals and Patriots, in terms of protecting Bridgewater against the Lions' pass rush?
Rothstein
: Not really. Detroit played one of the best at getting rid of the ball quickly in New England's
Tom Brady
, and Arizona was a strange game. But the Lions have been excelling at flustering quarterbacks the past two weeks, and considering how badly
Ezekiel Ansah
dominated
Matt Kalil
in Minneapolis, it might be another long day for Bridgewater. Teams have tried to take Detroit's pass rush and run defense away by using a lot of screens and quick passes to receivers on the outside, but the Lions have gotten good at adapting to that, too. Consider this: Ansah had nine quarterback hurries on
Jay Cutler
. Then the Lions hit
Josh McCown
14 times Sunday. Bridgewater has more speed and agility than both of them, and if I were Norv Turner, I'd try rolling Bridgewater out and putting him on the run as much as possible to force Detroit to give chase. That might be the best strategy.
Speaking of defense, Jim Caldwell praised Mike Zimmer's ability to disguise defenses -- something Detroit has done well this season. How do the Vikings end up doing that, and does
Sharrif Floyd
's injury change that?
Goessling:
The Vikings' ability to disguise defenses comes largely from their double-A gap blitz package, which we'll see plenty of Sunday. From that look in the Vikings' nickel defense, Zimmer can send both linebackers up the middle and drop one or both into coverage, but no matter what he does, offensive lines have to account for the possibility they'll see heavy pressure up the middle. The Vikings will occasionally blitz
Harrison Smith
off the edge in conjunction with a linebacker and will send slot cornerback
Captain Munnerlyn
after the quarterback, too. The fact that they've got two defensive ends who have linebacker experience and can drop into coverage (
Everson Griffen
and
Brian Robison
) just adds to their options. The Vikings would love to have Floyd healthy -- he's had a nice second season, particularly as a pass-rusher -- but they've got enough personnel flexibility to be unpredictable even if he doesn't play Sunday.
None of this works, though, if the Vikings can't cover Johnson. They didn't see him in October, but it seems he's back to his old self now. If he's at split end,
Xavier Rhodes
will match up well with him, but if he's moving around, the Lions will get some mismatches. How do you expect they'll use him?
Rothstein:
They've moved him around a bunch this season, which had been offensive coordinator Joe Lombardi's plan all along. With the caveat that the Lions have played two poor defenses over the past two weeks, this is what Detroit had hoped its offense would look like when it brought in Lombardi,
Golden Tate
and
Eric Ebron
this offseason. Johnson makes everything else in the offense happen, though, because of the attention teams still pay to him. They'll continue to use him on intermediate and deep routes from varying areas of the field in order to find good pockets for him to run into. With Tate in the offense, they don't use him as often in catch-and-run situations on shorter routes, but he is still the team's main breakout threat. That he's had 12 or more air yards per target in four of the past five games is evidence of that.
Going back to the offense, we discussed Bridgewater earlier, but even without
Adrian Peterson
, Minnesota has a decent-to-good rushing offense. What's been the key there, and who is the running back of the future for the Vikings?
Goessling:
Well, it hasn't been very good since
Jerick McKinnon
got hurt.
Matt Asiata
is only averaging 3.3 yards per carry this season, and he needed 33 carries to gain a total of 106 yards the past two weeks. He doesn't have the speed or the ability to make people miss once he gets through the line, and at this point, the Vikings' offensive line is in such a state of disrepair that I'm not sure the run game is going to rebound, short of Peterson walking through that door, so to speak. The Vikings' best two run-blocking linemen,
Brandon Fusco
and
Phil Loadholt
, are both out for the year, and though
John Sullivan
has had a good season, the Vikings just haven't been able to get the consistent push they need to run the ball without more people healthy. I don't see that changing Sunday against the Lions.
This is obviously a game the Lions need in a heated NFC playoff race. Do you see this team being able to secure a playoff berth? How far can they go if they get in?
Rothstein:
Yes, I do. This team has a much different feel than last season's Lions team, which fell apart at the end of the season. Jim Caldwell has the attention and trust of his players, and it shows every week. They understand more than ever that they can't look too far ahead, and they haven't. But they also know they are in a good position right now. As far as how far they can go? It depends. This is a team that can probably beat most teams at Ford Field. On the road against a good team? I'm not convinced. If they ended up at Dallas or the NFC South winner, they can win. Otherwise, the road game is where Detroit's journey ends.
October, 12, 2014
10/12/14
8:05
PM ET
MINNEAPOLIS – Quarterbacks are taught to always keep their eyes downfield. Feel the pressure, but elude it and make the play.
Then these same quarterbacks run into the
Detroit Lions
defense, and something changes.
[+] Enlarge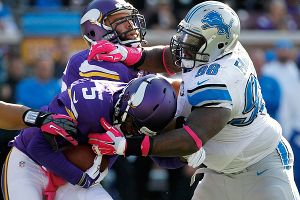 AP Photo/Ann HeisenfeltNick Fairley and his cohorts on the Lions' defensive line made life tough for rookie quarterback Teddy Bridgewater.
"Recently, we have seen quarterbacks not even looking downfield," linebacker
DeAndre Levy
said. "They are kind of taking their eyes off the receivers and looking at the rush. Whenever you can get in a quarterback's head like that, it helps everybody."
That type of pressure ended with eight sacks Sunday in a
17-3
victory over Minnesota – the most by a Lions team since Nov. 23, 1997 against Indianapolis. It led to 12 quarterback hits and a Minnesota offensive line that couldn't protect its rookie quarterback and led Vikings coach Mike Zimmer to lament, "We physically got beat."
It's a pressure that allows Detroit's linebackers and secondary to break on routes and to defend passes, such as the six they defended and three they intercepted Sunday, including two by
Tahir Whitehead
.
It's a pressure that helps the Lions deal with a day when two offensive stars –
Calvin Johnson
and
Reggie Bush
– were out and they missed two more field goals. No matter -- the Lions are 4-2 because of a defensive line that, when it plays well, can dominate.
"No one can stop us if we do our technique and assignments correct," defensive tackle
Nick Fairley
said. "No one can score on us, no one can run the ball, no one can pass the ball. It's up to us.
"We make teams, basically as a defense, we try to make it go on our terms."
Those terms have stifled almost every opponent this season. No team has gained more than 350 yards on the Lions. Three teams have been held to less than 225 yards, including the Vikings, who gained 212 yards Sunday.
This starts with the defensive front. The pressure they provide flusters opposing quarterbacks and takes the pressure off the secondary – an issue that plagued the Lions last season.
"It helps us tremendously because we know if we cover early on in a down and just a little later, you know we're going to get a coverage sack," Whitehead said. "If we don't get a coverage sack, we're going to apply pressure and the ball is going to flow and maybe you get a pick."
Consider what Bridgewater said Sunday, that "everything happens so fast for me." He's a rookie, so part of that is expected. When you're facing the Lions, everything lately appears at warp speed.
Aaron Rodgers
, widely considered one of the best quarterbacks in the league, entered Sunday with his season-low in completion percentage (59.3) and QBR (47.7) against Detroit. So did
Eli Manning
.
Detroit's defensive line won those two games. In them, they felt close to being able to do what they accomplished Sunday: Control another team. It's a performance Lions coach Jim Caldwell called "smothering."
"It's important for them to be really strong at what they do," Caldwell said. "Our defensive line creates so many problems because of the fact that they don't allow you to run the ball consistently against us and then also they can put pressure on the passer."
That was what Lions general manager Martin Mayhew envisioned when he drafted three of the four defensive line starters in the first round in 2010 (
Ndamukong Suh
), 2011 (Fairley) and 2013 (
Ezekiel Ansah
).
"Every game should be like this for this D-line we have now, you know what I'm saying," Fairley said. "From the guys that are setting the edges and the guys in the middle, we have a D-line that can get after quarterback and any O-line."
In almost every game this season, they have.
October, 11, 2014
10/11/14
1:00
PM ET
MINNEAPOLIS -- The
Detroit Lions
are heading to Minnesota Sunday to face their NFC North rival, the
Minnesota Vikings
. Here are four things to look for.
1. Kicking:
Matt Prater
's debut with the Lions won't come in the friendly confines of a dome, like it would have at home or if he had been playing the Vikings in any other season prior to this. Instead, it comes outside in TCF Bank Stadium, a venue where gauging the wind can be tricky due to its shape -- it doesn't fully wrap around -- and generally fickle Minnesota weather. While he's going to have a longer leash than
Nate Freese
and
Alex Henery
due to his prior work and because the Lions are on kicker No. 3, it will be a more difficult debut than he could have had otherwise.
2. The receiver rotation:
If
Calvin Johnson
doesn't play -- he's doubtful and it would be a surprise if he dressed -- the Lions are going to play without their best receiver for the first time since the season finale last season ... at Minnesota. The since-cut Kevin Ogletree played the role of Johnson in that game. This time around, look for
Corey Fuller
,
Eric Ebron
and
Jeremy Ross
to get a lot of the reps that would typically go to Johnson. Both Jim Caldwell and Joe Lombardi said who replaces him on a particular play will depend on formation. It could break down as simply as this: Fuller on deep routes, Ross and/or
Ryan Broyles
on the short and intermediate stuff and Ebron when the Lions need a matchup problem on the field. It could be a big opportunity for at least one of these guys.
3. Pressuring Bridgewater:
The thing that stood out the most this week in talking to Lions defenders about facing
Teddy Bridgewater
has been the respect they have for his poise for a rookie. While some of that might be player-speak to talk an opponent up, there seems to be genuine respect for what Bridgewater has shown in a short time. Detroit has faced mobile quarterbacks before, but
Cam Newton
seemed to still be recuperating from injury in Week 2 and
Geno Smith
was terrible in Week 4. This will be the toughest mobile quarterback test for Detroit to date because of Newton's injury, so how they account for him should be pretty interesting. The Lions have been good on quarterback contain so far this season, but Bridgewater has a better arm than Smith and is more accurate, so he'll be a tougher play even though he's a rookie.
4. Offensive protection:
This goes beyond pass protection and to the run as well, where the Lions have struggled over the first five weeks. With
Reggie Bush
questionable and Johnson doubtful, this could be a game in which Detroit's run game needs to be at its best and the only way it can do that is if the protection up front is more like its 2013 self. That is especially true on the interior, where
Rob Sims
has struggled the past two weeks. If -- and right now, this is a big one -- the Lions can protect
Matthew Stafford
well and set up good blocks, it could be a big day for the Lions' offense even without Johnson.
June, 19, 2014
6/19/14
10:00
AM ET
By
ESPN.com staff
| ESPN.com
The NFC North features a mix of veteran quarterbacks and a rookie in Minnesota who might be in line for significant playing time this season.
Will
Teddy Bridgewater
put up the most impressive numbers among rookie quarterbacks?
Will
Matthew Stafford
be directing the most explosive offense in the division now that the Detroit Lions have added weapons?
Will rising star
Alshon Jeffery
emerge as the Bears' No. 1 target, supplanting
Brandon Marshall
?
And could the Packers withstand another injury to
Aaron Rodgers
, as they did last season while winning the division?
These are the questions our NFC North reporters tackle in the latest version of 4 Downs.

Of the three QBs taken in the first round of this year's draft, Teddy Bridgewater will put up the most impressive numbers.
Michael Rothstein: Fact, although not because Bridgewater will be the best quarterback of the first-rounders. Simply, he is going to end up playing more than either Johnny Manziel or Blake Bortles this season, so he will have more opportunity. Plus, Minnesota is going to be down in a lot of games this season, so the Vikings are going to have to throw more in the second halves of games. He'll end up having nice numbers, but the number that matters -- the record -- will be ugly.
Michael C. Wright
: Fiction. That is only happening if the other two quarterbacks end up as backups. First off, Bridgewater doesn't have to put up big numbers because he has a beast in the backfield in
Adrian Peterson
. So all he needs to do is hand off to Peterson and make sure not to turn it over on passing downs; be a game-manager. Perhaps Bridgewater is more of a gamer than workout performer, which is what all the scouts I have talked to would say. But I'm just not sold on Bridgewater based on what I saw from his pro day workout. That means he will probably wind up being Rookie of the Year.
Rob Demovsky: Fiction, unless Matt Cassel goes down with an injury. There is more pressure on the Browns to play Johnny Manziel right away than there is on the Vikings to play Bridgewater. The same could be said of the Jaguars and Blake Bortles. All three of the first-round quarterbacks have journeyman veterans starting in front of them, so it all depends on which one flames out or gets hurt first. Cassel seems the least likely to do either.
Ben Goessling: I'm going to say fiction, simply because I think he'll have more work to do to get on the field than Johnny Manziel. The Vikings have Matt Cassel and have been giving him many of the first-team snaps during organized team activities and minicamp. So unless Bridgewater is so good that he takes the job away from Cassel in training camp, I think it will be a while before he is on the field in regular-season games. Now, he might be more efficient once he gets in there -- he has certainly looked sharp during the Vikings' offseason program -- but he might not put up many numbers until late in the season, if at all.
@GoesslingESPN True, and it won't be close. Like asking which will have the more pleasant winter: North Dakota, Manitoba, or Hawaii?

— Steven Macks (@semacks) June 17, 2014
---

The Lions will have the most explosive offense in the NFC North this season.
Michael Rothstein: Fact. There are a bunch of good offenses in the NFC North this season, although none improved on paper as much as the Lions. Detroit still has Calvin Johnson, Reggie Bush and Joique Bell as targets for Matthew Stafford. The Lions added Golden Tate, which is an upgrade from Nate Burleson. They also held on to Joseph Fauria and re-signed Brandon Pettigrew, along with drafting Eric Ebron in the first round. While Ebron's hands are in question, his athleticism and ability to get open down the field are not. As long as Stafford and Johnson stay healthy, there is no reason Detroit should not be a top-10 offense again. They should inch ahead of Green Bay and Chicago, both of which had top-10 offenses as well in 2013.
Michael C. Wright: Fiction. It's fact if "implosive" is the word used. Just kidding. But the Lions in the past relied too much on Matthew Stafford forcing the ball to Calvin Johnson, which often led to turnovers and quick three-and-outs. And although the offense features multiple weapons, it's easy to see why the club has operated this way. Megatron is the best in the game. He is going to make plays other receivers can't make. But, to me, it's expected that a team operating a new scheme will experience its fair share of growing pains. I see that happening with the Lions in 2014. I know Stafford has put up big numbers in the past, but I see his inconsistency holding this offense back this season if he doesn't take a big step in his development.
Rob Demovsky: Fiction, unless Aaron Rodgers and Jay Cutler get hurt again. Do you trust Matthew Stafford more than Rodgers or Cutler for a full 16-game season? At this point, the Bears might have the most explosive offense. They have the best 1-2 receiver punch with Brandon Marshall and Alshon Jeffery, and the Packers have the best quarterback. Not only do the Lions not have the most explosive offense in the division, they might not even be No. 2.
Ben Goessling: Fiction. They have the talent to have it, but how often do the Lions turn talent and potential into actual results? Give me the Bears, with Alshon Jeffery, Brandon Marshall and Matt Forte, or the Packers, now that Aaron Rodgers will be healthy and have a full season with running back Eddie Lacy. I like what Golden Tate gives the Lions opposite Calvin Johnson, and Eric Ebron fits nicely into their scheme, but I think they have the third-best quarterback in the division.
@mikerothstein If Stafford plays the way he can play then fact. Good O-Line, balance runners, best WR and other WR/TE opt

— Tom (@tomarmetta) June 16, 2014
---

Alshon Jeffery, not Brandon Marshall, will be Chicago's go-to receiver in 2014.
Michael Rothstein: Fiction. Jeffery might have had more yards last season, but opponents also are going to be more aware of the former South Carolina receiver this season from the get-go. While his numbers were gaudy a season ago, 467 of his 1,421 yards came in two games. Marshall had a little more consistency last season than Jeffery and was a more consistent target. The real reason Jeffery won't be considered Chicago's go-to receiver next season is that the Bears won't have one on a consistent basis. It will likely change based on matchups, because they are the best receiver duo in the division.
Michael C. Wright: Fiction. As long as Jay Cutler is quarterbacking the Chicago Bears, Marshall always will be the go-to receiver. And why not? Marshall is one of the league's best, even when teams focus on stopping him with double teams. Besides that, Marshall, in my opinion, is poised for a big season because he has spent this entire offseason actually training instead of rehabbing an injury. In 2013, it took Marshall, who was coming off hip surgery, about half the season to finally find his groove; yet he still finished with a team-high 100 grabs for 1,295 yards. Last season, Jeffery was probably the beneficiary of extra coverage devoted to a hobbled Marshall. Because of the damage Jeffery did last season, he will start to see more coverage, which should free up Marshall to continue to do his thing. Besides, Marshall was the fifth-most targeted receiver in the NFL last season. Marshall's 163 targets ranked even more than Calvin Johnson, who had 156 passes thrown his way.
Rob Demovsky: Fact, if we're talking about making big plays. Marshall still might end up having more receptions like he did last season; he's Cutler's security blanket. But even last season, Jeffery began to emerge as the bigger playmaker of the two. His 16.0-yard average per catch was 11th best in the league among all receivers last season. He is a freak athlete with great size, making him a matchup nightmare.
Ben Goessling: Fact. Jeffery is six years younger than Marshall and probably is a better deep threat at this point in his career. I thought he was phenomenal last season, and, to me, he might be the second-best receiver in the division right now behind Calvin Johnson. If he is not there yet, he can ascend to that spot by the end of the season. Marshall is still a great receiver, but Jeffery seems ready to become the main man in Chicago's offense.
@mikecwright no he won't as long as jay cutler is the QB. cutler looks Marshall 1st, 2nd and 3rd and then for others! #NFCN4Downs

— Anthony Strong (@TonyStrong631) June 12, 2014
---

The Packers can win the division again even if Aaron Rodgers misses nearly half the season, like he did last season.
Michael Rothstein: Fiction. Not a chance. Chicago has improved defensively and should have a more potent offense in 2014, as well as a healthy Jay Cutler for the entire season. Detroit should have a more dynamic offense than in 2013, and the leadership within the Lions should keep the team from collapsing like they did in 2013. Minnesota is likely not a factor this season, but either Chicago or Detroit would take advantage of a Rodgers-less Green Bay team better than they did a year ago.
Michael C. Wright: Fiction. In the past, this would definitely be "fact" and it might still be now that the Packers have put together a nice ground game to complement their passing attack. But I just think the rest of the division is starting to catch up to the Packers in terms of overall talent. Every team in the division improved its talent. Detroit's offense should be above average at the very least, and its defense definitely will be better. The Bears will be potent on offense in Year 2 of Marc Trestman's system, and their defense should be improved, especially up front with that revamped line. Let's not forget that Rodgers' return (combined with a mental bust by Bears safety Chris Conte on the quarterback's game-winning bomb) is what won Green Bay the division title. The Packers appear to have put together a better backup plan than they had last season, but we all know how important Rodgers is to his team's success.
Rob Demovsky: Fiction. The Bears and Lions folded last season, which allowed the Packers to stay afloat until Rodgers returned for the regular-season finale in Chicago. Both teams have taken measures to ensure that won't happen again. The Bears beefed up their defense, and the Lions made a coaching change. That said, the Packers might be in better position to handle a Rodgers absence because they should have Matt Flynn as the backup from the get-go.
Ben Goessling: Fiction. The only reason the Packers won the division last season was because the other three teams were flawed enough not to take it from them. The Lions collapsed late in the season, the Bears lost four of their last six (including the season finale against Green Bay) and the Vikings blew five last-minute leads (including one against the Packers) to take themselves out of the race. Green Bay might be better prepared for a Rodgers injury now that they have gone through it with Matt Flynn and Scott Tolzien, but the Packers' offense is predicated on Rodgers making throws few others can make. You can't expect a team to survive the loss of an elite player like that again.
@RobDemovsky True. Defense will be much better this year & flynn/tolzien will have a full training camp to run offense.

— Jules Parmentier (@JulesPthe5th) June 12, 2014