Detroit Lions:

transactions
July, 17, 2014
Jul 17
1:45
PM ET
The
Detroit Lions
are still trying to bolster their offensive line.
Reynolds
The team signed veteran guard
Garrett Reynolds
on Thursday, according to his agent. Reynolds adds to an interior line group that has starters
Rob Sims
,
Larry Warford
and
Dominic Raiola
along with backups
Rodney Austin
and
Travis Swanson
, a 2014 third-round draft pick.
Reynolds comes from Atlanta, where he started 10 games last season for the Falcons. A fifth-round pick in 2009 by Atlanta, Reynolds has played in 42 career games and started 23 of them at right guard.
He was released by the Falcons in February.
This is the second move in as many days for Detroit. The Lions signed running back George Winn and released guard D.J. Morrell on Wednesday .
A corresponding roster move for the signing of Reynolds has not been announced.
February, 13, 2014
Feb 13
4:30
PM ET
His knees were always going to be a problem.
At age 26, with a cap number of $6.5 million on a team that desperately needed to recover some room to get under the 2014 salary cap, safety
Louis Delmas
was going to be a target for either a major pay cut or what happened Thursday, which was a full release from the
Detroit Lions
.
Unlike
Nate Burleson
, who was also
released Thursday as a cap cut
, Delmas was done in by his injury history. While Delmas, who like Burleson was a loud presence in the huddle and in pregame, played all 16 games this season, he could barely practice during the week.
[+] Enlarge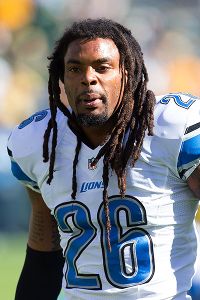 Jeff Hanisch/USA TODAY SportsLouis Delmas leaves big shoes to fill in Detroit's defense as far as leadership is concerned.
And there were little guarantee his knees would be able to hold up in the long term, even as he took care of them well during the 2013 season. Considering Detroit's struggles in the secondary throughout last season and Delmas' sometimes erratic and wild play, it wasn't worth it to the team to keep him on the payroll at the price he was going to cost Detroit.
He is an exciting player who can make big hits, but those hits had cost the Lions at times this season, both in terms of personal foul penalties and, in one instance, injuries when he had a head-to-head collision with cornerback
Bill Bentley
that gave him a concussion.
Delmas was often praised as being more consistent this season than he had been in prior years. His chemistry with
Glover Quin
, who was brought in as a free agent last season, was a big part of that. And even his new coaches, Jim Caldwell and Teryl Austin, had positive things to say about Delmas.
But it wasn't enough to retain his services for 2014 at the salary he was going to make. If the team doesn't target a safety early in free agency and Delmas is still around, the team could reach out to him to return, but one would have to surmise the team will at least investigate other options first.
How the team handles the safety position could be intriguing. This could be a sign the team has more confidence in
Don Carey
, who played a lot of nickel last season and signed a three-year extension before the season ended, to become a full-time starter opposite Quin.
It also could signal the team wanting to sign another free agent at safety. Among the potential options are
Bernard Pollard
and
Jairus Byrd
.
There is also the NFL draft, and while it would still be surprising to see the Lions take a safety early in the draft, if Alabama's
Ha Ha Clinton-Dix
is around at No. 10, he could be worth taking a hard look at.
Calvin Pryor
from Louisville and
Deone Bucannon
from Washington could both fit as second-day selections if they are there.
Much like Burleson on the offensive side, Detroit will lose fire from the defensive huddle without Delmas. The Lions will also lose two of their bigger characters in the locker room, both of whom knew how to keep the mood light for teammates no matter what was going on.
That can't be understated -- and it will be one area where Detroit will have to find new leadership, for sure, in 2014.
February, 13, 2014
Feb 13
3:35
PM ET
Over the phone earlier this week,
Nate Burleson
sounded genuinely excited. Unlike last season, when he had to continue to rehabilitate the broken right leg he suffered in October 2012, he was healthy. He was fresh.
And right after the Super Bowl ended, he had the pangs to start training for this season. He knew then it wasn't a lock that he would return to Detroit. He wanted to come back, had ingrained himself in the community that has become almost a second home to him.
[+] Enlarge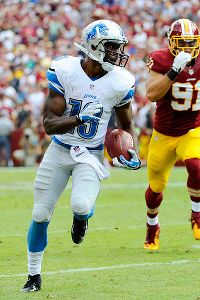 Brad Mills/USA TODAY SportsNate Burleson was slated to have a cap number of $7.5 million for the 2014 season.
But as we spoke Tuesday afternoon, there was at least a little bit of doubt that he would actually get to do what he had campaigned for toward the end of the season and beyond, which was to have the team restructure his deal so that he could stay with the Lions and finish his career with the club. His $7.5 million cap number for 2014 was a massive one, even if the team decided to work with him on a restructure.
And as of Tuesday, he had not heard from the Lions about his status, which likely was not a good sign in retrospect, even though it was a similar situation a year ago. But with a new coaching staff, that was probably a sign that his time in Detroit would end.
Now, after
the team's decision to release him on Thursday
, that won't happen and he'll join a deep free-agent pool of receivers looking to find work on March 11. It is an unfortunate ending for him with Detroit, though, almost more because of what he meant to the Lions off the field.
Burleson was the player you could count on to show up at charity functions. He was, from a media perspective, one of the most readily available players on a team full of guys who were often gracious with their time. And you could ask Burleson anything about any topic -- even Thursday, the day of his release, he was quoted on ESPN.com about Michael Sam -- and he would give a thoughtful, intelligent answer.
He also meant a lot to his teammates. He was the player a lot of young guys on the roster, regardless of position, could go to for advice and guidance. He often stressed to younger players the value of saving their money and investing and finding other outlets to do business, as he did with his Lionblood clothing line.
Burleson had taken on the roles of mentor, locker-room leader and on-field leader. He complemented
Calvin Johnson
well. As quiet and unassuming as Johnson is, Burleson was the guy who could be loud and get the team focused and energized. He and safety
Louis Delmas
often were the ones leading the pregame huddle and giving speeches.
On the field, when Burleson was healthy, he was a reliable target for quarterback
Matthew Stafford
. This past season, he had a 73.6 percent reception rate, second-best among qualifying receivers in the NFL and by far the highest among receivers on the Lions. He was also a good underneath option for Detroit to counterbalance the deep threat of Johnson.
It will be interesting to see how the Lions plan to replace Burleson from a production and leadership standpoint. Only two experienced slot receivers are likely to be on the roster:
Ryan Broyles
and
Jeremy Ross
, assuming he is extended a exclusive-rights free-agent offer. Broyles is coming off the third straight year in which surgery ended his season. Ross is a dynamic returner who can grow into the receiver role, but he doesn't have much experience there. So the returning options have major questions attached to them.
This could be a large indication that the team is going to revamp the receiving corps to complement Johnson. It also almost guarantees that the Lions are going to be heavily targeting receivers in May's draft, perhaps looking for a slot receiver as well as an outside receiver.
It could mean the team is planning to target a different, perhaps younger, slot receiver in free agency.
Jacoby Jones
, who played under Lions coach Jim Caldwell in Baltimore, is a free agent and could be an option.
The free-agent pool of receiving targets is deep, and this could have been another reason for Burleson's release. If the Lions thought they could find a younger, perhaps cheaper, option in a deep free-agent and draft class for wide receivers, they had to make this move.
That's a tough call to make, but one Detroit clearly made.
January, 3, 2014
Jan 3
5:15
PM ET
The
Detroit Lions
added to their futures contract haul Friday, officially bringing in linebacker Brandon Hepburn on a reserve/futures contract.
Hepburn had been with Detroit all season on its practice squad. He was selected by the Lions in the seventh round of the 2013 draft out of Florida A&M.
He made two total tackles in the four preseason games he appeared in, but did not come off the practice squad all season.
The Lions have now signed their entire practice squad to futures contracts along with linebacker Jon Morgan and kickers
John Potter
and Giorgio Tavecchio.