Detroit Lions:

Victor Cruz
April, 15, 2014
Apr 15
9:00
AM ET
Over the past two weeks, we took a look at the last 10 first rounds from the
Detroit Lions
-- all the drafts that had
Martin Mayhew
as either the team's general manager or assistant general manager.
This week, we're looking specifically at the Lions' drafts since 2009, when Mayhew has been in charge. This will be a look at the entire class, not just the first-round picks, who are the ones that are the most paid attention to.
We'll take a peek at each of the drafts, what worked, what didn't and one pick that in retrospect we would change. Hopefully this can also give a window into the way Mayhew drafts and some of the decisions he has made in the past that could help influence the 2014 draft and beyond.
Suh
Year:
2010
Complete draft (pick number in parentheses):
Round 1 –
Ndamukong Suh
, DT, Nebraska (2); Round 1 –
Jahvid Best
, RB, California (30); Round 3 –
Amari Spievey
, CB, Iowa (66); Round 4 –
Jason Fox
, OT, Miami (Fla.) (128); Round 7 –
Willie Young
, DE, NC State (213); Round 7 –
Tim Toone
, WR, Weber State (255).
Picks left on the 2014 roster:
1 (Suh)
Picks left in the NFL at the end of the 2013 season:
3 (Suh, Fox, Young)
Best pick:
Suh. Beyond the obvious after looking at this draft that there weren't many contributors for the Lions overall, Suh has been exactly what was expected when the team used the second overall pick on him. He has been a dominant defensive tackle who can change games and demands attention at all times from opposing offenses. He is Detroit's best defender and was named by NFL players as the most feared player in the NFL following the 2013 season.
He became part of a trio of stars for the Lions who have spent their entire careers with Detroit. The biggest question with him now is if and when he will sign his long-term contract extension or a new contract that would lock him up in Detroit for the remainder of his career.
Worst pick:
Best. Considering the Lions moved back into the first round to draft the diminutive running back with a history of concussions and then watched as head injuries ended his career after two seasons, 22 games and 255 total carries, this didn't work out as the team would have expected. As mentioned in the first-round review, the Lions could have had
Dexter McCluster
either at this pick or at the initial No. 34 pick they traded to move up and get Best. Considering McCluster's production in his career, that has to sting.
Best value pick:
Young. For a seventh-round selection, Young turned into a starter and a productive player last season for the Lions. He played in 48 games for Detroit, made 72 tackles and had six sacks. While those numbers might not stand out, consider he had 47 of those tackles and three of those sacks last season in his first significant action. If the Lions were able to get this type of production out of a sixth- or seventh-round pick every season, they would end up being a much better franchise. These are the types of picks that pan out for good teams more often than not. Young is no longer a Lion, having signed a three-year, $9 million deal with Chicago last month. It will be interesting to see if Young continues to develop into the player he was rounding into during his final season with the Lions.
One pick I'd change (other than the worst one):
Considering
Victor Cruz
,
Sam Shields
,
Joique Bell
,
Chris Ivory
and
LeGarrette Blount
all went undrafted, I would flip Detroit's pick of Mr. Irrelevant for 2010 -- Toone -- and draft Bell. While that might seem nice in hindsight (although of those players, Cruz and Shields are better than Bell), he would have been a good local angle for the team to select since he played at Wayne State and ended up in Detroit anyway.
Draft grade overall:
D. If that seems harsh, look at it from the perspective of now. The Lions have one pick left on the roster from that draft. Three picks -- Best, Spievey and Toone -- are out of the league. Fox couldn't stay healthy even when he won the right tackle job last season and signed a veteran minimum deal with Miami this offseason to prove he can be healthy. Young, a seventh-rounder, ended up being the clear second-best pick in that draft. If Suh or Young hadn't panned out, this would have been an F.
December, 20, 2013
12/20/13
10:30
AM ET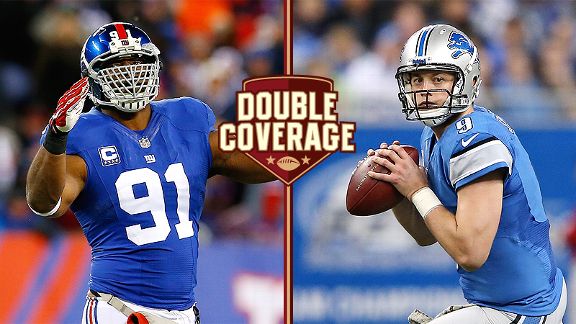 Getty ImagesJustin Tuck, left, and the Giants will be trying to end the playoff hopes of Matthew Stafford's Lions.
It is a battle of disappointments on Sunday at Ford Field: the
New York Giants
, who have been disappointing all season, against the
Detroit Lions
, who have been one of the more surprising teams over the second half of the season -- in a bad way.
The Giants have no playoff hopes. The Lions need to win their final two games and then hope for help (i.e., losses) from Green Bay and Chicago.
Taking you through Sunday's matchup are ESPN.com NFL reporters Michael Rothstein (Lions) and Dan Graziano (Giants).
Rothstein:
The Giants have struggled all season, and
Eli Manning
has been at the forefront of that. What has changed there?
Graziano:
It's basically just a complete bottoming-out on all fronts, starting with the protection. A line that wasn't great to begin with is down two starters and has been playing a rookie at right tackle all season. The blocking help the line used to get from running backs and tight ends disappeared when the Giants let
Ahmad Bradshaw
and
Martellus Bennett
leave in the offseason.
Hakeem Nicks
has had a terrible year at receiver, playing like he is more worried about staying healthy in advance of free agency than trying his best to win. There has been no run game at all for long stretches. And Manning has failed to elevate above his miserable circumstances, missing too many throws and too often looking as though it has all been too much for him. It's been a total whitewash of a season for the Giants' offense. They are the only team in the league that has been shut out even once this season, and they've been shut out twice.
What is the deal out there in Detroit? To my eyes, the Lions should have put this division away by now with
Aaron Rodgers
and
Jay Cutler
having been out for so long. What is the main reason they seem to have squandered such a great opportunity?
Rothstein:
I don't know whether there are enough words to describe all that has gone on, although the simplest way to put it would be consistent end-game meltdowns, either from turnovers, coaching decisions or a defense that suddenly faltered.
A lot of it has to do with
Matthew Stafford
, who has had accuracy issues in the second half of the season. Really, there have been issues everywhere but the lines, from turnovers to coverage breakdowns on defense.
This is a team that should be safely in the playoffs right now instead of needing to win out and get help.
That obviously leads to job-security questions for Jim Schwartz. Although that doesn't seem to be the case for Tom Coughlin, has this season given any indication as to how much longer he plans to be on the sideline?
Graziano:
No, Coughlin is really a what-you-see-is-what-you-get sort of guy. He's completely believable when he insists he's focused on only this week's game and doesn't want to address anything beyond this season. People close to Coughlin insist he won't quit as long as he feels he can still do the job, and there is no indication he feels otherwise. He has as much passion and energy as anyone else in the building (and right now, more than most!). I don't think Giants ownership would fire him, and I'd be stunned if he got into the offseason and decided he was done. As one person close to him told me, "He has no hobbies. There's nothing for him to retire TO." At 67 years old, he understands why the questions get asked, but he doesn't view himself as near the end of a career, I don't think. As of now, he plans to be part of the solution here, and it would be a major upset if he wasn't back in 2014.
One of Coughlin's biggest immediate problems is keeping his quarterback from getting killed. How is that Detroit pass rush looking these days?
Rothstein:
Eli, meet Ndamukong. He will be the guy tossing you to the ground today. In all seriousness, though, the Lions' pass rush has been interesting. The Lions have been great at applying pressure (other than against Pittsburgh) but don't have the actual numbers to show for it, which can be confusing.
What teams have done is bottle the middle on
Ndamukong Suh
and
Nick Fairley
, and have either a tight end or running back help on either
Willie Young
or Ziggy Ansah on the ends.
So to answer your question, it has been OK, but not the consistently dominant force some were expecting.
That leads into my last question. The Lions' run defense, headed by that front, has been one of the best in the league this season. Have the Giants figured any way to solve their run woes?
Graziano:
Andre Brown
was hot for a while when he came back from his injury, and the offensive line was starting to block better for the run. But the past two weeks have seen a step backward, and the way the line is configured now, with starting left guard
Kevin Boothe
playing center and backups rotating in and out at left guard, has left it very vulnerable and one-dimensional. The Giants were able to take advantage of some good matchups with Brown running well, but against tougher fronts like the one they saw against Seattle last week, they struggle. I imagine they will struggle against the Lions' front in the run game as well.
Two straight disappointing games for Stafford and
Calvin Johnson
. Do you expect Megatron to blow up this week and victimize the Giants' secondary?
Rothstein:
Kind of. As cornerback
Rashean Mathis
told me this week, if the Lions don't find their urgency now, they'll never find it this season. So I'd imagine you would see Johnson -- who is Detroit's best player -- at the forefront of that if the Lions have any shot over the next two weeks. Plus, those two drops he had against Baltimore will gnaw at him all week long. I expect he'll have a big game.
Stafford, on the other hand, I'm not as sure about because he seems genuinely rattled this second half of the season. Detroit needs to find what was working for him at the start of the season and bring that back, otherwise its season is over.
.