Detroit Lions:

Zach Mettenberger
April, 28, 2014
Apr 28
3:00
PM ET
The
Detroit Lions
have their starting quarterback in
Matthew Stafford
and a former starter as a backup in
Dan Orlovsky
.
Kellen Moore
, now entering his third season with the Lions, has not taken a snap and is still on the roster.
That, though, should not preclude Detroit from using one of its draft picks -- or a priority free-agent deal if it came to that -- on a quarterback next week during the NFL draft. The position will not be of the highest priority to the Lions as there are true needs on the roster, but this is a new coaching staff.
[+] Enlarge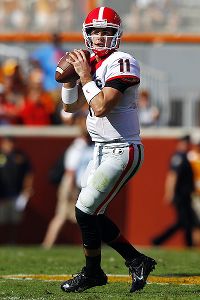 AP Photo/Wade PayneGeorgia's Aaron Murray could be a mid- or late-round possibility for the Lions.
And with that staff will likely come a quarterback they will want to groom on their own to eventually at least replace Orlovsky down the road. This should bring Detroit to the third day of the draft -- unless something unforeseen happens and one of the top-tier quarterbacks falls to them in the second round -- and to a list of players who have one flaw or another. But most of those flaws can be fixed.
"We have to wait and see where some of these quarterbacks go," ESPN draft analyst Mel Kiper Jr. said earlier this month. "
Connor Shaw
, some think fourth round, some think seventh round.
Kenny Guiton
was a backup to
Braxton Miller
at Ohio State but played well when Miller was out. He could be a late-rounder or priority free agent.
"We have to see how far
Aaron Murray
from Georgia drops. I thought he'd be a third-round pick. Of course, he had the injury; maybe he goes fourth-to-sixth round now. Those are some of the guys that could be intriguing guys that at least have that ability."
Murray is one name that stands out, mostly because his pedigree is similar to Stafford's. Murray, who is shorter and doesn't have the arm strength Stafford possesses, is ahead of Stafford in many categories in the Georgia record books, including passer efficiency rating, career passing yards and completions, and touchdown passes in a season and a career.
Of course, Murray played four years at Georgia, whereas Stafford only had three.
But Murray's injury, a torn left ACL, will likely drop him in the draft. This is good for Detroit.
"Two things with Murray are size, which is a big factor. You could say, well,
Drew Brees
had similar size, went first pick in the second round and look what happened," Kiper said. "The injury, the lack of ideal size, doesn't have a great arm but I think his arm is more than good enough.
"I think he's going to be a great fourth-round pick, maybe fifth-round pick that one time looked like a second or third."
That's value -- and in drafting a quarterback that could be a strong backup and maybe even a starter in the future, value is what the Lions are looking for.
Other than Murray, who has met with the Lions, there are other potential value options depending on when Detroit opts to take a quarterback. Kiper mentioned two in the later rounds in Shaw and Guiton.
Clemson's
Tajh Boyd
is a player Kiper mentioned that once had a much higher value than he currently possesses. There's also
Tom Savage
from Pittsburgh, who has been a late riser in the draft and likely would be gone before Detroit considered taking a quarterback, but if he is around in the late third round, it could be worth trying to trade up to nab him.
Then there's the other SEC quarterback coming off an injury,
Zach Mettenberger
, who is also the other quarterback the Lions have met with. Like many other quarterbacks in this draft, there is not a consensus opinion on him.
"
Logan Thomas
is the physical freak of the quarterbacks. Looked like a top pick three years ago and has really regressed since then but has all the talent in the world. He can be a second-round pick," Kiper said. "Zach Mettenberger, one of the best arms of any quarterback, if not the best arm, out of LSU coming off the injury.
"Limited mobility but some people like him. Some don't."
When it comes to quarterbacks and who is available for the Lions, that's the key to the entire draft.
April, 28, 2014
Apr 28
12:00
PM ET
The NFL draft is less than two weeks away, which means soon enough the
Detroit Lions
will have to reveal whether all of their
Sammy Watkins
attention and visits from
Jadeveon Clowney
and
Khalil Mack
had substance or were designed to throw everyone off.
But the draft will be more than just one round for the Lions, who will need to use the three days in May to build depth on a roster that is big on stars but small on those players beyond the big names who can turn the Lions into a playoff team.
Every day up until the first day of the draft, we'll look at a different position grouping and see what Detroit has and what the team could end up looking for during the 2014 draft.
Today starts with quarterbacks.
Players Lost:
Shaun Hill
(signed with St. Louis)
Players Signed:
Dan Orlovsky
(from Tampa Bay)
Players on the roster:
Matthew Stafford
; Orlovsky;
Kellen Moore
.
Draft priority:
Medium
Potential Rounds:
4-7
Players who have visited or the Lions have met with:
Zach Mettenberger
, LSU;
Aaron Murray
, Georgia (per NFL Network)
Analysis
: Since Lions general manager Martin Mayhew met with reporters at the NFL combine in February, one of the things he has been most steadfast about is potentially drafting a quarterback to develop. That wasn't going to change if the Lions had brought back Hill.
It isn't going to change now that the Lions have signed Orlovsky.
The Lions have a new coaching staff, a new offensive coordinator and a new quarterbacks coach – so it would be logical to think they would want to have their own young quarterback to mentor. Coaches love having players they can mold, no more so than quarterbacks, who end up being so key to any franchise.
Considering the players Detroit has worked out, it is obvious the team is looking for more of a project quarterback as well. Both Mettenberger and Murray are coming off of injuries sustained last season, so there would be little pressure on either one of them to play in 2014 unless it became an emergency situation.
Even then, Detroit would probably look for a veteran on the market before going to either one of those two players.
Of course, the Lions could end up drafting another quarterback, depending who falls where and the value of round compared to where a player stands on their board, but both Mettenberger and Murray would be sensible selections for Detroit.
The only reasons the Lions likely wouldn't pick a quarterback next month would either fall with players they want no longer being around or a sudden resurgence in the belief that Moore can play in the NFL.
Unless new offensive coordinator Joe Lombardi and quarterbacks coach Jim Bob Cooter take a similar liking to Moore that former offensive coordinator Scott Linehan did, Moore could have a difficult path to a roster spot this fall.
If Mayhew had any confidence in him as anything other than a No. 3 quarterback, he likely would not have brought in an experienced backup like Orlovsky to help out Stafford. And at this point, having a No. 3 quarterback you don't necessarily believe in entering his third season is probably not what Detroit has in mind at the position.
Of all reasonable options, I'd take:
Mettenberger on the third day if he's there. He has a strong arm, prototypical size for a quarterback and can learn from both Stafford and Orlovsky for at least a season before being potentially needed in the No. 2 role. The size and arm strength make him an interesting project quarterback for Lombardi, Cooter and head coach Jim Caldwell, probably more so than Murray. If Detroit really wanted to take a chance,
Logan Thomas
from Virginia Tech has a bunch of the tools as well, but has less experience than Mettenberger. Mettenberger and Thomas would be the best two options of the likely third-day candidates.
Possible targets:
Mettenberger; Murray; Logan Thomas, Virginia Tech;
Tajh Boyd
, Clemson;
Bryn Renner
, North Carolina;
Connor Shaw
, South Carolina;
Stephen Morris
, Miami (Fla.).
April, 10, 2014
Apr 10
8:00
AM ET
The Lions, lying in wait for the new year ...
While much of the attention about Detroit's draft plans this season has been focused on Sammy Watkins from Clemson and a handful of defensive players, there are other areas the Lions know they have to focus on.
One of them is likely drafting a project quarterback for offensive coordinator Joe Lombardi and quarterbacks coach Jim Bob Cooter to work with.
While there hasn't been much traction about who the Lions could look at, LSU quarterback Zach Mettenberger has been one of the players catching some attention. He
had his pro day Wednesday
and after a stop in Jacksonville on Thursday, Mettenberger will visit Detroit on Saturday, according to colleague Mike Triplett.
Like Georgia quarterback Aaron Murray, who is also coming off an injury, Mettenberger would be a long-term project as he still recovers from a torn ACL. Mettenberger has some similarities to Stafford -- he's a bigger quarterback with a strong arm -- and started his career at Georgia before transferring to LSU.
He threw for 3,082 yards, 22 touchdowns and eight interceptions last season.
And now, a look at other Lions news from around the Interwebs:
April, 9, 2014
Apr 9
11:34
PM ET
BATON ROUGE, La. – It sounds like a novel idea in today's NFL. But if a team is actually willing to draft a quarterback and give him a full year to develop before thrusting him into the starting lineup, then LSU's
Zach Mettenberger
might just be their guy.
Six months, at least.
Mettenberger certainly wouldn't agree with this idea. He's so adamant to prove that he'll be NFL-ready as a rookie that he went out and
performed a grueling and impressive pro day
workout Wednesday just 13 weeks after having surgery to repair a torn ACL.
[+] Enlarge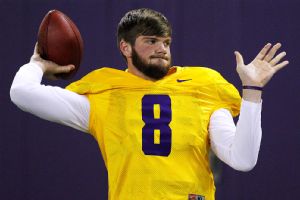 AP Photo/Jonathan Bachman"You can win a world championship with Zach Mettenberger," LSU offensive coordinator and ex-NFL coach Cam Cameron said on Wednesday.
Mettenberger insisted he'll be 100 percent by next month's rookie minicamps and ready to compete for a job by training camp.
Maybe he's right. It's hard to doubt him after the grit he showed on Wednesday, throwing roughly 125 passes in a fast-paced workout that many NFL talent evaluators said would have been impressive even without the injury.
But even if Mettenberger and his supporters – including LSU offensive coordinator and longtime former NFL coach Cam Cameron – are being overly optimistic, then Mettenberger could still be worth a second- or third-round pick for a team that believes he has the potential to be a starter in 2015 and beyond.
ESPN analyst Ron Jaworski certainly feels that way. He tabbed the strong-armed, 6-foot-5, 224-pounder as the second-best QB prospect in this year's entire class, behind only Central Florida's
Blake Bortles
. Jaworski is one of many who has compared Mettenberger to the Baltimore Ravens'
Joe Flacco
– including Cameron, who has coached both of them.
"I think his skill set translates extremely well to that league," Cameron said. "Some guys want 'em taller or [some want] more athletic. But the bottom line is a guy's gotta be tough, football-smart, distribute the ball to everyone on the team under pressure, in tight windows. Zach can do that.
"You can win a world championship with Zach Mettenberger. That I know. And that becomes the final evaluation. You don't draft a guy unless you think this guy can ultimately lead our organization to the Super Bowl. Not just win games. And he is on par with guys that I've known since his age that have won Super Bowls."
LSU coach Les Miles echoed that confidence, describing Mettenberger as "a guy that can really play in a very high level in the NFL."
Still, there are some question marks about Mettenberger that have nothing to do with his surgically-repaired left knee.
He only had one great year in a turbulent college career, which required a lot of maturing both on and off the field.
Mettenberger started out at Georgia, but was dismissed from the team after an arrest for two misdemeanor counts of sexual battery. After a year in junior college, he transferred to LSU. But he didn't really shine as a backup his sophomore year or as a starter his junior year. He was sometimes criticized as too laid back, as both a leader and a decision-maker.
Last year, however, Mettenberger showed rapid development in Cameron's first year on the job. He thrived in a pro-style offense (and throwing to pro-caliber receivers like
Odell Beckham Jr.
and
Jarvis Landry
). He threw for 3,082 yards, 22 touchdowns and eight interceptions before suffering the injury in LSU's regular-season finale.
"When he showed up here and really did not play a lot, he was kind of in the background. Not necessarily did we feel his presence," Miles admitted. "When we turned to him and he became that player, he really stepped into a role of leadership.
"Really, we felt like he needed to take on more of a position of team leader than necessarily quarterback. He did that. He's one of the toughest guys on our team. He continued to improve through his last snaps."
Cameron hinted at a similar assessment, saying, "We're all maturing, hey, to some degree. And he's no different."
"It's been refreshing to me coming back to college and watching how much these guys can mature in six months, a year," Cameron said. "And remember, Zach's still a young guy. He's not even two-thirds the way to where he's gonna be at some point in time. And I think his game translates extremely well to the NFL."
Mettenberger said his first two individual workouts with teams are scheduled for this week – the
Jacksonville Jaguars
on Thursday and the
Detroit Lions
on Saturday – with more to come after that.
Cameron said teams have picked his brain, but he said they don't have too many pressing questions.
"The film speaks for itself," Cameron said. "The one thing I know about scouts, they're gonna look at the film first. Theyre gonna look at the game at Georgia or the game at Alabama. The games against quality opponents on the road. Zach obviously played extremely well.
"Some may ask, 'Is there anything about him we wouldn't know?' And I tell them he's one of the best, if not the best practice players I've been around. Just like [Landry and Beckham], because of the standard Les sets here."
Mettenberger might not be ready to immediately lead his next team into the playoffs as a rookie like fellow big men Flacco and
Ben Roethlisberger
have done in recent years.
But if his growth in 2013 was a true indication of his potential, then he might well develop into one of the better investments in this year's draft class.
March, 26, 2014
Mar 26
4:10
PM ET
This is perhaps the biggest loss for the
Detroit Lions
this free agency period and it has nothing to do with a starter.
Hill
Shaun Hill
has decided to sign a one-year deal with St. Louis, meaning after four years with Detroit the team will have a new backup quarterback this year. If it wants a veteran, though, the team might have waited too long to get a viable one.
Luke McCown
, the player who would have been the best fit had Hill gone elsewhere, re-signed Wednesday with New Orleans.
Ryan Fitzpatrick
is signed up in Houston.
Jason Campbell
went to Cincinnati.
Kellen Clemens
is unavailable, now in San Diego.
And while Detroit appears fine with drafting a quarterback as a backup and the team still has
Kellen Moore
on the roster, it would be somewhat surprising to see Jim Caldwell enter his first season as the Lions' coach without an experienced backup.
Especially since the lack of a competent backup quarterback helped get him fired in Indianapolis after the 2011 season.
So where could Detroit go from here? Let's look at some options.
Kellen Moore:
He has yet to take an NFL snap but is already in the locker room and under contract. This could be the opportunity he needs to prove he is a capable NFL player, but so far there is little evidence to support that. If the team doesn't feel like he can be the No. 2 quarterback, it might be time to see him leave the roster altogether. This is their big question with him.
Matt Flynn:
Of the quarterbacks left, he might be the most cost-efficient considering the experience. Flynn is a former starter and the Lions know him well from his time in Green Bay. He isn't as strong of an option as Hill or, say, a
Brandon Weeden
, but he has proven he can win games for teams if necessary and that's what Detroit is seeking.
Mark Sanchez:
Likely too expensive and still in the hunt to be a starting quarterback somewhere, he would seem unlikely because he'll have less than zero chance to replace
Matthew Stafford
. It would appear Sanchez would want to be somewhere he could at least compete to be a starter.
Josh Freeman:
He would be an intriguing option for Detroit because he has the talent to be a starter but needs a place to resurrect his career after fiascos in Tampa Bay and Minnesota in 2013. He could be a one-year stopgap option, especially if the Lions drafted a rookie to be a third quarterback and eventual developmental replacement.
Brady Quinn:
He is a step below Flynn and Sanchez, but Quinn has a strong arm and has started 12 games in his career. His 12 touchdowns and 17 interceptions in his career are not good numbers, but considering the Lions are hoping to never have to use this player, he could be a good short-term option.
Kevin Kolb:
He has started at least one game in four of the past five seasons between Philadelphia and Arizona. He has thrown 28 touchdowns and 25 interceptions in his career, which isn't bad for a backup. If he is willing to take a completely backup role, he could be a strong option.
A rookie:
The Lions have draft picks and could use a mid-round selection on a quarterback now if they are committed to developing one. Considering Moore is under contract for one more year, they could use him as the immediate backup for a season while they bring along a rookie. Among the potential candidates there could be Logan Thomas (Virginia Tech); Zach Mettenberger (LSU) and Aaron Murray (Georgia). Tom Savage (Pittsburgh); Stephen Morris (Miami, Fla.) and Connor Shaw (South Carolina) would also be intriguing developmental options.