February, 27, 2015
Feb 27
11:54
AM ET
By
Brianne Mirecki
| ESPN.com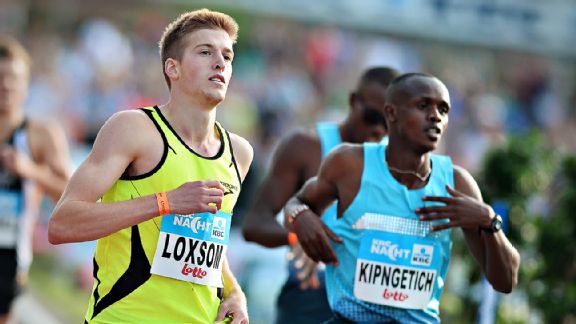 Getty ImagesCas Loxsom is looking for a national indoor title before turning his attention to the outdoor track.
Back on Jan. 24, Casimir (Cas) Loxsom took advantage of his early-season fitness to set the American record in the 600-meter indoor run at at the New Mexico Lobo Open in Albuquerque.
This weekend, he'll be putting that fitness to the test at the USATF Indoor National Championships at the Reggie Lewis Center in Boston, where Loxsom will be racing the 600 for the first time since his record-setting run and gunning for his first national title.
The 23-year-old Penn State alum trains with the Brooks Beasts of Seattle but grew up in New Haven, Conn., and considers Reggie Lewis to be like a home track. ESPN Endurance caught up with Cas earlier this month to discuss his favorite New England food, why the Olympics aren't that big of a deal, and why he's a different animal as an athlete this year.
The conversation sheds some light on his preparation heading into his second East Coast race of the season.
Congratulations on the American Record. What a great way to start off your season.
One for one, I'll take it!
What has your training looked like for the past month?
I've been out in Albuquerque, which is where we [the Brooks Beasts] make our home in the early months of the year. It's been a really good month of preparation. We've been having some quality team bonding time and getting in the miles up in the mountains. I think across the board the group had some good training successes, so it was a good camp for sure.
Can you talk about that team bonding?
It's always interesting when you stick a lot of people with different personalities into the same space for an extended period of time. We went to Dave and Buster's one night and all won mugs. That was pretty much the highlight outside of track and field life. We have some new teammates that are on board that we don't know particularly well yet, so getting closer with them was good.
I think one of our strengths as a group is how much we all care about each other. I know everyone will be tuning in to watch the race on Saturday and that's a real good feeling. We were all at altitude camp but we had FloTrack Pro up watching our teammates racing across the country this past weekend. That kind of attitude is fostered in environments like camp where we're all together for an extended period of time, cooking meals for each other – we had a dinner rotation. I always enjoy training camp, but I always enjoy when it's over too because we get to go back to Seattle and I miss oxygen.
Are you going to have a big cheering section in Boston on Saturday?
Yeah. It's close to home, so my parents get to come watch this weekend, and some of my friends. I ran here a lot in high school, so it's as close to a home track as I get.
[+] Enlarge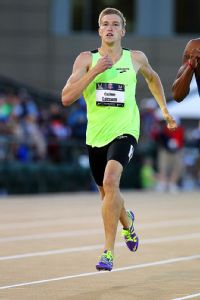 PhotoRunCas Loxsom is happy to race back home in New England again.
Any New England things that you're looking forward to in the next few days?
Oh, god, I had some lobster last night, that was really nice. I miss seafood. When you're living in landlocked New Mexico it's a little hard to come by. Mostly though I'm just excited to see my family and to have a little bit more of an East Coast vibe going on. I love Seattle and it's an incredible place to train, but New England will always be home.
What are you hoping to accomplish this season?
I think as a group we're setting our sights on the US Outdoor Championships and trying to put a percentage of our team onto the world championship team. That's probably the number one programmatic goal for us. The things that we're doing are all leading up to that.
Personally I'm gunning for trying to be top three at outdoor USAs. That's the main focus of the season and that's what our training will be oriented around. I'm not going to race too much indoors because the focus is outdoors.
[Editor's note: Cas was disappointed with his showing at the New Balance Grand Prix (6th at 1,000 meters, 2:22.80) and ended up racing once more at the Husky Classic (1st at 800 meters, 1:47.81)]
That said, I really believe in having stepping stones and smaller goals in between to get you to your big goals. You can't just have one big idea and somehow arrive there; there's a process to it. So I'm excited about this weekend just like I was excited about last weekend, but you keep it in context in terms of the bigger plan.
We'll have a nice training block in Seattle at sea level and then we'll go back up to Flagstaff for another altitude block before outdoors gets rolling. I'm not really sure what outdoor meets I'm doing just because that's so far in advance and I'd prefer to live in the moment a little bit. But it's good to set the long term goals and then once you have those established get yourself back to living in the moment and realizing that your day to day efforts and tasks are really what's going to get you there.
Do you look as this year as a dress rehearsal for next year for trying to get on the Olympic team?
You know, the Olympics are funny. It's kind of the same way I feel about the American record in general. Those kind of things are more universally understood in our sport. An American Record. It means more than saying I ran 1:15.58. It's something that people can recognize. And I think more people know about the Olympics than the World Championships, so that inherently turns it into more of a focus, but it's equally impressive to make a World Championship team. It's not like anyone sits out of World's and only races the Olympics.
The best people in the world are gunning for world titles just like they're gunning for Olympic titles. So in terms of the bubble of our sport, I'm seeing this year as this year. It's big and really important for us, and in the track and field world it's on the same tier entirely.
I haven't made a world team before, so it'll be really awesome to take a first stab at it. Last year was a transition year, with Danny as a new coach, my first year as a pro, and it being an off year for the World Championships. This year's been sort of, let's see what can happen when we really execute the process to perfection. I think that this is the first year of my career that everything's been going well in all facets of life. I'm taking it a little bit more seriously and I'm a little bit more bought in and dedicated. I'm a different animal this year.
We're still waiting to see on the results, but the indicators that we've had so far, the one race and some workouts that we've done, have been pretty positive. So hopefully we can build on some of that success this weekend.
What are some of the things that you've focused on doing better this year over last year?
I think we have our weight training better figured out. I'm more committed to just doing all the little things – especially with my nutrition, extra weight routines, corrective exercises, core, drills – all those little one percenters that contribute to better running economy. Then there's the consistency of not missing days of training, managing myself so that if something is flaring up I can take one day a little lighter.
Coming into last indoor season I didn't feel prepared to race at all, and coming into this indoor season I felt very prepared. A big part of it's just being out in Seattle with the team and Danny with all the resources that we have.
How does the daily training with the Beasts work?
Part of the reason why I joined the team over some of the other groups is that we practice together every single day. We maybe have Saturdays off. We meet from the Brooks office a couple days a week, which is great because we're integrated in with the staff a little bit, especially with meals, and we share some facilities. It's a real team.
Does the dynamic feel similar to college?
Yes and no. In certain aspects it does, in certain aspects it's definitely more of a professional group. We keep a simulation of the positive aspects of a college team: we have camaraderie, we encourage each other, we're bought in to the success of the rest of the group. But it's a more narrow focus on our event areas and we just have more time.
Also, we're adults. We're given the autonomy to make good decisions and I think that enforces our good decision making, 99% of the time. This is our jobs. We're the ones who have the responsibility to take it seriously. We're not babysat as much as we might be in college. So in that sense it's a little bit more of a relaxed atmosphere. You work harder for your teammates, and you're meeting for practice every day and seeing everyone succeed together and that kind of togetherness is one of the big draws of being on the team.
One other part of the team dynamic is working with Brooks. It's a great company that's really committed to us and our success. It's cool having a team that's sort of integrated into the company like we are, and to see the growing success of the group as sort of a result of that
I think it's a unique experience that we're getting where we have a little bit more input, where we get to work with the footwear and apparel teams. The Brooks employees know who we are and meet with us at lunch. It feels a little bit more personal. I feel more like a Brooks employee than them being just the kind of company that pays my bills and sends me shoes and gear.
Plus, Brooks is really big on promoting running at all levels of the sport. From supporting high school teams to post-collegiate runners to college programs to local runners that just love to run. We'll go to local running stores and do group runs. Wizzo [Mark Wieczorek] and I coach at Gig Harbor high school. We try as often as we can to be available to the Seattle running community. We really want to try to be Seattle's team.