May, 20, 2014
May 20
11:41
AM ET
By
Allison Pattillo
| Competitor.com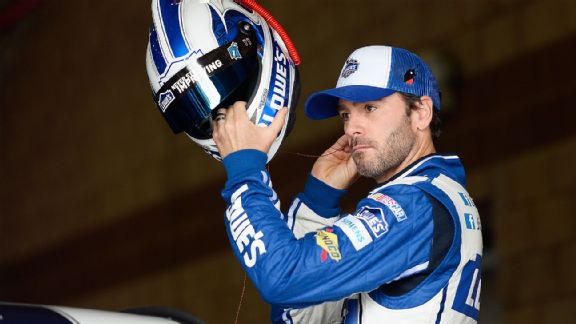 Kevork Djansezian/Getty ImagesJimmie Johnson often trades his helmet and fire suit for running shoes and goggles.
California-born six-time NASCAR Sprint Cup Series Champion Jimmie Johnson has always been competitive. From swimming and BMX bike racing as a kid to racing cars, running and competing in triathlons as an adult, the 38-year-old resident of Charlotte, N.C., is in it to win it.
When he's not driving his No. 48 Lowe's Racing car around the track, Johnson spends time with his family, does youth-based philanthropic work for the Jimmie Johnson Foundation, exercises and encourages others to get fit through the Jimmie Johnson Foundation Wellness Challenge. In February, he ran the Daytona Beach Half Marathon in 1:28:16, good enough for a third-place finish in the 35-59 age group.
How does running contribute to your driving?
My job is far more physical than most give us credit for. Having cardiovascular fitness is important. Running has been the cornerstone of my training for a long time—it's easy to do when I travel. With NASCAR racing, the cars have become so tough that the drivers are the weak link. Fitness has become important and most drivers are training pretty hard.
March, 24, 2014
Mar 24
12:00
PM ET
By
Staff report
| Competitor.com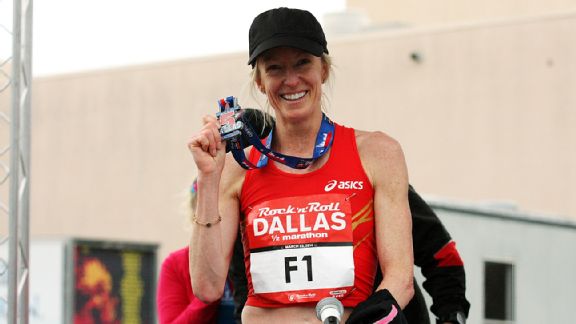 Peter Larsen/Getty ImagesDeena Kastor won the Rock 'n' Roll Dallas Half marathon by a wide margin.
Deena Kastor took the streets of Dallas by storm Sunday morning. Amid chilly and windy conditions, the 41-year-old three-time Olympian and American marathon record-holder turned in the fifth-fastest half-marathon time by a U.S. runner in 2014 with a new course record at the Rock 'n' Roll Dallas Half Marathon.
Kastor, the Olympic bronze medalist in the marathon in 2004, covered the 13.1-mile course in 1:11:57. Along the way, she also set new U.S. masters records for 10 miles (55:13) and 20K (1:08:18). She narrowly missed the U.S. masters half-marathon record (1:11:50) set by Colleen De Reuck set in 2006.
Julius Kiptoo, a 36-year-old Kenyan who lives in Ohio, took first place in the men's half marathon, crossing the finish line in 1:06:02, just two seconds faster than second-place finisher and former Oklahoma State All-American Colby Lowe.
The race which had more than 13,000 participants, starting downtown near City Hall and finished at Fair Park. After touring some of Dallas' most notable hot spots and neighborhoods, runners gathered to celebrate the day with the band American Authors headlining performance at the finish line festival concert in Fair Park.
Kastor, a 25time U.S. champion, ran the entire race with no other contenders in sight. The second woman to cross the finish line was Dallas native D'Ann Mineo (1:18:28), followed by Emily Field (1:18:49), also from Dallas.
March, 21, 2014
Mar 21
4:54
PM ET
By
Staff
| Competitor.com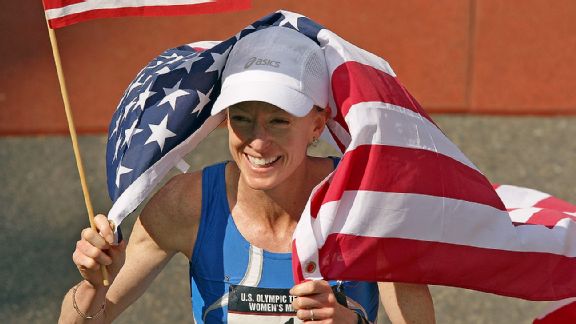 Elsa/Getty ImagesDeena Kastor hopes to continue her consistent success now that she's a masters runner.
Deena Kastor turned 41 just last month and will be competing in only her third half-marathon as a masters runner this weekend at the Rock 'n' Roll Dallas Half Marathon.
A 25-time U.S. champion and U.S. record holder for the marathon, Kastor made U.S. half marathon history in 2005 in Philadelphia when she shattered Joan Benoit Samuelson's long-standing American record by 41 seconds with a time of 1:07:53. She bettered that time with a 1:07:34 in Berlin in 2006, and the American record has stood ever since.
If Kastor can run between a 5:25 and 5:30 pace per mile in Dallas she has a great chance to break as many as four American Masters records, and race organizers have set up a timing plan to capture her splits at all four distances — 15K (9.3 miles), 10 Miles, 20K (12.4 miles), and the full half marathon.
You were forced to withdraw from the Rock 'n' Roll New Orleans Half Marathon last month with the flu. How is your training going? How much did being sick early this month set back your training?
Being sick set me back in training, but I am back to training even better than prior to Rock 'n' Roll New Orleans. I was so excited to race and was extremely let down by the timing of the flu. I am excited to race Rock 'n' Roll Dallas as it will be my first race back since I ran the world championships marathon last summer. That race nearly sent me into retirement, but my desire to compete has come back and I am excited to race one of the Rock 'n' Roll series' premiere races in Texas.
November, 27, 2013
11/27/13
4:22
PM ET
By
Kurt Hoy
| Competitor.com
Now is the time runners are beginning to plan their calendars for 2014, and so-called "destination races" get plenty of consideration. Globetrotting to a race seems so romantic. Just imagine the Facebook posts, and the possibilities.

I did, and days later I was toeing the line at a boutique half-marathon, the Llao Llao 21K in Bariloche, Argentina, a small adventure-oriented city in the foothills of the Southern Andes. Llao Llao is part of the four-race National Parks Marathon Series. For more information, go to www.runargentina.com.

Known for its chocolate industry, Bariloche is surrounded by the kinds of places travel writers keep to themselves. It's smack-dab in the middle Patagonia, where broad rivers lumber by snow-capped pyramids, spilling into ocean-like lakes, and December means the start of summer, not winter. An escape from winter alone could justify the trip.

The Llao Llao hotel, which is the race's base of operations and start/finish, couild also make it worth the trip. A "World's Best" resort and spa, it has the riddle of refinement solved: it's five-star and unpretentious. Running shoes are welcome and Vibram-soled trekkers a norm.

And it's all about the environment. The Llao Llao occupies a peninsula hilltop in Nahuel Huapi National Park, which is comprised of nearly two million acres of calving glaciers, "monkey puzzle" trees, and an alpine trail system (complete with huts, or refugios) that's ripe for running.

Race day was is warm and breezy. Idyllic and spring-like at the 11:00 a.m. start. Local heavies from rival provinces Rio Negro and Chubut front one big wave of runners, and the celebratory mood at the back borders on a dance party. Sleep deprivation adds to the euphoria.

We're off, and a while later the finish-line banner seems to be held taut by some sort of dream. I was a winner that day, because it was the single-best running experience of my life.

However, it takes more than dumb luck and a wad of pesos to guarantee a great destination-race experience. Here's what I learned in Argentina, essential tips for destination runners no matter where they're headed:


November, 18, 2013
11/18/13
3:17
PM ET
By
Michelle Hamilton
| Runner's World
Massive growth in turkey trots has propelled Thanksgiving Day to the top spot as the most popular holiday for road racing, according to Running USA, a nonprofit organization that tracks road racing trends.

Spokesman Ryan Lamppa isn't sure which year Turkey Day moved ahead of July 4 -- he's still running the numbers -- but says Thanksgiving "crushed" Independence Day in runner participation in 2011. That year 248,000 people finished a race on July 4, compared with 676,000 on Thanksgiving.

This is despite the fact that the Peachtree Road Race 10k, the largest race of any distance in the U.S. with 55,000 finishers, takes place on July 4.

"There's just one Peachtree, but Thanksgiving has multiple races with 5-10,000 runners each," says Lamppa. And in 2011, there were 355 races on July Fourth, versus 470 on Thanksgiving.

New Year's is the third-most popular holiday for road racing (81,000 finishers in 2011 for both New Year's Eve and New Year's Day), followed by Labor Day (55,000).


April, 2, 2013
4/02/13
4:30
PM ET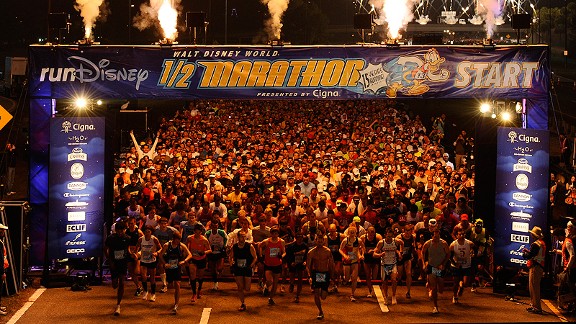 Preston Mack/Disney The number of finishers in U.S. half-marathons has risen by at least 10 percent every year since 2006.
Half-marathons are the most popular races in the United States, according to the
RunningUSA Annual Half-Marathon report
.
There were about 1.85 million finishers in half-marathons last year, a record. The figure represented a 14.9 percent increase from 2011, up from 1.61 million.
In 1,136 13.1-mile races, there was a 5.1 percent increase in finishers from 2011 to 2012. The number of finishers in U.S. half-marathons has risen by at least 10 percent every year since 2006.
Other factoids about the race distance: 60 percent of half-marathon finishers in 2012 were women; a record 36 half-marathons had 10,000 or more finishers; and there were more than 30 new half-marathons contested.
-- Competitor.com