Endurance:

Hurricane Sandy
October, 29, 2013
10/29/13
10:49
AM ET
By
Michelle Hamilton
| Runner's World
Despite aggressive recruitment efforts, which included extending registration for charity runners by six weeks, thousands of charity spots will go unused at this year's New York City Marathon.

The situation -- like the cancellation of the race last year following Superstorm Sandy -- is unprecedented. Typically, a few spots remain each year, but entries are down by 3,000, the largest amount since the marathon launched its charity program seven years ago, according to the New York Road Runners.

NYRR estimates the revenue loss for its nonprofit partners at $11-14 million, compared to 2010 and 2012 figures. That number jumps to $14-17 million when compared to funds raised in 2011, the program's most profitable year, when more than 9,000 runners raised $34 million for charity.

It's the second hit for many nonprofits, which suffered losses in 2012 due to the race's cancellation.

"A lot was left on the table last year, and now this," says Alicia O'Neill, director of endurance events for Multiple Myeloma Research Foundation. MMRF lost 20 percent in revenue last year and estimates a similar deficit this year.

The team will run on Sunday at 80 percent capacity, a percentage O'Neill is relieved by because she senses they "were one of the fortunate ones."

Some charities did sell out, but by and large the struggle to fill spots was shared. In general, charities with a few dozen spots fared better than those with 100 or more to fill, according to NYRR.


December, 8, 2012
12/08/12
6:07
PM ET
By
Sarah Barker
| Competitor.com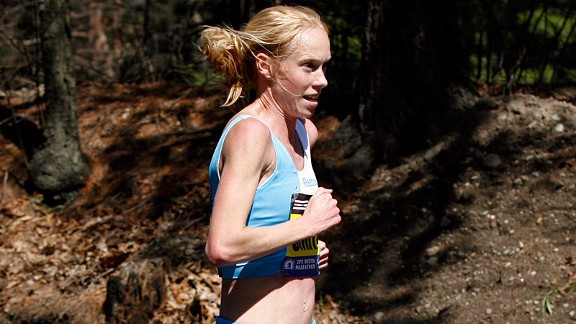 AP Photo/Mary SchwalmKim Smith placed sixth in Yokohama two weeks after the NYC Marathon was canceled.
NEW YORK CITY, Friday, Nov. 2, 5 p.m -- All 40,000 tapered New York City Marathon entrants had their feet up in their 80-square-foot hotel rooms, entertaining such weighty decisions as burger or pasta.
NEW YORK CITY, Friday, Nov. 2, 6 p.m. – All 40,000 tapered New York City Marathon entrants were focused with desperate intensity on their smartphones, fingers flying in search of Plan B.
While the cancellation of this year's New York City Marathon occasioned a mass rescheduling effort, marathon preparation is such that illness, injury and plain old bad juju scuttle the best laid plans every now and then. Whether the runner never made it to the start line or cut her losses and dropped out, her mind races over the long runs, the miles, the hours, weeks, months of training. Wasted! Or is it?
Here's how three quick-thinking pros maximized their training investment -- Kim Smith with a speedy two-week turnaround/honeymoon before posting a 2:27 sixth-place finish at the Yokohama Women's Marathon; Michelle Frey's four-week mini training cycle leading to the Dec. 2 California International Marathon; and Andrew Carlson's 10-week re-peak for the Houston Marathon on Jan. 13.
"I felt I was really ready to race well and have my best marathon ever at New York City," Smith said via email. "I didn't want to waste all the hard training I'd done, so I tried to find the closest race, which was Yokohama."
November, 7, 2012
11/07/12
10:22
AM ET

In an effort to help out displaced NYC Marathon runners and to generate revenue in his city, Philadelphia Mayor Michael Nutter announced that 3,000 runners who had signed up for New York will be allowed to run in the Philadelphia Marathon next weekend.

There will be a lottery for these interested participants.

"In the wake of Hurricane Sandy and the many challenges created by it, we are honored to welcome New York City Marathon participants to Philadelphia," Nutter said. "We understand that marathoners have invested a great deal of time, training and dedication to prepare, and so we've decided that adding up to 3,000 competitors is something we can do to support the running community."

The registration fee for NYC Marathon runners is $200. Half of that will be donated to the Red Cross and the other half will go to the Philadelphia Marathon to cover the logistics of hosting more runners.
November, 5, 2012
11/05/12
4:28
PM ET
By
Chris Lotsbom
| Competitor.com
(c) 2012 Race Results Weekly, all rights reserved. Used with permission.

NEW YORK -- In a touching sign of support and encouragement, 2009 ING New York City Marathon champion Meb Keflezighi addressed a gathering of elite athletes and managers on Saturday, urging them to continue on and give thanks to the New York Road Runners, who have worked tirelessly trying to make the 43rd running of the world's largest marathon happen. The race was jointly canceled Friday by New York City Mayor Michael Bloomberg and the Road Runners.


"Let's not look at the one year we missed out, but on how much the New York Road Runners and the city of New York has given us in the past, and will give us in the future," Keflezighi said. "There's nothing like what the New York Road Runners have done -- first-class service. And it's because of the volunteers [that] elite athletes and others can say, 'Hey, we want you to have a positive race experience.'"

Taking the microphone after New York Road Runners president and CEO Mary Wittenberg and New York Road Runners board chairman George Hirsch, Keflezighi spoke on behalf of the nearly 80 athletes seated in front of him, expressing gratitude and appreciation for the efforts Wittenberg and her team of workers had done in the days since Hurricane Sandy made landfall. Over 250 people attended the meeting.

"Personally, on behalf of the elite athletes, thank you for what you have done for us since we got here," Keflezighi said, looking at Wittenberg.

To the athletes, Keflezighi urged them not to look at the canceled marathon as a missed opportunity. Instead, he told them to see it as an injury, something that, despite taking them one step backward, can help them move forward two steps in the future.

"Today or tomorrow may not be that day," he said. "But we can make the most of it. Be patient, be understanding, be thankful of this moment we have. Just like 9/11, it will go forward."


November, 2, 2012
11/02/12
6:28
PM ET
By
Jim Gerweck
| Competitor.com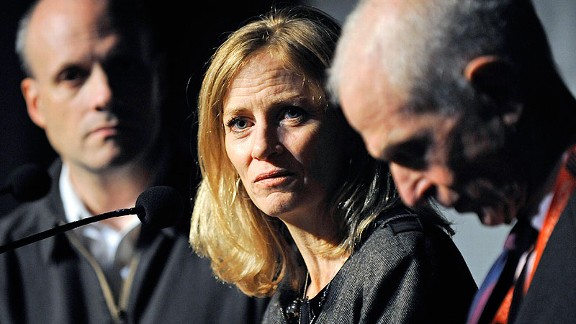 AP Photo/Louis LanzanoMary Wittenberg: "Earlier in the week I said time was on our side. But now I say we ran out of time."
After insisting throughout the week-long aftermath of Hurricane Sandy that the New York City Marathon would proceed as planned on Sunday, it was announced late Friday afternoon that the annual event has been canceled.
The rumors that began circulating at around 5:30 p.m. ET were confirmed shortly thereafter in a short press release issued by New York Mayor Michael Bloomberg and New York Road Runners president and CEO Mary Wittenberg.
"We would not want a cloud to hang over the race or its participants," it read in part. "And so we have decided to cancel it."
In the elite athletes' hospitality suite, the news was met with varied reactions. New Zealand's Kim Smith, a top-five favorite, sat in stunned silence watching the story unfold on the TV. Molly Pritz, the top American finisher at last year's race in 12th place, broke down in tears.
Less than an hour later, Wittenberg and Howard Wolfson, Deputy Mayor for Government Affairs and Communications, explained the rationale for the decision at a news conference, where earlier in the day some of the elite athletes expected to contend for the win Sunday had been interviewed.
"Obviously this has been a very difficult week for the city of New York," said Wolfson. "Over course of week the marathon, which is one of the best days in the life of the city, a celebration of life, had become divisive and controversial, a feeling that grew over the course of the week.
"Those of us who love this city and love this race realized this wasn't the marathon if there were people who were hurt by the running of it. This is obviously difficult news for people trained for it, who came from around the world to run it, but it was obviously the right decision.
"The marathon is the only event that has no dissenters, it's a unifying event. If all of New York is not behind the race as it is every year, it is not the marathon we know. We will have a fabulous marathon next year, we will rebuild our city better than ever as fast as we can. The race had become a distraction, in an unfortunate way. This was a difficult, painful decision, but the right decision."
November, 2, 2012
11/02/12
12:50
PM ET
By
Chris Lotsbom
| Competitor.com
(c) 2012 Race Results Weekly, all rights reserved. Used with permission.
NEW YORK -- Whenever Kenya's Stanley Biwott travels to the United States, he knows he is in for something special. Such is the case for the 26-year-old this weekend, as he tries to become the sixth Kenyan in 10 years to win the ING New York City Marathon, run through the five boroughs on Sunday.
"I like [the United States] because I have fans, and I enjoy it," Biwott told Race Results Weekly. "It's very nice."
Biwott comes into Sunday's marathon undefeated in five races this year, which include three wins in the United States. Over the summer, Biwott took first at the New Balance Falmouth Road Race and TD Beach to Beacon 10K, then returned in September to top the podium at the Rock 'n' Roll Philadelphia Half Marathon, timing 1:00:03.
"It's the people. The United States, when we come, they are very nice," Biwott said, speaking in a soft voice. "And they cheer very loud, the fans."
Even if this week's trip across the Atlantic Ocean took a little bit longer due to Hurricane Sandy, Biwott's smile doesn't show any sign of worry of stress. Flying from Nairobi, Kenya, to London, then on to Boston, Biwott finally arrived in New York City by car, riding with four other Kenyan athletes: Wilson Kipsang, Sharon Cherop, Edna Kiplagat and Moses Mosop.
So what is Biwott's secret to success in the States?
[+] Enlarge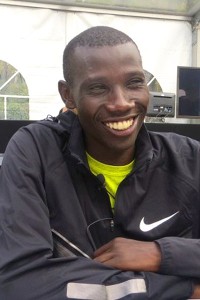 Chris Lotsbom for Race Results Weekly Stanley Biwott seeks to become the sixth Kenyan in 10 years to win the New York City Marathon.
"There is no secret, only to train," he said with a laugh.
Coached by Claudio Berardelli as part of a camp overseen by Dr. Gabriele Rosa, Biwott has done what he thinks it takes to win Sunday's race. Rosa has produced nine NYC Marathon winners, and Biwott seeks to become the 10th.
"He has been training me very well, focusing on the New York Marathon," said Biwott, who frequently runs with Dickson Chumba, winner of the De Lage Landen Marathon Eindhoven last month. "He has prepared me to train."
Seeing Chumba win in the Netherlands helped assure Biwott of his fitness level.
"It has given us confidence and morale that we are doing well," he said. Biwott also touched upon how winning this year has helped him mentally prepare, reminding him what he must do if he wants to be competitive come race day. "Winning has given me moral and hope, and keeping me training hard everyday so I can keep my position."
Will the combination of training and confidence help Biwott take home the $130,000 first place prize Sunday?
"That is my prayer," he says, again a smile arching across his face. "I don't know, everybody can win. We have confidence in our training and focus."
October, 31, 2012
10/31/12
10:10
AM ET
By
Luke Humphrey
| Competitor.com
It's the worst possible scenario: You train for months for this one race and then Mother Nature has different ideas. Whether it's a heat wave or a hurricane, sometimes we are reminded that we aren't truly running the place.
What should you do? As with anything, you'll need to weigh your options.
In some cases, you may not have a choice. The organizers may call it, believing it's not safe for you to race. If that's the case, you'll have to decide whether you bag racing altogether or go on a desperate search to find an open race. Chances are you'll want to race, but you'll need to find a race that's a good fit.
Timing
The most critical consideration is how long you'll have to wait for the alternate race. Ideally, you'll want to race on the same weekend you'd planned to race. The farther away the event, the harder it will be to maintain your current fitness without getting stale, hurt or burned out.
Build
How far you can stretch your racing form will depend on the length of your last training block and how long and drastic your taper was. If you had a shorter build-up (8-12 weeks), then you can probably get away with doing something within the following month. A shorter build makes it less likely that you're near overtraining, which means you could continue to keep a moderate training schedule without fear of overextending.
But if you have been training for 18-24 weeks, chances are you were banking on getting through this race so that you could take a break. If that's the case, you need to find a replacement race that's scheduled as soon as possible.
The bottom line:
* If your build was short (8-12 weeks), race within 30 days of your planned race day
* If your build was long (18-24 weeks), race as soon as possible after your planned race day
Taper
The length and intensity of your taper will impact your options, too. If you had a long taper (3-4 weeks) and then really cut back on the distance and intensity over the last two weeks, then try to find a race a month away to replace your goal race. The long taper means you've already maxed out the time you can maintain the benefits you gained over the previous training. If you try to extend your form for more than 1-2 weeks, you'll begin losing hard-earned fitness.
If your taper was short or moderate in deductions, then your fitness will be more forgiving; you can wait a few extra weeks to race.
The bottom line:
* If your taper was long or severe, race within 1-2 weeks of your previously planned race day.
* If your taper was short or moderate, race within 30 days of your planned race day.
Race or bust
In other scenarios, you may be able to race, but your race performance may be less than ideal. If that's OK, race! If you've got your heart set on racing, you'll need to adjust your plans and cross your fingers knowing that an ideal race probably won't be in the cards.
Whatever you do, weigh your options and choose safety over anything!
Luke Humphrey is author of "Hansons Marathon Method," which offers a radical overhaul of marathon training that promises to turn any runner into a true marathoner and help experienced marathoners set personal bests. For more, visit www.velopress.com/hansons.