Endurance:

International Triathlon Union
November, 15, 2012
11/15/12
12:11
PM ET
By
Erin Beresini
| Triathlete.com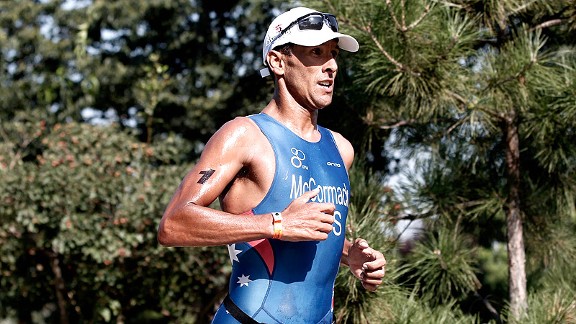 Lintao Zhang/Getty ImagesChris McCormack finished third in the Beijing International Triathlon on Sept. 16.
Chris McCormack was 23 years old when he won the ITU World Cup Series in 1997. His winning time? 1:48:29, topped off with a 29-minute, 32-second 10K. So when the Ironman world champ announced that he would again race the ITU circuit in an attempt to make the Australian Olympic team at the age of 39, the triathlon world was skeptical. Don't older athletes lose their speed? Maybe just a little. But Macca's splits at the ITU World Triathlon San Diego race in May 2012 (swim: 18:25; bike: 59:03; run: 31:35) are nothing to scoff at. Even though he didn't make the Australian Olympic team this year, here's what McCormack learned from being the "old guy" on the short course:
Take more time to recover after speed workouts.
"It was hard to adjust," he says. "I realized I couldn't do the same workouts I did when I was younger, especially on the intensity side, without breaking down. The hardest thing was getting the speed back to be competitive."
To go fast, count calories.
"Trying to find my speed and lose the weight," Macca says, was tough. "I look forward to eating again," he says, without revealing how much weight he's had to lose. (He has said he won his first Ironman world champion title in 2007 weighing 177 pounds.)
November, 10, 2012
11/10/12
7:52
PM ET
By
Staff
| Triathlete.com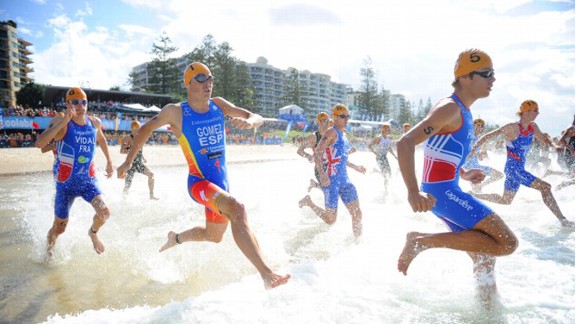 Delly Carr/Triathlon.org The 2013 ITU World Cup season will take triathletes to 10 cities on four continents.
The International Triathlon Union has announced the schedule for the 2013 ITU Triathlon World Cup season. The 2013 calendar will cover 10 cities on four continents and includes a variety of new and familiar sites, as well as a combination of sprint and Olympic distances.
"The ITU World Cup series in a critical pathway that creates an important bridge to elite success for ITU athletes," said Marisol Casado, ITU president and IOC member. "As our first triathlon series, which started in 1991, the tour has repeatedly provided the backdrop for endless action and crucial race experience for our top athletes."
The 2013 ITU World Cup season will open midway through March in Mooloolaba, which marks the ninth year the Australian coastal city will host a World Cup. The circuit will then travel to another storied city on the ITU calendar with a stop in Ishigaki, Japan. The small island has organized a World Cup every year since 1996, extending its reign as the longest-running ITU event to an 18th consecutive year.
After trips to Oceania and Asia, the World Cup tour hits the Americas when it travels to Huatulco, Mexico. One of the toughest courses on the ITU calendar, Huatulco will feature an Olympic distance race and a grueling hill climb in typically hot conditions. The series will then venture north to familiar Edmonton, Alberta, for a sprint semifinal and final format. Set along the North Saskatchewan River, Edmonton has played host on the World Cup calendar seven times since 2002 and staged the World Championships in 2001.