Endurance:

Millrose Games
February, 18, 2013
2/18/13
9:39
AM ET
By
Chris Lotsbom
| Competitor.com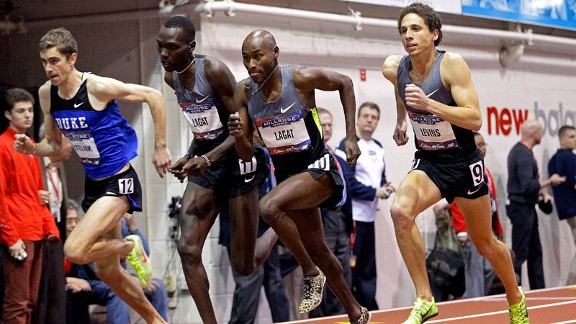 AP Photo/Frank Franklin IIBernard Lagat regained the U.S. record in the 2-mile by running 8:09.49 on Saturday at The Armory.
(c) 2013 Race Results Weekly, all rights reserved. Used with permission.
NEW YORK -- In a span of nearly 85 minutes at the Millrose Games on Saturday night at The Armory, a total of seven records were broken in the distance disciplines, making for one of the most memorable renditions of the meet in its 106-year history. Five of seven evening races measuring 600 meters and up saw either an American, junior, collegiate or meet record go, causing the capacity crowd to stand for a majority of the evening session.
Watch ESPN3's replay of the meet

"The fans were amazing. Tonight was a special night," said four-time Olympian Bernard Lagat, champion of the men's two-mile. Aiming to break the U.S. mark of 8:09.72, Lagat would need every last second to surpass Galen Rupp as America's fastest 2-miler, a title he held previously.
Through the mile in roughly 4:06, Lagat knew he needed to negative split the rest of the way if he wanted to hold every American record from the 1,500 to the 5,000. Ever so slightly pushing on the accelerator, Lagat found himself alone in front with the Oregon Track Club Elite's Evan Jager and Andrew Bumbalough, as well as Canadian Cam Levins, in tow.
"When it showed me with four laps to go, I still thought I had enough left," said Lagat. "But I was behind [record pace] for a long time."
Only with a quarter mile remaining did Lagat create a buffer ahead of the trio. With the bell signaling one lap left, Lagat used the kick that earned him two Olympic medals to unleash a 28.82 circuit, just getting him under Rupp's mark. The 38-year-old had timed 8:09.49, a mere .23 ahead of Rupp's best.
"A record is a record," said Lagat, accompanied by his smiling son Miika. "I've always said the record is a measure. And the fast times are a measure of how excellent you've been."
The records in the 2-mile discipline didn't end with Lagat, though. Just as the champion was drifting into lane two and breaking the tape, a bound and determined Edward Cheserek was taking off on his last lap. The Kenyan from St. Benedict's Prep in nearby Newark, N.J., was gunning for Gerry Lindgren's 49-year-old prep mark of 8:40.0.
February, 15, 2013
2/15/13
5:22
PM ET
By
Mario Fraioli
| Competitor.com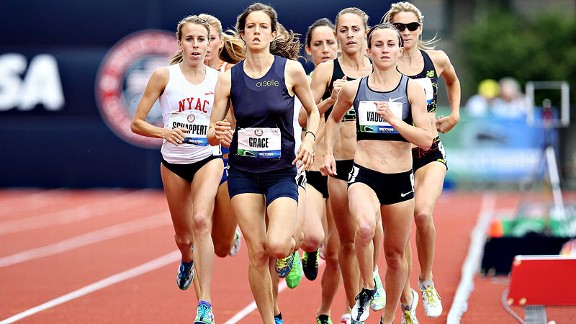 Christian Petersen/Getty ImagesKate Grace's next race: Saturday night's women's Wanamaker Mile at the Millrose Games.
Kate Grace is off to a hot start on the indoor track circuit this winter. The 24-year-old, who is sponsored by Oiselle and trains with Frank Gagliano's New Jersey-New York Track Club, turned more than a few heads with an 8:55.06, second-place finish in the 3,000 meters at the University of Washington Invitational at the end of January, outkicking Abby D'Agostino and Jordan Hasay over the final 100 meters to finish less than a second behind winner Brie Felnagle.
Grace, a four-time All-American at Yale, competed in both the 800 and the 1,500 meters at last summer's Olympic trials. She'll turn her attention next to the Wanamaker Mile this Saturday at the Millrose Games in New York City, where she'll line up amongst a loaded field that includes D'Agostino and Hasay, as well as Olympian Emma Coburn, high school phenom Mary Cain and others.
We recently caught up with Grace, who'd just wrapped up a month-long training stint in Arizona with her New Jersey-New York Track Club teammate, Olympian Julie Culley.
Last summer you competed in both the 800 and 1,500 at the Olympic trials, and most recently you ran a big 3K PR of 8:55 indoors. You're running the Wanamaker. What do you feel is your best event, and where do you see yourself focusing heading into the 2016 Olympic cycle?
The 1,500. My training this year will focus on that event, with the understanding and hope that increased strength will help improve my 800, and upped mileage will allow me to drop my distance PRs. In college, I was an 800-meter runner, who occasionally ran 15s to spice it up and help get points for my team. Since joining Gags in January 2012, I have more than doubled my mileage and workout volume, and added tempos and long runs. It's fun testing myself with new work, and exciting being able to meet those challenges. The fact that I have the speed background, and am able to hit the strength workouts, tells us that there is a lot more to come in the 1,500. Before the 3K, we were saying it's like opening a present on Christmas morning: Not quite sure what we're going to get, but I think I've been good, and I can't wait to find out.
Speaking of Wanamaker, this is the first year they're hosting a women's mile, instead of the 1,500. What does it mean to you to be a part of that star-studded field, which includes a few of your NYNJTC teammates, and do you feel like you have a bit of a home-track advantage being from the area?
It's been a dream to run at Millrose, and I couldn't have asked for a better field. All runners that I greatly respect, but also not a clear favorite. The field is open, and that makes for the best kind of race -- one in which no one can be counted out.
As for New Jersey-New York Track Club teammates, there is a sense of sharing in each person's success. They have been there every day, all fall, doing the same, quality training. And I am as excited to see their improvements start to transfer from practice to race as I am my own. Plus, we get to hang and goof around all day to keep calm.
I actually have not raced much at the Armory. But, I know the warm-up loop, and I know where all the bathrooms are. That's all it really takes to feel comfortable!
February, 12, 2013
2/12/13
11:21
AM ET
By
Matt McCue
| Competitor.com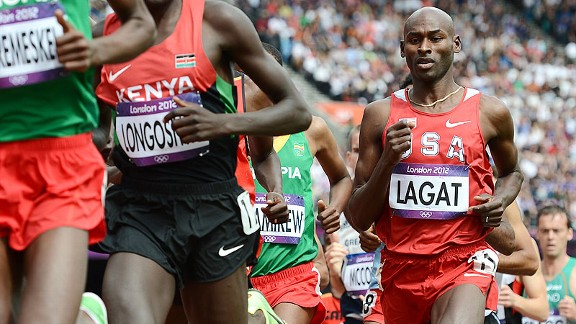 FRANCK FIFE/AFP/GettyImagesBernard Lagat, who turned 38 in December, is targeting a fast 2-mile pace at the Millrose Games.
Bernard Lagat has been running at the top level of the sport for 15 years. The five-time world champion and two-time Olympic medalist turned 38 in December, but he's not showing any signs of slowing down. The native Kenyan (who became an American in citizen in 2004) has run 3:47.28 for the mile, 12:53.60 for the 5,000 meters and just over a week ago ran 7:34.71 for the indoor 3K to narrowly miss breaking his American record (7:32.43, set in 2007). Next up is a competitive 2-mile race at the Millrose Games on Saturday in New York City.
Competitor.com caught up with Lagat shortly after his indoor season opener in Glasgow.
Take us through your season-opener [7:34.71 for 3,000 in Glasgow].
I went in there thinking we could run 7:32; that's what I had in my mind because last year these guys went 7:29. It was nice to run 7:34 and showed that my training is going well. I think with four laps to go I ran a 30, then another 30, then a 29 and another 29. I heard some people telling me I ran under 26 [for the final lap]. That was very good for me.
Are you doing anything differently in your base training as you move up from the 1,500?
The average I run per day is 11-12 miles for six days a week. It's not easy miles. We do really fast ones. I'm training with Lawi Lalang and Stephen Sambu and Abdi [Abdirahman]. Those guys will lead me on our 14-mile long runs, which used to be a problem for me, but now it seems like it is so easy to do 14 miles. I still take Sundays off. When I'm pushing my body Monday through Saturday I need a day to recoup and come back on Monday feeling strong and fresh.