Endurance:

NYC Half Marathon
March, 13, 2013
Mar 13
11:13
AM ET
By
NYRR Media
| Competitor.com
Citing tightness in his calves, Meb Keflezighi has withdrawn from Sunday's NYC Half 2013, the New York Road Runners announced Wednesday.

Keflezighi, the 2009 ING New York City Marathon champion, has been battling the tightness for about a week. Although he has been able to maintain his aerobic fitness through cross-training on a bike, he and longtime coach Bob Larsen alerted NYRR on Tuesdsay night that they felt he should withdraw from the race to avoid the risk of further injury.

Keflezighi is scheduled to compete in the Boston Marathon on April 15.

"I am sad to announce that I will not be able to run the NYC Half this weekend," said Keflezighi in a statement. "This has been one of the most difficult decisions in my career. I invested a lot of time and made many sacrifices to prepare for both the NYC Half and Boston Marathon. I had two months of great training in San Diego, where I was away from my wife and kids. My workouts indicated I had great fitness, but a recent setback in my training is keeping me from running the NYC Half.

"At this time, I cannot afford to push my body against the outstanding field the NYRR have assembled and still prepare for the Boston Marathon. As we all know, training for big races doesn't always go the way you want. I am very fortunate to have a history of strong performances on big stages and was hoping for the same with the NYC half-marathon. But due to the timing of the setback, I will have to skip this race in order to give myself and my team the best chance to have a strong performance at the Boston Marathon."

The men's field for Sunday's NYC Half features, among others, Wilson Kipsang of Kenya, the 2012 Olympic marathon bronze medalist; and Americans Dathan Ritzenhein, the 2009 IAAF World Half-Marathon Championships bronze medalist and the second-fastest American in history; Abdi Abdirahman, a four-time Olympian and the reigning U.S. Half-Marathon champion; and two-time Olympic 1,500-meter medalist Bernard Lagat, who will be making his half-marathon debut.
March, 7, 2013
Mar 7
11:53
AM ET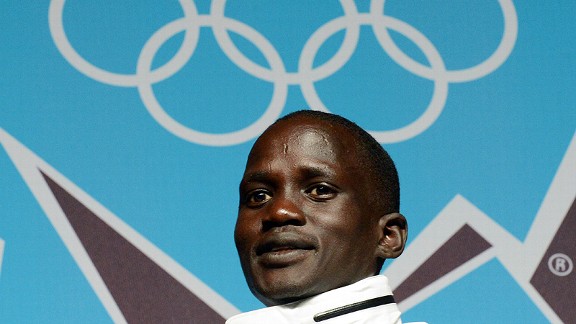 Saeed Kahn/AFP/Getty ImagesGuor Marial, who fled his native Sudan when he was 7, became a U.S. citizen on on Feb. 22
A man without a country, Guor Marial ran into the world spotlight in 2012 when he was given permission in late July to run the marathon in the Olympic Games under the International Olympic Committee flag.
Born in southern Sudan, Marial fled his village of Pan de Thon in the midst of civil war when he was just 7 years old, only to be kidnapped twice and forced into child labor. After finally reaching Egypt, he and several relatives were granted refugee status and arrived in the United States in 2001. Marial began running while attending high school in Concord, N.H., winning the national indoor two-mile title in 2005; he went on to become a cross-country All-American for Iowa State.
At the 2011 Twin Cities Marathon, in his debut at the distance, Marial finished fifth in 2:14:32, an Olympic qualifying time. At the pasta party there, he met Brad Poore, a runner, lawyer and athlete manager who later mounted a campaign to get Marial into the Games. In London, Marial placed 47th in 2:19:32. Now 28, he will compete in the NYC Half on March 17.
Here are five things about him:
1. Eight of my 10 brothers and sisters and many other relatives died during the civil war. So when Sudan wanted me to run for them in the Olympics, I refused. I can forgive, but it was not appropriate for me to represent Sudan. My new nation of South Sudan did not yet have an Olympic committee and I was not yet a U.S. citizen, so I did not think I would be able to run. The whole world came together and allowed me to have this opportunity. The big thing was being able to represent all the people who supported me in getting there. I was carrying those people in my heart.
March, 6, 2013
Mar 6
2:20
PM ET
Olympic bronze medalist Wilson Kipsang of Kenya and three-time Olympian Kim Smith of New Zealand will headline the international fields for the NYC Half on March 17. World Championships bronze medalist Bob Tahri of France will make his half-marathon debut and Sara Moreira, Portugal's newly crowned European Indoor Championships gold medalist, will run the NYC Half as her U.S. debut, it was announced Wednesday by New York Road Runners president and CEO Mary Wittenberg.
RELATED: Stacked Fields Set For NYC Half
Previously announced runners for the NYC Half men's professional field include U.S. Olympians Meb Keflezighi, Abdi Abdirahman, Dathan Ritzenhein and Bernard Lagat. Additional U.S. competitors include Jason Hartmann, the top American in the 2012 Boston Marathon, and Guor Marial, who ran the London Olympic Marathon under the flag of the IOC and will be running his first race as a U.S. citizen.
In the women's race, previously announced runners include Janet Bawcom, a 2012 U.S. Olympian at 10,000 meters, along with Americans Adriana Nelson, Maegan Krifchin, Molly Pritz, Stephanie Rothstein Bruce and Serena Burla.
-- Competitor.com