October, 25, 2013
10/25/13
12:07
PM ET
By
Jenny Hadfield
| Runner's World
Runner's World offers 10 tips for runners to have the best possible experience at the New York City marathon.

Taper wisely: If you're looking to have strong legs come race day, be sure to balance your tourist activities with plenty of restful options. Walking and standing for hours sightseeing can suck the life out of your legs, and though you're not running, it can result in fatigue on race day.

Think like a local and fully engage your inner runner rather than your inner tourist on race weekend. Swing through the Expo and give yourself a time limit to get your race info, shop, and stop at the Runner's World booth. See a Broadway show, enjoy a cup of coffee or tea in Times Square, chill or read in Central Park. Remember, the marathon will be your tour of all five boroughs!

Conquer the hills: Whether by bridge or by road, the NYC Marathon rolls, baby. The top way to tackle hills in a marathon is to do so by conserving energy. Many runners will try to maintain pace on hills, but when you do, it can suck the life out of you by Mile 20 (the real start of the race). It takes a lot more energy to run hard up a hill, and many times it leaves you too tired to take advantage of the downs.

Think like a cyclist (or mountaineer), and use your gears by working with the hill to gain the most for your energy. Run up the hill at a consistent effort rather than a pace. If you're in the yellow zone, keep it in that zone all the way up the hill, which means slowing down. Shorten your stride, use your arms, but let the runners pass you (because you'll be passing them later in the race).

When you reach the top, lean into it, open your stride, and let gravity pull you down. Don't go crazy on the downhills; keep it in the effort zone of the moment. Meaning, don't race hard down the Verrazano Bridge! I guarantee you'll have more fun on hills than you've ever had before in your life and it will make a difference later in the race when you still have the mental and physical strength to go fishing (more on that later).


July, 3, 2013
7/03/13
3:21
PM ET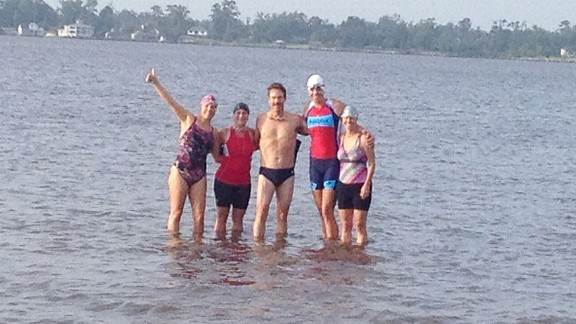 Courtesy Jennie Finch
Jennie Finch recently persuaded a few of her marathon buddies to go on an open-water swim with her. How did that go? Read about it in Finch's own words ...
An Athlete's Life
.
April, 3, 2013
4/03/13
11:11
AM ET
By
Chris McCormack
| Triathlete.com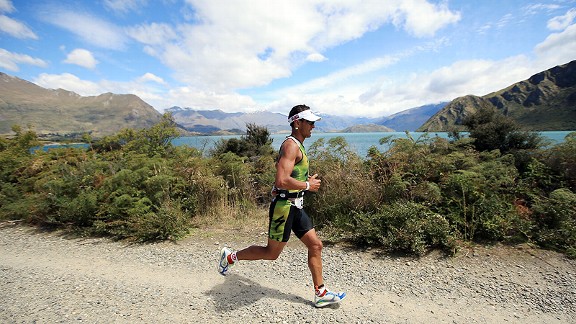 Phil Walter/Getty ImagesThe elation is over, fatigue has begun to settle and the endorphins have run their course. What now?
Without a doubt, the most common feeling everyone has a few days after a big goal race is one of hollowness. The elation of the day is over, the fatigue has begun to settle and the endorphins have run their course. Everyone, professionals included, enter what is commonly referred to as "post-Ironman depression," but it can stem from any event that has demanded a large amount of your time in preparation and planning, and then is finally over. The entire process is draining, and endurance racing rewards us with a painful yet fulfilling experience, an enormous release of endorphins, a physical post-event fatigue and then ultimately a feeling of "what now?"
What I hear most a week or so after a major race is "I just seem to have lost my motivation." Many people attach guilt to this feeling. It is absolutely normal to feel this way. There has not been a major event in my career, whether I have won or lost, when I have felt like diving immediately back into hard training. I find if I force the work, I really struggle with my motivation around week three. It is imperative that you understand that motivation is a drive that requires nurturing, and if you neglect it with inadequate rest, it is very easy to get completely derailed.
I have found that the best thing to do after any major race is to take some downtime. Your "A" race is an event that has demanded a big portion of your attention. This mental strain accumulates and can be a heavy burden that you don't even realize you have carried. Our desire and focus to achieve goals can leave us oblivious to much of the fatigue that the body hides under stress. The natural, accumulated physical fatigue plays a part, but I also attach the transition from a huge endorphin release to a return to normalcy as a precursor to this natural post-race low.
Sometimes, lack of motivation is a healthy, telling sign. It's your body's way of saying, "That goal demanded a lot of me." You should use this as an opportunity to reconnect in other areas of your life.
February, 26, 2013
2/26/13
8:38
AM ET
By
NYRR Media
| Competitor.com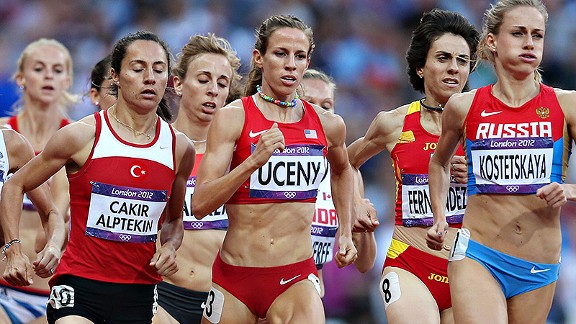 Julian Finney/Getty Images2012 U.S. Olympian Morgan Uceny says she sees competition differently after training in Kenya.
By most measures, Kenya is a long way from Indiana. But not by every measure.
"Training in Kenya just makes you realize that you don't need to have extraordinary means to be a good athlete," said Morgan Uceny, who spent many of her summers in Plymouth, Ind., helping her bricklayer father or washing buses for her mother, an assistant in the school transportation department. "All you need is a pair of decent trainers, some natural talent, and the work ethic to turn that talent into something greater."
Uceny, a 2012 U.S. Olympian who was ranked No. 1 in the world at 1,500 meters in 2011, relocated last fall to Loughborough, England, after her Mammoth Track Club coach, Terrence Mahon, joined UK Athletics as its endurance coach -- hence the term "trainers" for running shoes. ("Every day at practice we end up laughing with our new Brit teammates over different jargon," Uceny wrote in an email. "It's a never-ending source of entertainment.") And when the UK team set off in early January for the distance mecca of Iten, Kenya, for a high-altitude training camp, Uceny and U.S. teammates Anna Willard and Jen Rhines went along.
The group lived and trained at the High Altitude Training Centre, founded by Lornah Kiplagat, the longtime distance star who won two half-marathon world titles, finished third in the 2003 New York City Marathon, and ran the NYRR New York Mini 10K nine times in her career, winning in 2003, '05, '06, and '07.
Living in a simple room with a bed, a desk and an adjoining bathroom, Uceny spent three weeks taking meals in a common dining room and enjoying runs on the hilly, rocky dirt roads amid cornfields and forests, under sunny skies with temperatures in the 70s and at an altitude of 8,000 feet.
"It was beautiful to look at when you weren't gasping for air," Uceny said.
January, 9, 2013
1/09/13
5:09
PM ET
By
Holly Bennett
| Triathlete.com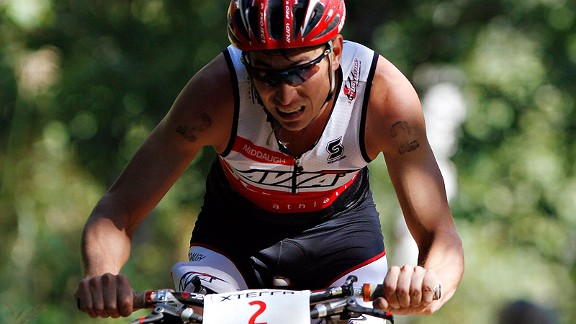 AP Photo/Jim UrquhartJosiah Middaugh balances his time on the bike with working two jobs and raising three kids.
Among the highlights of his well-rounded career, 34-year-old Josiah Middaugh is an eight-time Xterra USA national champion, two-time USA Winter Triathlon national champion and one-time USAT Long Course national champion. He most recently took second at the Xterra World Championship in Maui in October. Middaugh makes his home in Vail, Colo., with his college-sweetheart wife, Ingrid, and their children, ages 8, 7 and 2.
Three years ago, when Ingrid was pregnant with the couple's third child, Josiah was recovering from his fifth knee surgery and thus set out to earn his second degree, a master's in human movement. Nowadays, he divides his time between family, work as a personal trainer at local gym Dogma Athletica and as an online endurance coach, and racing virtually year-round. It's a packed schedule -- one that has inspired Middaugh to adopt some rather interesting methods of time management.
I GREW UP IN A BOHEMIAN SETTLEMENT
in northern Michigan. There were several families of like-minded people that started a community -- it wasn't a commune, but it was pretty close! We had a community center, and on weekends we were like worker bees, building houses for neighbors. It was an amazing childhood -- everything was simple and we were living off the land a lot.
GROWING UP WITH BROTHERS WHO WERE REALLY GOOD ATHLETES,
I always did a little bit of everything. My senior year in high school, I won the conference in the mile, the 2-mile, the half-mile and the pole vault. I played basketball and baseball. My dad did a really good job of realizing where the talent was. ... He was a football player, so it was really cool that he encouraged me to run. He actually started running with me.
December, 26, 2012
12/26/12
3:50
PM ET
By
Staff
| Triathlete.com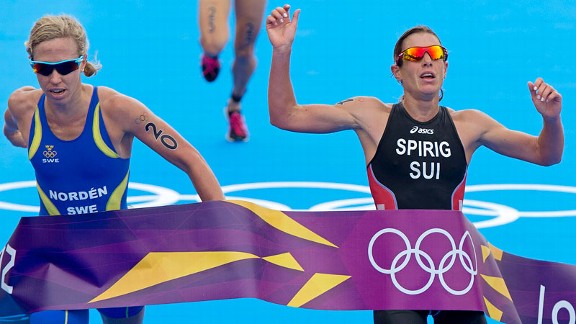 Ben Stansall/AFP/Getty ImagesLisa Norden and Nicola Spirig pushed each other to the finish of the women's triathlon in London.
We asked the editors at Triathlete.com for the top 12 moments in their sport from 2012. Let's pick it up from the top:
1. Women's Olympic finish
The sprint finish between Switzerland's Lisa Norden and Sweden's Nicola Spirig was one for the books -- even at the finish line, spectators, officials and the athletes themselves weren't sure who had taken gold until they showed the photo finish.
Spirig won by inches
.
2. Crowie edging Cameron Brown at Ironman Melbourne
The high-caliber field at March's inaugural
Ironman Melbourne
made for an exciting race, but the highlight was the stride-for-stride marathon between veterans Craig "Crowie" Alexander of Australia and Cameron Brown of New Zealand. Alexander eventually opened a gap after mile 20 and
won the race in 7:57:44
.
3. Rev3's Cedar Point finish
At the June
Rev3 Cedar Point
race, 49-year-old Patti Jackson, a cancer survivor and member of the U.S. Air Force, was still on the course, with an anticipated finish of over 19 hours. Instead of closing up shop, owner Charlie Patten and his staff, the volunteers, the police and Jackson's tri club Team Z stayed out to support her. The DJ downloaded her favorite song (Tina Turner"s "Simply the Best"), the medical and massage teams stayed to help at the finish and Rev3 held off their elaborate fireworks display until she made it across around 2:30 a.m.
4. Sebastian Kienle proving he can run in Vegas
Germany's Sebastian Kienle went from a relative unknown to one of the biggest names on the long-course circuit with his stellar performance on Sept. 9 in Henderson, Nev., at the Ironman World Championship 70.3. The 28-year-old overcame a slow swim to come off the bike with a three-minute lead over the sport's fastest runners. Kienle went on to outlast the athletes behind him, including defending champion Craig Alexander of Australia, and run a 1:16:46 half marathon to take the
70.3 world title
.
December, 18, 2012
12/18/12
4:12
PM ET
By
Courtney Baird
| Competitor.com
Sooner or later, it happens to all of us: injury. Perhaps you've felt your hamstring pop as you rounded the track, or you've watched your ankle balloon after slipping on a trail, or you've let the twinge of shin splints lead to stress fracture.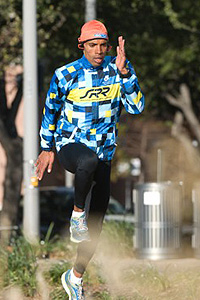 Kurt Hoy/Competitor.com "Rule No. 1," Meb Keflezighi says, "is don't get injured." The 2009 NYC Marathon champ's second-best piece of advice? To stretch.
When these types of injuries happen, sometimes it's hard not to let the disappointment settle in. After all, you've just watched many months of work melt away into nothingness.
But being injured doesn't have to be a negative experience. Instead, it can be a time where you get to enjoy the activities and hobbies that you can never quite squeeze in during your normal training/work/life schedule.
After Meb Keflezighi, the Olympic Marathon silver medalist in 2004 and 2009 New York City Marathon champion, fractured his pelvis at the Olympic Marathon Trials in November 2007, he could only get around by crawling and didn't know if he would ever run again. But instead of dwelling on the injury, he used the extra time on his hands to read, spend time with family, and catch up with friends.
"You can't change what it is," said Keflezighi, who won the U.S. Olympic Marathon Trials earlier this year and went on to finish fourth at the Olympic Games in London.
RELATED: Dean Karnazes' 3 tips for injury-proofing your body
And taking part in these types of activities can help you stay positive -- something that is important in the healing process.
"The more you think positive, the better," Keflezighi said.
November, 27, 2012
11/27/12
12:21
PM ET
By
Scott Fliegelman
| Triathlete.com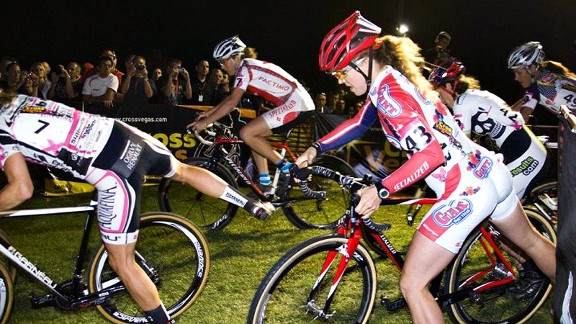 Brad Kaminski/Triathlete.comAfter a season of cyclo-cross racing you will look forward to mounting and dismounting the bike.
Also known as 'cross or CX, cyclo-cross has been around for more than a century and was invented to help European road racers stay fit during fall and winter. Town-to-town courses often included tricky off-road sections that forced racers to carry their bikes while running, then remount swiftly for the next stretch of road.
Today races are held on 2–3K looped courses designed around local ball fields, office parks and malls, with most races lasting 40–60 lung- and leg-searing minutes. With short paved stretches connecting ample dirt and grass riding, cyclo-cross is usually seen as a battle between road racers and mountain bikers. However, given the handful of running sections each lap, triathletes are well-equipped to give their bike racing brethren a run for their money.
Adam Craig journal: Why 'cross season is a blur
Natural obstacles like downed trees, mud and short hills are combined with man-made hurdles and sand pits to reward a strong, crafty, skilled bike handler, a runner with smooth dismount technique and an athlete with the stamina to keep it all together through the finish.
November, 26, 2012
11/26/12
2:15
PM ET
By
Mario Fraioli
| Competitor.com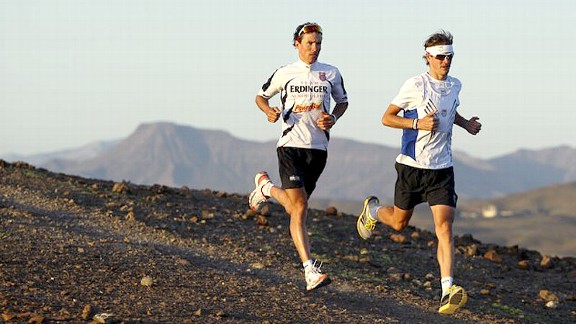 Kurt Hoy/Competitor.com The descending ladder workout will help prepare your body for the demands of 5K and 10K racing.
While half marathons and marathons are matters of resisting fatigue during the later miles, 5K and 10K racing is like fighting off a lactic acid firestorm for the final third of the race.
No matter how comfortable the early pace may feel to you, about two thirds of the way into a fast 5K or 10K a spark suddenly catches fire and starts to spread rapidly as your legs begin to lock up and your stride shortens ever so slightly. Your quads are screaming at you to stop and your upper body tenses up as you seemingly start going backward while you struggle to maintain pace or stick with the runner in front of you.
There's nothing wrong with any of this at the end of a hard race, of course; it simply means that you're doing it right. While your muscles are inevitably going to catch fire toward the end of a competitive 5K or 10K effort, you can train your body to slow down the burn and better handle the demands of the race in training. One of my favorite ways to do this is with the descending ladder workout.
Begin by warming up with 15 to 20 minutes of easy jogging followed by six 20-second strides (faster accelerations) to get your fast-twitch muscles firing. After your warmup is complete, run for 10 minutes at your current half-marathon race pace. If you've never raced a half marathon and are unsure of how fast to run this part of the workout, add about 15 seconds per mile to your 10K race pace or 30 seconds per mile to your 5K pace. The
McMillan Calculator
is also a handy tool that can help get you in the ballpark. The goal here is to inject some fatigue into your legs without totally wiping you out just yet.
November, 21, 2012
11/21/12
12:59
PM ET
By
Kelly O'Mara
| Competitor.com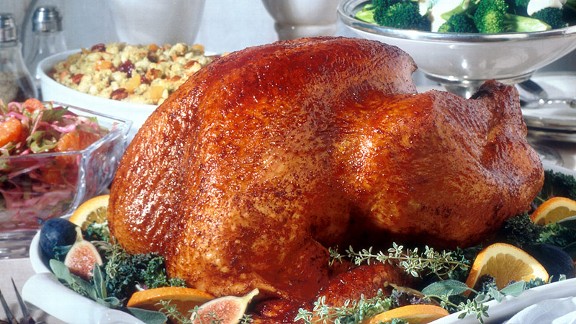 AP Photo
As we head into the Thanksgiving break, people across the country are loosening their belts in preparation for the holiday season.
But there's no reason runners have to pack on the pounds just because of the time of year.
Often, the holidays are used as an excuse for a "30-day gorge fest," says Krista Austin, founder of Performance and Nutrition Coaching who holds a PhD in exercise physiology and sport nutrition, when in fact Thanksgiving and Christmas are simply two meals a month apart.
RELATED: How to avoid holiday weight gain
The first question to ask yourself: When is your next race? If it's coming up quickly, then you certainly don't want to gorge. But if it's not until the spring (when most runners start their seasons again), then you can easily have a few extra calories now.
"There's probably not a need to be too overly concerned about having a little fun," says Austin. Just get your favorite holiday snacks in a smart way.
Be strategic
During the holidays, instead of eating an energy bar after a run, Austin has one of her mom's cornflake marshmallow wreaths. That way she can eat some festive treats instead of the regular bars and drinks before and after workouts.
The important thing, says Nancy Clark, author of "Nancy Clark's Sports Nutrition Guidebook," is not to eat holiday treats in addition to what you normally eat.
She tells her clients to have four food buckets a day: breakfast, lunch, second lunch/snack, and dinner -- all around 500 calories (give or take). If you have some holiday cookies at the office as your snack, then don't eat your usual snack in addition. Substitute some fun holiday foods and meals in for your regular meals -- but not in addition to your regular meals.
November, 20, 2012
11/20/12
7:54
AM ET
By
Jene Shaw
| Triathlete.com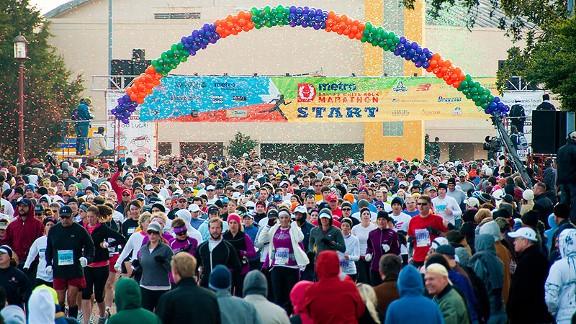 White Rock Marathon Deciding between going long this winter or taking a long view? There are many factors to consider.
Training for a marathon can be a motivating way to get through the darker months, but given the high risk of injury and need for downtime after a full racing season, it's not appropriate for everyone. The guidelines below will help you determine whether you should lace up your sneakers, or just relax and do some yoga.
It's a good idea if ...
• You have experience with continuous high-volume training.
• You're burned out on multisport and looking for a new focus.
• You ended your season feeling healthy overall and have no history of overuse injuries.
• Your bucket list includes qualifying for Boston or running a specific marathon.
• You're on a long-term plan for your first Ironman.
Coaches weigh in:
For athletes who tend to take the offseason a little too seriously (as in park it on the couch for three months and gain 15 pounds), a marathon could be the key to staying committed. "Training for an offseason marathon can push athletes to increase run volume at a time when their focus may be wandering," says Melissa Mantak, the 2010 USAT national coach of the year and owner of The Empowered Athlete.
Coach Jared Gell of Competitive Instinct Multisport says marathon training helps some of his athletes transition to run training after a season of juggling three sports. "It keeps the endurance base high, instead of sitting around until December to start preparing for that mid-summer Ironman," he says. "Doing the run-specific block also allows for a heavy focus on the swim and bike early, and maintenance on the run through the base phases."
RELATED: Is your run improving?
It's a bad idea if ...
• Cycling is your weakness.
• "Offseason" isn't a term you're familiar with.
• You have a history of injury, especially overuse (stress fractures, IT Band Syndrome).
• You raced frequently in 2012.
• You did an Ironman within the last couple of months.
• You're signed up for an Ironman within six months after the potential marathon race date.
Coaches weigh in:
Downtime is important when you look at a complete year in triathlon training. Going hard for 12 months puts a lot of stress on the body. "Marathon training comes with the inherent risk of injury," says coach Andrew Hood of FTP Coaching. "If the body isn't given ample time to recover, injuries will rear their ugly heads and can derail an entire triathlon season."