December, 26, 2013
12/26/13
1:23
PM ET
By
Brian Metzler
| Competitor.com
It's the most grueling foot race in the world, one that's on the bucket list of thousands of runners around the world.

But the Badwater 135, a sweat-soaked endurance race that runs through the hottest place in the world in the middle of the summer, will be taking a detour in 2014 after Death Valley National Park placed a moratorium on cycling and running competitions there until it can determine how safe they are.

Officials at the California park said there have been growing concerns about participants and visitors to the park during races, particularly due to increased car and bicycle traffic. The study should be done by next spring, and such events could start being scheduled again after Oct. 1, Death Valley spokeswoman Cheryl Chipman said this week.

"We want to make it clear, we're not canceling or banning any events," Chipman told The Associated Press. "At the moment, we're just not taking any more applications for them until we finish our safety evaluation."

The Badwater race, held in July when the average high temperature in Death Valley is 116 degrees Fahrenheit (47 Celsius), has been run since 1987. The course takes runners from Nevada's Badwater Basin, the lowest point in North America at 282 feet below sea level, to California's Mount Whitney Portal at 8,300 feet.


September, 5, 2013
9/05/13
11:50
AM ET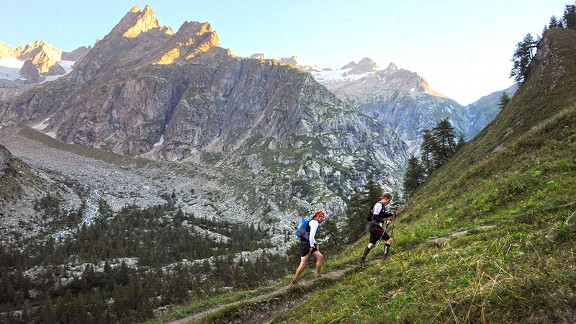 Jean-Pierre Clatot/AFP/Getty ImagesThe scenic Ultra-Trail du Mont-Blanc is one of eight races confirmed for the Ultra-Trail World Tour.
With the establishment of the Ultra-Trail World Tour, leaders around the rapidly-growing sport of ultra-marathon trail running are making efforts towards advancing the legitimacy and accessibility of the sport around the world.
The announcement of the new series was made Sept. 1 by organizers of some of the world's most renowned trail-running events, in partnership with the International Trail Running Association during post-race festivities following The North Face Ultra-Trail du Mont-Blanc in Chamonix, France.
The series of long-distance trail races will employ a points-based ranking system similar to that used cycling, tennis and skiing to crown annual male and female champions, and will be open to anyone who wants to participate.
Set to launch in 2014, the UTWT will consist of eight to 10 races, spread across the world, with five or six being designated as "majors".
Each race on the circuit will be 100 kilometers or longer, and will be worth a certain number of points based on size and race designation. Each finisher will be awarded points at the completion of a race, and world rankings will be updated after each race.