August, 27, 2014
Aug 27
2:55
PM ET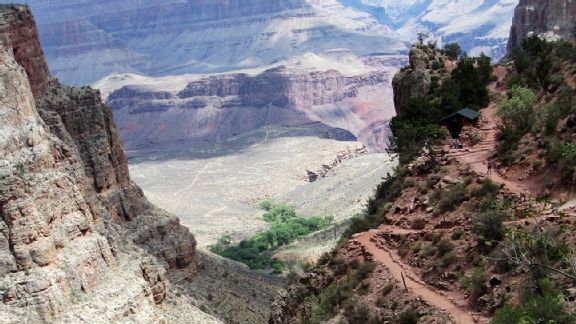 Courtesy of Doug WilliamsProtecting scenic Grand Canyon trails has become a priority as runners continue to flock to the park.
In recent years, the popularity of running and hiking from rim to rim at the Grand Canyon has grown significantly. Running rim-to-rim -– and even rim-to-rim-to-rim -– has become a destination feat for ultra runners from across the U.S. and the world.
On some peak weekend days in the spring and fall, the National Park Service estimates as many as 800 hikers and runners are traveling the inner canyon.
Because issues and user conflicts have grown along with the increase in trail traffic, Grand Canyon National Park is instituting an interim system that will require some hikers and runners in groups to get special-use permits.
The interim permit system will go into effect Sept. 15, close to the expected release this fall of the park's draft revise of its Backcountry Management Plan.
That draft, which may or may not include more permanent regulation of activity on the canyon's trails, will be subject to public review and comment for about 90 days.
Special use permits will not be required during this interim period for individual runners or hikers, or small groups of friends or family. But permits will be required for organized groups, such as clubs and non-profit organizations. No groups of more than 30 will be allowed.
Permits will be required only for the inner canyon -- the area closest to the Colorado River -- which all rim-to-rim hikers and runners must cross.
The increase in runners and through-hikers has led to more litter and waste, vehicle congestion at trailheads, conflicts between trail users and crowding at restrooms. It also has overstressed the lone wastewater treatment facility in the canyon at Phantom Ranch.
"With rim-to-rim and extended day hiking and running increasing in popularity, we needed to find an interim solution that would give us the tool to educate hikers and runners on best practices until we have a longer-term solution in place," park superintendent Dave Uberuaga said in a news release Wednesday.
More information about the new interim permit process can be found at
nps.gov/grca/parkmgmt/sup.htm
December, 26, 2013
12/26/13
1:23
PM ET
By
Brian Metzler
| Competitor.com
It's the most grueling foot race in the world, one that's on the bucket list of thousands of runners around the world.

But the Badwater 135, a sweat-soaked endurance race that runs through the hottest place in the world in the middle of the summer, will be taking a detour in 2014 after Death Valley National Park placed a moratorium on cycling and running competitions there until it can determine how safe they are.

Officials at the California park said there have been growing concerns about participants and visitors to the park during races, particularly due to increased car and bicycle traffic. The study should be done by next spring, and such events could start being scheduled again after Oct. 1, Death Valley spokeswoman Cheryl Chipman said this week.

"We want to make it clear, we're not canceling or banning any events," Chipman told The Associated Press. "At the moment, we're just not taking any more applications for them until we finish our safety evaluation."

The Badwater race, held in July when the average high temperature in Death Valley is 116 degrees Fahrenheit (47 Celsius), has been run since 1987. The course takes runners from Nevada's Badwater Basin, the lowest point in North America at 282 feet below sea level, to California's Mount Whitney Portal at 8,300 feet.


September, 5, 2013
9/05/13
11:50
AM ET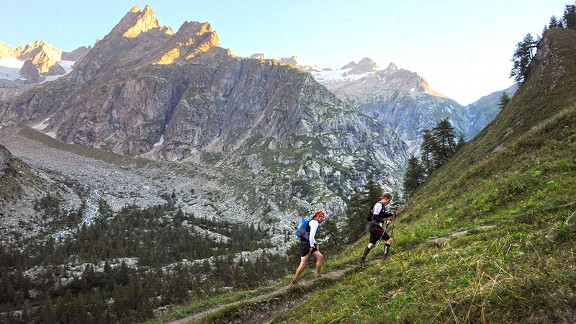 Jean-Pierre Clatot/AFP/Getty ImagesThe scenic Ultra-Trail du Mont-Blanc is one of eight races confirmed for the Ultra-Trail World Tour.
With the establishment of the Ultra-Trail World Tour, leaders around the rapidly-growing sport of ultra-marathon trail running are making efforts towards advancing the legitimacy and accessibility of the sport around the world.
The announcement of the new series was made Sept. 1 by organizers of some of the world's most renowned trail-running events, in partnership with the International Trail Running Association during post-race festivities following The North Face Ultra-Trail du Mont-Blanc in Chamonix, France.
The series of long-distance trail races will employ a points-based ranking system similar to that used cycling, tennis and skiing to crown annual male and female champions, and will be open to anyone who wants to participate.
Set to launch in 2014, the UTWT will consist of eight to 10 races, spread across the world, with five or six being designated as "majors".
Each race on the circuit will be 100 kilometers or longer, and will be worth a certain number of points based on size and race designation. Each finisher will be awarded points at the completion of a race, and world rankings will be updated after each race.
March, 25, 2013
3/25/13
11:17
AM ET
By
T.J. Murphy
| Womensrunning.com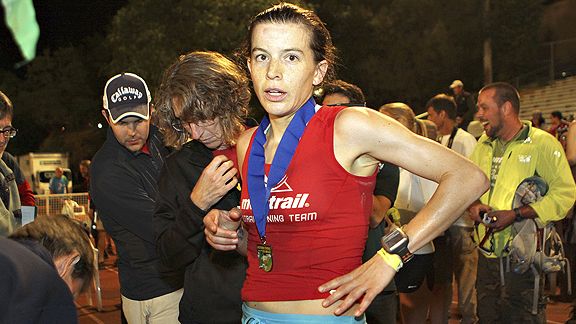 Michael KirbyEllie Greenwood is out to defend her Western States 100-Mile Run and Comrades Marathon titles.
In the summer of 2008, Ellie Greenwood, a Brit living and working in Vancouver, Canada, made one of her first appearances in the tightly-knit ultra-distance running community in British Columbia.
"It was 7 a.m. on a Sunday morning, and people were gathering for the weekend training run for the Knee Knackering Trail Run," recalls longtime ultra racer Mike Palichuk. The Knee Knackering 30-miler is held every July on the Baden-Powell Centennial Trail, on the North Shore of Greater Vancouver. Although relatively short for an ultra (many races measure closer to 100 miles), the Knee Knackering demands respect thanks to 8,000 feet of climbing and 8,300 feet of cartilage-shearing descent.
What caught Palichuk's eye about the newcomer was the tremendous contrast she offered in the group of solemn, introverted ultra-runners.
"She was gregarious," says Palichuk. "There it was, 7 a.m on a Sunday morning, and she's bouncing around like it's Friday night. Ellie was talking to
everyone
. Everyone at once. That's how outgoing she is."
Greenwood's spirit made her a standout and earned her the nickname "Little Miss Sunshine," but the ultra-running community soon took note of another rare trait: As race distances got longer, she got stronger.
February, 28, 2013
2/28/13
10:07
AM ET
By
Duncan Larkin
| Competitor.com
When most runners turn 40, they begin to relax their racing goals. Connie Gardner is not most runners.

Last year, at the age of 49, the Medina, Ohio, resident set an American record for the 24-hour run when she covered a stunning 149.368 miles at the World 24-hour Championships in Poland. Her effort was good for a silver medal and helped Team USA win the team title.

Gardner is an 11-time USATF national champion in distances ranging from 50 miles to 24 hours.

When you set the American record in Poland, running 149.368 miles in 24 hours, what was going through your head during the race?

I had trained for the race in Poland to run 150 miles. During the race I was trying to stay on a pace that I had been practicing for years. It was difficult because there wasn't the feedback every few hours. I don't wear a watch or Garmin, I just like to check on things every four hours to see if I am on my goal pace. There was no leaderboard there, the coaches were overwhelmed, so I was trying not to get frustrated and was just hoping for the best. I did feel healthy the entire run, I was appreciating that every step of the way. There are some races where I just don't feel great from start to finish.

What's on your "bucket list" for records/races in the remaining years of your career and why?

My bucket list: I still want to -- need to -- hit that 150-mile mark. I'm not sure why it is so important [to me], I just think it is something I should be able to do and have never done. Other races and events on my bucket list are I would like to get a speed record crossing the United States. I would like to race Badwater again. I would like to race the Spartathlon. My biggest problem is simply getting to the races. The time off work and expenses are too high.