September, 4, 2014
9/04/14
12:22
PM ET
By
Christopher Chavez
| ESPN.com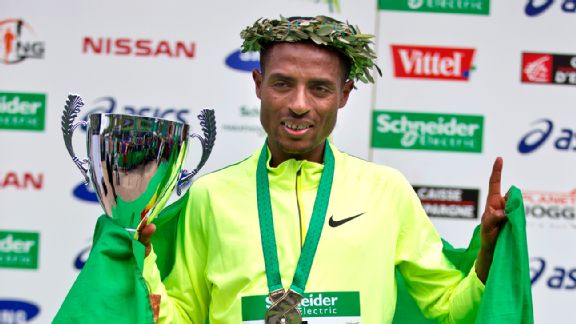 AP Photo/Michel EulerKenenisa Bekele's recovery from a leg injury will keep him out of one of the year's top marathon fields.
Course records and the history books may be in danger on Oct. 12 in Chicago.
Race organizers for the 2014 Bank of America Chicago Marathon have announced their
full elite field
, featuring five men who have run under 2:06 and three women who have run under 2:23.
The field is headlined by Kenenisa Bekele, world record holder at 5,000 meters and 10,000 meters on the track. Reminiscent of his days at IAAF World Championship meets, Bekele will face off against Eliud Kipchoge, against whom Bekele holds the upper hand with nine wins over the Kenyan.
Another challenger to watch will be Sammy Kitawara, who finished fourth in his marathon debut in Chicago in 2012. Kitawara's experience could benefit him given that 2014 marks the third time he will run the flat 26.2-mile course through the Windy City.
"I am coming back to Chicago for the third time. Chicago is a nice city and it has a good sports atmosphere. I will try to run the race of my life this year, and if God gives me the strength, my target is to run 2:04:28," Kitawara said in a press release.
Bernard Koech of Kenya has the second-fastest personal best of the field with his 2:04:53 from the 2013 Dubai Marathon. A fast background may be beneficial for Koech, because Bekele has already stated he wants to challenge the course record and world record on race day.
The American field is a bit deeper compared to last year's race, which included Olympians Dathan Ritzenhein and Matt Tegenkamp. Craig Leon (2:13:52 personal best) finished 12th at this year's Boston Marathon and will head this year's American contingent along with Bobby Curtis (2:13:24) and Mike Morgan (2:14:22).
Matt Llano of Team Run Flagstaff has a lofty goal of breaking Ryan Hall's American marathon debut record of 2:08:24.
On the women's side Rita Jeptoo looks to defend her crown against Florence Kiplagat. Jeptoo and Kiplagat are the only women in the field who have cracked the 2:20 barrier. Jemima Sumgong, Jeptoo's training partner, looks to be the next challenger with her personal best of 2:20:48.
Jeptoo could cement herself as one of the best marathoners in history with a third sub-2:20 performance. Only Paula Radcliffe and Catherine N'Dereba have accomplished that feat.
Amy Hastings leads the American side with her 2:27:03 personal best. The 30-year-old skipped running a spring marathon after fighting pain to a 20th place finish at the 2013 ING New York City Marathon.
A rising star to watch will be Becky Wade of Houston, Texas, who made her marathon debut in grand fashion by winning the 2013 California International Marathon and recently inked a professional contract with Asics. Former Olympian Lia Uhl will be making her own debut after being a spectator for the 2013 edition of the race.
January, 8, 2014
1/08/14
11:52
AM ET
By
Scott Douglas
| Runner's World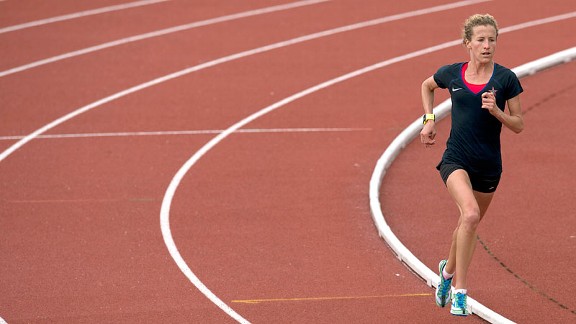 Adrian Dennis/Getty ImagesTrack standout Amy Hastings will take to the roads in the 2014 Boston Marathon.
Shalane Flanagan will return to the Boston Marathon, and Dathan Ritzenhein will make his debut at the race this year, John Hancock, which organizes the pro fields for the race, has announced.
The strong U.S. squad for the April 21 marathon also includes Olympic marathoners Desiree Davila Linden and Meb Keflezighi, Olympic 10K runner Amy Hastings, and marathon stalwarts such as Serena Burla (2:28 personal record), Jason Hartmann (fourth place at the last two Bostons), Nick Arciniaga (2013 national marathon champion) and Brett Gotcher (fifth at 2012 Olympic Trials).
Flanagan, a native of nearby Marblehead, Mass., ran Boston for the first time last year, placing fourth in the race marred by twin bombings near the finish line that resulted in three fatalities (plus a fourth during the ensuing manhunt) and numerous injuries.
"It's hard to express what it means to return this particular year to the place where I grew up and compete," Flanagan said. "In one word, I guess it would be 'pride'. I and many in the field will be fueled by those who were affected by the tragedy and will be running for those who cannot."
Although it will be Ritzenhein's first race on the Boston course, he should be well prepared for the route's unique challenges. His coach, Alberto Salazar, won the race in 1982. Ritzenhein should also benefit in his buildup from the fact that Oregon Project teammate Mo Farah will make his marathon debut in London eight days before Boston.
Ritzenhein's most recent marathon was a disappointing fifth-place, 2:09:45 finish in Chicago in October, a race where he was trying to lower the 2:07:47 PR he'd set there the previous year.
November, 11, 2013
11/11/13
11:02
AM ET
By
Scott Douglas
| Runner's World
There are marathons big and small still to come this fall, but with most of the mega races having been run, some trends in the sport are clear. Here are five takes on what we've seen this season.

1. Increased security is everywhere
"The new normal" has been this fall's buzzword at marathons, referring to the increased security at races across the country in the aftermath of the bombings at the 2013 Boston Marathon. Bag searches, bomb-sniffing dogs, metal detectors, pre-screening, automatic rifles, participant-only areas and other features common to civil aviation are in place at marathons like never before.

By most accounts, runners and spectators have accepted the new measures. Recreational and elite marathoners said after big races they ran without fear. Anecdotal reports from Chicago and New York City were that crowds along the course were as big as ever.

At the same time, races and runners have already started to talk about what level of security is appropriate moving forward. The New York Road Runners spent approximately $1 million on security for this year's race, about twice as much as was typical before Boston.

Runners doing their first marathon since Boston discovered the new procedures add time not only on race day. At packet pick-up the day before the Marine Corps Marathon, the line to get into the expo facility backed up into the hundreds at one point, and tempers flared.

The new measures also affected the larger community. Fences near the start and finish of Chicago made accessing the bike path along Lake Michigan challenging leading up to race day. One resident of Manhattan's Upper West Side reported having to show ID just to re-enter her block on the afternoon of the marathon. With municipalities already starting to push back against the ramifications of races, marathon organizers will need to work even harder to maintain good community relations.


November, 1, 2013
11/01/13
3:46
PM ET
Kim Smith speaks of her training partner, Amy Hastings, as only a close friend would.

"She couldn't keep up with me at all last year," said Smith, a three-time Olympian for New Zealand, during a pre-New York City Marathon media event on Thursday. "She's gotten used to our training and our ways."

The duo is based in Providence, R.I., under coach Ray Treacy, who is director of track and cross country operations at Providence College. Hastings joined the group, which also includes U.S. 5,000-meter record holder Molly Huddle, a little more than a year ago after competing in the Olympic 10,000 for Team USA.

Hastings had temporarily moved from Mammoth Lakes, Calif., to train with Smith for the 2012 New York City Marathon, which was canceled, but since then has decided to make it permanent.

Despite success at shorter distances, Smith and Hastings have each experienced heartbreak and disappointment in the marathon. At the 2012 Olympic trials, Hastings placed fourth, just outside of making the U.S. team. Her personal record of 2:27:03 was clocked at the 2011 Los Angeles Marathon, her debut at the distance, where she placed second.


November, 1, 2012
11/01/12
3:25
PM ET
By
Chris Lotsbom
| Competitor.com
(c) 2012 Race Results Weekly, all rights reserved. Used with permission.

NEW YORK -- American Olympian Amy Hastings is still riding the Olympic wave, some three months after the cauldron was extinguished in London. The 28-year-old is focused on Sunday's ING New York City Marathon, a race she considers to be just as exciting and grand as the Olympic Games, where she finished 11th in the 10,000 meters.

"It's that same excitement you get," Hastings told Race Results Weekly on Wednesday. "The energy is very similar. The city has an energy all of its own. With the marathon especially, it's just a feeling that I can't really describe."

Hastings will be making her ING New York City Marathon debut and first start in a World Marathon Majors event Sunday as she toes the starting line on the Verrazano-Narrows Bridge, something she's looked forward to since her collegiate days at Arizona State.


"I realized pretty early on that the longer the run, the better I was at it. It just came easier to me," Hastings said. "When I was in college running the 10,000m, I said I'd be a marathoner. It's something that I've just always wanted to do."

Coming off her Olympic experience on the track, Hastings compared how the marathon distance is unique and special to her, how the adrenaline and anticipation builds in a different form than that one gets when racing on the oval.

"For the track, it really is every four years when it's important," she said. "But for the marathon it's different. Yes, you have the Olympics every four years. But you also have these majors that are huge every year. It's really cool to be a marathoner because you get this excitement with every race."

If there's one thing Hastings learned from her Olympic experience, it was to channel that excitement and use it as fuel to take risks mid-race. Part-way through the Olympic 10,000, Hastings had a tough choice to make: go with the leaders as they picked up the pace, or settle in. She risked it all, kept pushing and wound up with a personal best of 31:10.69. The mental fortitude helps Hastings keep striving for more.