April, 5, 2013
4/05/13
10:46
AM ET
By
Bert Rosenthal
| Competitor.com
Lukas Verzbicas is a lucky man to be able to compete in Sunday's Carlsbad 5000.
Last July 31 at about 9 a.m., while bicycling along the Garden of the Gods in Colorado on a training ride, the now 20-year-old Verzbicas encountered a wide 180-degree turn on a downhill stretch of road. He tried slowing down, but his bike got caught up in some sand and he slammed into a guardrail. The horrific accident left him with a broken thoracic vetrebrae, a broken clavicle, a broken spine and a partially collapsed lung. He also was paralyzed in his right leg and went through multiple hours and days of surgery at Penn Rose St. Francis Hospital in Colorado Springs.
Here was a man who had been the fifth high schooler in history to break four minutes for the mile, had set national junior records for 2 miles and 3,000 meters, was Footlocker Cross Country champion his sophomore and junior years in high school, and was a two-time world champion in World Junior Triathlon. His chances of recuperating and regaining his brilliant athletic skills were slim. Even his chances of being able to walk properly again were considered a long shot.
Despite those odds, Verzbicas never doubted himself, even though he was hospitalized for 35 days. "I had lots of plans and hopes athletically," he said. "I thought that took them all away.
"But actually (the accident) helped me. It changed me for the better mentally. It made me stronger. Now, I have a different perspective on everything. I have a very strong faith, and it was tested then."
[+] Enlarge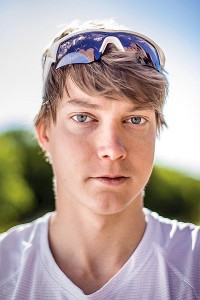 Nils Nilsen/Triathlete.comThe triathlon hopeful continues on the road to recovery after a bad bike accident last year.
Medicated with morphine when he arrived at the hospital, Verzbicas needed about three weeks before he could move his right leg.
"I started twitching it," he recalled. "Then I started to learn how to walk again, then to run. It took me about a week to learn how to walk."
During that recuperative period in the hospital, Verzbicas underwent hours of rehabilitation every day. He admits he's still not 100 percent, but his recovery has been remarkable. On Jan. 19, he ran a four-mile race in Sarasota, Fla., and won. "That was definitely encouraging," he said. He had prepared for the event under the guidance of his coach and stepfather, Ronas Bertulis, a professional triathlon coach.
On March 19, Verzbicas felt he was ready to attempt a triathlon. Verzbicas finished 22nd amongst a professional field at an Olympic distance race in Sarasota, a remarkable performance considering what he had endured.
"My only goal was to finish," he said. "I was satisfied with what I did considering where I had been about nine months ago."