February, 1, 2013
2/01/13
5:28
PM ET
By
Cielestia Calbay
| Competitor.com
Cobi Jones is best known for his midfielder skills on the soccer field, where he's an all-time leader in games played for the U.S. national team as well as a member of the National Soccer Hall of Fame. The former FIFA World Cup player shares his baby jogger experiences with his 1-year-old son, Cayden.
[+] Enlarge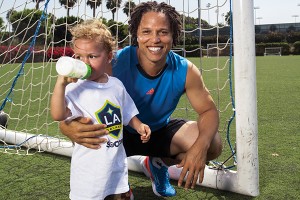 Scott Draper/Competitor.com Cobi and Cayden enjoy jogging together, but they like to play a bit of soccer, too.
Does your previous soccer training benefit you as a runner?
It absolutely does because of the level of endurance you need to play soccer. But if I were to run a race, after 45 minutes I'm going to be looking for my 15-minute halftime break, sliced oranges and Gatorade!
What's the farthest distance you've ever run?
The farthest I've ever run continuously is 10 miles, but the focus required is different than running up and down a soccer field, even though as a midfielder or forward, we average about seven to nine miles per game. Running feels different for every player. Midfielders and forwards are typically sprinters, so long-distance running is a foreign concept until you put the time in to become that kind of runner.
When do you find time to run with Cayden?
Unfortunately my fitness routine isn't as consistent with all the traveling I'm doing, so I try to squeeze workouts in when I have the time. Spending time with my family is always a priority, and a great way to entertain Cayden is taking him for a run in the baby jogger. I value that bonding time and seeing his face light up and how he reacts to new things because everything is so adventurous to him. We travel to different jogging paths, to keep if fresh and adventurous for him. I love seeing that look of wonder on his face.