October, 31, 2013
10/31/13
3:34
PM ET
By
Matt Fitzgerald
and
Mario Fraioli
| Competitor.com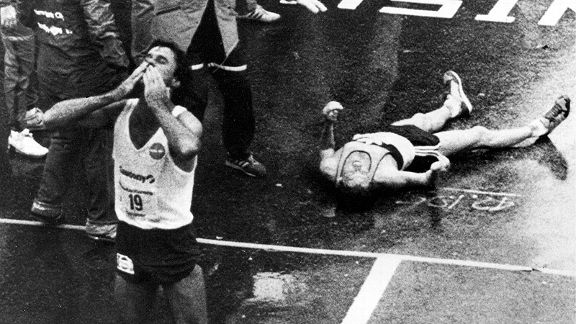 AP Photo/Rene PerezRod Dixon's dash past an exhausted Geoff Smith is one of NYC's most epic finishes.
The New York City Marathon turns 43 this year. That's really not very old, but this great event has packed a lot of great moments into its relatively brief history. Here are 12 of the most memorable, in chronological order:
1970: A humble beginning
The inaugural New York City Marathon, which was the brainchild of New York Road Runners founder Fred Lebow, was a very humble affair. Almost laughably so when you compare it to what the event has become today. The course consisted of a few loops around Central Park. The entry fee was $1. Only 127 runners started, and of those a mere 55 finished.
1976: The first five-borough race
Lebow started small but always thought big. In 1976 he took a huge step toward realizing the full scope of his vision for the New York City Marathon by convincing the city to allow runners to travel through all five boroughs. Although the field was still small at just over 2,000 runners, Lebow scored another coup by attracting Olympic gold and silver medalist Frank Shorter to run the race.
1978: Grete Waitz arrives
In 1978, a relatively unknown Norwegian track runner named Grete Waitz ran New York as her first marathon, and not only won but set a world record of 2:32:20. Amazingly, it was the first run longer than 12 miles she had ever done.
1981: Salazar's world record, or not
The New York City Marathon course is not considered particularly conducive to fast times, but in 1981 Alberto Salazar recorded the fastest marathon time ever run anywhere: 2:08:13. However, Salazar's world record was later snatched away from him when the course was re-measured and found to be a few meters short. His only consolation was in winning the NYC Marathon for a third time (he also won in 1980) the following year.
1983: Rod Dixon outduels Geoff Smith
The 1983 men's elite race brought unparalleled drama. England's Geoff Smith started at a torrid pace and built a lead of more than a half-mile over 1972 Olympic 1'500 meter silver medalist Rod Dixon of New Zealand with only a few miles left in the race. But Smith faltered and Dixon slowly reeled him in, catching and passing the exhausted Brit a mere 400 meters from the finish line.