Endurance:

Dathan Ritzenhein
March, 3, 2014
Mar 3
3:19
PM ET
By
Hannah McGoldrick
| Runner's World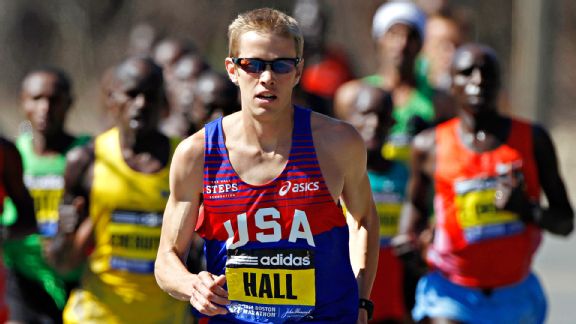 AP Photo/Steven SenneAmerican Olympian Ryan Hall is back in the Boston Marathon field.
American Ryan Hall has joined the elite men's field for the 2014 Boston Marathon, according to a news release distributed Monday.
"After watching the tragic events that unfolded at last year's race and knowing the resilience of both the running and Boston communities, I knew this year's race was going to be a run of redemption that I am eager to be a part of," Hall said in the release. "This year's race will undoubtedly be the most historically significant marathon in Boston's storied history."
Hall, who has run Boston three times, holds the unofficial American record of 2:04:58, which he set in Boston in 2011. Hall went on to place second in the U.S. Olympic marathon trials in 2012 but dropped out of the Olympic marathon in London because of injury.
Hall had planned to run the 2013 New York City Marathon but also withdrew from that race because of injury.
"I am incredibly excited to participate in this year's Boston Marathon," Hall said.
January, 8, 2014
Jan 8
11:52
AM ET
By
Scott Douglas
| Runner's World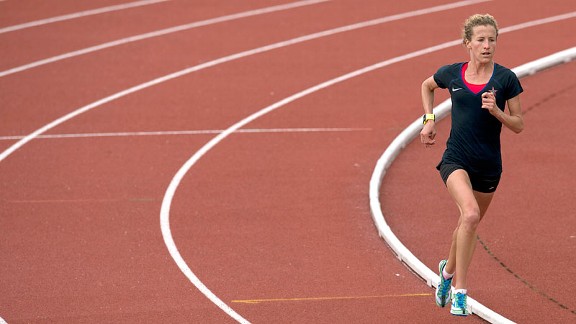 Adrian Dennis/Getty ImagesTrack standout Amy Hastings will take to the roads in the 2014 Boston Marathon.
Shalane Flanagan will return to the Boston Marathon, and Dathan Ritzenhein will make his debut at the race this year, John Hancock, which organizes the pro fields for the race, has announced.
The strong U.S. squad for the April 21 marathon also includes Olympic marathoners Desiree Davila Linden and Meb Keflezighi, Olympic 10K runner Amy Hastings, and marathon stalwarts such as Serena Burla (2:28 personal record), Jason Hartmann (fourth place at the last two Bostons), Nick Arciniaga (2013 national marathon champion) and Brett Gotcher (fifth at 2012 Olympic Trials).
Flanagan, a native of nearby Marblehead, Mass., ran Boston for the first time last year, placing fourth in the race marred by twin bombings near the finish line that resulted in three fatalities (plus a fourth during the ensuing manhunt) and numerous injuries.
"It's hard to express what it means to return this particular year to the place where I grew up and compete," Flanagan said. "In one word, I guess it would be 'pride'. I and many in the field will be fueled by those who were affected by the tragedy and will be running for those who cannot."
Although it will be Ritzenhein's first race on the Boston course, he should be well prepared for the route's unique challenges. His coach, Alberto Salazar, won the race in 1982. Ritzenhein should also benefit in his buildup from the fact that Oregon Project teammate Mo Farah will make his marathon debut in London eight days before Boston.
Ritzenhein's most recent marathon was a disappointing fifth-place, 2:09:45 finish in Chicago in October, a race where he was trying to lower the 2:07:47 PR he'd set there the previous year.
November, 11, 2013
11/11/13
11:02
AM ET
By
Scott Douglas
| Runner's World
There are marathons big and small still to come this fall, but with most of the mega races having been run, some trends in the sport are clear. Here are five takes on what we've seen this season.

1. Increased security is everywhere
"The new normal" has been this fall's buzzword at marathons, referring to the increased security at races across the country in the aftermath of the bombings at the 2013 Boston Marathon. Bag searches, bomb-sniffing dogs, metal detectors, pre-screening, automatic rifles, participant-only areas and other features common to civil aviation are in place at marathons like never before.

By most accounts, runners and spectators have accepted the new measures. Recreational and elite marathoners said after big races they ran without fear. Anecdotal reports from Chicago and New York City were that crowds along the course were as big as ever.

At the same time, races and runners have already started to talk about what level of security is appropriate moving forward. The New York Road Runners spent approximately $1 million on security for this year's race, about twice as much as was typical before Boston.

Runners doing their first marathon since Boston discovered the new procedures add time not only on race day. At packet pick-up the day before the Marine Corps Marathon, the line to get into the expo facility backed up into the hundreds at one point, and tempers flared.

The new measures also affected the larger community. Fences near the start and finish of Chicago made accessing the bike path along Lake Michigan challenging leading up to race day. One resident of Manhattan's Upper West Side reported having to show ID just to re-enter her block on the afternoon of the marathon. With municipalities already starting to push back against the ramifications of races, marathon organizers will need to work even harder to maintain good community relations.


March, 6, 2013
3/06/13
2:20
PM ET
Olympic bronze medalist Wilson Kipsang of Kenya and three-time Olympian Kim Smith of New Zealand will headline the international fields for the NYC Half on March 17. World Championships bronze medalist Bob Tahri of France will make his half-marathon debut and Sara Moreira, Portugal's newly crowned European Indoor Championships gold medalist, will run the NYC Half as her U.S. debut, it was announced Wednesday by New York Road Runners president and CEO Mary Wittenberg.
RELATED: Stacked Fields Set For NYC Half
Previously announced runners for the NYC Half men's professional field include U.S. Olympians Meb Keflezighi, Abdi Abdirahman, Dathan Ritzenhein and Bernard Lagat. Additional U.S. competitors include Jason Hartmann, the top American in the 2012 Boston Marathon, and Guor Marial, who ran the London Olympic Marathon under the flag of the IOC and will be running his first race as a U.S. citizen.
In the women's race, previously announced runners include Janet Bawcom, a 2012 U.S. Olympian at 10,000 meters, along with Americans Adriana Nelson, Maegan Krifchin, Molly Pritz, Stephanie Rothstein Bruce and Serena Burla.
-- Competitor.com
February, 27, 2013
2/27/13
12:17
PM ET
By
ESPN.com News Services
| ESPN.com
U.S. Olympians Bernard Lagat, Meb Keflezighi, Abdi Abdirahman and Dathan Ritzenhein will run the NYC Half on March 17, the New York Road Runners said Wednesday.

Lagat, a five-time world champion and two-time Olympic medalist at 1,500 meters who became a U.S. citizen in 2004, will be making his 13.1-mile debut at the race, organizers said. Lagat, 38, reclaimed his U.S. indoor two-mile record at the Millrose Games on Feb. 16 with his winning time of 8:09.49.

Keflezighi and Abdirahman were members of the 2012 U.S. Olympic men's marathon team, and Ritzenhein was on the 10,000-meter team. The elite U.S. field also includes Jason Hartmann, Guor Marial, Janet Bawcom, Serena Burla, Maegan Krifchin, Adriana Nelson, Molly Pritz, Stephanie Rothstein Bruce and Lindsey Scherf.

"It's a big step up in distance, but I think I'll be well prepared," Lagat said on the NYRR's website. "Of course, there's a bit of uncertainty. 'Can I cope with the distance?' but that makes it exciting; the challenge is what really appeals to me."

The half marathon is in its eighth year, had 15,344 finishers last year and is run one month prior to the Boston Marathon. New York mayor Michael Bloomberg canceled the 26.2-mile New York Marathon last November as the city struggled to recover from Superstorm Sandy.