January, 14, 2015
Jan 14
2:34
PM ET
By
Christopher Chavez
| ESPN.com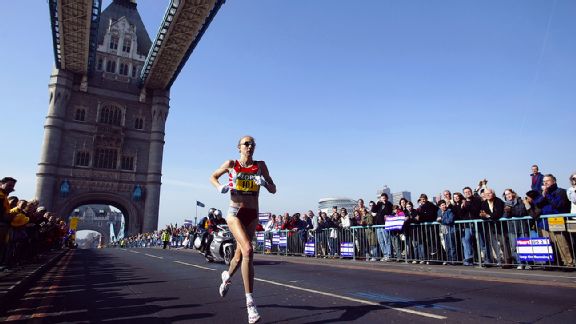 Michael Steele/Getty ImagesPaula Radcliffe will take one final run across Tower Bridge during the London Marathon.
After years of trying to mount a comeback from a foot injury, women's marathon world record holder Paula Radcliffe will finally return, running April's London Marathon as the final race of her career.
The 41-year-old Radcliffe set the world record of 2 hours, 15 minutes, 25 seconds in London in 2003, and last competed in at the 2011 Berlin Marathon.
"We are absolutely thrilled that Paula has chosen London for her final marathon and we know the British crowds will be out in force to celebrate her extraordinary career," race director Hugh Brasher said in a news release.
Radcliffe was not included in the list of elite athletes released by race organizers, and will announce her intentions for the race on Jan. 30. She told ESPN.com in November that she thought about running the New York City Marathon in a non-competitive capacity, so she might not be racing for the victory in London.
Radcliffe returned to racing with a third-place finish at the Worcester City 10K race last September. Her previous race was a 2012 half-marathon in Vienna before a foot injury kept her from competing at the 2012 Summer Olympic Games in London.
Among the other elite women announced for London are 2014 champion Edna Kiplagat and runner-up Florence Kiplagat; 2014 New York City Marathon champion Mary Keitany, seeking her third London victory (something accomplished by only Radcliffe and two others); and 2012 Olympic silver medalist Priscah Jeptoo, who is aiming for redemption after dropping out of last year's race around the 25K mark.
Here's a look at Paula Radcliffe and recent marathon history by the numbers:
10
-- Number of times women have run under 2:19 since Radcliffe's last marathon, in Berlin in 2011. She has accomplished the feat four times in her career.
2
-- Number of times the men's marathon world record has been broken since the 2011 Berlin Marathon.
3
-- Victories in London by Radcliffe. Her winning times are the first (2:15:25, 2003), third (2:17:42, 2005) and sixth (2:18:56, 2002) fastest times in history.
3:12
-- Difference between the fastest marathon run during Radcliffe's absence (Mary Keitany's 2012 London victory) and her 2:15:25 record run in '03.
5:29
-- Difference between the personal best (2:21:14) of Shalane Flanagan, currently the top American female marathoner, and Radcliffe's record. Some perspective on how fast and dominant Radcliffe was when healthy.
10
-- Years since Radcliffe last ran the London Marathon, in a winning time of 2:17:42 in '05.
10
-- Months difference in age between between 41-year-old Deena Kastor (Feb. 14, 1973) and Radcliffe (Dec. 17, 1973). Kastor ran 2:33:18 in windy and cold conditions at the New York City Marathon in November.
14
--Place by Emma Stepto at the 2014 London Marathon at the age of 44.
1,309
-- Number of days between Radcliffe's finish in Berlin and her April 26 start in London.
November, 2, 2014
11/02/14
5:54
PM ET
By
Brianne Mirecki
| ESPN.com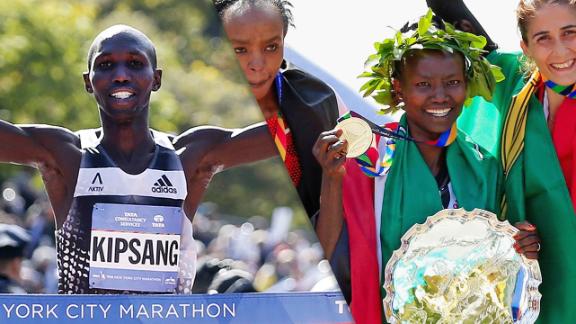 There were 50,881 runners at the starting line of the 2014 TCS New York City Marathon on Sunday, and Wilson Kipsang and Mary Keitany emerged victorious, fighting through strong winds to give Kenya a sweep of the elite races.
The wind kept the races tactical, each winner lurking back in the pack in the early miles before pulling away late. Both races came down to a two-person duel with Keitany outkicking compatriot Jemima Sumgong by just three seconds (2:25:07 to 2:25:10) and Kipsang's late sprint defeating Lelisa Desisa of Ethiopia by 11 seconds (2:10:55 to 2:11:06).
The main talking points of the day:
Key numbers: 43, 31
The temperature was 43 degrees and there were sustained winds of 31 miles per hour as the women left the starting line at 9 a.m. Kipsang and defending champion Geoffrey Mutai had talked of breaking the course record earlier in the week, but even before the race went off, it was clear that record attempts would have to wait.
The wheelchair race was moved up three miles because of safety concerns over the gusts on the Verrazano-Narrows Bridge, and Mutai said the wind had a big effect on his strategy.
September, 8, 2014
9/08/14
12:26
PM ET
By
Christopher Chavez
| ESPN.com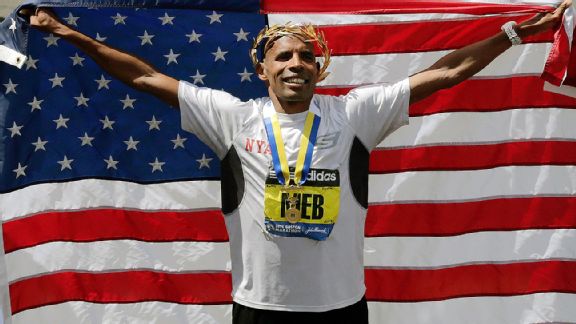 AP Photo/Charles KrupaMeb Keflezighi won the Boston Marathon in April and will take on New York in November.
The New York Road Runners announced their
American elite lineup
for the 2014 New York City Marathon on Nov. 2.
Olympians Kara Goucher and Desiree Linden (formerly Davila) headline the women's field, while Boston rematches await on the men's side.
"Kara, Desi, and Ryan (Vail) are, along with Meb (Keflezighi), some of America's most established and adored distance runners," NYRR CEO Mary Wittenberg said in a press release. "As they lead the way through the City's five boroughs and diverse running communities on Marathon Day, we're sure they'll inspire not only the 50,000-plus runners following in their footsteps, but the next generation of great American marathoners as well."
Goucher has been sidelined by injuries since the 2013 U.S. Outdoor Track and Field Championships. New York will be her first marathon since a sixth place finish at the 2013 Boston Marathon.
"Since I ran my first marathon in New York City in 2008, I have wanted to go back and run again," Goucher said in a press release. "I am so excited after a year of injuries and changes that my return to 'marathoning' happens here. New York City is a very special place for me, as I was born in Queens. I have always loved the city, and I have felt a special connection since running my first marathon there."
Linden is also on the mend after an injury forced her off the course at the 2012 Summer Olympic Games in London. She was fifth at the 2013 Berlin Marathon and 10th at 2014 Boston Marathon.
The women's field is rounded out by American record holder Deena Kastor, 2008 Olympian Blake Russell, 2013 USA Marathon champion Anne Bersagel and 2:28 marathoner Lauren Kleppin.
In addition to Kefezighi, the New York City Marathon has reunited several of the top American men from April's Boston Marathon. Nick Arciniaga of Flagstaff, Ariz., was seventh in Bostonand Josphat Boit was 11th with a personal best of 2:12:52.
Nike Oregon Project runner Luke Puskedra will make his marathon debut. He previously represented the United States at the 2012 IAAF Half-Marathon Championships. Working with three-time New York City Marathon champion Alberto Salazar helps as his eyes may be set on the marathon for the 2016 U.S. Olympic Trials.
New York by the numbers:
3 - Kara Goucher made her marathon debut with a third place finish at the 2008 New York City Marathon. Her time of 2:25:53 is the fastest time by an American woman on the course.
2:20 - Minutes and seconds that separate Meb Kefezighi and Vail, the top American at the 2013 New York City Marathon. Vail set a personal best of 2:10:57 at the 2014 Virgin Money London Marathon.
7 - There are seven American women entered in the race with personal bests of 2:30 or lower. This is a first for the New York City Marathon.
8 - Nick Arciniaga's sixth-best marathon performance was an eighth place finish at the 2009 New York City Marathon. In 2013, he ran 2:13:11 for the win at the Medtronic Twin Cities Marathon, where he out-kicked Josphat Boit for the U.S. National Title.
10 - Desi Linden (formerly Davila) rose to prominence with her second place finish at the 2011 Boston Marathon. She made the 2012 U.S. Olympic team, but did not finish the marathon in London due to a stress fracture in her femur. This is her New York City debut after a 10th place finish in April's Boston Marathon.
41 - American record holder Deena Kastor is still competitive at the age of 41. She won half-marathons in March and April.
September, 3, 2014
9/03/14
5:14
PM ET
By
Christopher Chavez
| ESPN.com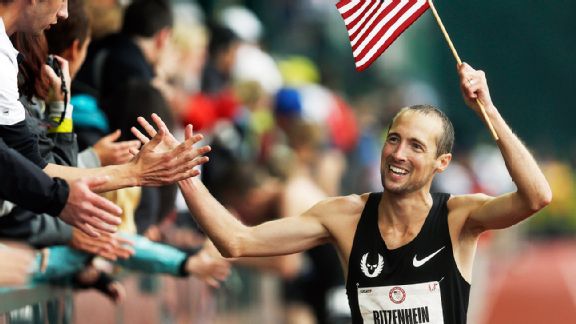 AP Photo/Charlie RiedelDathan Ritzenhein has run for the U.S. on the world stage and will take on the world's best in Philly.
Race organizers for the 2014 Rock N' Roll Philadelphia Half-Marathon have assembled one of the deepest fields of the fall, including several marathon champions and Olympians.
"Philadelphia is one of the most famous half-marathons in the U.S. and we have a world-class field to match a world-class event," Elite athlete coordinator Matthew Turnbull said.
Dathan Ritzenhein headlines the American field. The three-time Olympian makes a return to the roads after an injury forced him to withdraw from April's Boston Marathon. Ritzenhein did not race on the track this summer, and in Philadelphia he will be challenged by 2014 Boston Marathon surprise Jeffrey Eggleston.
Kenyan Geoffrey Mutai will also use this race as a tuneup with his sights are set on a three-peat in the New York City Marathon in November.
Kara Goucher, also returning from injury, leads the field of American women. This will be her first long-distance race since leaving her Nike training group and inking a deal with Oiselle and Sketchers. Goucher's toughest challenger will Deena Kastor, the fastest American woman ever over 13.1 miles, who is looking to extend her road-racing career.
Here's a look at the field by the numbers:
March, 24, 2014
3/24/14
12:00
PM ET
By
Staff report
| Competitor.com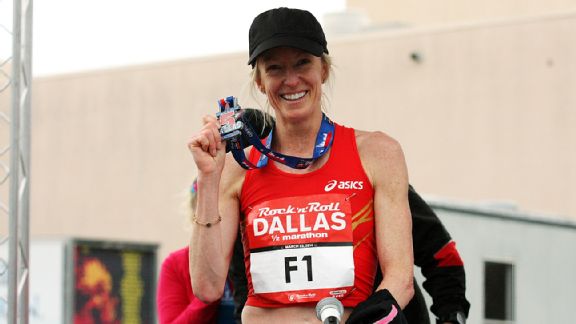 Peter Larsen/Getty ImagesDeena Kastor won the Rock 'n' Roll Dallas Half marathon by a wide margin.
Deena Kastor took the streets of Dallas by storm Sunday morning. Amid chilly and windy conditions, the 41-year-old three-time Olympian and American marathon record-holder turned in the fifth-fastest half-marathon time by a U.S. runner in 2014 with a new course record at the Rock 'n' Roll Dallas Half Marathon.
Kastor, the Olympic bronze medalist in the marathon in 2004, covered the 13.1-mile course in 1:11:57. Along the way, she also set new U.S. masters records for 10 miles (55:13) and 20K (1:08:18). She narrowly missed the U.S. masters half-marathon record (1:11:50) set by Colleen De Reuck set in 2006.
Julius Kiptoo, a 36-year-old Kenyan who lives in Ohio, took first place in the men's half marathon, crossing the finish line in 1:06:02, just two seconds faster than second-place finisher and former Oklahoma State All-American Colby Lowe.
The race which had more than 13,000 participants, starting downtown near City Hall and finished at Fair Park. After touring some of Dallas' most notable hot spots and neighborhoods, runners gathered to celebrate the day with the band American Authors headlining performance at the finish line festival concert in Fair Park.
Kastor, a 25time U.S. champion, ran the entire race with no other contenders in sight. The second woman to cross the finish line was Dallas native D'Ann Mineo (1:18:28), followed by Emily Field (1:18:49), also from Dallas.
March, 21, 2014
3/21/14
4:54
PM ET
By
Staff
| Competitor.com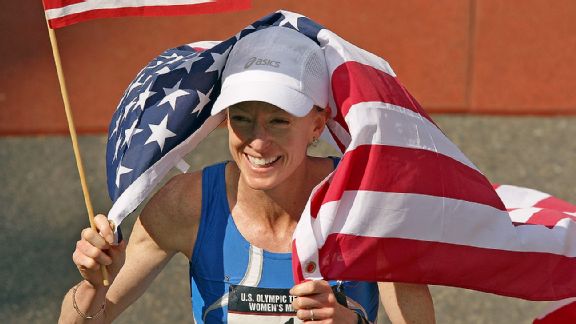 Elsa/Getty ImagesDeena Kastor hopes to continue her consistent success now that she's a masters runner.
Deena Kastor turned 41 just last month and will be competing in only her third half-marathon as a masters runner this weekend at the Rock 'n' Roll Dallas Half Marathon.
A 25-time U.S. champion and U.S. record holder for the marathon, Kastor made U.S. half marathon history in 2005 in Philadelphia when she shattered Joan Benoit Samuelson's long-standing American record by 41 seconds with a time of 1:07:53. She bettered that time with a 1:07:34 in Berlin in 2006, and the American record has stood ever since.
If Kastor can run between a 5:25 and 5:30 pace per mile in Dallas she has a great chance to break as many as four American Masters records, and race organizers have set up a timing plan to capture her splits at all four distances — 15K (9.3 miles), 10 Miles, 20K (12.4 miles), and the full half marathon.
You were forced to withdraw from the Rock 'n' Roll New Orleans Half Marathon last month with the flu. How is your training going? How much did being sick early this month set back your training?
Being sick set me back in training, but I am back to training even better than prior to Rock 'n' Roll New Orleans. I was so excited to race and was extremely let down by the timing of the flu. I am excited to race Rock 'n' Roll Dallas as it will be my first race back since I ran the world championships marathon last summer. That race nearly sent me into retirement, but my desire to compete has come back and I am excited to race one of the Rock 'n' Roll series' premiere races in Texas.
March, 19, 2013
3/19/13
3:44
PM ET
By
Sarah Barker
| Competitor.com
Even as Aleksandra Duliba, 27, of Belarus handily demonstrated how to run your first marathon by winning Sunday's ASICS L.A. Marathon in 2:26:06, Deena Kastor, 40, proved the power of experience, grit and professionalism by placing third in 2:32:39.
[+] Enlarge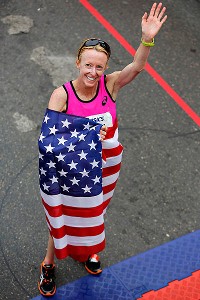 AP Photo/Damian DovarganesDeena Kastor finished third at Sunday's L.A. Marathon in 2:32:39.
The big difference is, where Duliba crossed the line, got a massage and may not race again for several months, Kastor crossed the line and immediately kicked into her other modes -- wife, mom, sponsored athlete, spokesperson for the sport and super-express marathon recoverer. In three days, she will fly to Poland where, one week after running the marathon, she will tackle the grueling 8K World Cross Country course.
But the true mark of a seasoned pro? Standing in the back of a room full of reporters, agents, organizers and photographers moments after running 26.2 miles the hard way, Kastor deftly snaked her hand up inside her singlet, disengaged her soaking sports bra, produced it magically from the bottom of the singlet, and in one fluid motion, stepped out of the spent article and posed for a photo with a man who had been standing next to her throughout, oblivious.
"Guys don't know," she said, laughing.
For the last 10 years, the ASICS L.A. Marathon has had a gender challenge, this year providing elite women an 18-minute, 35-second head start over the men, and an extra $50,000 to the first finisher on top of the $25,000 first prize for each gender. What this meant to the already slim six-woman elite field was that they would, in all likelihood, be navigating the broad boulevards of starsville alone. This scenario played out sooner rather than later for Kastor, as she passed the 10K mark in 36:05, 12 seconds off the lead pack of four women.
"My stomach was upset for about six miles. It was just one of those things -- you know it will pass," she said.
RELATED: Why runners get sick
She ran the next 14 miles alone, looking even smaller than she is, a tiny blip of hot pink hugging the curb of a sea of cement. She eventually slipped to more than 70 seconds off the lead pack, but continued grinding away.
"This was about pride, not money," Kastor said. "I felt pretty alone out there, and my legs were a little flat, but I stayed in it mentally without feeling great. I got 100 percent out of myself on an 80 percent day, and I'm happy with that."