March, 19, 2013
3/19/13
3:44
PM ET
By
Sarah Barker
| Competitor.com
Even as Aleksandra Duliba, 27, of Belarus handily demonstrated how to run your first marathon by winning Sunday's ASICS L.A. Marathon in 2:26:06, Deena Kastor, 40, proved the power of experience, grit and professionalism by placing third in 2:32:39.
[+] Enlarge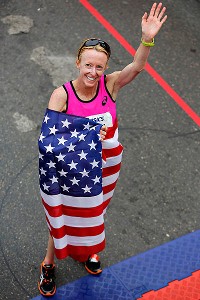 AP Photo/Damian DovarganesDeena Kastor finished third at Sunday's L.A. Marathon in 2:32:39.
The big difference is, where Duliba crossed the line, got a massage and may not race again for several months, Kastor crossed the line and immediately kicked into her other modes -- wife, mom, sponsored athlete, spokesperson for the sport and super-express marathon recoverer. In three days, she will fly to Poland where, one week after running the marathon, she will tackle the grueling 8K World Cross Country course.
But the true mark of a seasoned pro? Standing in the back of a room full of reporters, agents, organizers and photographers moments after running 26.2 miles the hard way, Kastor deftly snaked her hand up inside her singlet, disengaged her soaking sports bra, produced it magically from the bottom of the singlet, and in one fluid motion, stepped out of the spent article and posed for a photo with a man who had been standing next to her throughout, oblivious.
"Guys don't know," she said, laughing.
For the last 10 years, the ASICS L.A. Marathon has had a gender challenge, this year providing elite women an 18-minute, 35-second head start over the men, and an extra $50,000 to the first finisher on top of the $25,000 first prize for each gender. What this meant to the already slim six-woman elite field was that they would, in all likelihood, be navigating the broad boulevards of starsville alone. This scenario played out sooner rather than later for Kastor, as she passed the 10K mark in 36:05, 12 seconds off the lead pack of four women.
"My stomach was upset for about six miles. It was just one of those things -- you know it will pass," she said.
RELATED: Why runners get sick
She ran the next 14 miles alone, looking even smaller than she is, a tiny blip of hot pink hugging the curb of a sea of cement. She eventually slipped to more than 70 seconds off the lead pack, but continued grinding away.
"This was about pride, not money," Kastor said. "I felt pretty alone out there, and my legs were a little flat, but I stayed in it mentally without feeling great. I got 100 percent out of myself on an 80 percent day, and I'm happy with that."