Endurance:

Dennis Kimetto
November, 11, 2013
Nov 11
11:02
AM ET
By
Scott Douglas
| Runner's World
There are marathons big and small still to come this fall, but with most of the mega races having been run, some trends in the sport are clear. Here are five takes on what we've seen this season.

1. Increased security is everywhere
"The new normal" has been this fall's buzzword at marathons, referring to the increased security at races across the country in the aftermath of the bombings at the 2013 Boston Marathon. Bag searches, bomb-sniffing dogs, metal detectors, pre-screening, automatic rifles, participant-only areas and other features common to civil aviation are in place at marathons like never before.

By most accounts, runners and spectators have accepted the new measures. Recreational and elite marathoners said after big races they ran without fear. Anecdotal reports from Chicago and New York City were that crowds along the course were as big as ever.

At the same time, races and runners have already started to talk about what level of security is appropriate moving forward. The New York Road Runners spent approximately $1 million on security for this year's race, about twice as much as was typical before Boston.

Runners doing their first marathon since Boston discovered the new procedures add time not only on race day. At packet pick-up the day before the Marine Corps Marathon, the line to get into the expo facility backed up into the hundreds at one point, and tempers flared.

The new measures also affected the larger community. Fences near the start and finish of Chicago made accessing the bike path along Lake Michigan challenging leading up to race day. One resident of Manhattan's Upper West Side reported having to show ID just to re-enter her block on the afternoon of the marathon. With municipalities already starting to push back against the ramifications of races, marathon organizers will need to work even harder to maintain good community relations.


November, 2, 2013
Nov 2
5:01
PM ET
By
Mario Fraioli
| Competitor.com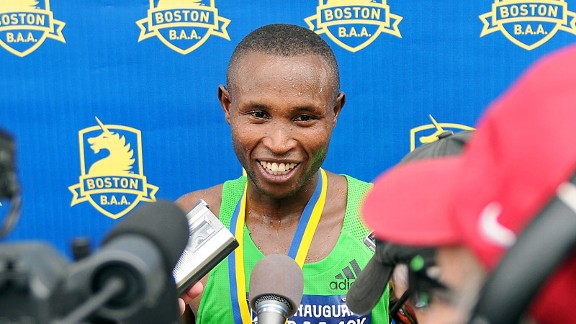 Bob DeChiara/USA TODAY SportsGeoffrey Mutai's exploits bring attention and pressure, but the Kenyan is focused for New York.
NEW YORK -- Geoffrey Mutai isn't a man of many words, but his legs sure do a lot of talking.
The 32-year-old from Kenya returns to the Big Apple this weekend as the reigning ING New York City Marathon champion, having run an eye-popping 2:05:06 here in 2011. In that race, Mutai hit the halfway mark in a swift 1:03:17 before dropping a previously unheard of 1:01:49 split for his final 13.1 miles to put away the field in quick fashion.
He didn't just break Tesfaye Jifar's 10-year-old course record of 2:07:43 that day, he obliterated it.
So how is Mutai feeling heading into this year's race?
"I feel OK," Mutai said at Friday's prerace news conference. "I've come prepared. To compare my shape from year to year is not so easy."
It might not be an easy comparison, but it's hard to believe Mutai won't be on his A-game come Sunday morning. Despite dropping out of the London Marathon in April due to a hamstring injury, Mutai has had a solid 2013 campaign. He broke 59 minutes for the first time at the RAK Half Marathon in February, running 58:58 to finish third, and had back-to-back sub-28-minute 10K efforts on the roads in June.
February, 24, 2013
Feb 24
11:48
AM ET
By
David Monti
| Competitor.com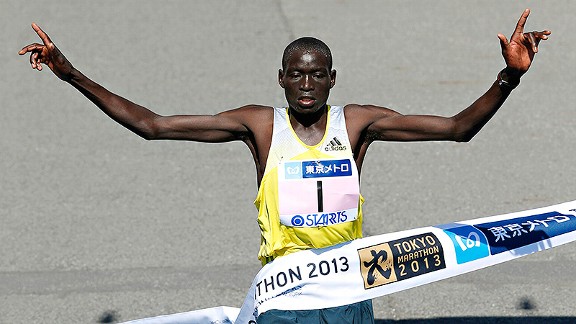 AP Photo/Shizuo KambayashiKenya's Dennis Kimetto takes first place at Sunday's Tokyo Marathon in a course-record 2:06:50.
(c) 2013 Race Results Weekly, all rights reserved. Used with permission.
TOKYO -- Battling cold and windy conditions, Kenya's Dennis Kimetto and Ethiopia's Aberu Kebede emerged as winners of Sunday's Tokyo Marathon. Kimetto, who was the runner-up at last September's BMW Berlin Marathon and is the world 25K record holder, ran a superb second half to set a course record of 2:06:50. Kebede struggled with the wind in the second half, but her winning time of 2:25:34 fell only six seconds short of a course record. A record 36,201 runners entered the race, now part of the World Marathon Majors series.
The men's contest started conservatively with the pacemakers running the first 5 kilometers in a restrained 15:15 and halfway in 1:04:22. Although skies were bright, athletes were feeling the strong winds combined with the 45-degree temperatures and were holding back.
"I tried to conserve energy to 30K and go with whoever was there," said Japan's Kazuhiro Maeda, who stayed tucked in the big lead pack of 25 runners.
The pack stayed together until the 29th kilometer. when diminutive Kenyan James Kwambai broke the race open with a 2:55-kilometer, followed by a 2:48. Kimetto, Michael and Bernard Kipyego, and Gilbert Kirwa followed. Kwambai continued to push the pace, but later said that breaking the wind sapped his strength.
"My body is very light, so I can't resist [the wind]," the 105-pounder told Race Results Weekly.
Kimetto saw his chance to try for the victory and pushed ahead. Running with his left arm awkwardly angling away from his body, Kimetto put the hammer down, running 14:20 from 30 to 35K. That gave him a 5-second lead over defending champion Michael Kipyego, his nearest challenger who soon realized that he was running for second. Kimetto's lead only grew on his way to the blustery waterfront finish at Tokyo Big Sight, where he completed his second half in a swift 62:28. Michael Kipyego clocked a personal-best 2:06:58 to finish second, and Bernard Kipyego got third in 2:07:53.