January, 12, 2015
Jan 12
2:55
PM ET
By
Peter Gambaccini
| Runner's World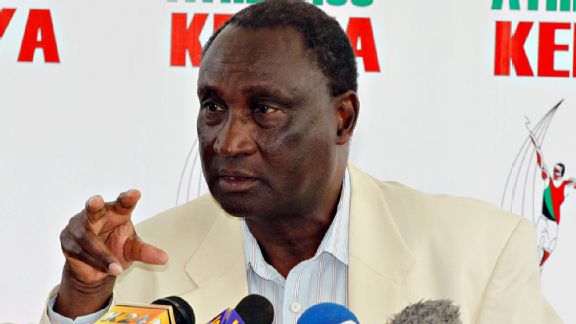 AP Photo/Khalil SenosiAthletics Kenya President Isaiah Kiplagat has vowed stiff punishment for doping offenses.
Athletics Kenya Chairman Isaiah Kiplagat has announced that agents of athletes who have positive test results for performance-enhancing drugs could face jail time, the BBC reports.
"If you're the one who injected or [are] found to have been contributing towards persuading the athletes to take banned substances, that's a criminal offense," Kiplagat said.
In addition, Athletics Kenya is calling for a lifetime ban on any sports agent or coach who has a business relationship with three runners who've had positive doping test results,
New Vision
reports.
These and other pronouncements came just days before Thursday's hearing by Athletics Kenya to determine the running future of Rita Jeptoo, the 2013 and 2014 Boston and Chicago Marathon champion. Jeptoo produced positive "A" and "B" urine samples for EPO in an out-of-competition drug test in Kenya in September, less than three weeks before her second Chicago victory.
Jeptoo faces a minimum ban of two years, and there will be a determination of which of her titles she'll forfeit.
June, 26, 2014
6/26/14
1:11
PM ET
By
Gregor Brown
| VeloNews.com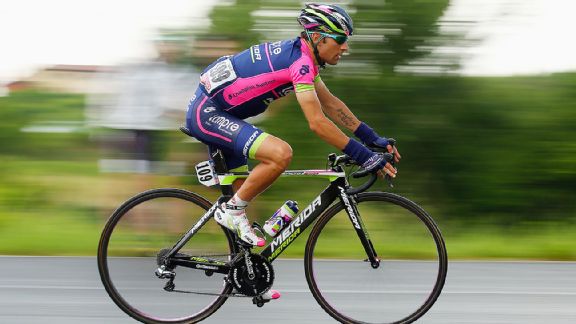 Bryn Lennon-Velo/Getty ImagesDiego Ulissi's stage wins at the Giro d'Italia came before his failed doping test.
MILAN (VN) -- Italy's head cycling coach Davide Cassani spoke in support of Diego Ulissi (Lampre-Merida) after news Wednesday that Ulissi tested positive for asthma drug Salbutamol during the Giro d'Italia.
"I am concerned that people understand one thing, that Salbutamol doesn't make you go stronger, it's an accepted product," Cassani told Italy's La Gazzetta dello Sport newspaper Thursday.
"Cyclists know that if you take five puffs then you won't go any faster. You need to understand that this isn't doping, that it doesn't better your performance and is not a masking agent."
Lampre announced its Giro star exceeded the accepted limit of Salbutamol in his urine in an anti-doping control after Stage 11 of the Giro last month. The 24-year-old from Tuscany had already won the fifth and eighth stages, and he placed second in the time trial in Barolo the day after the failed test. He abandoned the race after Stage 17 while on antibiotics to fight a sore throat and temperature.
Ulissi was using an inhaler with Salbutamol spray for bronchospasm and, according to Lampre, took two puffs ahead of Stage 11. He was also given paracetamol by the race doctor after a mid-stage crash. The team reported that his urine showed 1900 nanograms per milliliter of Salbutamol, nearly double the accepted limit of 1000ng/ml.
April, 29, 2014
4/29/14
11:31
AM ET
MOSCOW -- Three-time Chicago Marathon champion Lilya Shobukhova has been banned for two years for blood doping and faces demands to repay millions of dollars in winnings.

The Russian athletics federation said Tuesday it banned Shobukhova until next January for abnormal biological passport values and stripped her results since Oct. 9, 2009. Shobukhova won three times in Chicago and once in London in that time, also collecting $1 million in prize money as a two-time leader of the World Marathon Majors rankings.

"Any athlete found guilty of a doping offense will be required to repay any prize or appearance money earned at WMM events including WMM series prize money," the race organizers' group said in a statement.

The 36-year-old Shobukhova's time of 2 hours, 18 minutes, 20 seconds in Chicago in 2011 made her the second-fastest women's marathon runner behind record holder Paula Radcliffe of Britain.

"Lilya Shobukhova finally exposed as a drug cheat," Radcliffe wrote on her Twitter account. "Action needs to be taken to show cheating not acceptable. Monies won should be returned and rightful winners recognized."

Shobukhova won three in a row in Chicago from 2009 to 2011 and placed fourth the following year. In London, she was third in 2009, won in 2010 and was second the next year.

Those results lifted her to first place in the major marathons series to get the 2009-10 and 2011-12 season titles.

"WMM will continue to hold a stern line and supports all measures to ensure the integrity of the athletes competing in their races," general counsel Nick Bitel said in a statement. "Cheats need to understand that they are not welcome in our sport and that they will be caught."

Shobukhova enjoyed some success as a distance runner on the track until switching to marathons after the 2008 Beijing Olympics.

In her profile page on the IAAF website, Shobukhova is quoted saying she split with her long-time coach around that time.

Her husband, Igor Shobukhov, took over as coach despite being "most inexperienced -- he had never before coached professional athletes," the profile states.

Shobukhova can appeal the sanction.

Copyright 2014 by The Associated Press
April, 23, 2014
4/23/14
11:51
AM ET
AIGLE, Switzerland -- Former world time trial champion Michael Rogers can race again after cycling's governing body accepted that meat he ate in China likely caused his positive doping test.

The International Cycling Union agreed "there was a significant probability" clenbuterol in his sample came from contaminated meat.

Rogers raced in China, where clenbuterol is administered to livestock, days before testing positive at the Japan Cup last October.

The UCI says it disqualified Rogers from the Japanese race but consulted the World Anti-Doping Agency before deciding "he should not be sanctioned any further."

The 34-year-old Australian was provisionally suspended from Team Saxo-Tinkoff last December.

Rogers won three straight world titles from 2003-05. In 2012, he was upgraded to bronze in the 2004 Athens Olympics time trial after winner Tyler Hamilton was disqualified for doping.

Copyright 2014 by The Associated Press
December, 18, 2013
12/18/13
1:00
PM ET
By
Rico Longoria
| ESPN.com
Former UCI president Hein Verbruggen ended his silence and shot back at claims leveled by banned cyclist Lance Armstrong that Verbruggen was part of a coverup.

Speaking to London daily The Telegraph, Verbruggen denied he helped cover up a positive test for cortisone by Armstrong during the 1999 Tour de France.

"I see it as if I'm part of a kind of industry now. It's called the Lance Armstrong industry. People are making films now. It's all part of the industry," Verbruggen said. "You have a lot of people in it with a vested interest, and this interest is clearly not to know the truth."

"Lance Armstrong has his own agenda and that is certainly his own personal interest, whether it is that he wants his sanctions to be reduced or whether he wants money. Usually, with Lance, there is always an interest also in money. My interest is the truth."

Verbruggen, who left his position as UCI president in 2005, defended his record at the helm of the cycling federation. He denied corruption charges, but admitted his reputation is tainted.


November, 26, 2013
11/26/13
2:48
PM ET
By
Peter Gambaccini
| ESPN.com
Less than a month after World Anti-Doping Agency officials visited Jamaica to conduct what the nation's minister for sport called an "extraordinary audit", the entire board of the Jamaica Anti-Doping Commission and its chairman, Dr. Herb Elliot, have resigned.

The board members will step down on Dec. 31.

Former JADCO executive director Renee Anne Shirley revealed in a Sports Illustrated article that the organization conducted only one out-of-competition drug test in the five months leading up to the 2012 Olympics, that it had never conducted a blood test on an athlete, and that it was perpetually understaffed.

WADA President John Fahey had previously charged that JADCO officials were engaged in "farcical" attempts to delay his organization's inquiry for a year, and hinted that such behavior could result in sanctions that might have included Jamaica's expulsion from the Olympics Games. It was soon determined that a timetable for WADA's inspection visit to Jamaica was indeed in place, a fact that undercut Fahey's claims.

Six Jamaican track and field athletes have been banned for positive drug tests in 2013, including three-time Olympic gold medalist Veronica Campbell-Brown, former world 100-meter record holder Asafa Powell and relay gold medalist Sherone Simpson.


November, 21, 2013
11/21/13
12:37
PM ET
By
Matthew Beaudin
| VeloNews.com
The former head of the UCI has refuted Lance Armstrong's claims that the sport's governing body helped him cover up a positive test for corticosteroids during the 1999 Tour de France, offering an explanation that amounted to this: The UCI didn't know a now-infamous prescription was backdated.

Corticosteroids contribute to recovery in endurance athletes and have been used in the peloton for at least two decades.

In a story published by The Daily Mail that centered around a meeting between Armstrong and former U.S. Postal Service soigneur Emma O'Reilly, Armstrong claimed it was former UCI president Hein Verbruggen's idea to cover up a positive test for cortisone, a banned steroid, with a Therapeutic Use Exemption, or TUE. Armstrong had previously said there were no true "deals" with the UCI, but has now changed course.

In an email to VeloNews, Verbruggen -- who stepped down from his UCI presidency in 2005 but remained on as "honorary president" -- said it was the French Ministry, not the UCI, that was responsible for conducting anti-doping controls at the Tour de France until 2006, and refuted Armstrong's assertion that it was Verbruggen who helped cover up a positive test.

"It must be very hard to cover up a positive case that was not a positive case," Verbruggen wrote. "[Until] 2006 it was the French Ministry that was responsible for anti-doping in France with the UCI as kind of an observer. It was the Ministry that decided that [Armstrong] was not positive since they accepted his explanation (ointment). Conclusion: [the] story about cover-up is nonsense."


March, 28, 2013
3/28/13
12:26
PM ET
When two Kenyan distance runners were
sanctioned for doping offenses
by Athletics Kenya last week, initial news reports described one of the athletes, Jynocel Basweti, as "relatively unknown."
[+] Enlarge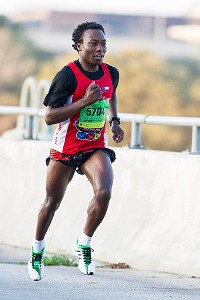 Cal Sport Media/AP ImagesJynocel Basweti, who has won 17 marathons in the U.S. since 2006, was suspended two years by Athletics Kenya for a doping offense.
However, the 27-year-old Basweti is very familiar to organizers of mid-market marathons in the United States. He has won 17 marathons in the U.S. since 2006, sometimes stringing together multiple victories only weeks apart. His resume includes three wins at the Quad Cities Marathon; two apiece in Buffalo, Richmond and Atlanta; and others in Denver, Seattle, Jackson, Miss., and Louisville, Ky.
Basweti's times weren't world-class, and the prize money he collected was modest by professional standards, topping out in the $10,000 range per race over the years. But the frequency of and spacing between his wins were eyebrow-raising, and his recently-revealed doping violation highlights a tricky issue for directors of small-budget races with a recreational or charity focus that do little to no drug testing.
According to the IAAF, track and field's international governing body, Basweti tested positive for boldenone, an anabolic steroid intended for veterinary use, after finishing second at the Culiacan Marathon in Mexico on Jan. 22, 2012. His two-year suspension announced last week was back-dated to July 2012. During the interlude between the test and the beginning of the suspension, Basweti ran in at least four marathons in the United States and won three of them within a six-week stretch:
• Feb. 19: 2nd place, Austin (Texas) Marathon (2:23:52)
• March 18: 1st place, Shamrock SportFest, Virginia Beach, Va. (2:22:57)
• April 1: 1st place, Knoxville (Tenn.) Marathon (2:29:24)
• April 28: 1st place, Kentucky Derby Marathon, Louisville, Ky. (2:23:04)
"This is a first for us," said Knoxville Marathon race director Jason Altman. "We'll have a discussion and see if we have any recourse. If he cheated, he cheated not only the participants but the race organizers."