Endurance:

Eliud Kipchoge
October, 10, 2014
Oct 10
2:49
PM ET
By
Christopher Chavez
| ESPN.com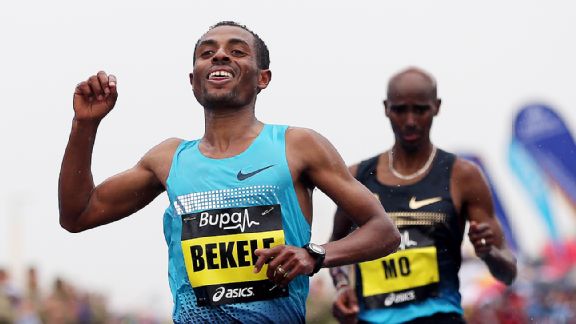 Ian MacNicol/AFP/Getty ImagesKenenisa Bekele and Mo Farah have had different results early in their marathon careers.
CHICAGO -- Like many first timers, Ethiopian Kenenisa Bekele believes he over-trained for his marathon debut earlier this year in Paris, where he set a new course record of 2:05:04. Coach Renato Canova already believes Bekele is the "ideal marathoner" and could challenge the world record in his third shot at the distance. Bekele is a little more reserved.
"To put me on top is not the time now," said Bekele, speaking at a press conference ahead of this weekend's Bank of America Chicago Marathon. "I need to run faster times."
Bekele's transition from the track to the marathon has been a success. Meanwhile, double Olympic and World Champion Mo Farah struggled in his first shot at the distance.
"It could be our different body types. Farah started achieving good results at the age of 27 or 28. If you come to me, I started achieving when I was 19 or 18," Bekele said. "He's only run one race, so we can't judge him
Bekele holds a 13-4 record over Farah in head-to-head match-ups. When asked if he would want to race Farah over the marathon distance, he replied with certainty.
November, 11, 2013
11/11/13
11:02
AM ET
By
Scott Douglas
| Runner's World
There are marathons big and small still to come this fall, but with most of the mega races having been run, some trends in the sport are clear. Here are five takes on what we've seen this season.

1. Increased security is everywhere
"The new normal" has been this fall's buzzword at marathons, referring to the increased security at races across the country in the aftermath of the bombings at the 2013 Boston Marathon. Bag searches, bomb-sniffing dogs, metal detectors, pre-screening, automatic rifles, participant-only areas and other features common to civil aviation are in place at marathons like never before.

By most accounts, runners and spectators have accepted the new measures. Recreational and elite marathoners said after big races they ran without fear. Anecdotal reports from Chicago and New York City were that crowds along the course were as big as ever.

At the same time, races and runners have already started to talk about what level of security is appropriate moving forward. The New York Road Runners spent approximately $1 million on security for this year's race, about twice as much as was typical before Boston.

Runners doing their first marathon since Boston discovered the new procedures add time not only on race day. At packet pick-up the day before the Marine Corps Marathon, the line to get into the expo facility backed up into the hundreds at one point, and tempers flared.

The new measures also affected the larger community. Fences near the start and finish of Chicago made accessing the bike path along Lake Michigan challenging leading up to race day. One resident of Manhattan's Upper West Side reported having to show ID just to re-enter her block on the afternoon of the marathon. With municipalities already starting to push back against the ramifications of races, marathon organizers will need to work even harder to maintain good community relations.


March, 20, 2013
3/20/13
3:06
PM ET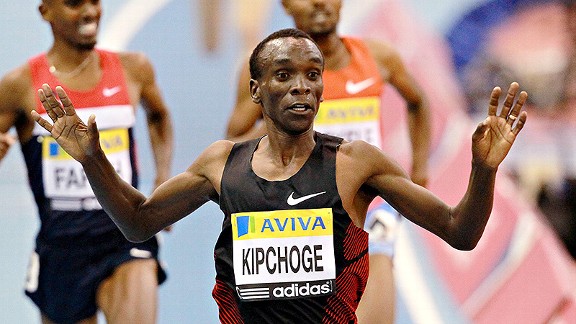 AP Photo28-year-old Kenyan Eliud Kipchoge will take on Wilson Kiprop in Hamburg next month.
On April 21 in Hamburg, all eyes will be on one fast Kenyan: Eliud Kipchoge.
Kipchoge will toe the line at the Haspa Marathon Hamburg, an IAAF Gold Label Road Race.
The reason for the attention is that Kipchoge is a marathon debutant. For the past decade, the 28-year-old has established himself as one of the world's top distance runners. In 2003, he won the junior title at the World Cross-Country Championships. That same year, he defeated Ethiopian legend Haile Gebrselassie to win the 5,000-meter title at worlds.
Since then, Kipchoge has dominated the track, becoming one of just six runners to dip under 13 minutes in the indoor 5,000.
In Hamburg, Kipchoge will face 2010 World Half-Marathon champion Wilson Kiprop. Ethiopia's Chele Dechasa, whose marathon personal best is 2:06:33, will also be in the hunt.
In the women's race, Kateryna Stetsenko (Ukraine) has the fastest seeded time in 2:27:51.
-- Competitor.com