Endurance:

Gwen Jorgensen
May, 11, 2013
5/11/13
4:43
PM ET
By
Liz Hichens
| Triathlete.com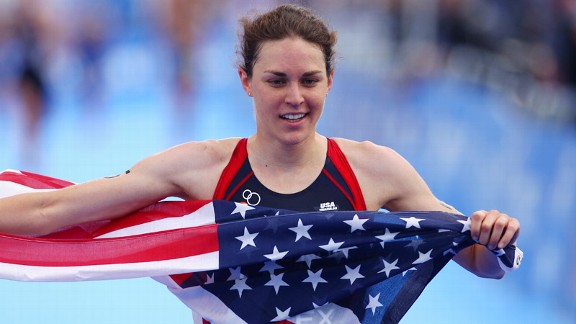 Richard Heathcote/Getty ImagesGwen Jorgensen pulled away on the final lap to win the World Triathlon Series race at Yokohama.
American Gwen Jorgensen outran the competition to earn the victory in Yokohama, the third of eight races on the World Triathlon Series circuit.
The race at Yokohama kicked off with rain clouds looming. Japan's own Mariko Adachi led the women out of the two-lap swim and into T1. Australia's Emma Moffatt, Japan's Yuka Sato and Great Britain's Jodie Stimpson followed her. By the end of transition they were joined by Jorgensen, Canada's Kirsten Sweetland, Ireland's Aileen Reid, Japan's Juri Ide and the Czech Republic's Vendula Frintova. Those athletes made up the first lead group, but by the second lap were joined by Kate McIlroy (NZL), Kate Roberts (RSA) and Ashleigh Gentle (AUS).
That lead group of 12 appeared to be building a strong lead until the rain started pouring on the later laps of the 40K ride. The front group got more conservative as the chase pack pushed the pace. The groups merged on the final lap, making a front pack of 18 athletes.
There were several questions as the athletes headed onto the run. Would Jorgensen be able to duplicate her run performance form WTS San Diego? Would a Japanese athlete thrill the hometown crowd? Who would thrive under the wet and cold conditions? Moffatt and Stimpson pushed hard in the early kilometers on the run and built a lead of 10 seconds over the main chase pack, which included Jorgensen. Moffatt continued to do most of the work out front, well aware that Jorgensen, who caught her on the run in San Diego, was not far back. By the midway point of the third lap Jorgensen caught Moffatt and Stimpson and it looked like the podium was determined. What was not determined was who would earn the gold.
Jorgensen used the bell to signal the final lap as motivation to break away. With every step on that fourth lap she added to her lead. She earned her second WTS win in a row with a 32:44 10K run split.
"I'm glad it looked like I wasn't panicking," Jorgensen said of her progress on the run. "Those girls were really running fast first two laps. I tried to focus on the basics of my race."
Moffatt outpaced Stimpson in the final meters to earn second position. Stimpson claimed third, her first time on a WTS podium. Gentle finished fourth and, in the bravest performance of the day, Denmark's Maiike Caelers overcame two crashes on the bike to finish fifth.
With the back-to-back victories Jorgensen takes over the number one position in the WTS standings.
April, 27, 2013
4/27/13
8:21
PM ET
By
Jene Shaw
| Triathlete.com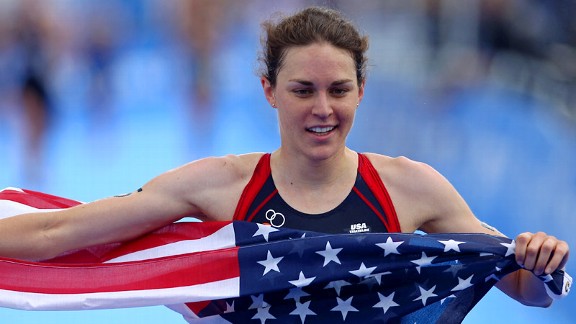 Richard Heathcote/Getty ImagesReady to take go to the next level, Olympian Gwen Jorgensen has made changes that are paying off.
If her win at ITU WTS San Diego last Friday was any indication of what's to come, American Gwen Jorgensen has a promising year ahead.
Considering she earned a spot on the U.S. Olympic Triathlon Team less than two years into her career, Jorgensen's raw talent has produced some early success. But after her Olympic campaign didn't go as planned—a bike mechanical took her out of medal contention pretty early—the almost-27-year-old decided she would need to step up her game and make some significant changes in order to medal in Rio in 2016.
Quick recap of Jorgensen's short multisport career: She got her start through USA Triathlon's Collegiate Recruitment Program in 2010, a result of her impressive swimming, track and field and cross-country prowess at the University of Wisconsin. She earned her elite card in her first triathlon, was named USAT Rookie of the Year in 2010 and, after some success on the ITU circuit in 2011, she secured one of the first Olympic team spots a year before the Games.
Fast-forward to life after the Olympics, and Jorgensen's perspective has changed on what needs to happen before another Olympic campaign. Late last year she started working with coach Jamie Turner, who heads a 10-person squad that splits training time between Wollongong, Australia, and Vitoria, Spain (she was formerly coached, mostly remotely, by Wisconsin-based Cindi Bannink). In January, Jorgensen and her boyfriend, Pat Lamieux, moved to Wollongong to focus strictly on her training in a group setting.
Jorgensen was drawn to Turner's coaching style and approach based on observing his interactions with other athletes. She decided to make the switch after racing the 2012 ITU World Triathlon Grand Final in Auckland, New Zealand, where she finished second.
"I needed to change something, and thought this would get me to the next step—to have someone one-on-one at every workout to see what I'm doing wrong, and to have training partners to push me," Jorgensen says.
Turner and his squad of mostly Under-23 ITU athletes provide the daily challenge Jorgensen was lacking.
"The main thing Gwen was looking for was an environment," Turner says. "She needed to be in a daily performance environment instead of at home by herself doing workouts."
Plenty of Jorgensen's competitors have reaped the benefits of immersing themselves in a group environment—including fellow American Sarah Groff, who spent much of the year in Switzerland training in Darren Smith's competitive squad and ended up taking fourth in the Olympics.