Endurance:

Ironman Arizona
November, 14, 2012
11/14/12
1:20
PM ET
By
Susan Lacke
| Triathlete.com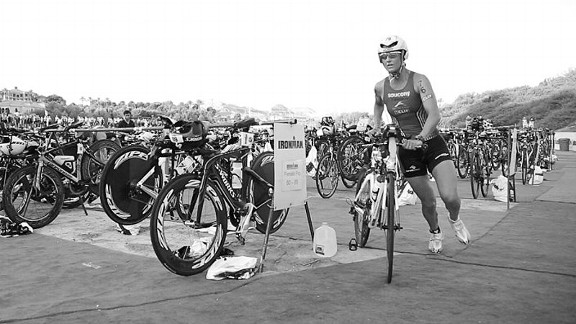 Steve Godwin American Meredith Kessler is a veteran of the 46 Ironman events.
American Meredith Kessler has been riding quite the wave –- though experiencing one of her best triathlon seasons to date, Kessler's training and race efforts have been peppered with crashes, including one which forced her to DNF at the Ironman World Championship in Kona. As Kessler prepares to race her final Ironman of the year, Triathlete.com chatted with the 46-time Ironman competitor to learn more about the highs and lows of 2012.
Triathlete.com: It's been quite the season for you! Let's talk about some of your highs: Seven top-three finishes, including five wins. What's changed this year that has allowed you to get on the top step of the podium so often?
Kessler: The past three years have been an unforgettable ride that I continue to learn from and enjoy. I was so thankful to have three podium finishes in 2010, six in 2011 and seven in 2012. It is always a goal to try to be as consistent as possible in sport while being able to do what you love to do: RACE. I am definitely a different athlete than I was in 2010 and it is due to an increased focus on nutrition, hydration and recovery. It is also massively due to following the plan that my coach, Matt Dixon, and I have concentrated on for the past six years on this journey. Unfortunately, the improvements don't take place overnight and there is a long period where you need to steadily improve. There are only a handful of special athletes that can burst on the scene and make a mark in this sport. The majority of athletes (myself included!) need time to learn and get incrementally better over time. It is a continuous progression of constant learning.
It's also been a year of obstacles. Tell us about your bike crash this summer. How did that affect you, physically and mentally, going into 70.3 Worlds and Kona?
Ah yes, indeed! I devote a chapter on the bike crash and adversity in our book that is coming out soon, "Life of a Triathlete." You cannot participate in the sport of triathlon without having some sort of setback that derails your training. We do a lot of bike training indoors and I had avoided a serious crash for 12 years until early August. The rider in front of me lost control as we were going 40 mph down a steep incline. I fell to avoid him and ended up breaking my T9 vertebra. I did a lot of physical therapy and training to try to fully recover for the 70.3 Worlds and I was able to toe the line. My back had nearly healed but my race preparation was less than ideal. I had been taking Advil four to six times a day for six weeks to deal with the pain, which left me in a dehydrated state. Couple this with the 98 degree temperatures and my body was fully dehydrated halfway through the bike; lesson learned.
We felt my Kona preparation was not affected by the bike crash and I went into Kona race ready, having trained in the heat prior to the event.