August, 1, 2013
8/01/13
9:38
AM ET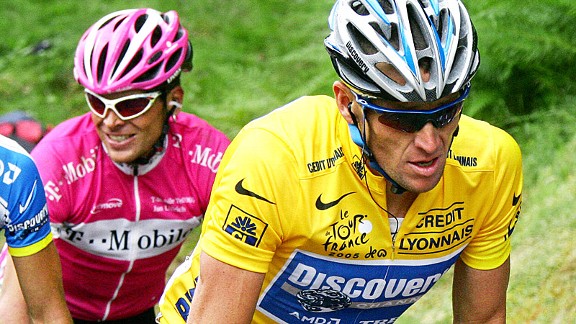 Franck Fife/AFP/Getty ImagesJan Ullrich, left, believes all seven of Lance Armstrong's Tour de France wins should be reinstated.
BERLIN -- Lance Armstrong should have his seven Tour de France victories reinstated because of the prevalence of doping at the time, former cyclist Jan Ullrich said.
"I would give Armstrong the Tour victories back. ... That's how it was back then," Ullrich told the current edition of Sport Bild magazine. "It doesn't help anyone to draw a line through the winners' list."
Ullrich, who won the Tour in 1997, finished second to Armstrong three times -- in 2000, 2001 and 2003 -- but the German declined to stake a claim for his former rival's stripped titles.
"I only want victories that I've experienced on the bike. I don't want to win anything at the green table," he said.
Armstrong, the dominant cyclist of his generation, acknowledged in January that he doped for all seven of his Tour wins from 1999-2005. He was subsequently stripped of the titles.
Ullrich admitted to Focus magazine in June that he received blood treatments from Spanish doctor Eufemiano Fuentes.
July, 24, 2013
7/24/13
5:48
PM ET
PARIS -- A French inquiry into sports doping uncovered proof that 1998 Tour de France champion Marco Pantani and runner-up Jan Ullrich used the banned blood-booster EPO to fuel their performances.

France's senate, after a five-month investigation focused on sports doping, released a report Wednesday that confirms what many have long suspected: Use of the banned substance EPO was rife in cycling in the late 1990s, before there was a test for the drug.

Pantani was suspended in 1999 from the Giro after failing a random blood test, and his career was damaged by several doping investigations. He died in 2004 at 34 of an accidental drug overdose.

Ullrich, the 1997 Tour winner, has admitted to blood doping and last year was stripped of his third-place finish in the 2005 Tour.

The 1998 Tour de France was notable for the major scandal that emerged with the discovery of widespread doping on the French Festina team. The subsequent police crackdown led to seven of the original 21 teams either withdrawing or being ejected from the Tour.

Other star riders whose positive EPO doping tests were disclosed include American Kevin Livingston, who finished 17th in the 1998 Tour. Also listed were double-stage winner Mario Cipollini of Italy and Laurent Jalabert of France.


June, 24, 2013
6/24/13
1:01
PM ET
BERLIN -- Jan Ullrich, the 1997 Tour de France winner, has admitted for the first time that he received blood-doping treatment from Spanish doctor Eufemiano Fuentes during his career.

Ullrich had previously acknowledged having unspecified "contact" with Fuentes, but went further in an interview with the weekly German magazine Focus published Saturday.

"Yes, I received treatment from Fuentes," the German rider was quoted as saying.

Asked if he only engaged in blood doping with Fuentes, Ullrich replied that "the doctor's diagnosis says that." He said he couldn't remember how many times he had received treatment from Fuentes.

In February 2012, the Court of Arbitration for Sport banned Ullrich for two years for blood doping.

The CAS ruled that the German was "fully engaged" in Spanish doctor Eufemiano Fuentes' doping program, exposed in the Operation Puerto probe. The court stripped him of his third-place finish at the 2005 Tour. Ullrich retired in 2007.

Ullrich didn't contest the CAS ruling, saying at the time that he wanted to "put an end to the issue."

IOC vice president Thomas Bach said the confession is "too little, too late."