Endurance:

Lukas Verzbicas
June, 27, 2014
Jun 27
11:29
AM ET
By
Christopher Chavez
| ESPN.com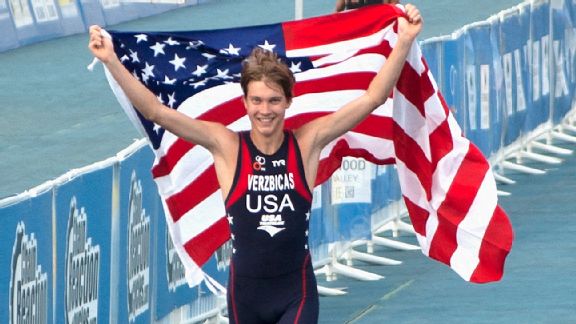 AP ImagesLukas Verzbicas is back from a harrowing accident and aiming for success near his hometown.
Lukas Verzbicas' road to the 2016 Summer Olympic Games in Rio De Janeiro is making a stop in his backyard, with the graduate of Carl Sandburg High School in Orland Park, Illinois, taking part in the ITU World Triathlon Series in Chicago on June 29.
"The Olympics are two years away and there's still a lot of work and improvement to be done," said Verzbicas, who was a track star at Sandburg High before becoming a professional triathlete. "The Olympic qualification points period already started, but there's still time to focus on the big picture and continue being healthy in training."
For Verzbicas, a successful summer would be defined by a return to the podium that puts recent struggles behind him.
Verzbicas is less than two years removed from a bicycle crash while training in Colorado Springs that left him with broken collarbone, two fractured vertebra and a collapsed lung. The sub-four minute high school miler needed to learn to walk again after suffering post-operation paralysis in his right leg.
April, 5, 2013
4/05/13
10:46
AM ET
By
Bert Rosenthal
| Competitor.com
Lukas Verzbicas is a lucky man to be able to compete in Sunday's Carlsbad 5000.
Last July 31 at about 9 a.m., while bicycling along the Garden of the Gods in Colorado on a training ride, the now 20-year-old Verzbicas encountered a wide 180-degree turn on a downhill stretch of road. He tried slowing down, but his bike got caught up in some sand and he slammed into a guardrail. The horrific accident left him with a broken thoracic vetrebrae, a broken clavicle, a broken spine and a partially collapsed lung. He also was paralyzed in his right leg and went through multiple hours and days of surgery at Penn Rose St. Francis Hospital in Colorado Springs.
Here was a man who had been the fifth high schooler in history to break four minutes for the mile, had set national junior records for 2 miles and 3,000 meters, was Footlocker Cross Country champion his sophomore and junior years in high school, and was a two-time world champion in World Junior Triathlon. His chances of recuperating and regaining his brilliant athletic skills were slim. Even his chances of being able to walk properly again were considered a long shot.
Despite those odds, Verzbicas never doubted himself, even though he was hospitalized for 35 days. "I had lots of plans and hopes athletically," he said. "I thought that took them all away.
"But actually (the accident) helped me. It changed me for the better mentally. It made me stronger. Now, I have a different perspective on everything. I have a very strong faith, and it was tested then."
[+] Enlarge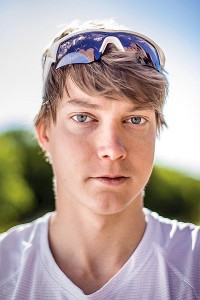 Nils Nilsen/Triathlete.comThe triathlon hopeful continues on the road to recovery after a bad bike accident last year.
Medicated with morphine when he arrived at the hospital, Verzbicas needed about three weeks before he could move his right leg.
"I started twitching it," he recalled. "Then I started to learn how to walk again, then to run. It took me about a week to learn how to walk."
During that recuperative period in the hospital, Verzbicas underwent hours of rehabilitation every day. He admits he's still not 100 percent, but his recovery has been remarkable. On Jan. 19, he ran a four-mile race in Sarasota, Fla., and won. "That was definitely encouraging," he said. He had prepared for the event under the guidance of his coach and stepfather, Ronas Bertulis, a professional triathlon coach.
On March 19, Verzbicas felt he was ready to attempt a triathlon. Verzbicas finished 22nd amongst a professional field at an Olympic distance race in Sarasota, a remarkable performance considering what he had endured.
"My only goal was to finish," he said. "I was satisfied with what I did considering where I had been about nine months ago."
November, 24, 2012
11/24/12
10:36
AM ET
Four months ago, one of the best high school milers of all time, Lukas Verzbicas, nearly died during a cycling crash that left the 19-year-old bedridden. But Verzbicas is back and thankful to be alive.
[+] Enlarge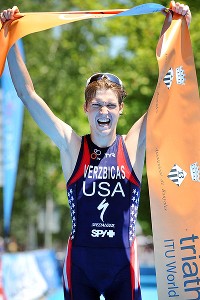 Janos Schmidt/Getty ImagesLukas Verzbicas celebrates his first career ITU World Cup title at the 2012 Banyoles ITU Triathlon World Cup in Spain on June 17.
On Thursday, he took third in the Orland Park Turkey Trot in Orland Park, Ill.
RELATED: Verzbicas talks about crash
"The fact that I'm able to even be here means so much more to me," Verzbicas said. "I've never appreciated something like life. I always thought about the small things -- the racing and the training and all of that. That was all that mattered to me. Now I see the wide spectrum and the big picture."
Verzbicas, who was born in Kaunas, Lithuania, and graduated from Carl Sandburg High School in Orland Park, is a two-time Gatorade National Runner of the Year. Last year he left the University of Oregon to concentrate on training for triathlon.
VIDEO: Verzbicas' road to recovery
His bike crash took place in Colorado Springs when he was heading downhill and slammed into a guardrail. The result: two broken vertebrae, a broken thorax, and a broken clavicle. On Thursday, he finished third overall out of 750 entrants and second in the 15-19 age group with a time of 13 minutes, 32.6 seconds. It was his first competition since the accident.