April, 29, 2014
4/29/14
10:15
PM ET
PARIS -- World and Olympic champion Marianne Vos says women cyclists got a "big boost" when Tour de France organizers agreed to host a one-day race for them in Paris this year -- but she's not stopping there.

The first "La Course by Le Tour de France" -- a women's race -- takes place on July 27, just hours before men riders end their three-week jaunt through Britain and France to the Champs-Elysees in Paris.

Vos and Britain's Emma Pooley were among four women riders who launched a petition last year seeking a women's version of the Tour. Tour director Christian Prudhomme first dismissed the idea, then grumbled about the petition's timing, and relented to pressure.

Vos called the race an important step, "and let's see what other opportunities we can get," the Dutchwoman told The Associated Press on Tuesday, at the same time race organizers announced details.

She calls herself a "marraine," French for godmother, of La Course, and will ride in the inaugural race.

La Course will cover 55 miles and include 13 laps on the Champs-Elysees, with a likely sprint finish. The winner will receive about $31,000, the same sum awarded to men for a Tour stage win.

"In addition to the 100 cyclists in the pack, policewomen from the Paris Police Prefecture will be responsible for watching over La Course, which will have a 100 percent female jury," Tour organizers said in a statement, adding that "those who make it onto the podium can look forward to kisses from podium boys!"

Until now, the 110-year-old Tour has been almost exclusively a male preserve, with women sometimes employed on team staff, or on the winners' podium handing out flowers and dispensing kisses on riders' cheeks.

Tour organizers said the race will be broadcast live in 104 countries.

Copyright 2014 by The Associated Press
December, 27, 2013
12/27/13
1:08
PM ET
By
 Staff report
| VeloNews.com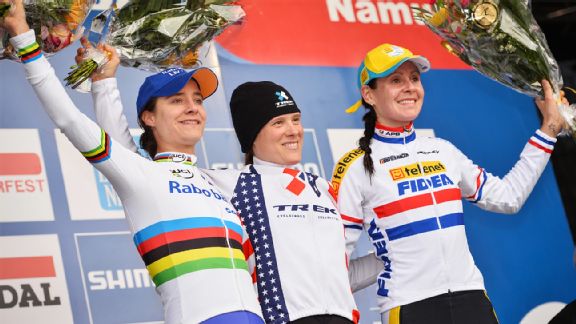 David Stockman/AFP/Getty ImagesKatie Compton, center, now has back-to-back World Cup wins in Belgium.
American Katie Compton rode to a comeback victory at the UCI Cyclocross World Cup in Heusden-Zolder, Belgium, on Thursday.
Compton (Trek Cyclocross Collective) topped Dutch world champion Marianne Vos (Rabobank) and Belgian champion Sanne Cant (Enertherm-BKCP) for her 20th career win on the top cyclocross circuit. With the victory, Compton extended her points lead in the World Cup before the final two stops, in Rome and Nommay, France. The World Cup closes Jan. 26 in Nommay.
Series leader Lars Van der Haar (Rabobank) won the men's race ahead of Czech pair Martin Bina (Cyklo Team Budvar Tábor) and Zdenek Stybar (Omega Pharma-Quick Step).
After a slow start on the Zolder track, Compton fought to come back on Vos. By the second lap, Compton led the race and rolled to a comfortable victory over the multiple-time world champ.
"I felt really good," said Compton. "I mean, I really pushed hard. I pushed where I could, I mean, on the road sections I'm not going to go hard the whole time, so it's a matter of do what I can and try to attack more on the technical sections where it's hard to draft anyway."
For Compton, it was the second time in a week she had beaten Vos in a World Cup. She topped also topped the reigning cyclocross and road world champion, who returned from a racing break earlier this month, in Namur, Belgium, on Sunday.
"Second is not too bad. It was as I expected," said Vos. "Namur was hard, and it was no big surprise for me that I couldn't keep up with Katie. I thought today this course would suit me better and I felt already in the start that this race was better. But Katie was way too strong.
July, 12, 2013
7/12/13
8:31
PM ET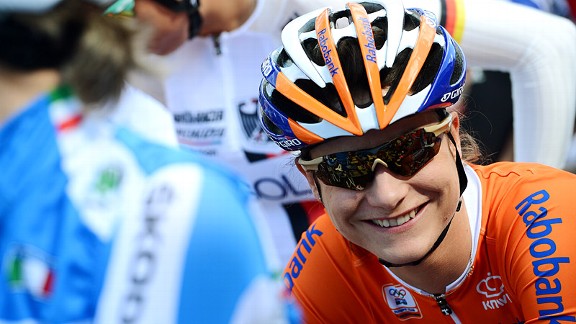 Franck Fife/AFP/Getty ImagesOlympic road race champion Marianne Vos wants a chance to add a yellow jersey to her collection.
THE HAGUE, Netherlands -- Marianne Vos has Olympic gold medals and the road race world champion's rainbow jersey in her trophy cabinet. Now she wants the chance to add a yellow jersey.
The Olympic road race champion is among a group of cyclists, including British Olympian Emma Pooley, who have launched an online petition urging Tour de France organizers to let women participate in next year's race.
In an online letter to Tour director Christian Prudhomme, the riders say that after a century "it is about time women are allowed to race the Tour de France, too."
A "Tour Feminin" women's race in France that was staged in the past, but not since 2009, "lacked parity, media coverage, and sponsorship" the letter to Prudhomme says.
Pooley won the 2009 race, known as the Grande Boucle Feminine, and Vos placed third.
The riders backing the petition said letting women race in the men's Tour, "will also create an equal opportunity to debunk the myths of physical `limitations' placed upon female athletes."
Vos conceded that getting women into the 2014 Tour may not be realistic, "but we hope to get the ball rolling," she told Dutch daily De Telegraaf.
On Friday, more than 2,200 people had put their names to the petition.
-- Associated Press
February, 4, 2013
2/04/13
3:21
PM ET
By
Dan Seaton
| VeloNews.com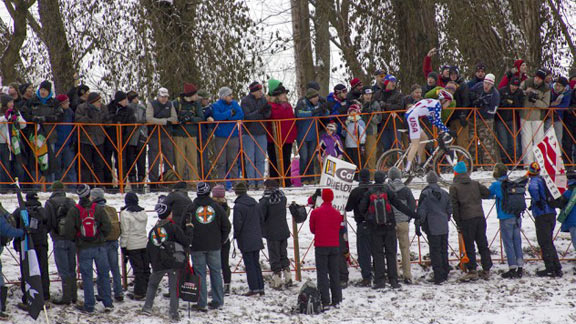 Chris Case/VeloNews.com The spectators at Louisville's Eva Bandman Park made themselves heard during Saturday's races.
LOUISVILLE, Ky. -- It took some serious bailing out -- of more than one variety -- to do it, but the first UCI Elite Cyclocross World Championships held outside of Europe was an almost unmitigated success.
A team of more than 20 workers bailed out the waters along the banks of Badger Creek, working furiously to keep the worlds course at Eva Bandman Park dry during the condensed race schedule on Saturday. And only months ahead of the races, USA Cycling bailed out the event financially after original sponsor Exergy failed to meet its financial obligations to promoters late last year. The fallout from both debacles was fodder for critics ahead of the championships, but in the end, there were few complaints. Instead, the worlds was elevated by the energy and enthusiasm of the roughly 10,000 fans who lined the muddy, half-frozen course for six hours on Saturday.
"For me, (winning in the United States) is really special," said Belgium's Sven Nys, the first elite man to win a championship outside of Europe, and something of an elder statesman of the sport. "To win here is maybe more special than to win in my home country. Definitely, that's also something special, with maybe 60,000 people, while here there were maybe five, six, seven thousand. But I felt myself, the whole week, really, really relaxed. And the respect I got from everybody over here helped me a lot."
Nys' reaction to the outpouring of support was hardly unique. Racer after racer, most more accustomed to the cloud of silence that envelops anyone not at the front of the field in European races than the ebullient atmosphere of American 'cross, said the sheer volume along the course was overwhelming.
"It was unbelievable," said Amy Dombroski, an American rider for the Belgium-based Telenet-Fidea team who has spent most of her last two seasons overseas, after finishing 11th. "I'm kind of choked up right now. It was absolutely deafening; my ears were actually hurting. It was absolutely unbelievable racing here, and I think America really came out, so it was exciting. It was a big thing for America."
February, 3, 2013
2/03/13
8:52
AM ET
By
Neal Rogers
| VeloNews.com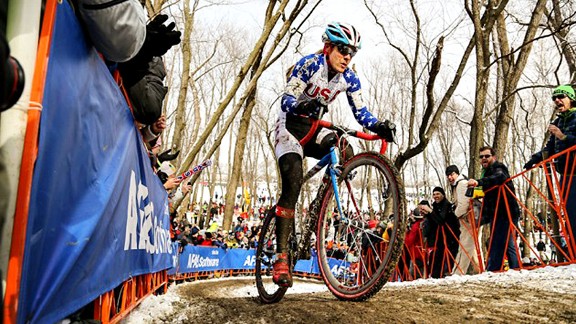 Kurt Hoy/VeloNews.com Katie Compton's silver medal in Louisville was her third runner-up finish at a world championship.
LOUISVILLE, Ky. -- It wasn't meant to be.
The rainbow jersey that has eluded American Katie Compton for so many years was again just out of reach Saturday at Eva Bandman Park.
For many reasons, this championship was Compton's best chance to win a world title.
ANALYSIS: Vos is boss
|
Nys is men's champ

Compton was coming off her best-ever season, winning three World Cup events and the series overall, a first for any American. She had a close familiarity with the Eva Bandman Park course, at a world championship that was held, for the first time ever, on North American soil. And Compton had the overwhelming support of a patriotic crowd desperately hoping for an American victory.
However, like so many women racing on roads, velodromes and cyclocross courses around the world, Compton came up against Dutch champion Marianne Vos, a 25-year-old phenom who seems capable of winning at will, particularly when it counts most.
The reigning Olympic and world road champion, who is revered by many as the Eddy Merckx of women's racing, recovered from a sub-par start to accelerate away from the rest of the women's elite field on the first of six laps.
Compton, who had an even worse start due to a dropped chain, was able to overtake every rider in her path, save one.
Vos crossed the line 94 seconds ahead of Compton -- light years in the world of international cyclocross -- to take her fifth straight world title. Compton took a frustrating third silver medal, her fourth podium appearance in seven years.
"I've had plenty of practice chasing on this year, coming back from mistakes," Compton said. "I did everything I could. Marianne had opened up a big gap, and I went into damage-control mode. And then the thought of not winning a medal at home was heartbreaking. There was no way that was going to happen."
January, 2, 2013
1/02/13
9:00
AM ET
By
Dan Seaton
| VeloNews.com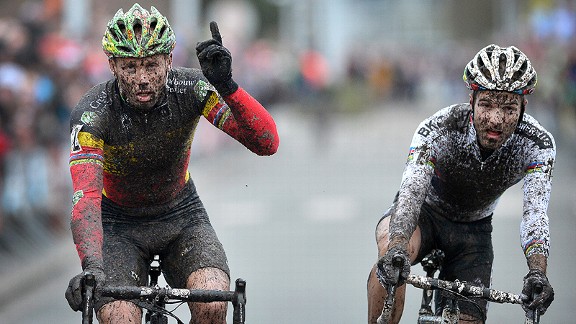 David Stockman/AFP/Getty ImagesIs Belgian Niels Albert, right, on the verge of closing the gap on dominant countryman Sven Nys?
BRUSSELS -- The UCI elite cyclocross world championships open one month from today in Louisville, Ky., and with two weeks of non-stop
Kerstperiode
racing in the books, the road to the Ohio River is becoming clearer every day.
Nys stumbles, Albert, Pauwels step up
Two weeks and eight races ago -- though it might seem like much longer for anyone who has watched them all -- Sven Nys (Crelan-Euphony) was all but invincible. The Belgian champion had won eight of 12 races and had not finished off the podium since October. He extended his run of good results in the past two weeks during Belgium's ultra-intense
Kerstperiode
with wins in C2 races in Sint-Niklaas and Bredene, a World Cup win in Zolder and a second-place finish in Namur.
But even Nys couldn't maintain his perfect record through the last two grueling weeks. He finished fifth in Essen on Dec. 22, seventh in Diegem on Sunday, and abandoned his race in Loenhout shortly after leaving the course mid-race to
admonish a spectator
for repeatedly splashing beer on him as he rode past. Nys spent Tuesday, the day of his namesake race, in bed with an apparently serious case of bronchitis. Before missing the 14th edition of the GP Sven Nys, he had racked up 11 wins in Baal, his hometown, and had never finished worse than second. But the massively popular Nys is apparently human once again.
In his place, the three men who dominated cyclocross in seasons past found themselves returning to prominence. World champion Niels Albert (BKCP-Powerplus) took wins in Loenhout and Diegem, Kevin Pauwels (Sunweb-Napoleon Games) was
victorious in Namur
and Baal, and two-time world champion Zdenek Stybar (Omega Pharma-Quick Step) returned from the road to cyclocross and immediately snapped up five podium places. Stybar could have earned a victory in Essen as well, but was relegated for causing a collision with Jan Denuwaelare (Style & Concept) during that race's dramatic sprint finish.
The race forecast for the elite men at the worlds is, if anything, even more clouded than it was before. Only one question has been answered with any certainty these past two weeks: Stybar, despite showing impressive form from the moment he returned, will not make the trip to worlds.