June, 30, 2014
Jun 30
10:44
AM ET
By
Christopher Chavez
| ESPN.com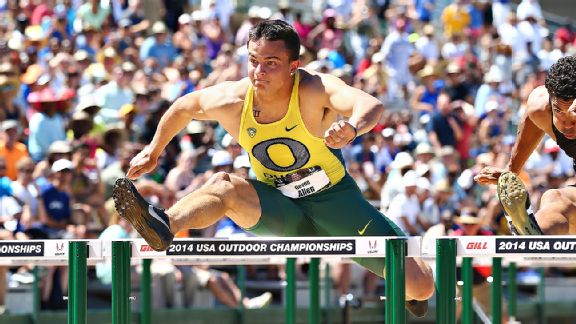 Andy Lyons/Getty ImagesDevon Allen adds a national title in the 110-meter hurdles to his previous NCAA championship.
The USATF Outdoor Championships concluded Sunday with a handful of noteworthy performances. Here's the best of the best.
Performer of the day:
Devon Allen of the University of Oregon became the first man to double as the NCAA Champion and U.S. champion in the 110-meter hurdles since Renaldo Nehemiah in 1979. Allen won with a time of 13.155, edging out defending champion Ryan Wilson by .005 seconds.
Allen's 13.16 at the NCAA Championship in Eugene on June 16 was the second fastest time by a collegiate athlete and scored points that led to a team title for the Ducks. Allen is also a wide receiver on the Oregon football team.
Comeback watch:
Wallace Spearmon may have finished in second place in the 200-meter dash, but his 20.19 matched his season's best from the 2014 adidas Grand Prix. In his post-race interview, Spearmon said he will stick around through the 2016 Olympics in Rio De Janeiro, which would be his third olympic team. The 29-year-old is currently unsponsored.
Donn Cabral had a dream 2012 season, capturing the NCAA steeplechase title to cap off an undefeated season over the water barriers, and he led the 3,000-meter steeplechase final for a few laps at the 2012 Olympics.
Cabral struggled in 2013, though, and finishing sixth at the U.S. Championships and being diagnosed with Lyme disease. He showed signs over the weekened of being back at full health with a late surge to challenge American record holder Evan Jager and Dan Huling in the last 400-meters of Sunday's steeplechase final. Cabral would finish third in 8:20.04. Jager won in 8:18.83.
Heartbreak of the meet:
Nike's Bershawn Jackson went down after the first hurdle of the men's 400-meter hurdle race with a pulled groin. Jackson finished fourth at the 2012 Olympic Trials, missing a place on the team by just one spot.
After qualifying for the IAAF World Championships in Moscow, Jackson's bad luck caught up to him in the semifinals and he suffered a hamstring injury. Jackson has said his goal is to return to the form that had him ranked in the top five in the world for most of his career.
Johnny Dutch won the 400 hurdles in 48.93 to capture his first national title after six previous appearances in the finals. Last year, Dutch missed a place on the national team for the IAAF World Championships by one spot.
Wire-to-wire wins:
Duane Solomon took the men's 800-meter title, running from the front at the start of the race. Solomon set a new stadium record with the 1:44.30 victory, thanks in part to an outstanding 1:15.8 split at 600 meters. Casimir Loxsom of the Brooks Beasts Track Club fought for second place and finished in 1:45.97 over Erik Sowinski.
New Balance's Jenny Simpson won the women's 1,500-meter run in 4:04.96, beating out teenage sensation Mary Cain. Simpson led from the start and took the field through the first 400 meters in 68.76 seconds.
Morgan Uceny fell 800 meters into the race, which brought back memories of her fall in the 1,500-meter final at the 2011 IAAF World Championships in Daegu and the 2012 Summer Olympic Games. She finished last in 4:24.01.
National depth:
The United States has six of the top 20 fastest women in the world for the 800-meter run in 2014. Ajee Wilson captured the U.S. national title with her season-best 1:58.70. NCAA champion Laura Roesler broke the two-minute barrier for the first time in her career as she finished second in 1:59.04. Brenda Martinez, the 2013 world bronze medalist, finished fifth in 2:00.18.
June, 5, 2013
6/05/13
6:21
PM ET
By
Jason Devaney
| Competitor.com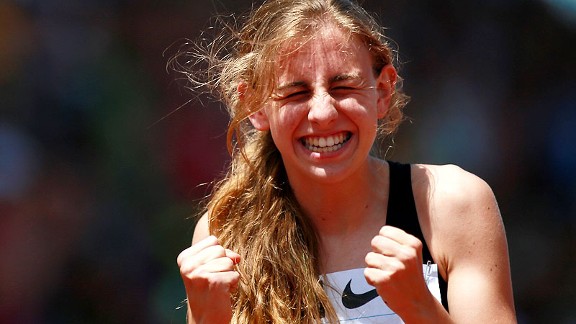 Jonathan Ferrey/Getty ImagesMary Cain received USATF's Athlete of the Week honors for a record-tying third time in 2013.
Mary Cain, the 17-year-old running phenom who broke the 800m American junior and high school records at the Prefontaine Classic over the weekend, has been named USA Track & Field's athlete of the week.
Cain clocked in at 1:59.51, making her the first American junior to ever come in under 2 minutes. She finished fifth in the elite field, behind such runners as 2012 Olympic bronze medalist Yekaterina Poistogova and 2011 Worlds bronze medalist Jaqneth Jepkosgei.
"I definitely tried to stick to the race plan, but I was much more determined to hit a sub 2:00 mark," Cain said in a USATF story. "I am somewhat relieved to have hit the time because it has been a goal of mine for a very long time."
The event was the high school junior's first race at a Diamond League meet.
After the race ended, Cain got another special treat: Fourth-place finisher Alysia Montano, a four-time U.S. outdoor champion, gave Cain her signature red flower. Montano wears a flower in her hair during every race.
"I have always looked up to her. When she came over, I was rather lost for words," Cain said. "I complemented her flower, and the next thing I know, she was giving it to me. Now, I have a souvenir from an amazing trip to Eugene."
Cain has received the Athlete Of the Week honor three times this year, matching Allyson Felix's record from 2012.
February, 18, 2013
2/18/13
9:39
AM ET
By
Chris Lotsbom
| Competitor.com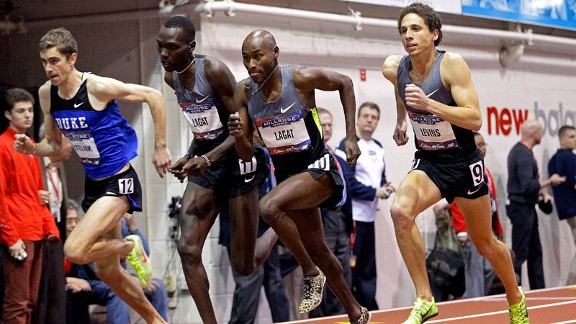 AP Photo/Frank Franklin IIBernard Lagat regained the U.S. record in the 2-mile by running 8:09.49 on Saturday at The Armory.
(c) 2013 Race Results Weekly, all rights reserved. Used with permission.
NEW YORK -- In a span of nearly 85 minutes at the Millrose Games on Saturday night at The Armory, a total of seven records were broken in the distance disciplines, making for one of the most memorable renditions of the meet in its 106-year history. Five of seven evening races measuring 600 meters and up saw either an American, junior, collegiate or meet record go, causing the capacity crowd to stand for a majority of the evening session.
Watch ESPN3's replay of the meet

"The fans were amazing. Tonight was a special night," said four-time Olympian Bernard Lagat, champion of the men's two-mile. Aiming to break the U.S. mark of 8:09.72, Lagat would need every last second to surpass Galen Rupp as America's fastest 2-miler, a title he held previously.
Through the mile in roughly 4:06, Lagat knew he needed to negative split the rest of the way if he wanted to hold every American record from the 1,500 to the 5,000. Ever so slightly pushing on the accelerator, Lagat found himself alone in front with the Oregon Track Club Elite's Evan Jager and Andrew Bumbalough, as well as Canadian Cam Levins, in tow.
"When it showed me with four laps to go, I still thought I had enough left," said Lagat. "But I was behind [record pace] for a long time."
Only with a quarter mile remaining did Lagat create a buffer ahead of the trio. With the bell signaling one lap left, Lagat used the kick that earned him two Olympic medals to unleash a 28.82 circuit, just getting him under Rupp's mark. The 38-year-old had timed 8:09.49, a mere .23 ahead of Rupp's best.
"A record is a record," said Lagat, accompanied by his smiling son Miika. "I've always said the record is a measure. And the fast times are a measure of how excellent you've been."
The records in the 2-mile discipline didn't end with Lagat, though. Just as the champion was drifting into lane two and breaking the tape, a bound and determined Edward Cheserek was taking off on his last lap. The Kenyan from St. Benedict's Prep in nearby Newark, N.J., was gunning for Gerry Lindgren's 49-year-old prep mark of 8:40.0.
January, 28, 2013
1/28/13
11:15
AM ET
By
David Monti
| Competitor.com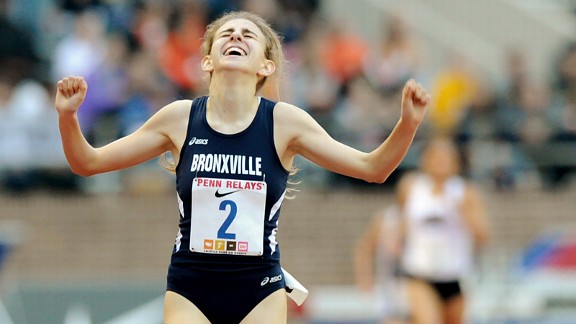 AP Photo/Cal Sport MediaCain, on coach Alberto Salazar: "He really knows what he's doing and I trust him 100 percent."
(c) 2013 Race Results Weekly, all rights reserved. Used with permission.
NEW YORK -- When Alberto Salazar took over coaching high schooler Mary Cain last October, he knew that he would only be able to see the 16-year-old star from Bronxville, N.Y., intermittently; Salazar lives 2,900 miles away in Portland, Ore., and already has a full plate coaching superstars Mo Farah and Galen Rupp.
So, the three-time ING New York City Marathon champion enlisted the help of another Olympian, New Zealander John Henwood, who works as a coach and massage therapist in New York City, to work with Cain. Henwood acts as Cain's coach-in-residence, supervising her workouts and reporting back to Salazar. Cain said that the set-up has worked very well for her.
"You know, he's been great since Alberto's all the way across the country," Cain told reporters this weekend after smashing Debbie Heald's 41-year-old American high school indoor mile record with her 4:32.78 performance. "He's kind of here as kind of my coach at home. It's great, because you know, sometimes maybe I'm like having a really great workout and I'm going faster than we expected. He's able to kind of like pick it up or, you know, I'm having a bit more trouble and slow it down. Just the support and having somebody here who's making sure I'm doing everything beforehand and keeping me calm. It's really great."
Henwood, 40, represented New Zealand in the 2004 Olympics in Athens in the 10,000 meters, although he didn't finish the race. Henwood has run 13:30.41 for the 5,000 and 27:45.98 for the 10,000. His best marathon was 2:15:05 at the NYC Marathon in 2005, where he finished 13th. He meets up with Cain several times a week to implement Salazar's program, and sometimes paces her through her workouts.
"Mileage-wise, we're not trying to overwhelm me," Cain said. "I'm still young and, hopefully, I still have a while to go. A lot of it is going to be a gradual process."