April, 24, 2013
Apr 24
1:31
PM ET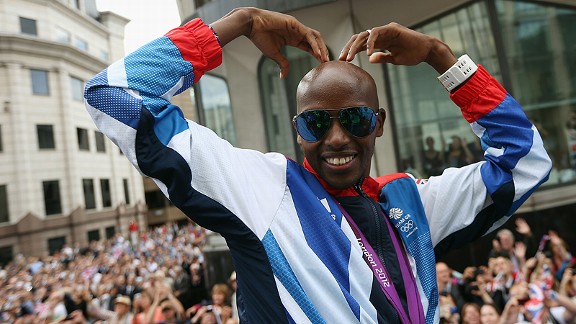 Dan Kitwood/Getty ImagesBritish Olympic gold medalist Mo Farah nearly missed the bus for the start of his marathon debut.
Last Sunday, Mo Farah had one mission: show up at the London Marathon and run the first half really fast.
However, that nearly turned out to be a disaster for the Somali-born British citizen.
"I woke up late [and I thought] I'm going to miss the bus," he recalled to the BBC in a recent interview.
Farah, who is coached by marathon legend Alberto Salazar, was using the London Marathon as a test run before he commits to the full distance next year.
"The biggest challenge [during the race] is picking up the drinks and making sure you pick up the right drink," he admitted. "I made a mess of it. At one point I had to stop and go back for it. Things like that don't help as you want to save energy."
In the race, Farah was able to match wits with the lead pack. They ended up going out ridiculously fast–at world-record pace in the opening half.
--
Competitor.com
February, 26, 2013
Feb 26
12:50
PM ET


In the above video, double Olympic medalist Mo Farah takes part in a cringeworthy television interview with WDSU anchor LaTonya Norton after winning the Rock 'n' Roll New Orleans Half Marathon on Sunday. Farah, who won the race in a record 1:00:59, is asked by Norton, "Haven't you run before? This isn't your first time?"

-- Competitor.com
February, 16, 2013
Feb 16
10:06
AM ET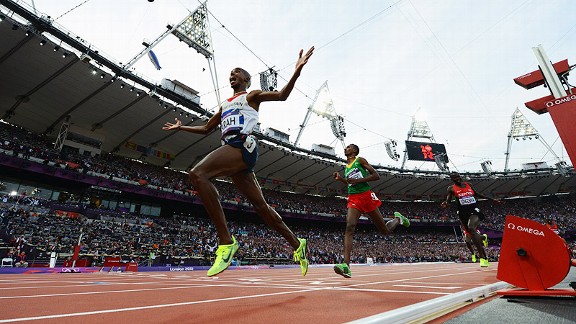 Stu Forster/Getty ImagesMo Farah will run half the London course in 2013 to gain an appreciation of what he'll need to go 26.2.
LONDON -- Double Olympic long-distance champion Mo Farah says he will run his first full marathon in the prestigious London event in 2014.
The 29-year-old Farah won gold in the 5,000 and 10,000 meters for Britain at the London Games last year but has always said he would eventually move up to the marathon, potentially in time for the Rio de Janeiro Olympics in 2016.
Farah says he has entered this year's London Marathon, on April 21, but will only run half the course to "allow me to understand the course and the systems I will need when I run the full distance."
London Marathon race director Hugh Brasher says organizers "are full of anticipation for his marathon debut in 2014."
Farah will compete in a half-marathon in New Orleans on Feb. 24.
Copyright 2013 by The Associated Press
December, 11, 2012
12/11/12
10:40
AM ET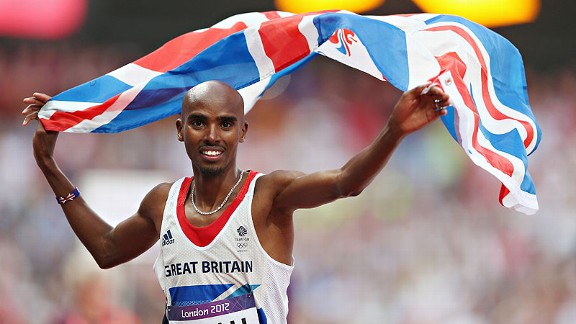 Clive Brunskill/Getty ImagesMo Farah plans to move to 120 miles per week -- training distance covered by elite marathoners.
Britain's top long-distance runner, Mo Farah, who won gold medals in the 5,000 and 10,000 meters at the 2012 Olympics last August, is making a big change in his training.
According to an article in the Belfast Telegraph, the Somali-born British citizen, who is coached by Alberto Salazar, is planning to move to 120 miles per week -- distance covered by elite marathoners. Farah has typically been running approximately 70 miles a week.
He's even planning to run a total of 20 miles on Christmas Day.
"Of course I'll be running [on Christmas Day]!" he exclaimed in a recent radio interview. "I'm going to run twice, because my rivals will probably only run once, so I'll have done more than anyone else. I'll try to get 17 miles in at least. That's a minimum."
He continued: "When I come back, my wife cooks a lovely meal -- I'll be making excuses, saying, 'I'm looking after the kids ... ' -- and then we'll just chill out."
In addition to his two Olympic golds, Farah also is the owner of multiple British distance records.