October, 30, 2014
10/30/14
6:43
PM ET
By
Christopher Chavez
| ESPN.com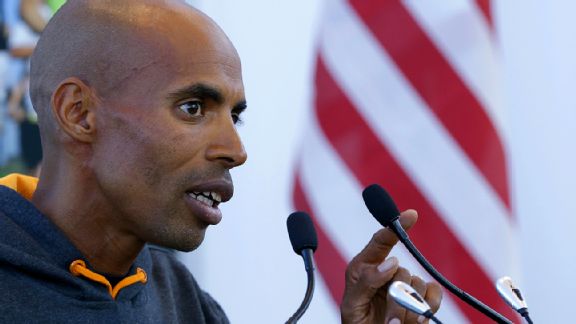 AP Photo/Seth WenigMeb Keflezighi is focused on tactics and finishing place than pursuing a course record.
The TCS New York City Marathon kicked off its opening ceremonies Thursday, welcoming the elite American runners to meet with the media. Tactics and weather dominated the talk among the marathoners.
Best of luck, Kenyans
Kenyan runners Wilson Kipsang and Geoffrey Mutai have made known their intention of breaking the course record of 2:05:06, set by Mutai in 2011. American Meb Keflezighi's personal best of 2:08:37 was set in April's Boston Marathon, and Keflezighi will approach this race with the intent of winning at his own pace regardless of record chases.
"I wish them the best of luck with that wind," Keflezighi said. "When I did what I did in Boston, I wasn't doing something crazy. I just did what was common sense and smart racing. If they're going for 2:04 or 2:05, I can't do that at the New York City Marathon. I know better than that. I just have to go for place and hopefully improve on my time."
Blustery conditions are in store for Sunday morning, the forecast calling for winds between 15-25 miles per hour from the north-northwest.
Goucher welcomes the wind
Kara Goucher and coaches Mark Wetmore and Heather Burroughs have set a 2:28 goal for Goucher's first marathon since the 2013 Boston Marathon. Shooting for a 2:25 performance would not be the best decision coming back from a several injuries. The windy conditions could play to her advantage and lead to a strong finish, though.
[+] Enlarge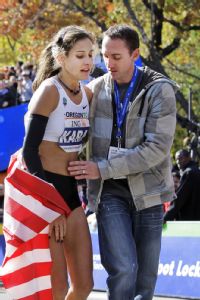 AP Photo/Kathy WillensKara Goucher gave her all in NYC in 2008 and plans to finish strong this year.
"If everyone runs slow because everyone is afraid of the wind then I'm going to stick my nose in it and see what happens," Goucher said. "I'm more concerned with the way I feel, the way I finish and the way I move forward from here."
The conditions could be similar to Goucher's marathon debut when ran 2:25:53 at the 2008 New York City Marathon.
"It was really windy here in '08," Goucher said. "I just tucked in behind Paula (Radcliffe) and used her as a block until she destroyed me. I'm welcoming the wind, because we've had an exceptionally windy fall in Colorado. It just adds to the strength element of the course."
Most recently, Goucher finished sixth with a time of 1:11:39 at the Rock 'n' Roll Philadelphia Half-Marathon.
Arciniaga's boost from Boston
Keflezighi will not be the only runner coming to the NYC starting line after a strong performance in Boston. Nick Arciniaga of Team RunFlagstaff Pro training group looks to build on his success in April.
"I wasn't sure what to expect," Arciniaga said. "I was hoping for a good performance and I changed things up in my training over the past year. I wasn't sure if those methods were going to work or not."
Arciniaga ran a tactical race in Boston and finished seventh in 2:11:47, the second American across the finish line. He told reporters Thursday that if he can lower his personal best to 2:09, he would have a solid chance of making the United States Olympic team in 2016.
Puskedra and the Oregon Project
Luke Puskedra makes his marathon debut on the same course where his coach Alberto Salazar was once a three-time champion, but Salazar is holding held on to his tips and specifics of the course until closer to the race.
"I haven't talked to him about the specifics of the course," Puskedra said.
And given the inner workings of the Oregon Project -- runners train and race together at times, but that's where it ends -- Puskedra has not spoken with Olympic and world champion Mo Farah about the pros and cons gleaned from Farah's marathon debut in London in April. Puskedra doesn't even know much about Farah's marathon training, which included time in Kenya.
"I have no clue what Mo did in Kenya," Puskedra said. "We'll talk when we do training runs. The only time we'll hear about the workouts is ... maybe when you've read an article sometimes."
Puskedra noted that many of his workouts ahead of NYC were solitary.
October, 10, 2014
10/10/14
2:49
PM ET
By
Christopher Chavez
| ESPN.com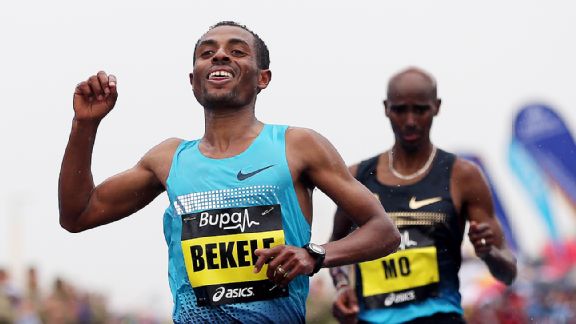 Ian MacNicol/AFP/Getty ImagesKenenisa Bekele and Mo Farah have had different results early in their marathon careers.
CHICAGO -- Like many first timers, Ethiopian Kenenisa Bekele believes he over-trained for his marathon debut earlier this year in Paris, where he set a new course record of 2:05:04. Coach Renato Canova already believes Bekele is the "ideal marathoner" and could challenge the world record in his third shot at the distance. Bekele is a little more reserved.
"To put me on top is not the time now," said Bekele, speaking at a press conference ahead of this weekend's Bank of America Chicago Marathon. "I need to run faster times."
Bekele's transition from the track to the marathon has been a success. Meanwhile, double Olympic and World Champion Mo Farah struggled in his first shot at the distance.
"It could be our different body types. Farah started achieving good results at the age of 27 or 28. If you come to me, I started achieving when I was 19 or 18," Bekele said. "He's only run one race, so we can't judge him
Bekele holds a 13-4 record over Farah in head-to-head match-ups. When asked if he would want to race Farah over the marathon distance, he replied with certainty.
August, 7, 2014
8/07/14
5:14
PM ET
By
Christopher Chavez
| ESPN.com
Three-time New York City Marathon champion and 1982 Boston Marathon winner Alberto Salazar turns 52 today.

Now retired from competitive running, the former Oregon Duck is based in Portland, Ore. as the head coach of the Nike Oregon Project. His training group saw success at the 2012 Summer Olympics Games in London as Mo Farah (Great Britain) and Galen Rupp (United States) captured gold and silver medals, respectively, in the men's 10,000-meter run.

In honor of Salazar's birthday and #ThrowbackThursday, here is a quick flashback to his 1982 Boston Marathon win over Dick Beardsley.


January, 9, 2014
1/09/14
5:40
PM ET
By
Peter Gambaccini
| Runner's World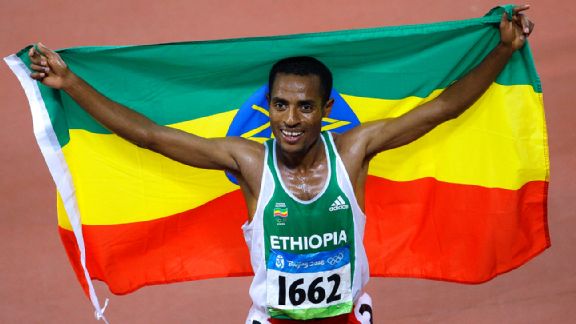 AP Photo/Greg BakerKenenisa Bekele hopes to add marathon success to his multiple track championships.
Kenenisa Bekele, the world record holder at 5,000 and 10,000 meters who is often considered the greatest distance runner on the track in history, will make his marathon debut in Paris on April 6.
"It will be a crucial test for the rest of his career," the Ethiopian's manager, Jos Hermens, told the IAAF. "If successful, that would mean he could target the marathon at the Rio [de Janeiro] 2016 Olympics."
The announcement that Bekele will make his 26.2-mile debut at Marathon de Paris comes days after a BBC interview in which former London Marathon director Dave Bedford stated, "I don't believe Bekele will be coming to London," where a possible match-up with Mo Farah had been eagerly anticipated.
Bekele's feat of winning the 5000 and 10,000 at the 2008 Olympics and 2009 world championships was duplicated by Great Britain's Farah in 2012 and 2013.
April, 24, 2013
4/24/13
1:31
PM ET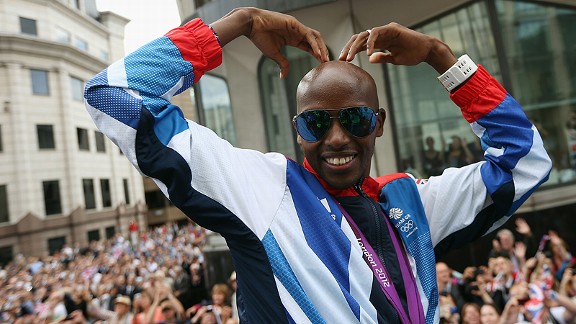 Dan Kitwood/Getty ImagesBritish Olympic gold medalist Mo Farah nearly missed the bus for the start of his marathon debut.
Last Sunday, Mo Farah had one mission: show up at the London Marathon and run the first half really fast.
However, that nearly turned out to be a disaster for the Somali-born British citizen.
"I woke up late [and I thought] I'm going to miss the bus," he recalled to the BBC in a recent interview.
Farah, who is coached by marathon legend Alberto Salazar, was using the London Marathon as a test run before he commits to the full distance next year.
"The biggest challenge [during the race] is picking up the drinks and making sure you pick up the right drink," he admitted. "I made a mess of it. At one point I had to stop and go back for it. Things like that don't help as you want to save energy."
In the race, Farah was able to match wits with the lead pack. They ended up going out ridiculously fast–at world-record pace in the opening half.
--
Competitor.com
February, 26, 2013
2/26/13
12:50
PM ET


In the above video, double Olympic medalist Mo Farah takes part in a cringeworthy television interview with WDSU anchor LaTonya Norton after winning the Rock 'n' Roll New Orleans Half Marathon on Sunday. Farah, who won the race in a record 1:00:59, is asked by Norton, "Haven't you run before? This isn't your first time?"

-- Competitor.com
February, 16, 2013
2/16/13
10:06
AM ET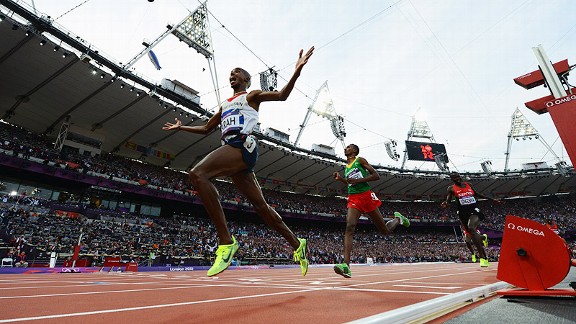 Stu Forster/Getty ImagesMo Farah will run half the London course in 2013 to gain an appreciation of what he'll need to go 26.2.
LONDON -- Double Olympic long-distance champion Mo Farah says he will run his first full marathon in the prestigious London event in 2014.
The 29-year-old Farah won gold in the 5,000 and 10,000 meters for Britain at the London Games last year but has always said he would eventually move up to the marathon, potentially in time for the Rio de Janeiro Olympics in 2016.
Farah says he has entered this year's London Marathon, on April 21, but will only run half the course to "allow me to understand the course and the systems I will need when I run the full distance."
London Marathon race director Hugh Brasher says organizers "are full of anticipation for his marathon debut in 2014."
Farah will compete in a half-marathon in New Orleans on Feb. 24.
Copyright 2013 by The Associated Press
December, 11, 2012
12/11/12
10:40
AM ET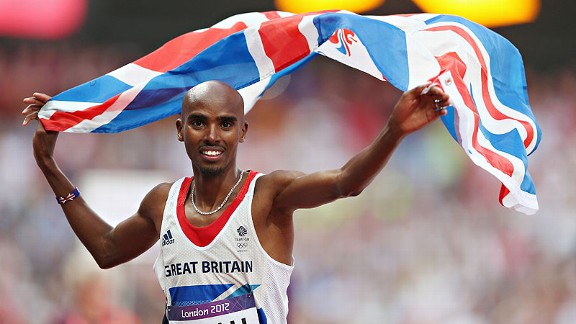 Clive Brunskill/Getty ImagesMo Farah plans to move to 120 miles per week -- training distance covered by elite marathoners.
Britain's top long-distance runner, Mo Farah, who won gold medals in the 5,000 and 10,000 meters at the 2012 Olympics last August, is making a big change in his training.
According to an article in the Belfast Telegraph, the Somali-born British citizen, who is coached by Alberto Salazar, is planning to move to 120 miles per week -- distance covered by elite marathoners. Farah has typically been running approximately 70 miles a week.
He's even planning to run a total of 20 miles on Christmas Day.
"Of course I'll be running [on Christmas Day]!" he exclaimed in a recent radio interview. "I'm going to run twice, because my rivals will probably only run once, so I'll have done more than anyone else. I'll try to get 17 miles in at least. That's a minimum."
He continued: "When I come back, my wife cooks a lovely meal -- I'll be making excuses, saying, 'I'm looking after the kids ... ' -- and then we'll just chill out."
In addition to his two Olympic golds, Farah also is the owner of multiple British distance records.