Endurance:

Paula Radcliffe
January, 14, 2015
Jan 14
2:34
PM ET
By
Christopher Chavez
| ESPN.com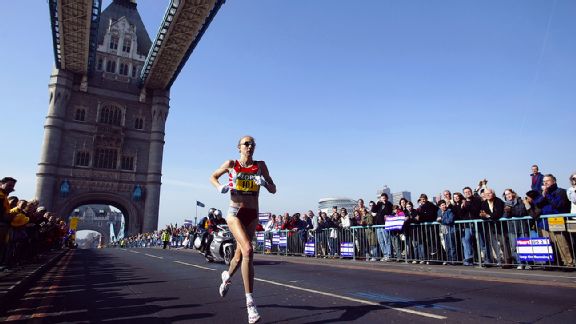 Michael Steele/Getty ImagesPaula Radcliffe will take one final run across Tower Bridge during the London Marathon.
After years of trying to mount a comeback from a foot injury, women's marathon world record holder Paula Radcliffe will finally return, running April's London Marathon as the final race of her career.
The 41-year-old Radcliffe set the world record of 2 hours, 15 minutes, 25 seconds in London in 2003, and last competed in at the 2011 Berlin Marathon.
"We are absolutely thrilled that Paula has chosen London for her final marathon and we know the British crowds will be out in force to celebrate her extraordinary career," race director Hugh Brasher said in a news release.
Radcliffe was not included in the list of elite athletes released by race organizers, and will announce her intentions for the race on Jan. 30. She told ESPN.com in November that she thought about running the New York City Marathon in a non-competitive capacity, so she might not be racing for the victory in London.
Radcliffe returned to racing with a third-place finish at the Worcester City 10K race last September. Her previous race was a 2012 half-marathon in Vienna before a foot injury kept her from competing at the 2012 Summer Olympic Games in London.
Among the other elite women announced for London are 2014 champion Edna Kiplagat and runner-up Florence Kiplagat; 2014 New York City Marathon champion Mary Keitany, seeking her third London victory (something accomplished by only Radcliffe and two others); and 2012 Olympic silver medalist Priscah Jeptoo, who is aiming for redemption after dropping out of last year's race around the 25K mark.
Here's a look at Paula Radcliffe and recent marathon history by the numbers:
10
-- Number of times women have run under 2:19 since Radcliffe's last marathon, in Berlin in 2011. She has accomplished the feat four times in her career.
2
-- Number of times the men's marathon world record has been broken since the 2011 Berlin Marathon.
3
-- Victories in London by Radcliffe. Her winning times are the first (2:15:25, 2003), third (2:17:42, 2005) and sixth (2:18:56, 2002) fastest times in history.
3:12
-- Difference between the fastest marathon run during Radcliffe's absence (Mary Keitany's 2012 London victory) and her 2:15:25 record run in '03.
5:29
-- Difference between the personal best (2:21:14) of Shalane Flanagan, currently the top American female marathoner, and Radcliffe's record. Some perspective on how fast and dominant Radcliffe was when healthy.
10
-- Years since Radcliffe last ran the London Marathon, in a winning time of 2:17:42 in '05.
10
-- Months difference in age between between 41-year-old Deena Kastor (Feb. 14, 1973) and Radcliffe (Dec. 17, 1973). Kastor ran 2:33:18 in windy and cold conditions at the New York City Marathon in November.
14
--Place by Emma Stepto at the 2014 London Marathon at the age of 44.
1,309
-- Number of days between Radcliffe's finish in Berlin and her April 26 start in London.
October, 31, 2014
10/31/14
4:39
PM ET
By
Christopher Chavez
| ESPN.com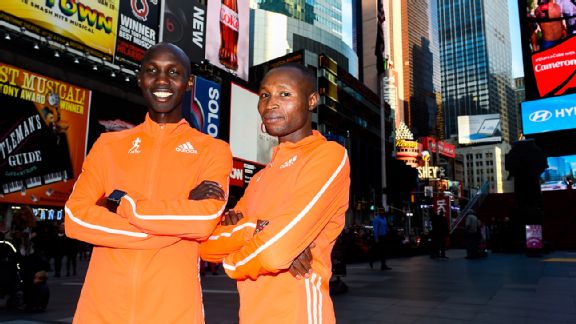 Alex Goodlett/Getty ImagesWilson Kipsang, left, and defending champ Geoffrey Mutai hope to break the course record in NYC.
Geoffrey Mutai won last year's New York City Marathon in 2:08:24 in conditions similar to the windy weather expected for this Sunday's race. The two-time defending champion will be going for his third consecutive victory and wants to do it in course-record fashion.
His training partner and former World Record holder Wilson Kipsang is on-board for the record assault.
Mutai blamed a slow early pace for last year's time, which did not impress seasoned marathon observers.
"When the athletes are not cooperating, you can not run a good time," Mutai said.
Mutai and Kipsang have not spent as much time training together as Mutai has with current world record holder Dennis Kimmetto, but Mutai and Kipsang are ready to work with each other in New York.
"I will follow him," Mutai said. "There is no chance that we will leave each other. We will fight together."
April, 29, 2014
4/29/14
11:31
AM ET
MOSCOW -- Three-time Chicago Marathon champion Lilya Shobukhova has been banned for two years for blood doping and faces demands to repay millions of dollars in winnings.

The Russian athletics federation said Tuesday it banned Shobukhova until next January for abnormal biological passport values and stripped her results since Oct. 9, 2009. Shobukhova won three times in Chicago and once in London in that time, also collecting $1 million in prize money as a two-time leader of the World Marathon Majors rankings.

"Any athlete found guilty of a doping offense will be required to repay any prize or appearance money earned at WMM events including WMM series prize money," the race organizers' group said in a statement.

The 36-year-old Shobukhova's time of 2 hours, 18 minutes, 20 seconds in Chicago in 2011 made her the second-fastest women's marathon runner behind record holder Paula Radcliffe of Britain.

"Lilya Shobukhova finally exposed as a drug cheat," Radcliffe wrote on her Twitter account. "Action needs to be taken to show cheating not acceptable. Monies won should be returned and rightful winners recognized."

Shobukhova won three in a row in Chicago from 2009 to 2011 and placed fourth the following year. In London, she was third in 2009, won in 2010 and was second the next year.

Those results lifted her to first place in the major marathons series to get the 2009-10 and 2011-12 season titles.

"WMM will continue to hold a stern line and supports all measures to ensure the integrity of the athletes competing in their races," general counsel Nick Bitel said in a statement. "Cheats need to understand that they are not welcome in our sport and that they will be caught."

Shobukhova enjoyed some success as a distance runner on the track until switching to marathons after the 2008 Beijing Olympics.

In her profile page on the IAAF website, Shobukhova is quoted saying she split with her long-time coach around that time.

Her husband, Igor Shobukhov, took over as coach despite being "most inexperienced -- he had never before coached professional athletes," the profile states.

Shobukhova can appeal the sanction.

Copyright 2014 by The Associated Press
November, 28, 2012
11/28/12
1:18
PM ET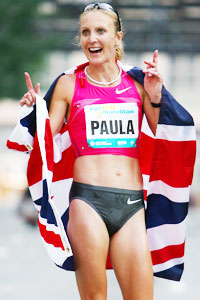 Chris Trotman/Getty ImagesPaula Radcliffe, after winning the 2009 New York City Half-Marathon.
It's been a challenging year for British long-distance runner Paula Radcliffe. A persistent foot injury kept her from running in the 2012 Olympics in London and now she fears she may be permanently sidelined because of it.
"Some of the pain will be better but I don't know whether I'll be able to get back to elite level," she told the Telegraph. "But the alternative was not being able to run, even recreationally. That's why I wanted to try it."
Radcliffe turns 39 next month and opened up about the day she missed the Olympic race. She had planned to attend it as a spectator, but she said she couldn't bear to leave her hotel room.
"I thought that they might come and out really hit it, and that [Mary] Keitany would be in really great shape, but she wasn't," said Radcliffe of the marathon. "That made me feel even sadder because it wasn't as if they were miles ahead and I would only have been running for top five or top six. I could have been in there fighting for it, and that almost makes it harder to take."