Endurance:

Priscah Jeptoo
September, 10, 2014
9/10/14
2:25
PM ET
By
Christopher Chavez
| ESPN.com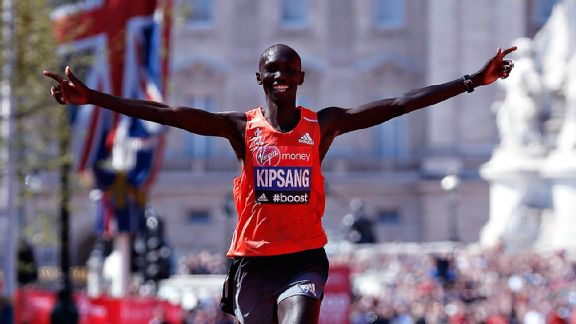 AP Photo/Sang TanWilson Kipsang set the world marathon record (since broken) last fall and makes his NYC debut this year.
As if a
star-studded American field
wasn't enough, the 2014 TSC New York City Marathon has added men's world record holder Wilson Kipsang to its Nov. 2 lineup.
The New York Road Runners finalized their elite athlete field with the announcement of Olympic medalists and past NYC champions from around the world.
"We're proud to welcome Wilson, a world-renowned marathon icon; Buzunesh Deba, the ultimate running ambassador for our City; and an unparalleled field to "get their New York on" with every stride they take through the City's five boroughs, as they lead runners from Staten Island to Central Park," NYRR CEO Mary Wittenberg said in a press release.
Last fall, Kipsang set the world record of 2:03:23 in Berlin. Earlier this year he won the 2014 Virgin Money London Marathon in a course-record time of 2:04.27. The addition of Kipsang threatens two-time defending New York Marathon champion Geoffrey Mutai's goal of winning his third consecutive New York City Marathon.
2010 NYC champion Gebre Gebremariam is also entered in the field.
August, 21, 2014
8/21/14
10:11
AM ET
By
Christopher Chavez
| ESPN.com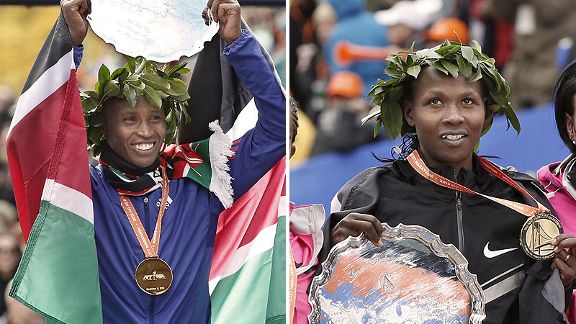 AP Photo2013 NYC Marathon champs Geoffrey Mutai and Rita Jeptoo are back to defend their titles in 2014.
Two-time defending champion Geoffrey Mutai and reigning women's champion Priscah Jeptoo will return to the TCS New York City Marathon on Nov. 2 to defend their titles, the New York Road Runners announced on Thursday. The Kenyans join an elite field that includes 2014 Boston Marathon Champion Meb Keflezighi.
"Last year, as they led 50,000 runners in the largest marathon ever, both Geoffrey and Priscah were inspirations to us all," NYRR President and CEO Mary Wittenberg said.
"This November, when they line up in Staten Island to start their journey through the unique neighborhoods of the City's five boroughs, these world-class athletes will be chasing history, as Geoffrey goes for a New York hat trick and Priscah looks to join an elite group of repeat winners."
Mutai already holds the course record with his 2:05:05, run in 2011. He is also the fastest marathoner of all-time with his 2:03.02 from the 2012 Boston Marathon, but due to the course's elevation drop and point-to-point layout the time is ineligible for an official world record.
Jeptoo won last year's race in come-from-behind fashion, reeling in Ethiopian Buzunesh Deba in Central Park after 24 miles. She would cross the finish line in 2:25:07 for a 48-second victory over the Deba..
Here's a look at Mutai and Jeptoo by the numbers:
0 - Marathons in the spring for Rita Jeptoo after a leg injury forced her to withdraw from the 2014 Virgin Money London Marathon.
3 - Mutai looks to win his third consecutive New York City Marathon. He would become just the third man in history to accomplish the feat and the first since Alberto Salazar in 1980-1982.
4 - Although Kenyans have dominated the marathon scene in recent years, Jeptoo is only the second Kenyan woman to win the New York City Marathon since 2000.
6 - Years in age difference between Mutai and Keflezighi on race day. Mutai turns 33 on October 7.
7 - If Jeptoo captures the 2014 crown, she would be the seventh woman to win in back-to-back years. Only two women have won more than twice. World Record holder Paula Radcliffe last accomplished the feat in 2007 and 2008.
22 - Number of miles run with the lead pack before Mutai broke away for the victory in 2013. Is there a similar plan this year or will Mutai chase a faster time than his 2:08:24 from 2013?
60 - Number of minutes Mutai needed to win the New York City Half Marathon on March 16. He would finish sixth at the London Marathon a few weeks later.
2012 - Had the 2012 race not been cancelled due to Hurricane Sandy, 2014 could have been an attempt at a four-peat for Mutai. Only Bill Rodgers has won the New York City Marathon four consecutive times.
November, 11, 2013
11/11/13
11:02
AM ET
By
Scott Douglas
| Runner's World
There are marathons big and small still to come this fall, but with most of the mega races having been run, some trends in the sport are clear. Here are five takes on what we've seen this season.

1. Increased security is everywhere
"The new normal" has been this fall's buzzword at marathons, referring to the increased security at races across the country in the aftermath of the bombings at the 2013 Boston Marathon. Bag searches, bomb-sniffing dogs, metal detectors, pre-screening, automatic rifles, participant-only areas and other features common to civil aviation are in place at marathons like never before.

By most accounts, runners and spectators have accepted the new measures. Recreational and elite marathoners said after big races they ran without fear. Anecdotal reports from Chicago and New York City were that crowds along the course were as big as ever.

At the same time, races and runners have already started to talk about what level of security is appropriate moving forward. The New York Road Runners spent approximately $1 million on security for this year's race, about twice as much as was typical before Boston.

Runners doing their first marathon since Boston discovered the new procedures add time not only on race day. At packet pick-up the day before the Marine Corps Marathon, the line to get into the expo facility backed up into the hundreds at one point, and tempers flared.

The new measures also affected the larger community. Fences near the start and finish of Chicago made accessing the bike path along Lake Michigan challenging leading up to race day. One resident of Manhattan's Upper West Side reported having to show ID just to re-enter her block on the afternoon of the marathon. With municipalities already starting to push back against the ramifications of races, marathon organizers will need to work even harder to maintain good community relations.


November, 3, 2013
11/03/13
6:55
PM ET
When she hit halfway in Sunday's New York City Marathon in 1:16:00, Priscah Jeptoo was three-and-a-half minutes behind the leader.

It was at that point that the pre-race favorite, a 29-year-old Kenyan who had the $500,000 World Marathon Majors championships on the line, got down to the business of overtaking leader and eventual runner-up Buzunesh Deba, an Ethiopian who lives in the Bronx, at Mile 24.

Jeptoo crossed the finish line first in 2:25:07, and Deba held on for second in 2:25:56.

The temperature was 46 degrees with a 15-mph headwind during the opening stretch on the Verrazano-Narrows Bridge. A pack of about 20 women stuck together while Deba and Bronx-based Ethiopian training partner Tigist Tufa shot out front, where they'd remain for the majority of the race.


October, 30, 2013
10/30/13
5:55
PM ET
By
Peter Gambaccini
| Runner's World
New York -- In 2011, Mary Keitany had won the London Marathon and, coming to New York City, was perceived as the top female marathoner in the world.
She took off so quickly from the start in New York that at one point she was four minutes ahead of course record pace, absolutely out of sight of her closest pursuers, including Ethiopians Firehiwot Dado and Buzunesh Deba.
Yet in an interview Wednesday about that 2011 race, Deba, more than once, declared, "I controlled her."
That was far from the common perception. But Deba, who is based in the Bronx, explained, "I know the New York course is very tough. I know her pace would slow down."
And after a pause, again, "I controlled her."
[+] Enlarge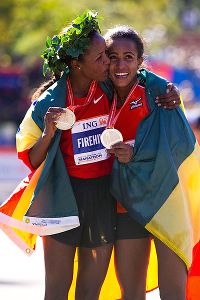 Don Emmert/AFP/Getty ImagesDado, left, and Deba are confident they can repeat their 2011 success in NYC.
Deba finally got Keitany back in her sights in mile 18, and joined countrywoman Dado -– a friend and running club partner years before in Ethiopia -– in catching Keitany just before the 25-mile mark. In a final sprint, the victory, by four seconds in 2:23:15, went to Dado.
That means that on Sunday, Deba will again be bidding to be first local resident to win the New York City Marathon since 1974, when the race was entirely within the confines of Central Park.
And again, Deba and Dado will have formidable Kenyans to contend with: 2013 London Marathon champion and 2012 Olympic silver medalist Priscah Jeptoo, and two-time world champion Edna Kiplagat, who won in New York in 2010.
But Deba, a resident of East 195th Street, on the east flank of Van Cortlandt Park, isn't intimidated by them, either.
"Kiplagat, in 2010, at that time the pace was slow," she notes (Kiplagat's winning time was 2:28:20.). "Jeptoo, she runs on a flat course," in London and in a 2011 Paris victory.
"We will see," asserts Deba, whose goal on Sunday is to run "under 2:23."
No one is anticipating anything as quick as Keitany's first 13.1 miles in 2011, but Jeptoo and Kiplagat could be dictating matters from up front.
"Maybe the first half is fast, [and] I'm with them," figures Deba. "I need to run my best time."
Almost certainly, Dado and Deba will again team up for much of the race. Deba is 26, Dado is three-and-a-half years older, but they were members of the same police-sponsored running club in the village of Arsi Assell until Deba came to the United States in 2005.
In 2011, before the New York City Marathon, "I saw the [elite] list of names," remembers Dado, who spotted Deba on the roster. "I was so happy. I missed her."
"If there is anything I will never forget, it's that day," Dado says of her 2011 tandem effort with Deba through New York's streets. "Running with her was the happiest day of my life. I love her very much."
Dado came to New York in 2011 as a three-time Rome Marathon champion. After her five-borough marathon triumph, she returned in March 2012 and outsprinted New Zealander Kim Smith to win the NYC Half. She was fourth in the 2012 Boston Marathon and then began to have problems with what Sam Grotewold of the New York Road Runners called "a grisly infected blister."
She has no recent race results to boast about, but Dado "has the idea that she wants to defend a championship," her coach, Haji Adilo, told Barbara Huebner of the NYRR.
"That is how she is approaching this race. Depending on the weather, she feels like she is fit enough to run a PR."
On Wednesday, Dado stated that she considers Edna Kiplagat "an amazing athlete, and I am her fan. But Buzu and I have been training tremendously and we hope we can keep her in check."
Deba's training has been entirely in the Bronx.
"I love New York. New York is my second hometown," affirms the woman who does her track workouts in Van Cortlandt Park and who has done 31-mile runs around the circumference of Manhattan. "The first time I arrived in the Bronx, I loved the people. I love the place."
In 2011, Worku Beyi, Deba's husband and coach, noted that he felt moving his wife to Albuquerque at altitude might help give her a competitive edge. But soon after, "Oh, she missed New York so much," Beyi recalls. "She cried every day. She was not happy. So we moved back."
Deba planned to run in New York last November. When that race was called off, she ran Houston in January and took second in 2:24:26. In May, she won the Lilac Bloomsday 12K in Spokane and then had to take off a month from running due to a calf strain. She was fourth in Atlanta's Peachtree Road Race 10K on July 4 and second in the Bix 7 in Iowa on July 27.
She's more fit now. On Sunday, if she beats the ballyhooed Kenyans and her friend Dado, Deba will ensure that Norb Sander and Kathrine Switzer, the last New Yorkers to win the city's marathon, will go back simply being known as the President of the Armory Foundation (operating the Armory Track & Field Center) and the first woman to officially enter the Boston Marathon, respectively.