Endurance:

Stand Up To Cancer
December, 13, 2012
12/13/12
2:30
PM ET
By
Susan Lacke
| Competitor.com
'Tis the season, friends! For ugly holiday sweaters, that is.
Last weekend, I took on a local holiday triathlon. Instead of my standard race kit, I wore something a little more festive: a red gingerbread-man swimsuit, Santa socks, and a too-big sweater vest that can only be described as "Christmas Vomit."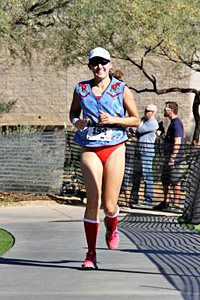 Courtesy of Susan Lacke/Competitor.com There are two things I'm confident in my ability do very well: running and making a giant ass of myself.
Yes, I was the only one who wore such a gosh-darn festive getup. Yes, I looked like a complete tool. And yes, I'll be bringing out some more holiday spirit for a 5K race this weekend.
There's a method to my madness: My ugly holiday outfits are really a superhero costume as I work to destroy cancer.
In December, hundreds of friends will dig out their finest in fugly attire, all in the name of raising funds and awareness
Stand Up to Cancer
. One hundred percent of funds raised go to saving lives by funding innovative research to finally get rid of cancer.
What is typically reserved for an evening holiday party in the company of friends and lots (LOTS) of liquid courage is now brought out in the harsh sunlight of the day -- all for a good cause. Wearing an obnoxious holiday sweater once is funny -- wearing it for weeks is dedication. When friends, family, co-workers and training partners cock their heads to the side and ask "Just what are you wearing?" we'll stick our bedazzled chests out with pride and declare:
"I'm wearing this beautiful behemoth to Stand Up To Cancer."