Endurance:

Stanley Biwott
November, 3, 2013
11/03/13
4:21
PM ET
By
Roger Robinson
| Runner's World
Geoffrey Mutai did it again. Not at the sub-2:05 course-record pace that looked possible just days ago, and more cautiously than when he set the record in 2011, but the victory was just as emphatic.

Mutai won the 2013 New York City Marathon by 52 seconds, and with his winning time a modest-looking 2:08:24 (and only the second- and third-place finishers also breaking 2:10) the men's race reverted to type: a race of tactical acceleration, a mounting crescendo of drama in which times are almost irrelevant.

The dominant factor through the first 20 miles, a 12-15 mph northwesterly headwind, was unseen. Gusting on the bridges, swirling between buildings, it discouraged heroics. Ryan Vail, the top American finisher, described conditions as "incredibly windy."

Mutai knows he can ride a following wind. He did so to such effect at Boston in 2011 that he ended with the fastest marathon in history, 2:03:02. So Sunday he waited for it to be at his back, unfazed as the 13-man pack shuffled positions around him.

On cue, as the course made its U-turn in the Bronx and headed south, Mutai made the move. It was graceful and deadly. The mountain lion statue they pass on Cat Hill in Central Park must have thought Mutai was family.

"When I start moving, I'm focused," Mutai said after the race. "I don't look back. I tried to call to [fellow Kenyan] Stanley Biwott to accompany me. I say, 'Come with me if you will share, or I'll do it by myself.'


November, 2, 2013
11/02/13
5:01
PM ET
By
Mario Fraioli
| Competitor.com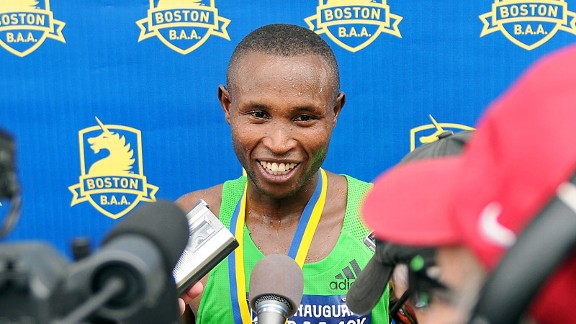 Bob DeChiara/USA TODAY SportsGeoffrey Mutai's exploits bring attention and pressure, but the Kenyan is focused for New York.
NEW YORK -- Geoffrey Mutai isn't a man of many words, but his legs sure do a lot of talking.
The 32-year-old from Kenya returns to the Big Apple this weekend as the reigning ING New York City Marathon champion, having run an eye-popping 2:05:06 here in 2011. In that race, Mutai hit the halfway mark in a swift 1:03:17 before dropping a previously unheard of 1:01:49 split for his final 13.1 miles to put away the field in quick fashion.
He didn't just break Tesfaye Jifar's 10-year-old course record of 2:07:43 that day, he obliterated it.
So how is Mutai feeling heading into this year's race?
"I feel OK," Mutai said at Friday's prerace news conference. "I've come prepared. To compare my shape from year to year is not so easy."
It might not be an easy comparison, but it's hard to believe Mutai won't be on his A-game come Sunday morning. Despite dropping out of the London Marathon in April due to a hamstring injury, Mutai has had a solid 2013 campaign. He broke 59 minutes for the first time at the RAK Half Marathon in February, running 58:58 to finish third, and had back-to-back sub-28-minute 10K efforts on the roads in June.
November, 12, 2012
11/12/12
9:53
AM ET
By
Staff
| Competitor.com
SAN ANTONIO -- The Rock 'n' Roll San Antonio Marathon & Half Marathon benefiting Susan G. Komen celebrated its fifth-year birthday in style Sunday morning when more than 25,000 entrants from all 50 states and 22 countries took to the city's downtown streets.
No runner arrived at the start line with better credentials than Kenya's Stanley Biwott, who is undefeated in five races this year, including victories at the Paris Marathon (2:05:11) and Rock 'n' Roll Philadelphia Half Marathon (1:00:03). Biwott arrived in San Antonio through New York City, where he was a favorite to win the ING New York City Marathon last Sunday before it was canceled last weekend after Hurricane Sandy devastated the region. He was the first to cross the finish line outside the Alamodome, winning the men's half marathon in 1 hour, 1 minute and 9 seconds, breaking the previous event record of 1:02:50 set by U.S. Olympian Brian Sell in 2008.
RACE PHOTOS: Rock 'n' Roll San Antonio Marathon & Half Marathon
[+] Enlarge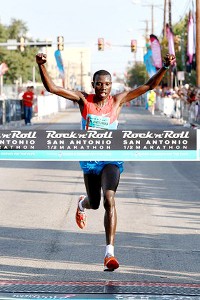 PhotoRun.net Stanley Biwott's time of 1:01:09 in the half marathon broke the event record of 1:02:50 set by U.S. Olympian Brian Sell in 2008.
"This was a good test for me; I knew that I could do something in New York," Biwott said. "I liked the spectators and I like San Antonio. They cheer for me a lot."
Dawn Grunnagle of Dallas was first in the women's half marathon, finishing in 1:18:09. A 1,500-meter specialist on the track, it was her second consecutive half-marathon victory after winning the Allstate Life Insurance Dallas 13.1 Marathon two weeks ago.
San Antonio resident Jose Munoz emerged victorious in the marathon with a time of 2 hours, 27 minutes and 53 seconds. The 27-year-old took the lead at the 17-mile mark, passing Kenyan Abraham Rutto, who finished second with a time of 2:33:03.
"When I passed him I told him to come up beside me and run with me," Munoz said. "But he said, 'No, man, you're too strong.' Once he told me that, I said, 'This is mine.'"
PHOTOS: Army Sergeant Surprises Wife At Finish
Cross country coach Elizabeth Eder, a graduate of Trinity Christian High School in San Antonio, won the women's marathon in 3:06:20. She was followed by Erin Ruyle of Georgetown, who finished in second at 3:15:46. Like Biwott, Eder wasn't supposed to be in San Antonio. She had also been scheduled to run the NYC Marathon last weekend.
This year's event marked the fifth annual Rock 'n' Roll Marathon & Half Marathon in San Antonio. Over the event's history in San Antonio, runners have raised nearly $6 million for charity and out of town visitors have pumped millions more into the local economy. The sixth Rock 'n' Roll San Antonio Marathon & Half Marathon is set for Sunday, Nov. 17, 2013.
November, 2, 2012
11/02/12
12:50
PM ET
By
Chris Lotsbom
| Competitor.com
(c) 2012 Race Results Weekly, all rights reserved. Used with permission.
NEW YORK -- Whenever Kenya's Stanley Biwott travels to the United States, he knows he is in for something special. Such is the case for the 26-year-old this weekend, as he tries to become the sixth Kenyan in 10 years to win the ING New York City Marathon, run through the five boroughs on Sunday.
"I like [the United States] because I have fans, and I enjoy it," Biwott told Race Results Weekly. "It's very nice."
Biwott comes into Sunday's marathon undefeated in five races this year, which include three wins in the United States. Over the summer, Biwott took first at the New Balance Falmouth Road Race and TD Beach to Beacon 10K, then returned in September to top the podium at the Rock 'n' Roll Philadelphia Half Marathon, timing 1:00:03.
"It's the people. The United States, when we come, they are very nice," Biwott said, speaking in a soft voice. "And they cheer very loud, the fans."
Even if this week's trip across the Atlantic Ocean took a little bit longer due to Hurricane Sandy, Biwott's smile doesn't show any sign of worry of stress. Flying from Nairobi, Kenya, to London, then on to Boston, Biwott finally arrived in New York City by car, riding with four other Kenyan athletes: Wilson Kipsang, Sharon Cherop, Edna Kiplagat and Moses Mosop.
So what is Biwott's secret to success in the States?
[+] Enlarge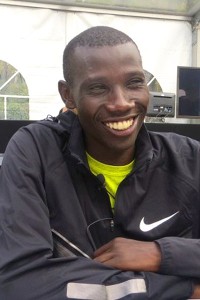 Chris Lotsbom for Race Results Weekly Stanley Biwott seeks to become the sixth Kenyan in 10 years to win the New York City Marathon.
"There is no secret, only to train," he said with a laugh.
Coached by Claudio Berardelli as part of a camp overseen by Dr. Gabriele Rosa, Biwott has done what he thinks it takes to win Sunday's race. Rosa has produced nine NYC Marathon winners, and Biwott seeks to become the 10th.
"He has been training me very well, focusing on the New York Marathon," said Biwott, who frequently runs with Dickson Chumba, winner of the De Lage Landen Marathon Eindhoven last month. "He has prepared me to train."
Seeing Chumba win in the Netherlands helped assure Biwott of his fitness level.
"It has given us confidence and morale that we are doing well," he said. Biwott also touched upon how winning this year has helped him mentally prepare, reminding him what he must do if he wants to be competitive come race day. "Winning has given me moral and hope, and keeping me training hard everyday so I can keep my position."
Will the combination of training and confidence help Biwott take home the $130,000 first place prize Sunday?
"That is my prayer," he says, again a smile arching across his face. "I don't know, everybody can win. We have confidence in our training and focus."