May, 17, 2013
5/17/13
4:29
PM ET
By
Joe Battaglia
| Competitor.com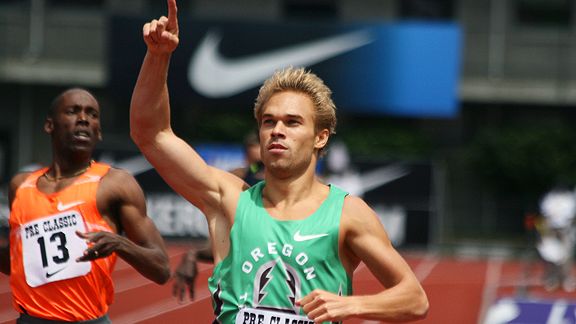 Robert RosenbergDoes two-time Olympian Nick Symmonds have a future in reality television on ABC's "The Bachelor"?
DOHA, Qatar -- Anyone with a Google alert set for Nick Symmonds had to wake up one recent morning, read the following sentence, and have some serious questions about what is motivating the five-time U.S champion in the 800m these days.
From gossip columnist Liz Smith, "Two-time Olympian Nick Symmonds, an American middle-distance runner, is being pursued by ABC to become its new hot 'Bachelor' on the still-popular reality show."
While world-record holder David Rudisha is fresh off opening his season with a 400m PR of 45.15 and his Diamond League Doha 800m victory over the weekend, can Symmonds possibly think that chasing women is the best thing for his career right now?
In an interview with Race Results Weekly, he said flatly that he doesn't believe throwing his hat into "The Bachelor" ring will hurt.
"When my publicist, Hal Lifson, contacted me to let me know that the producers of 'The Bachelor' were possibly interested in me for the upcoming season, I thought a lot about it and had some mixed feelings," Symmonds told Race Results Weekly. "On the one hand it would pretty much completely strip my life of any privacy I have left, but on the other it would be a once in a lifetime opportunity and a chance to maybe meet my future wife.
"I then also thought how it might affect my track career. I know there will be people who would say negative things about my decision to appear on the show, but these are likely the same people who repeatedly told me I would never break 1:43 for 800m in my life. Very simply put, if I listened to these kinds of people, I would not be able to do my job well or live my life happily."
Lately, living happily has meant striving for success in both his professional and personal lives.
Last summer, in the midst of preparing for the U.S. Olympic Trials, Symmonds very publicly courted socialite Paris Hilton, first by writing to her father, hotel magnate Richard Hilton, to request permission to date his daughter, then by flying from Oregon to California to buy her a mint mojito in The Polo Lounge at the Beverly Hills Hotel.