January, 3, 2013
1/03/13
5:57
PM ET
By
Matthew Beaudin
| VeloNews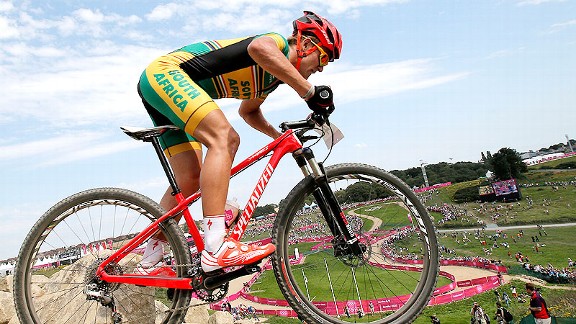 AP Photo/Christophe EnaBurry Stander, fifth in the London Olympics, died Thursday of injuries suffered in a training accident.
The tight-knit cycling community suffered a tear in its fabric on Thursday when cross-country rider Burry Stander was killed while training in his native South Africa.
Check VeloNews.com for updates to this story
According to reports, Stander, who rode to a fifth-place finish in the London Olympic Games, was struck by a taxi near Shelly Beach, south of Durban, and died from his injuries. He was 25 years old.
The news reached teammate Todd Wells, who met Stander when the South African came to the United States as a junior, early Thursday. Wells recalled a young Stander winning a junior race in Snowmass, Colo., by 15 minutes. Stander soon joined Wells at GT, "and we've been great friends ever since," Wells told VeloNews. "We traveled the world together. We shared a lot of great success and failure. He was kind of this young punk kid from South Africa. But right from the beginning we just got along great."
Wells and Stander would later join Specialized together.
Stander was the 2009 U23 cross-country world champion and won the fifth round of the 2012 World Cup in Windham, N.Y. Wells said Stander could have stayed in South Africa and raced, but that the young rider was driven to be the best in the world. Stander certainly had the tools.
"He was fearless," Wells said. "He was a great descender. He had a lot of great skills and he would push the limits. He would probably crash one time per race. He wasn't afraid to take risks. And in addition to that, he was just a phenomenally talented athlete."
Wells couldn't recall a particular moment he cherished with his friend; there were just too many.
"We have so many moments," Wells said. "We spent the last six years ... we won't see each other for seven months, eight months ... right when we see each other, it's like no time had passed. We'd just pick up right where we left off."