July, 19, 2013
7/19/13
12:43
PM ET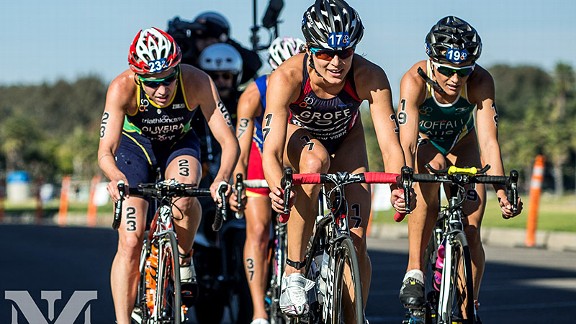 Nils Nilsen
Olympic triathlete Sarah Groff says all athletes -- regardless of level -- should set race goals and find a sense of fulfillment at the finish line. Read about it in her words ...
espnW: Athlete's Life
.
July, 16, 2013
7/16/13
1:29
PM ET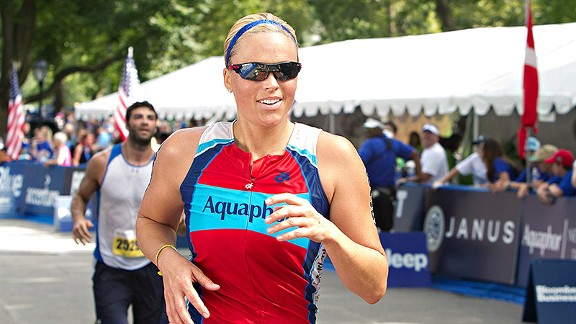 AP Photo/Matt Peyton
Olympic softball star Jennie Finch finishes the 'incredible,' 'cool,' 'awesome' Aquaphor New York City Triathlon ahead of schedule and starts to consider another go. Read about it in Finch's own words ...
espnW: Athlete's Life
.
July, 12, 2013
7/12/13
7:47
PM ET
By
Kim Cross
| Special to espnW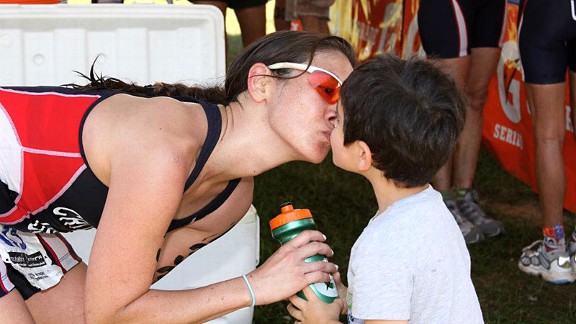 Courtesy of Mary Lou Davis
In the quest to train for the ITU cross triathlon world championships -- with a job and a kid and a spouse -- Kim Cross learns you have a lot to gain by losing. Read about it in her own words ...
An Athlete's Life.
May, 14, 2013
5/14/13
10:47
AM ET
By
Bethany Mavis
| Triathlete.com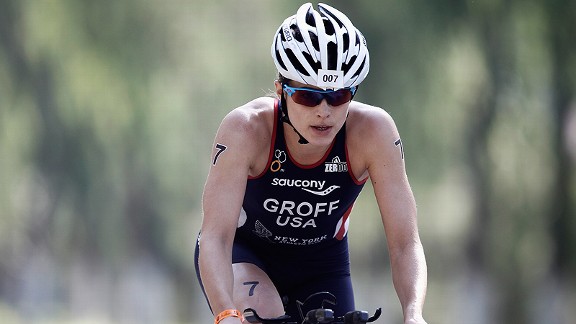 Lintao Zhang/Getty ImagesU.S. Olympian Sarah Groff talks about her new perspective on racing and her focus for the season.
After a fourth-place finish at the Olympic Games last August, American Sarah Groff started approaching her career with a new outlook. Rather than spending eight months out of the year training on coach Darren Smith's team in Australia and Switzerland, Groff is looking for more life balance, so she made the switch to coach Joel Filliol. We caught up with Groff to hear about the change, about her new perspective on racing and about her focus for the season.
Triathlete.com: When did you make the decision to change coaches?
Groff: I think I knew that after the Olympics I was going to make a change, be based in the U.S. a little bit more. I was living out of my suitcase for eight months out of the year for the previous couple of years. It just takes its toll on you. Where you see the athletes who successfully do—like Hunter Kemper. He's done four Olympics, he's learned how to balance personal life with high performance. We were actually talking about it yesterday, but you have to think of it in terms of a four-year quad, where your first year is calm, it's fun, you kind of regroup from the Olympic push. Then the next year you kind of get back into it a little bit more. But you really don't start to put the pressure on until year three and four. And that's when you just go all out. But in order to set yourself up well for a good Olympic experience, you have to really balance it out the first couple years. I got so much out of working with Darren [Smith], but it's one of those programs where either you're 100 percent committed to it and committed to being gone as much as I was, or it's just not going to work. And I needed to find something that allowed for a couple years where I could regroup and work on some weaknesses and find balance. And it just so happens that there's a coach who has a group that does ITU, and I get along really well with him. It's very low-key. We do our thing, we work hard, but it's not a high-pressure group. The attitude is a bit more relaxed, which is definitely what I need right now.
Who else is in the group?
From the U.S., Tommy Zafares, Jarrod Shoemaker, Alicia Kaye. Internationally, Helle Fredericksen, Caroline Routier, Mario Mola, Richard Murray, Vendula Frintova, Paula Findlay, and he's also coaching Rinny [Mirinda Carfrae]—Rinny hasn't quite met up with us at camps yet, but she will sometime.
How did you leave things with Darren?
Great, totally amicable. We had the kind of relationship where if we want to revisit it at some point, the door's open, I think. He realized that for me to be able to have the foundation I need outside of triathlon, I need to be with [boyfriend] Ben [True], and I need to feel like I have some sort of balance, some sort of home life. At some point, when I feel like it's an Olympic push—if I need to, I feel like I could call him up, even though I am one of his more difficult athletes that he's worked with.
May, 11, 2013
5/11/13
4:43
PM ET
By
Liz Hichens
| Triathlete.com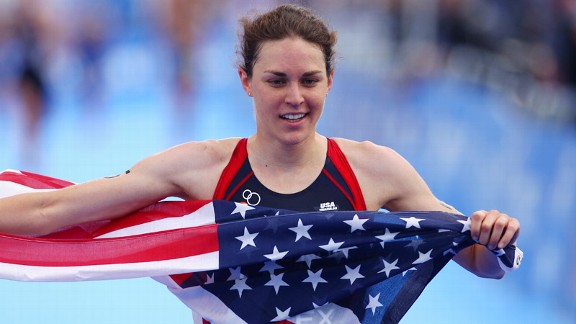 Richard Heathcote/Getty ImagesGwen Jorgensen pulled away on the final lap to win the World Triathlon Series race at Yokohama.
American Gwen Jorgensen outran the competition to earn the victory in Yokohama, the third of eight races on the World Triathlon Series circuit.
The race at Yokohama kicked off with rain clouds looming. Japan's own Mariko Adachi led the women out of the two-lap swim and into T1. Australia's Emma Moffatt, Japan's Yuka Sato and Great Britain's Jodie Stimpson followed her. By the end of transition they were joined by Jorgensen, Canada's Kirsten Sweetland, Ireland's Aileen Reid, Japan's Juri Ide and the Czech Republic's Vendula Frintova. Those athletes made up the first lead group, but by the second lap were joined by Kate McIlroy (NZL), Kate Roberts (RSA) and Ashleigh Gentle (AUS).
That lead group of 12 appeared to be building a strong lead until the rain started pouring on the later laps of the 40K ride. The front group got more conservative as the chase pack pushed the pace. The groups merged on the final lap, making a front pack of 18 athletes.
There were several questions as the athletes headed onto the run. Would Jorgensen be able to duplicate her run performance form WTS San Diego? Would a Japanese athlete thrill the hometown crowd? Who would thrive under the wet and cold conditions? Moffatt and Stimpson pushed hard in the early kilometers on the run and built a lead of 10 seconds over the main chase pack, which included Jorgensen. Moffatt continued to do most of the work out front, well aware that Jorgensen, who caught her on the run in San Diego, was not far back. By the midway point of the third lap Jorgensen caught Moffatt and Stimpson and it looked like the podium was determined. What was not determined was who would earn the gold.
Jorgensen used the bell to signal the final lap as motivation to break away. With every step on that fourth lap she added to her lead. She earned her second WTS win in a row with a 32:44 10K run split.
"I'm glad it looked like I wasn't panicking," Jorgensen said of her progress on the run. "Those girls were really running fast first two laps. I tried to focus on the basics of my race."
Moffatt outpaced Stimpson in the final meters to earn second position. Stimpson claimed third, her first time on a WTS podium. Gentle finished fourth and, in the bravest performance of the day, Denmark's Maiike Caelers overcame two crashes on the bike to finish fifth.
With the back-to-back victories Jorgensen takes over the number one position in the WTS standings.
May, 9, 2013
5/09/13
10:19
AM ET
An unexpected side effect of the Boston marathon bombings has hit hundreds of New Mexico triathletes and thousands of fans.

Because of Boston, Monday organizers of the annual Jay Benson Triathlon at Kirtland Air Force Base canceled this year's event.

Organizers of the triathlon said increased security requirements took effect on base after the Boston bombings. At this point it's too late to get security clearance for the hundreds of participants who were expecting to hit the pavement this Sunday.

Roughly 2,000 people gather annually to either watch or take part in the annual triathlon, but they won't be there this year.

"Its the largest triathlon in New Mexico, and its also the oldest continuing triathlon in the nation, so unfortunately that's coming to an end," said Duane Kinsley, Owner of Sport Systems and one of the event organizers.

The event takes place at Kirtland Air Force Base, but Kinsley said there's now heightened security requirements on base for the event.

-- Triathlete.com
May, 7, 2013
5/07/13
12:03
PM ET
Ironman announced that, starting in 2014, the Ironman 70.3 World Championship triathlon will rotate globally among different regions on an annual basis. Details, like where the 2014 Ironman 70.3 World Championship will take place, have not been released at this time.

See the announcement from Ironman below:

"Having the Ironman 70.3 World Championship change locations from year to year will provide our athletes with the opportunity to race on some of the best courses and in some of the most beautiful places in the world," said Andrew Messick, Chief Executive Officer of World Triathlon Corporation (owner of Ironman). "We are looking forward to bringing the Ironman 70.3 World Championship to some of the top venues globally that will allow for more athletes outside of the United States to participate in a World Championship event."

Beginning in October of 2014, Ironman 70.3 Silverman triathlon will replace the Ironman 70.3 World Championship in Henderson, Nev. From 2005-2010 Henderson held both the Silverman Ultra and Long distance triathlons at Lake Mead. During that six year-run, it drew thousands of competitors and was recognized as one of the toughest courses in North America.

"We are thrilled to welcome back to the city of Henderson a signature event that pays tribute to our Silverman heritage," said Henderson Mayor Andy Hafen. "It's truly an inspiration to see the dedication and determination of these athletes as they compete in this elite race."

This year's Ironman 70.3 World Championship to be held at Lake Las Vegas in Henderson, Nev. on Sept. 8, 2013, will represent the third and final year in that location. The championship race had been previously held in Clearwater, Fla. since its inception in 2006. Each year, more than 1,800 domestic and international competitors have earned the right to compete in the championship by qualifying at an Ironman 70.3 event.


November, 20, 2012
11/20/12
7:54
AM ET
By
Jene Shaw
| Triathlete.com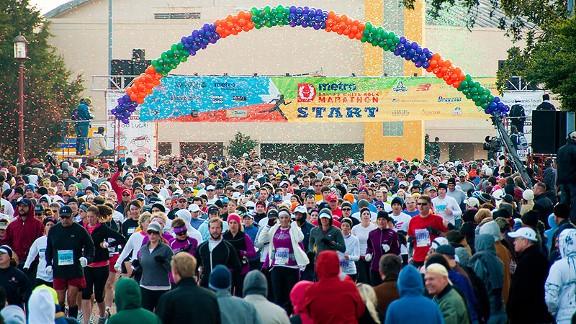 White Rock Marathon Deciding between going long this winter or taking a long view? There are many factors to consider.
Training for a marathon can be a motivating way to get through the darker months, but given the high risk of injury and need for downtime after a full racing season, it's not appropriate for everyone. The guidelines below will help you determine whether you should lace up your sneakers, or just relax and do some yoga.
It's a good idea if ...
• You have experience with continuous high-volume training.
• You're burned out on multisport and looking for a new focus.
• You ended your season feeling healthy overall and have no history of overuse injuries.
• Your bucket list includes qualifying for Boston or running a specific marathon.
• You're on a long-term plan for your first Ironman.
Coaches weigh in:
For athletes who tend to take the offseason a little too seriously (as in park it on the couch for three months and gain 15 pounds), a marathon could be the key to staying committed. "Training for an offseason marathon can push athletes to increase run volume at a time when their focus may be wandering," says Melissa Mantak, the 2010 USAT national coach of the year and owner of The Empowered Athlete.
Coach Jared Gell of Competitive Instinct Multisport says marathon training helps some of his athletes transition to run training after a season of juggling three sports. "It keeps the endurance base high, instead of sitting around until December to start preparing for that mid-summer Ironman," he says. "Doing the run-specific block also allows for a heavy focus on the swim and bike early, and maintenance on the run through the base phases."
RELATED: Is your run improving?
It's a bad idea if ...
• Cycling is your weakness.
• "Offseason" isn't a term you're familiar with.
• You have a history of injury, especially overuse (stress fractures, IT Band Syndrome).
• You raced frequently in 2012.
• You did an Ironman within the last couple of months.
• You're signed up for an Ironman within six months after the potential marathon race date.
Coaches weigh in:
Downtime is important when you look at a complete year in triathlon training. Going hard for 12 months puts a lot of stress on the body. "Marathon training comes with the inherent risk of injury," says coach Andrew Hood of FTP Coaching. "If the body isn't given ample time to recover, injuries will rear their ugly heads and can derail an entire triathlon season."