Endurance:

World Cyclocross Championships
February, 4, 2013
2/04/13
3:21
PM ET
By
Dan Seaton
| VeloNews.com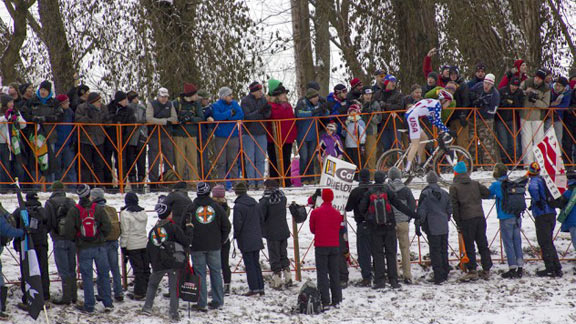 Chris Case/VeloNews.com The spectators at Louisville's Eva Bandman Park made themselves heard during Saturday's races.
LOUISVILLE, Ky. -- It took some serious bailing out -- of more than one variety -- to do it, but the first UCI Elite Cyclocross World Championships held outside of Europe was an almost unmitigated success.
A team of more than 20 workers bailed out the waters along the banks of Badger Creek, working furiously to keep the worlds course at Eva Bandman Park dry during the condensed race schedule on Saturday. And only months ahead of the races, USA Cycling bailed out the event financially after original sponsor Exergy failed to meet its financial obligations to promoters late last year. The fallout from both debacles was fodder for critics ahead of the championships, but in the end, there were few complaints. Instead, the worlds was elevated by the energy and enthusiasm of the roughly 10,000 fans who lined the muddy, half-frozen course for six hours on Saturday.
"For me, (winning in the United States) is really special," said Belgium's Sven Nys, the first elite man to win a championship outside of Europe, and something of an elder statesman of the sport. "To win here is maybe more special than to win in my home country. Definitely, that's also something special, with maybe 60,000 people, while here there were maybe five, six, seven thousand. But I felt myself, the whole week, really, really relaxed. And the respect I got from everybody over here helped me a lot."
Nys' reaction to the outpouring of support was hardly unique. Racer after racer, most more accustomed to the cloud of silence that envelops anyone not at the front of the field in European races than the ebullient atmosphere of American 'cross, said the sheer volume along the course was overwhelming.
"It was unbelievable," said Amy Dombroski, an American rider for the Belgium-based Telenet-Fidea team who has spent most of her last two seasons overseas, after finishing 11th. "I'm kind of choked up right now. It was absolutely deafening; my ears were actually hurting. It was absolutely unbelievable racing here, and I think America really came out, so it was exciting. It was a big thing for America."